Anerley Gazette, July 2022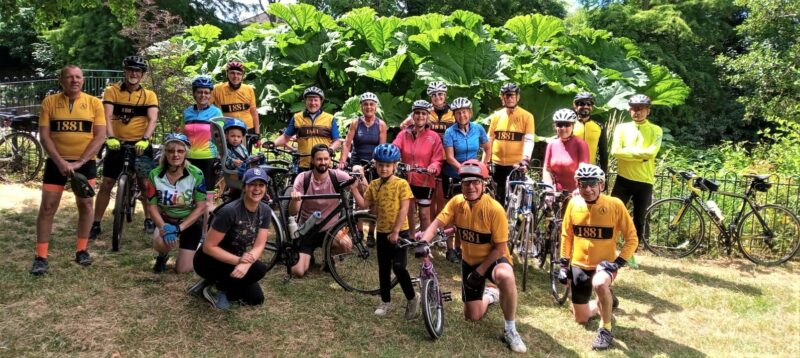 At the end of June, things were looking up, Anerley BC really seemed to have come alive. So much so that the June Gazette ended with these words:
Thank you, we have a better spread of contributors this month, let's see you all get involved!
If you are enjoying your cycling then it is likely that we all want to know what you are up to. Why not share your interests and experiences with the rest of us. Or perhaps there are other topics that you would like to see in the Gazette?
We would really appreciate your comments and contributions via anerleygazette@gmail.com
Unfortunately our mail bag has not been over flowing with news of all the exciting things that you have been doing, or suggestions of what you would like to see in the Gazettes. We assume and hope that you have been doing exciting things? So please do provide us with something to fill these digital pages.
This month Tom and I are indebted to Denise our monthly regular contributor, Dee who has inspired items for the last 3 months, Vince who is keeping our wheels rolling, John Diamond for leading us into the wilderness, Viv who wants your support, plus how a cyclist nearly got sent to a gulag! And not forgetting Tom Moody who scours the internet for interesting cycling topics, plus and most important, Asif and Shak, my photographic experts who add interest and colour the written bits!
Des
---
Dee going for Gold!
So to start off this month, a very busy bee -Dee – has still found time to spur us on to go for gold. Or in her case, a prize winner's £15 cheque!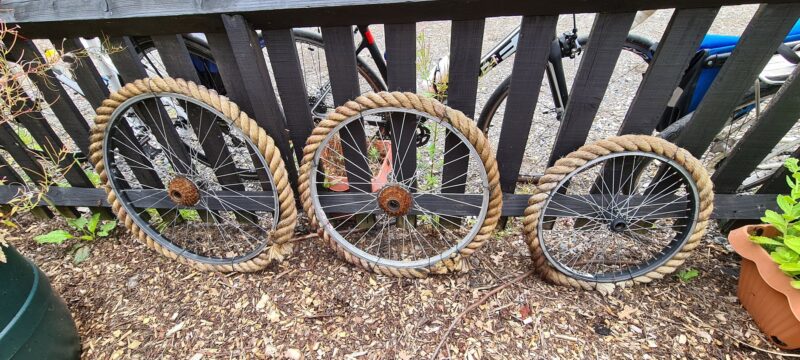 See https://anerleybc.org/dees-tt-at-holmwood/
---
The York Cycle Rally part 1
The almost legendary Tim Styles organised a tour of Yorkshire, starting with the weekend at the York Cycle Rally.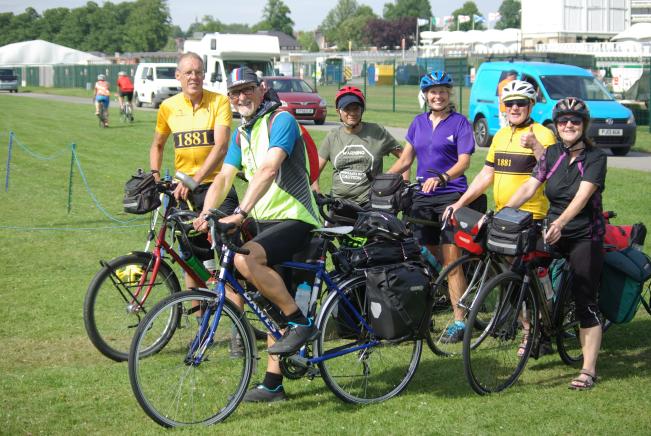 See: https://anerleybc.org/the-york-cycle-rally-part-1/
by Peter Roberts
---
More Train Assisted Journeys
Having a set of train assisted trips makes retired life feel much more like a holiday. Another couple of rides here for you to try…
Dunbridge & Mottisfont
The River Test is one of the worlds greatest chalk streams – renowned for its trout fishing. Beatiful though the Test is there is a bit of surprise on this route! Not necessarily a gravel route but a small part of it is on the Sprat & Winkle Trail.
See https://anerleybc.org/mottisfont-and-dunbridge-awayday/
by Tom V
Chichester Harbour & Selsey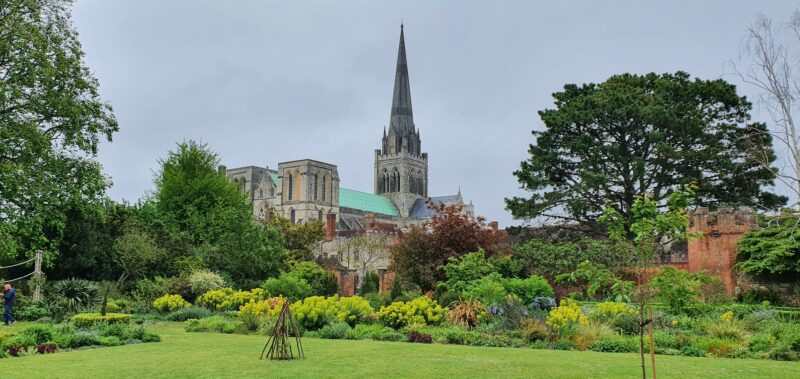 Chichester Harbour is a lovely area for cycling with flat, open scenery. Of course the rivers and sea are a great feature but the wildlife is also something else, especially if you like watching the birds!
This is a very easy, relaxed ride.
See https://anerleybc.org/chichester-awayday/
by Tom V
---
Don't get Doored!
I am sure that we have all encountered similar situations to this. We should all be aware of the dangers, but why does it still happen?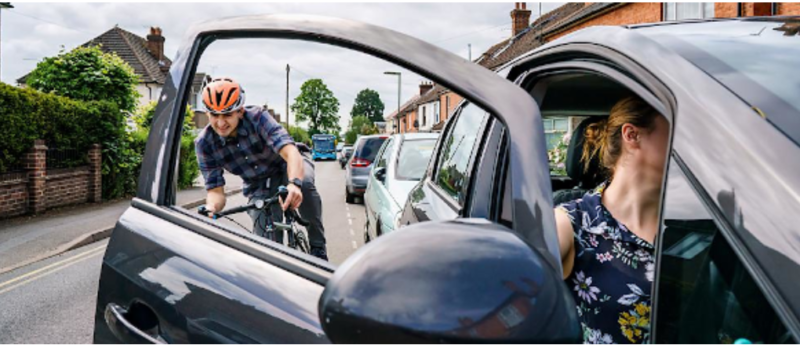 Memories are made of this!
Are you speed limited? If you are inspired by watching the Tour de France and decide that you should get a bit fitter and faster, just copy Mark Cavendish and add a few sprints into you club rides.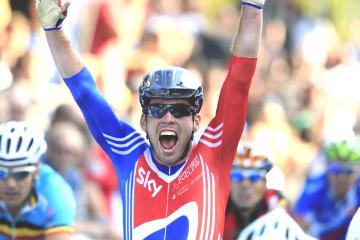 See https://anerleybc.org/anerley-b-c-watch-the-tour-de-france/
Try some Fartlek Training

Find out why a bit of Fartlek Training might be the answer:
https://anerleybc.org/try-some-fartlek-training/
Inspired by Cav!
---
A Swedish Saga!
An epic Saga by two Anerley Ladies on bicycles, so let's meet our heroines!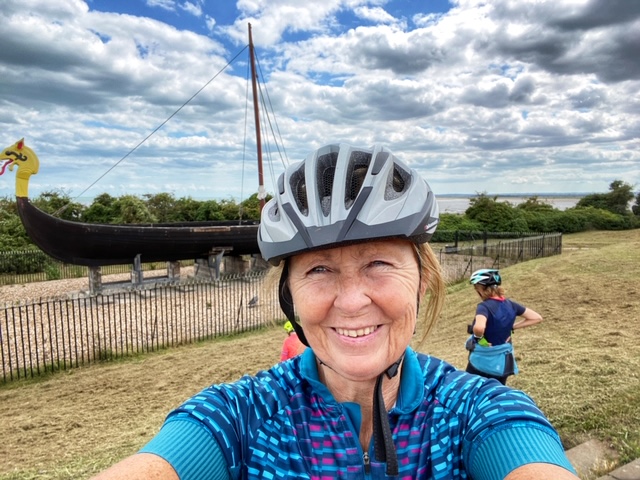 The Saga starts here! https://anerleybc.org/a-swedish-saga/
---
London Shine Night Walk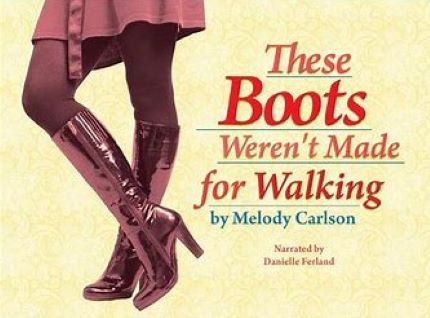 Viv is taking on a challenging charity walk and would greatly appreciate some of us Club members joining her in this year's London Shine Night Walk.
Read all about it here and get your boots on! https://anerleybc.org/join-viv-in-an-anerley-team/
And these Jack Boots are for Stamping on Misdemeanours!
Mind your toes! https://anerleybc.org/the-strong-arm-of-the-law/
Cycling in Hot Weather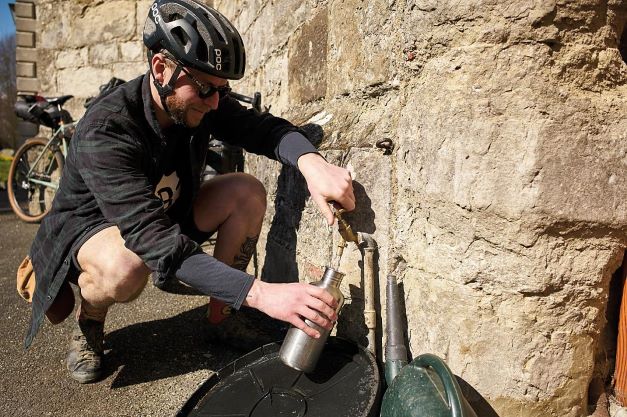 Tom Moody has found the answers to everything that you need to know about cycling in hot weather – mind you, knowing how fickle our weather is, don't forget your rain jacket!
Like Tom, make use of your Cycle UK membership (if you are a member, like most of us!) or read it here if you are not! See https://www.cyclinguk.org/article/cycling-guide/cycling-heat
---
John Diamond Leads the Way!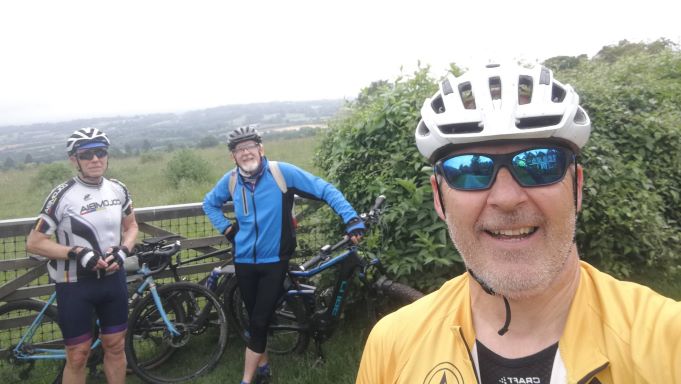 John Diamond led us on an epic ride into the Surrey wilderness – great fun, most enjoyable and we have the scars to prove it!
Follow in John's gravel tracks https://anerleybc.org/gravel-biking-for-the-adventurous/
Memories of the Few – Winners!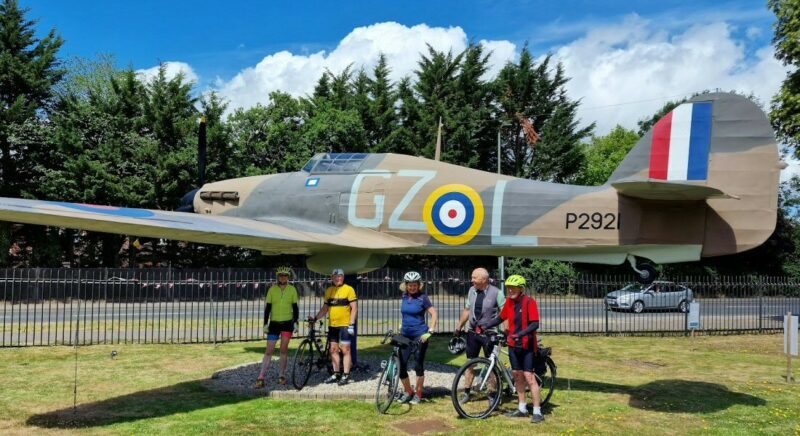 Not about us, but about them! https://anerleybc.org/the-few-and-the-fewer/
Daytrip to Rochester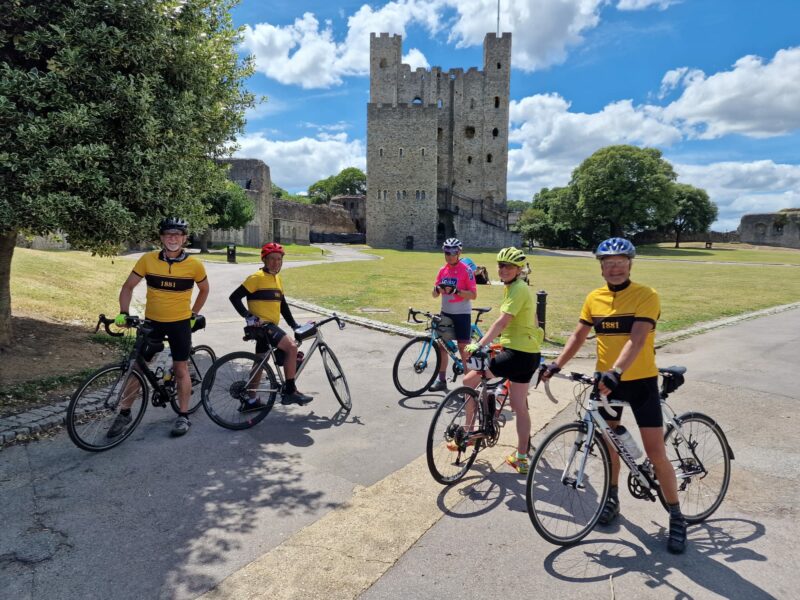 A Tuesday ride following a stunning but punishing Komoot route to Rochester via many hills – 6000 ft of climbing!
---
The Man from Silicon Valley
Vince, always ready to help, saves a lost cyclist and buys him a cup of tea – but that is only half the story!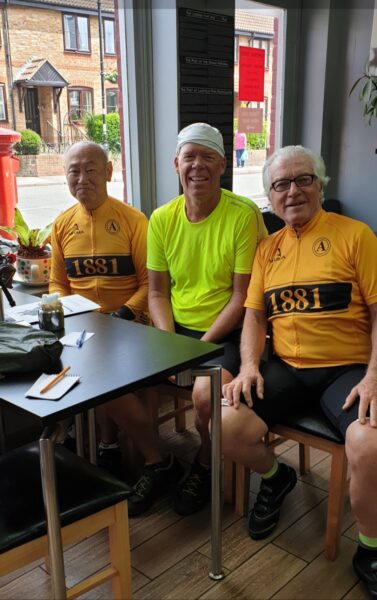 Read on for the the full story of this poor lost traveller! https://anerleybc.org/the-man-from-silicon-valley/
You Can't Keep a Good Man or Woman Down!
You might not be a resident of Silicon Valley, but you could get lost in the wilds of Surrey with a bike problem – up the creek without a spanner might be the apt phrase. But fear not – I've just received a message!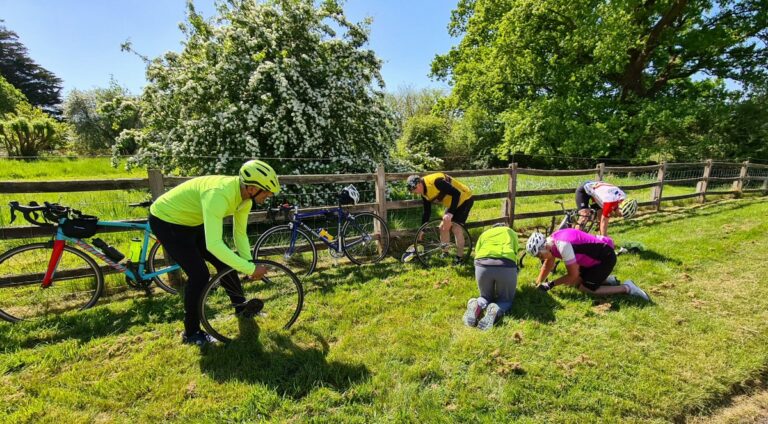 ​Basic Roadside Maintenance Monday 18 July @ 10:00
Jo Smith is booked in, on her own, for this popular training session.
Does anyone else want to attend & join Jo.
Contact Vince privately on WhatsApp or email: anerley1881@gmail.com
8 On The River at East Molesey Boat Club
Shak provides the colour for Tom V's ride to the 8 On The River Boat Club. Below are the Anerley 8 on the river – Shak, our man behind the lens makes Anerley's ninth!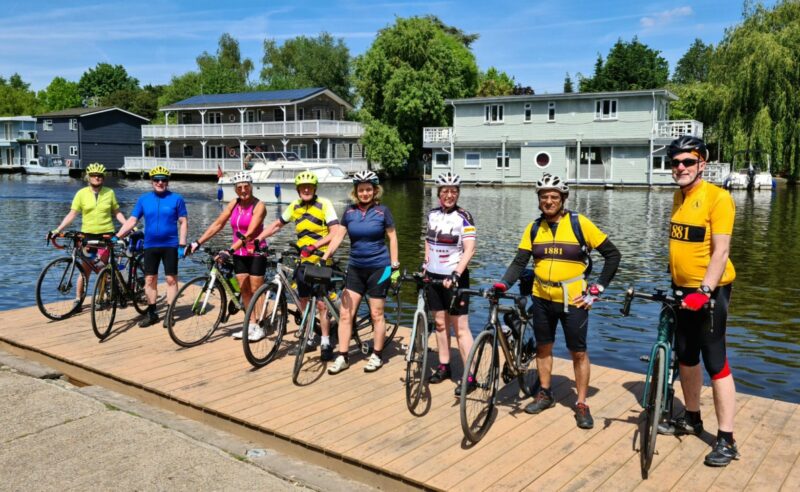 ---
Picnic People
No report but lots of photos on WhatsApp. The family picnic organised by Jim was followed the Wandle Trail to Mordern Hall. Wonderful to see so many young faces on the day. Brought the average age of the club to somewhere near 60…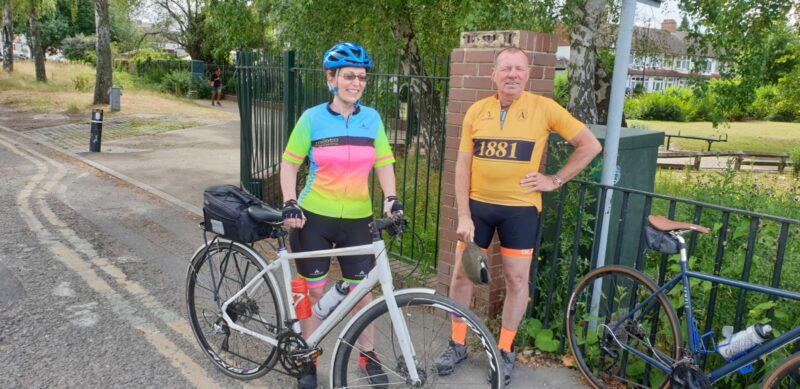 ---
And finally…
After all that complaining we did get a fair number of articles from members. It would be lovely if you could consider a writeup for the next Gazette. Doesn't have to be London-Edinburgh-London – just something you enjoyed.
anerleygazette@gmail.com
---
Current Covid guidance from our Club Captain
The government has removed all domestic COVID restrictions in England. So dealing with COVID has effectively become advice on how to reduce the risks of catching and spreading COVID. This includes the following:
Get vaccinated
Let fresh air in if meeting indoors, or meet outside:
Consider wearing a face covering in crowded, enclosed spaces
Get tested if you have COVID-19 symptoms, and stay at home if positive"
Peter Roberts