Dee samples a bit of Time Trialling
Easter Sunday Morning – 2022 – Marshalling at Kingston Wheelers Cycling Club's 14 mile TT
Back in early March, Mark Hancock put out a request for volunteer Marshalls for this event, being run by Kingston Wheelers Cycling Club (KWCC), for their annual club memorial TT race.
I put my hand up, as I was free over Easter and knowing how crucial Marshalls are to these events, from my experience at Triathlons over the years, I thought it would be a good thing to do and being the Easter Holidays, they were clearly struggling to get enough volunteers.
Also, I do fancy doing a TT type of event at some stage, so I thought it would be good to see one in action without the pressure of actually doing the race!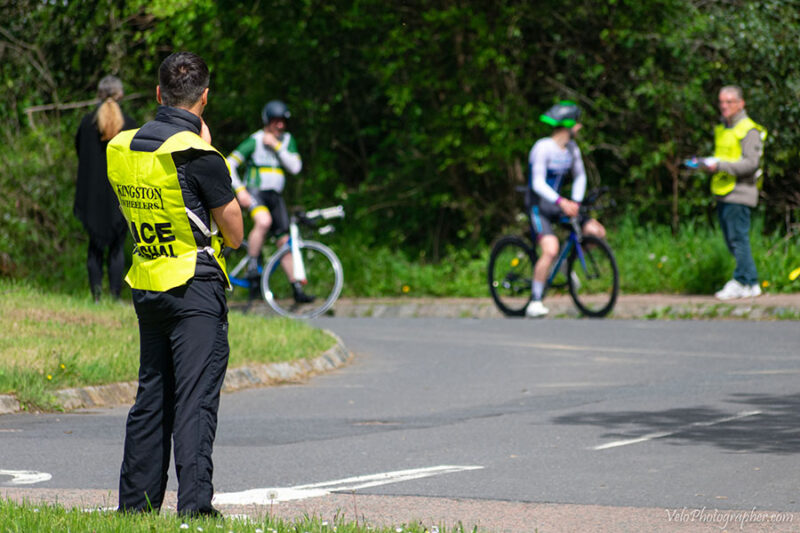 Having volunteered, I then found out the start times and location of the event, working backwards, I realised this meant a very early start to my Easter Sunday! Alarm clock set for 5.30 am; Race HQ was at the Scout Hut in Ripley, so that's a 40 to 45 minute drive for the 7.00-7.30 race briefing – first competitor was setting off at 8.01 – most of the others then set off at one-minute intervals, until they got to the faster riders, who had a two-minute gap. So, the Marshalls were briefed on our respective roles and sent off to stand on our allocated corners, to point riders in the right direction. Thankfully it was a lovely, bright, sunny morning. I was just by Hatchlands National Trust (staff entrance), if anyone knows the area, a little bit off Hungry Hill Lane.
1881 1881 1881 1881 1881 1881
Editor's Note:
Yes some Club members do know the area around Hungry Hill/Ripley Rd well, having spent a bit of time – here!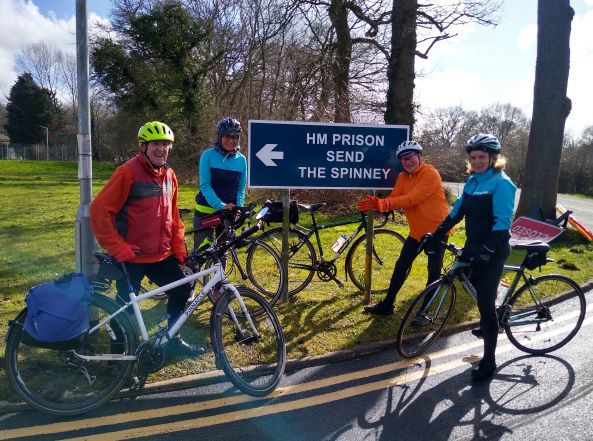 1881 1881 1881 1881 1881 1881
And back to Dee: Although I didn't see the whole course, it sounds like it was nice, not being too hilly but challenging enough for a TT. It was two loops of seven miles.
The event was mostly made up of KWCC members but with other club riders also taking part – overall I think they had about 75 riders signed up but I'm not sure all of them turned up! There was a good mix of abilities, bikes, ages and sizes of riders.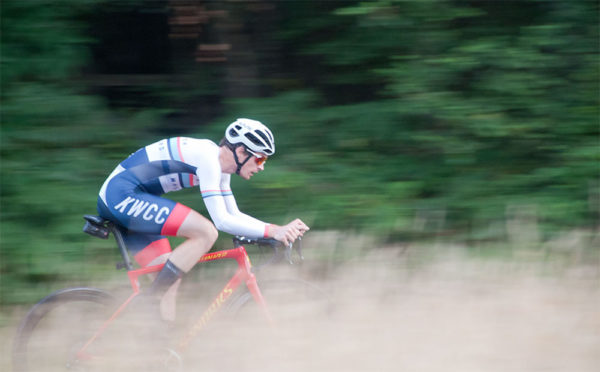 One thing that struck me was the number of young riders KWCC has amongst their membership. I know ABC are keen to encourage young members too – this I think really is something to work on, for the future of our Club.
Before the start, I chatted to a young lady who was doing this as her first TT and she was also a relatively new member of KWCC. She was first off at 8.01, so I was interested to see how she got on. I saw her from my marshalling post on the first lap, only two others had over taken her after about 3 or 4 miles, so she wasn't doing badly. But then I didn't see her on the second lap, assumed I had missed her but thought that unlikely, as most of the riders were solo or with one other at most riding together, chasing each other down, so it would have been hard to miss her. Anyway, I saw her at the end and it turned out she'd had a puncture at about mile 5 and was unable to complete, she ended up marshalling further along the course! This, for her, was all part of her first experience but lessons learnt from the "Failing to Prepare = Preparing to Fail" motto – firstly, she hadn't checked both tyres before setting off and secondly, not that it would have practically helped in this situation, the spare inner she was carrying on the bike, was the wrong size – it was one from her earlier bike (this one was new!). Anyway, she took it all very well and although she was disappointed not to have finished the TT this time, she admitted she had learnt some important lessons for future events.
Overall, it was a great event, perfect weather conditions and good road surfaces. There were no accidents and that puncture was the only "mechanical" that had come to light by the time I left, armed with my Milky Bar themed Easter Egg reward for my morning.
Maybe one or some ABC members to consider doing it next year??
Dee