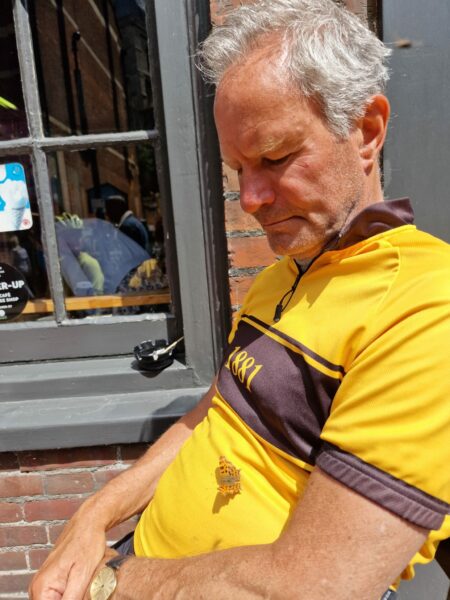 Good old Komoot claimed a hilly ride with a climb of 4,500 feet would get us to Rochester and back over 76 miles. Not having spare time to make more than a few rudimentary adjustments, I trusted to the gods of GPS and off we went.
First of all, why Rochester? Credit to Peter Roberts who suggested an awayday to visit the Naval museum at Chatham. Wanting a different destination with some interest, it is a reasonable distance for us.
The route took us through familiar climbs around Keston, Well Hill and onwards around the edge of Orpington before we sauntered past Lullingstone and Eynesford. From there we went up the snappy hill of Donkey Lane to join the cyclepath on the A20 past Brands Hatch. This is where the delightful jagged hills of Kent took their toll on legs drying up after miles without a cup of tea.
When I told Peter that my route took us through Strood, he made a raspberry and described it rudely so when as we cycled towards the M2 bridge, we diverted over it along the separated cycle path. We were very high up above the river, glorious views but a bit dizzying with the cross winds and the strobe effect of the fencing.
From the other side it is a long downhill into the Centre of Rochester, past the magnificent castle ruins surrounded by a park. Peter recommended the High Street as a place with many cafes to choose from and we selected Deaf Cat Coffee which allowed us to sit outside the "Second best coffe house" in Rochester. As we dismounted Paul failed to decleat but saved himself by landing on Julie – leaving her still cheerful but chain tatooed and bloodied.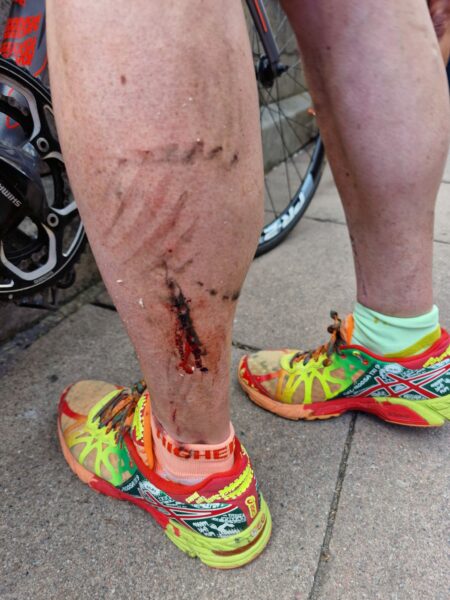 At least the local fauna showed Paul some sympathy. As usual, Shak took the best photos which I have unashamedly pinched.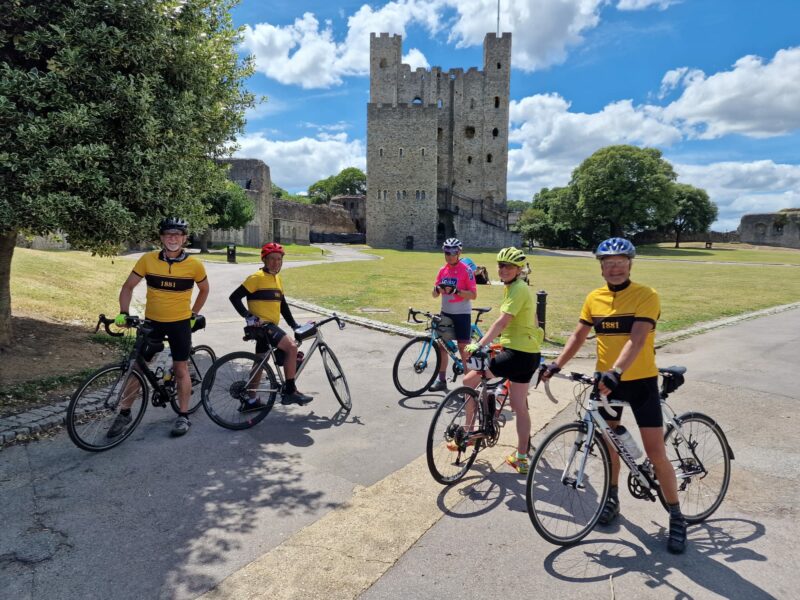 The return journey was not as lumpy so we cruised along unfamiliar lanes, enjoying the views while dodging the school runs which are much calmer in the countryside. A gradual climb through Offham, Borough Green before familiar pastures of Ightham and Knole Park put us back on our own patch. After the speedy descent down Ide Hill we met some traffic chaos on the A25 caused by a fire engine attending a very smoky house.
While most of the group were stopping at Botley Hill I ruined my body trying to keep up with Mr Malarkey as he flew up Clarks Lane and along to Selsdon. I blamed the lack of gears on my gravel bike but he is very speedy for a 73 year old…
Looking at Alan's Strava stats, he did nearly 28 new miles of cycling so I judge this a success considering the humungous number of miles he has clocked over the years.
A tough 5,800 feet of climbing for those who keep an eye on stats but a very enjoyable day out. My special thanks to Paul for completing his first ride in 4 weeks, Peter for being helpful and being incredibly fast after his Yorkshire Odyssey and finally Julie for remaining smiling while getting battered and bloody as she managed many ups and down of Kent.