Gravel Biking for the Adventurous
When I joined Anerley B.C John Turnbull was the Club Captain, and had been a Club member for 50 years. It was a norm to do a bit of off-roading during dry weather, especially in the summer. I doubt that there was a bridleway within a 25 mile radius of Purley that he did not know. He certainly showed me a few! I took over captaincy from him at the start of the new Millennium, continued this practise and continued to expand my knowledge of the highways and byways. So I was intrigued to see John Diamond's Strava Gravel Bike route to Flower Farm.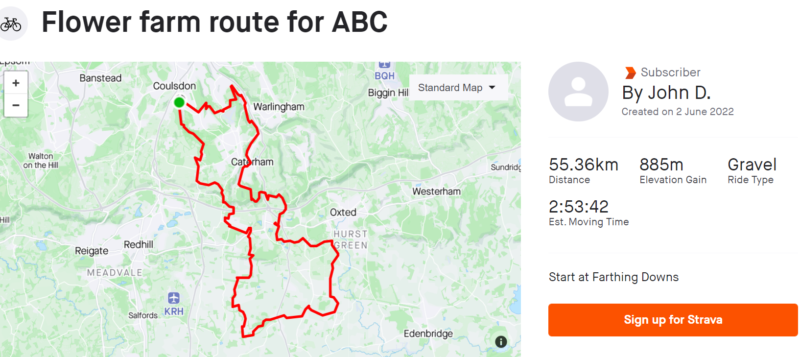 see https://www.strava.com/routes/2967389991356680998
Of course back at the start of the Millennium we did not have Strava or other sat-nav devices to guide us, and our explorations were all done with good old O.S maps!
Fortunately John Diamond has provided me with some details of his ride, with which I was able to plot his route on an O.S map. Having done this I was able to see that there were a great number of similarities between his circular route to Flower Farm and an out and back route that I used to use to Horne Golf Club, plus bits that I had yet to explore. So let's get riding!
Flower Farm – John Diamond with Bob Bray and Alan Malarkey, 6 June 2022
Horne Golf Club and Flower Farm – Des with Sue Smith, Tom Moody, Barrie, Shak and Miles.
John: Starting at the lower cattle grid Farthing Downs and immediately off road across the downs and into Happy Valley. The recent rain had promoted quick growth of grass and we were brushing through grass and nettles on some of the paths.
Des: To avoid initial climb up Farthing Downs our lot took direct road access into Happy Valley but had to struggle thru a kissing type gate!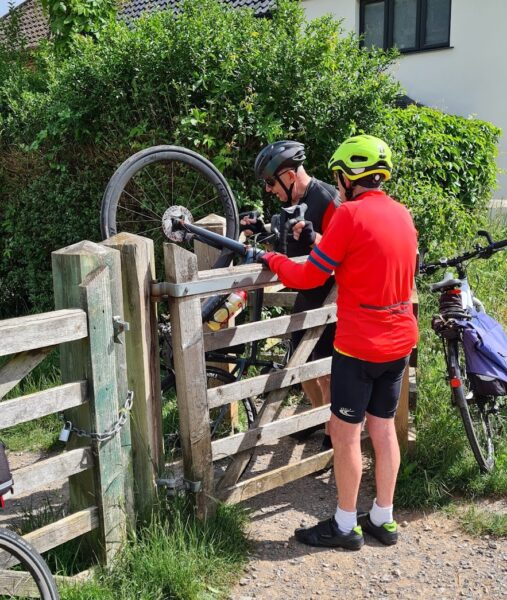 John: We did a bit of the Pilgrims way between the top of Hilltop to White Hill, Caterham on the Hill – great views to the South.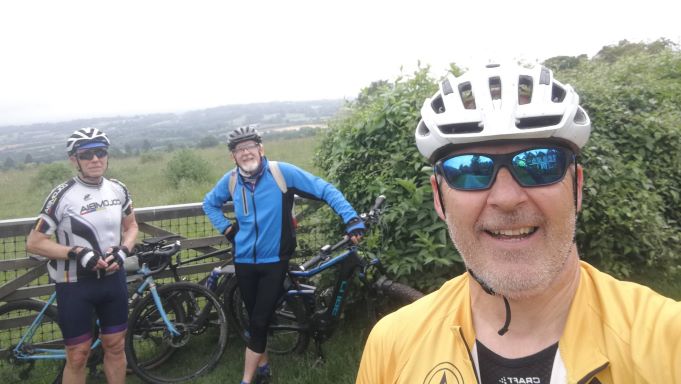 This section of the route was readily identifiable on the very detailed OS map.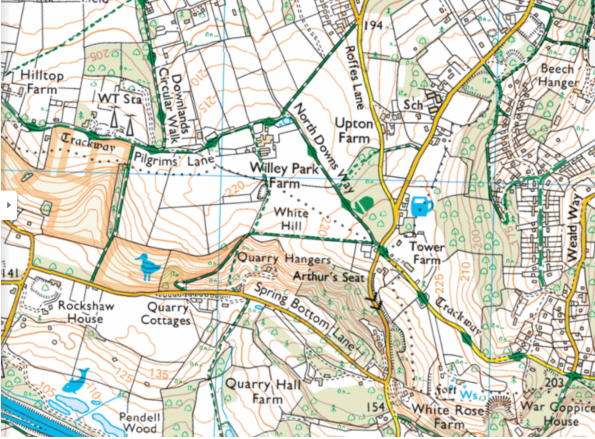 Hill Top Farm at top left , along Pilgrim's Lane which is also the North Downs Way. It crosses White Hill (double arrows indicate very steep hill!) John went that way, I continued straight on along "Trackway" which is a tarmac road – War Coppice Lane – which leads upto NCR 21, This goes down another very steep hill, where John and my route re-join.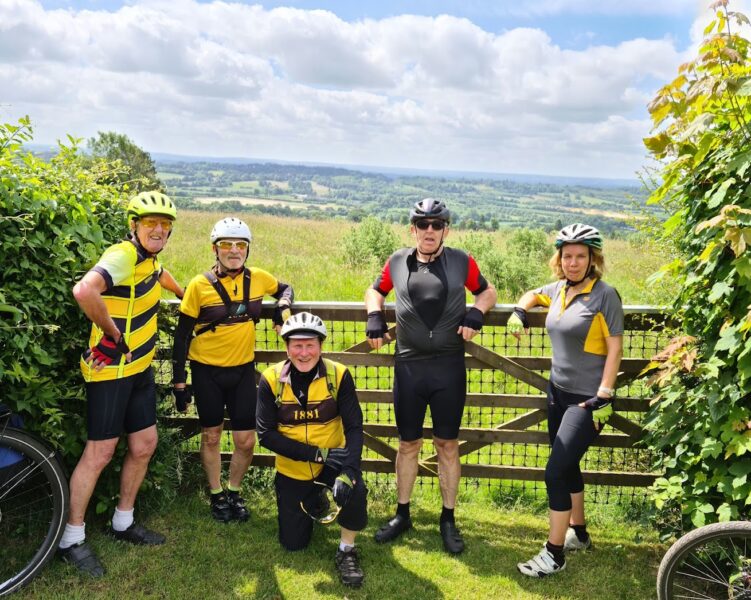 Barrie tells us that a person who lives at Willey Park Farm on Pilgrims Lane, collects scrapped aircraft like these we passed, which he repurposes and sells on.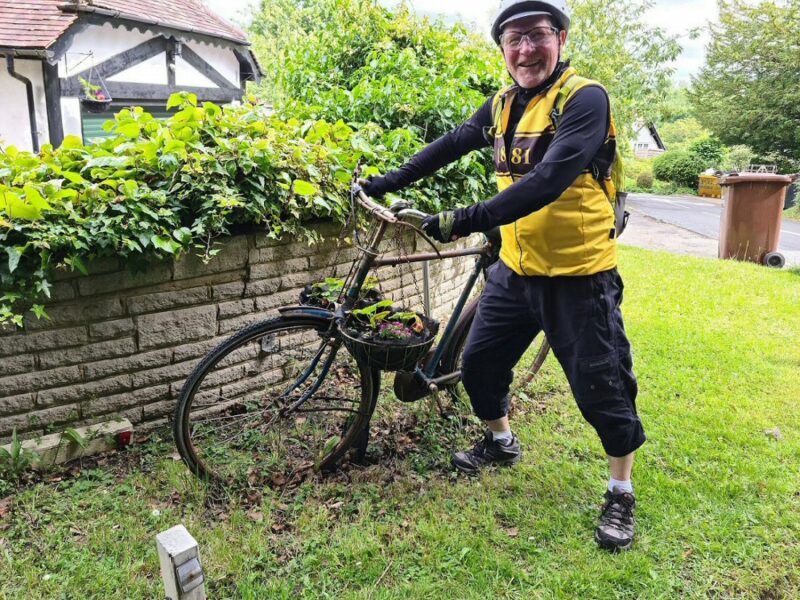 And along War Coppice Lane, Shak noticed this bit of re-purposing! A vintage Raleigh bike used to display flowers as demonstrated by Tom Moody!
Having re-joined John's route this next bit was all new to me: Downhill track, Green Lane under the M25, mostly easy gravel but one muddier bit which was a bit slippery. Past the sand pit excavations on wide sandy paths. (Hard going due to deep and soft sand!)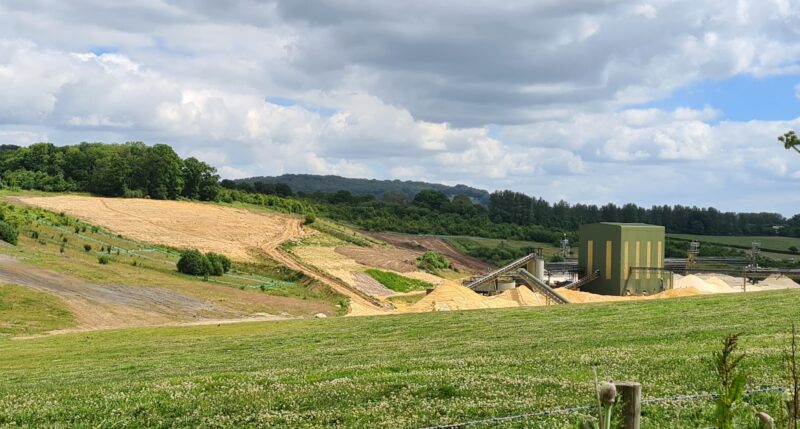 Up to Rabies Heath Road – only Bob on his electric mountain bike managed the really steep top bit.
And another new bit for us. We also had to get off and push our bikes up the last bit, as well as losing Miles at a deep section of mud filled tractor ruts!
From Rabies Heath road, a left turn heading south on South Park Lane and then a new track to me.
Just before John's new track, I continued a bit further south on a short detour. This continuation was my off-road route of old, to Horne Golf Club and which passed historic South Park Farm. Next to it's Georgian Manor house is a much older, tiny little church used by earlier noble owners. Inside we could see the many coat of arms of some of these famous families, for example: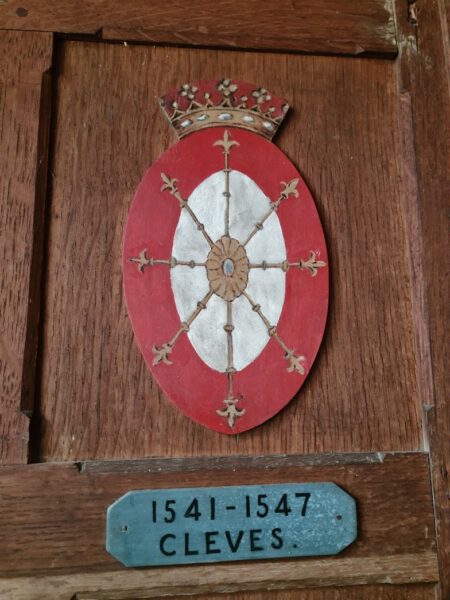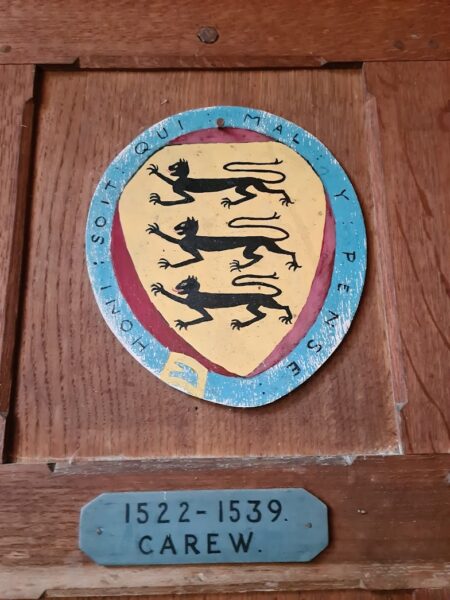 After which we returned to John's route which he said – started off wide with more good riding downhill before narrowing when we were required to brush through tall grasses up to head height overgrowing the track.
It was not just tall grasses but also brambles as shown by my blooded arms!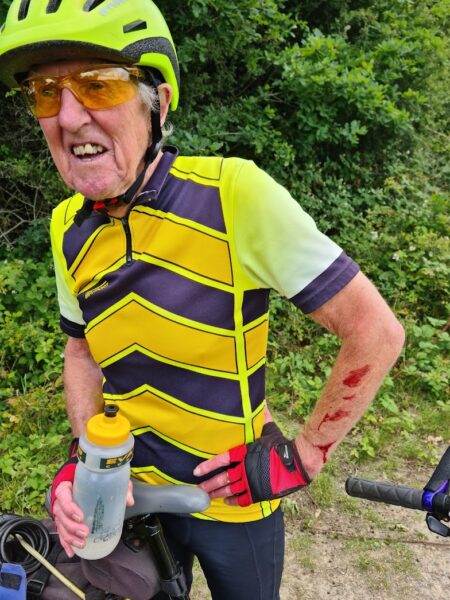 And the network of paths got complicated around here. John's route took a turn off heading north east, to eventually cross over the A22 near the bottom of South Park, whereas, we needed to head south west to get to Horne. Fortunately Sue Smith had John's Strava route on her mobile phone, and more by luck than judgement and a couple of false starts we did eventually arrive at a woodland car park off of Gay House Lane/Horne Court Hill.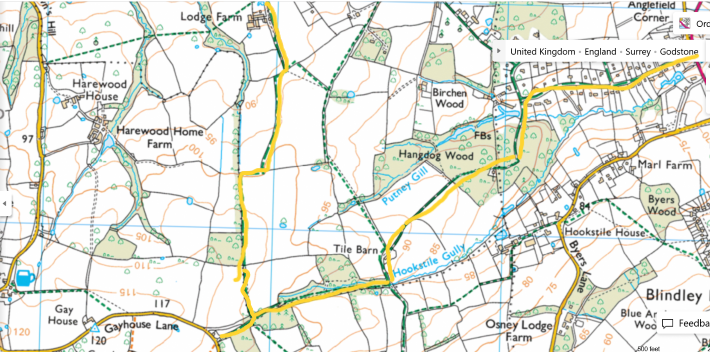 I have marked John's route on to the above section of O.S map, starting at the top by Lodge Farm. The route zig zags south with a complex of paths – confusing without sat-nav guidance! At the bottom of South Park, at the T junction, John headed north east to eventually cross the A22, just south of Anglefield Corner. You can just see it named at top right of the map.
At the T junction at bottom of left of the map, I went in opposite direction, west to the car park (not shown on map) off of Gayhouse Lane. Back on tarmac, south of the car park and not shown on the map, the road name changes to Horne Court Hill and it was just a short downhill and on to our first tea stop at Horne golf club.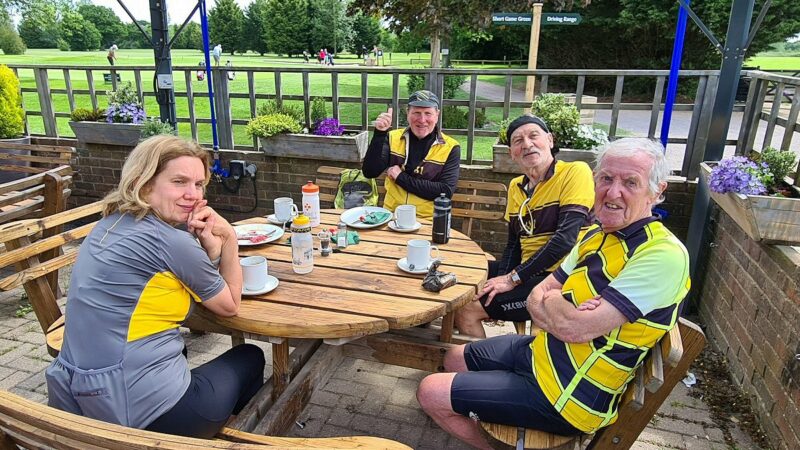 We could have headed back to re-join John's route where we had earlier parted company, but for convenience headed, on road, directly to where John had crossed the A22 at Anglefield Corner which is adjacent to the bottom of Tilburstow Hill. You should recognise the large, corner premises which sells tents and other camping gear.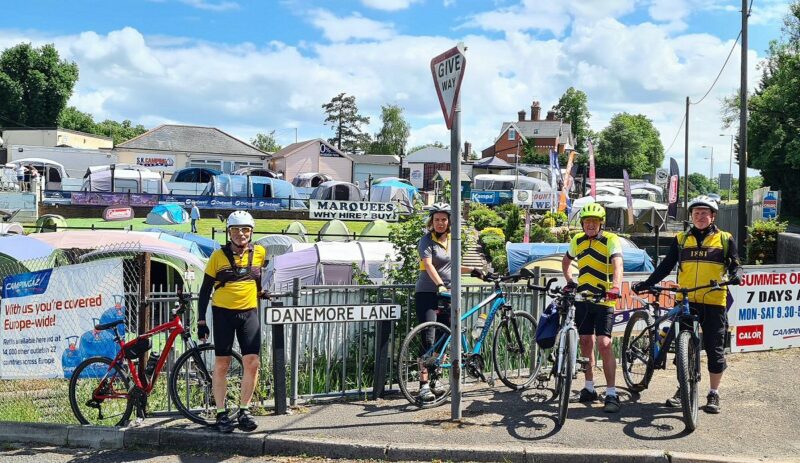 John's route then continued along Danemore Lane and took a couple of paths (mostly paved roadways) across to Crowhurst where he visited the Crowhurst Yew.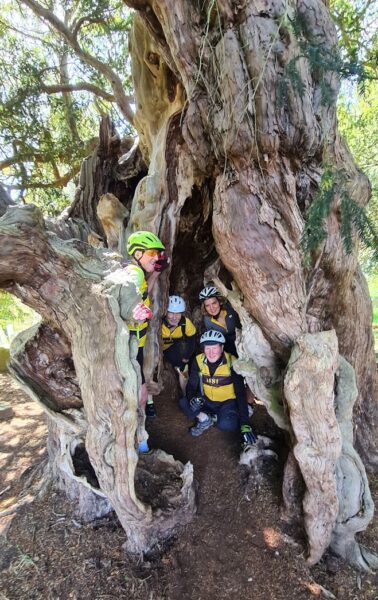 This ancient yew tree, beside the little parish church of St Georges Church, is claimed to be over 4,000 years old! To the right side of the tree (photo below) is the remains of an ancient door.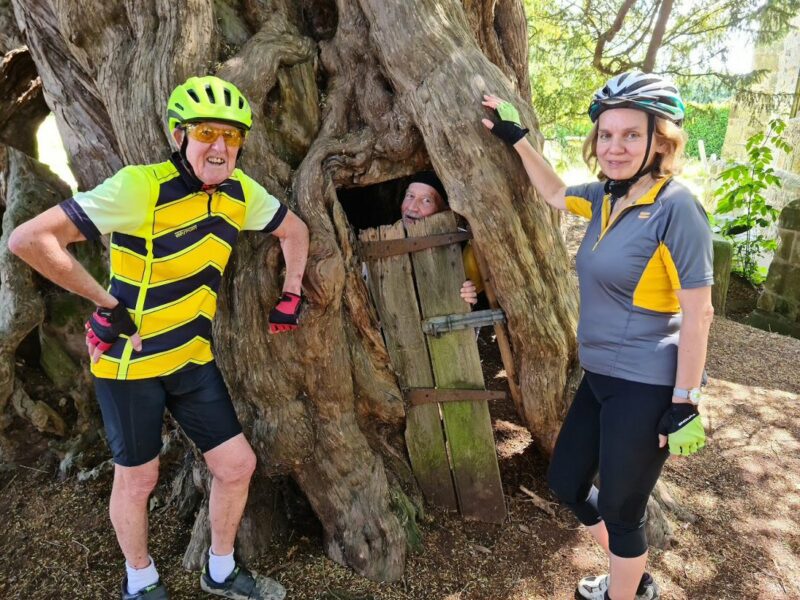 This gave entry into this large, hollow tree. Originally there was seating inside, used variously during it's long history, for revelry, meetings and refuge. The use for refuge is proven by a cannon ball dating back to the English Civil War in the 1640s. This remained imbedded in the tree, until more recent times, when, as the tree has gradually rotted away the cannon ball could be extracted. It is now kept by the church as part of it's various historic artifacts. So here is a real bit of England's lost and forgotten history!
John continued from here, north on Crowhurst Village Rd and along Gibbs Brook Lane.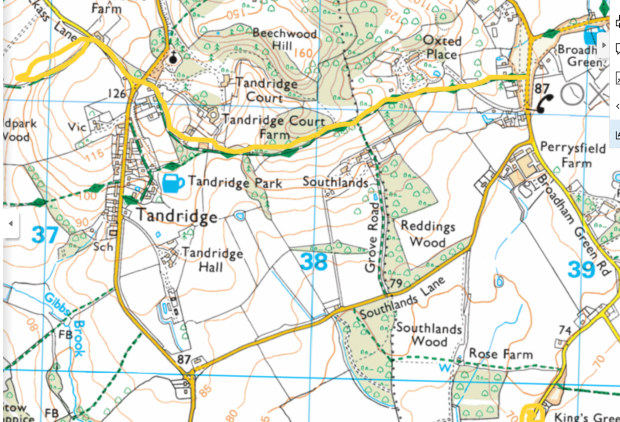 Gibbs Brook Lane is marked at bottom right on above map, and becomes Broadham Green Rd, which leads to – Broadham Green! Here, just north of the telephone box, and on the left is a wide bridleway, part of the Greensand Way. John took this track over to the top of Tandridge Hill (another 100m of muddy uphill which only Bob's MTB could handle). Down the start of Jackass Lane (just visible at top left of map) and then onto a track and under the A22 Godstone bypass then up past Godstone Church to lunch at Flower Farm. 22 miles had taken over 2 and a half hours – it is slower off-road.
It had taken us more than 2 and half hours, just to get to Crowhurst! But we had stopped for a long late breakfast at Horne Golf club, and off-roading in hot weather is thirsty work. So we headed straight on to Flower Farm by the usual country lanes to make sure we got there before they closed for the day.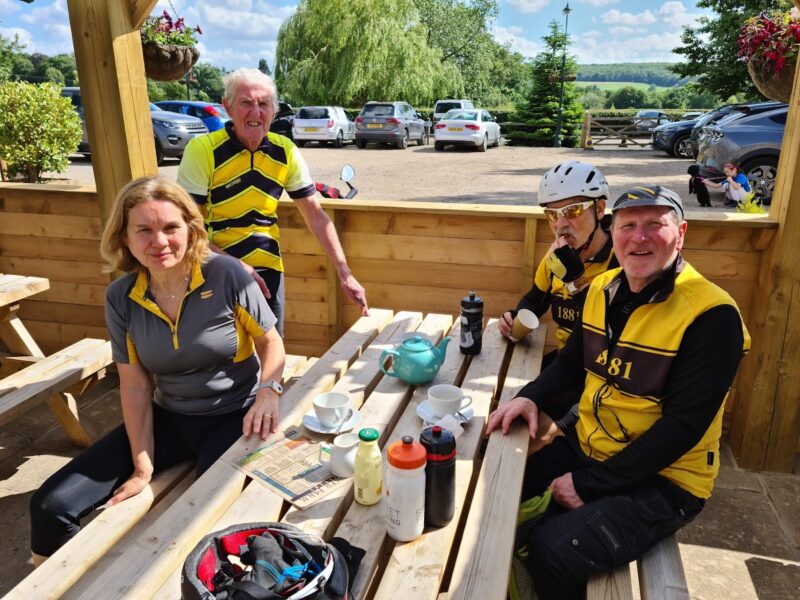 We managed it – but they had sold out of cake! So pots of tea only, but very welcome before we set off for the last major climb of the day – upto Marden Park and home.
After their lunch stop John relates that: We parted company at the top of Marden Park – Bob and Alan heading for Bug Hill. I went across the A22 footbridge and up to Gravelly Hill viewpoint then down through woods to Caterham School and then a few back-roads parallel to A22 before heading over Kenley Common and Coulsdon Common home. My total distance was 35 miles at an average speed of 9.7mph; 2,940 feet elevation gain.
So thanks to John, we all had some some great miles and new experiences in new locations. Whether you venture out to explore , with OS map or sat-nav, I am sure that we will be hearing about, and experiencing a lot more off-road miles this summer.
And a P.S
You may have noticed that our team is one face short. That is because our photos have all been taken and provided by Shak, to whom we are indebted. So thanks Shak!