Anerley Gazette, April 2022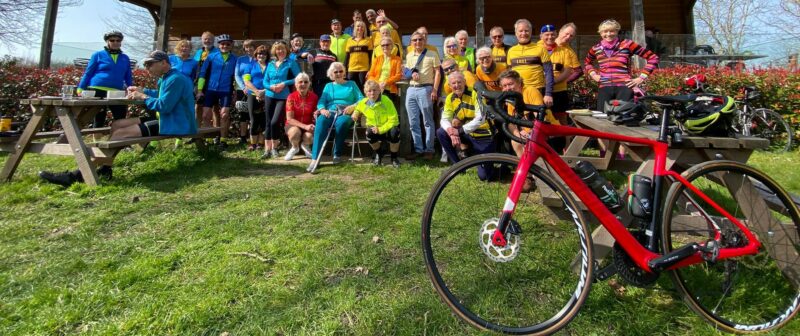 Sunday the 20th March was the Spring equinox – followed on the next Sunday, 27th March, when British Summer Time began. The Tuesday of that week was the monthly Club Gathering, organised by Jo Rifaat, our new Club Social Secretary, and Henfold Lakes the chosen venue. Fortunately it was a warm and sunny day which guaranteed a good turnout, as can be seen in the photo above.
This was a very special day, read all about it in this write up by Denise https://anerleybc.org/anerleys-fund-raising-ride-for-ukraine/
Little did we know that the world's news would be superseded by the incredible loss of one of our own members …
Des
---
George Bruce, a tribute from Anerley B.C.
George Bruce, one of our most loved cyclists, passed away on 30th March, 2022. George was a friend to many people in the club and a very active member of Anerley B.C. Our members are still shocked by his passing, at an age when he was so involved in leading and taking part in rides up until late last year.
Please see our tribute to George here: https://anerleybc.org/george-bruce-a-tribute-from-the-anerley-b-c/ and if any of you want to contribute to the tribute, please send pictures and memories to us by email anerleygazette@gmail.com
---
Denise Our Reporter On World Events
After her main Ukraine report, our Anerley Gossip column continues with a more European theme!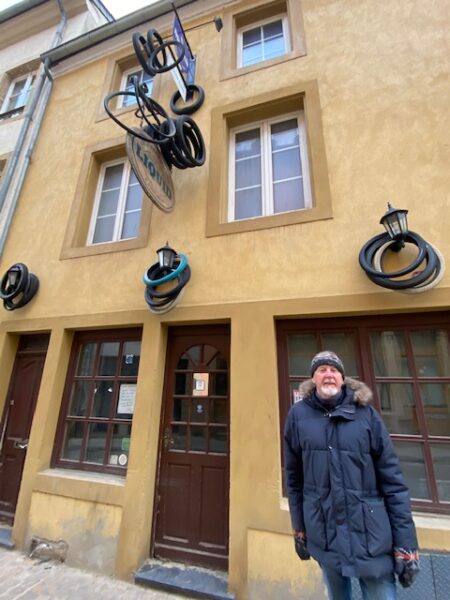 See https://anerleybc.org/denise-our-reporter-of-world-events/
Cyclists Supporting Ukraine
Mark, our Racing Secretary came across this novel way on a Youtube video, for cyclists to show their support for the people of Ukraine
This is Mark's novel way to help out – see – https://anerleybc.org/cyclists-supporting-ukraine/
---
The Kennet Valley Audax
A dozen Anerley members have signed up to do a 100k Audax ride on Saturday 9th April. It offers the opportunity to explore a new and different area, popular with cyclists due to it's varied scenery. Quiet country lanes and little villages with ancient churches, thatched cottages, canal boats and more!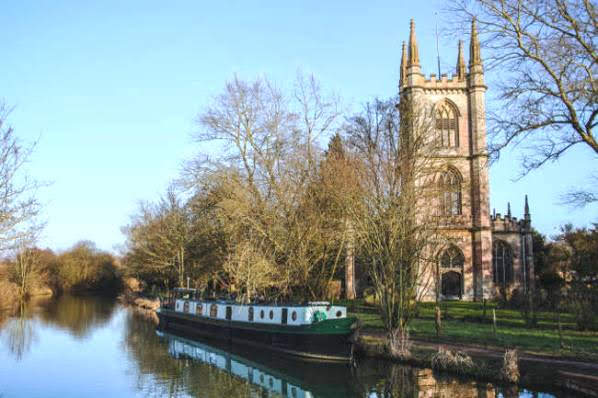 To find out more, including route maps and GPS files. see https://anerleybc.org/the-kennet-valley-100k-audax/
Vince Enjoys The Summer Sun
Whilst we have have been continuing to wear our winter woollies, even though it is now British Summer Time, Vince has been enjoying Spanish sunshine for the past month – lucky him!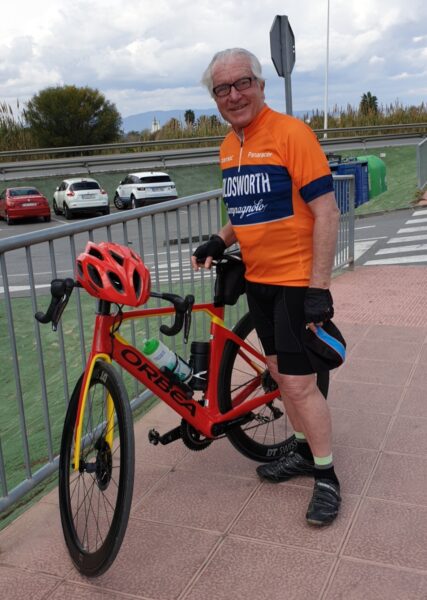 Just to make you jealous! https://anerleybc.org/vince-enjoys-the-spanish-sun/
---
The Benefits of Cycling Alone
Tom V has been out on his own recently; maybe he is feeling antisocial or just possibly likes his own company. Here he puts a case forward on behalf of those lonely, exploration rides.
See https://anerleybc.org/the-benefits-of-cycling-alone/
---
Fancy 100 miles alone?
If you fancy challenging yourself with an exploration of your own then why not Kent? Miles of quiet roads, some flat, some rolling and some downright difficult. However, if you are out on your own you can toddle up anything.
Here is an example with a route provided for guidance https://anerleybc.org/a-100-mile-tour-of-kent/
---
Really? A flatter route to Hastings?
Last year I took Karen and Brian to Hastings via the "big one" – Battery Hill https://anerleybc.org/a-mini-holiday/ . As the weather warmed up nicely in March, I really fancied going back to Hastings but, to preserve my aching knees, I thought we could go via the aptly named Pevensey Levels, giving me a bit of variety plus, hopefully, no big hills.
Who is Tom V fooling? See https://anerleybc.org/hastings-a-flatter-route/
---
Winter Storms and Summer Sun
After Storm Dudley, Storm Eunice and Storm Franklin, at last British Summer Time has arrived! In the past such storms have made me think and plan for the following summer's rides. So if you want some ideas for a foreign tour, or one at home in the UK – read on!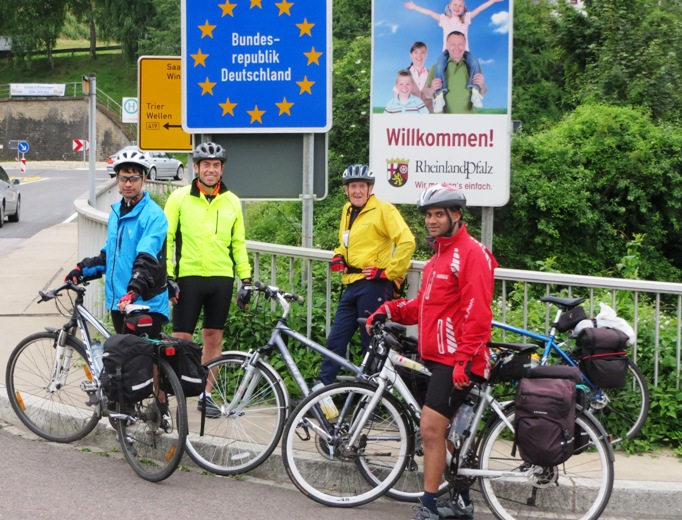 Cycling along the River Mosel and a Cornish bike tour, see https://anerleybc.org/winter-storms-and-summers-sun/
Wheels Go Round and So Does Fashion
As reported last month, Gravel Bikes have now become very fashionable. But bicycles have always been ridden on rough tracks, which of course was the norm in times past as this drawing from our Club history shows.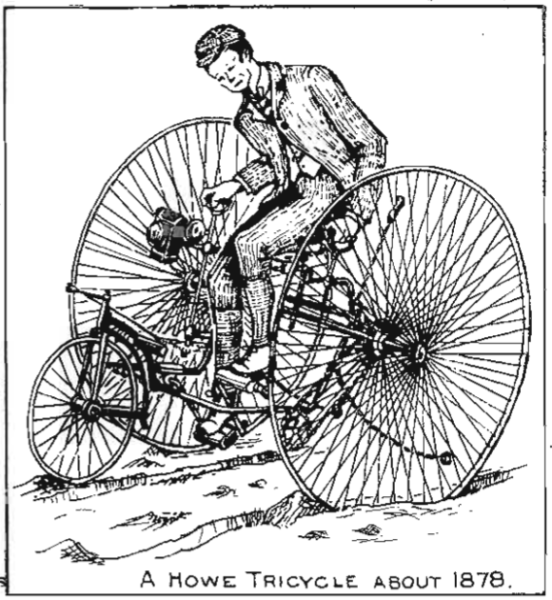 More Gravel Biking! https://anerleybc.org/wheels-go-round-and-so-does-fashion/
A Mystery Tour To Denbies
Get the O.S maps out to find the many byways and bridle ways which abound in our Surrey Hills- just perfect for gravel bikes!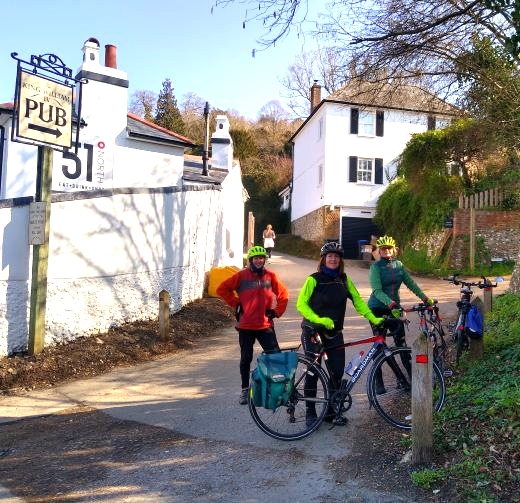 The Mystery – A place to drown your sorrows – but where is this? https://anerleybc.org/a-mystery-tour-to-denbies/
---
Some Reminders
Events previously advertised in earlier Gazettes, with places to still be filled!

Sign up now https://anerleybc.org/some-reminders/
---
And finally…
If so, drop us an email to the address below – Thanks!
If you are enjoying your cycling then it is likely that we all want to know what you are up to. Why not share your interests and experiences with the rest of us. Or perhaps there are topics that you would like to see in the Gazette?
anerleygazette@gmail.com
---
Current Covid guidance from our Club Captain
"The government is removing all domestic COVID restrictions in England. So dealing with COVID has effectively become advice on how to reduce the risks of catching and spreading COVID. This includes the following:
Get vaccinated
Let fresh air in if meeting indoors, or meet outside:
Consider wearing a face covering in crowded, enclosed spaces
Get tested if you have COVID-19 symptoms, and stay at home if positive"
Peter Roberts