100 miles?! When I joined the club in April I would have laughed at the idea, but here we are 2 months later and I'm about to set off for Hastings led by Tom Vaz and in the company of Karen Wrighton. The previous week I'd been on Tom's ride down to Eastbourne and mentioned to him that I fancied trying a 100-miler before the summer was out, but didn't expect it to come around that fast.
8am start and it was already clear it was going to be a perfect day for cycling – and so it proved. A lovely 18 degrees max, hazy sun & light breeze.
We set off with the now familiar climb up through Warlingham, then down Clarks Lane, Clacket Lane and on to Four Elms. I glanced wistfully at the café as we sped past, already in need of a caffeine shot and it was only just turned 9am! It was worth the wait though because we had our first stop in Tonbridge by the side of the River Medway and I had an excellent flat white in 65mm Coffee – I'm a bit of a coffee snob and it really did tick all the boxes. Tonbridge seemed beautiful on a sunny summer's day so I made a mental note to return to explore.
Next stop was Staplehurst for some photos by All Saints' Church, which is believed to date back to the 12th century, and Crown Cottages (date unknown but quaintly old).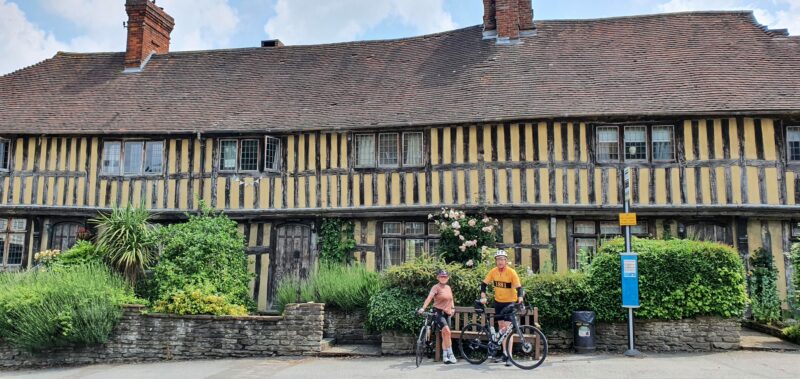 We carried on through countryside that epitomised why Kent can claim to be the garden of England, including at least two vineyards (again Tom allowed no dallying).  We were now at the half way point, and in need of some refuelling so we stopped on a beautiful quiet lane near Sissinghurst and climbed a stile to rest in a field.  It was idyllic England – at that moment a very green and pleasant land.  One of the highlights of the day for me was lying on my back in that field!
Karen then revealed that she was getting close to the point of bonking. Before I joined the club, this would have set alarms bells running, but I have since learned that bonking, in cycling parlance, means that you suddenly have nothing left in the tank. Karen said she was feeling shaky, so we made sure she ate her remaining fig roll and then I shared a snack bar with her. Revived, we moved on, and in fact then found a lunch stop 4 miles later – at Silcocks Farm. Me and Karen then made sure we were not going to be caught short of calories for the rest of the day, much to Tom's amusement.
That was our last proper stop. We then carried on through Tenterden, Appledore and headed for the coast. The last 40 miles was virtually flat (with one exception which I'll come onto) and I found myself slotting into an easy rhythm with no hills to disrupt it.
We finally hit the coast at Littlestone on Sea (about 70 miles in). After the obligatory photo we hugged the coast for about 4 miles with the silhouette of Dungeness nuclear power station on the horizon. Then inland to Lydd through Dungeness National Nature Reserve. I found the whole area slightly disquieting – perhaps it was the stark contrast of a power station and a nature reserve in such close proximity. Or maybe it was just the concrete roads which had cracks in them every few yards to shake me up just when I least needed it!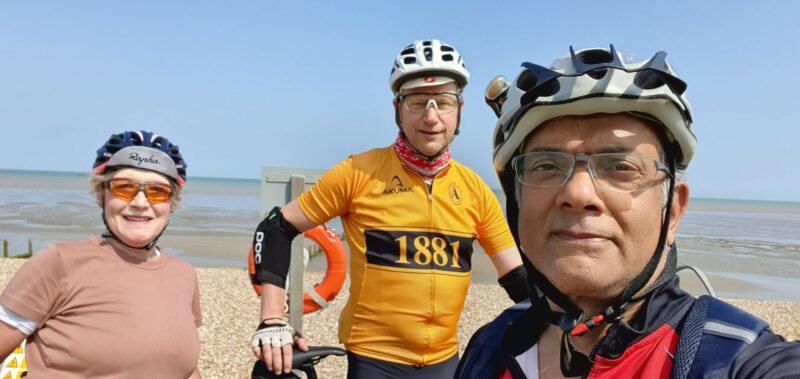 Then came Camber and into Rye. The main drag into Rye was gridlocked and so we cruised down the middle of the road, overtaking hundreds of cars – always very satisfying. A quick pit stop in Rye then out to the coast again and through Rye Harbour Nature Reserve. This was one of the other highlights of the day for me. A beautiful area and the light at that time of day made it extra special. We hugged the coast for 5 miles then headed for our final destination.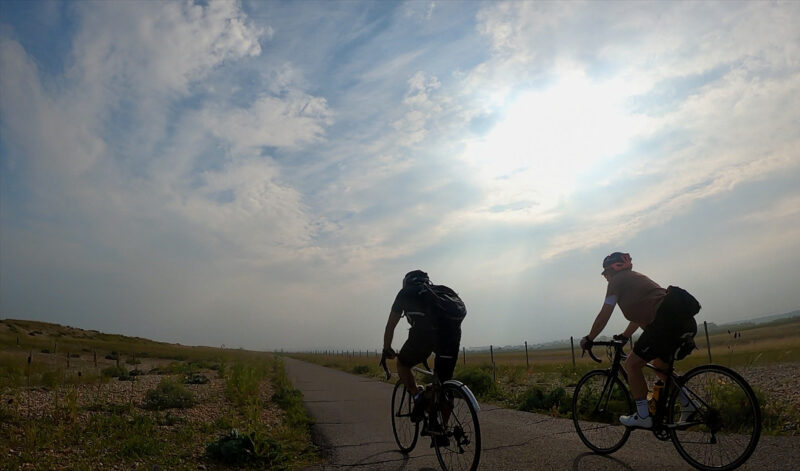 There was just one thing in the way – Battery Hill! When Tom had posted the gpx file of the route I'd had a quick look and could see this bump in the elevation profile near the end. On the day I thought, I'll give it a go. Then I quickly realised, it's not gonna happen so swallowed my pride and trudged up on foot. It is a bit of a beast – per Strava it averages 7.7% for a mile but at times hits 18%. Hats off to Karen and Tom – they made it up without stopping. Very impressive.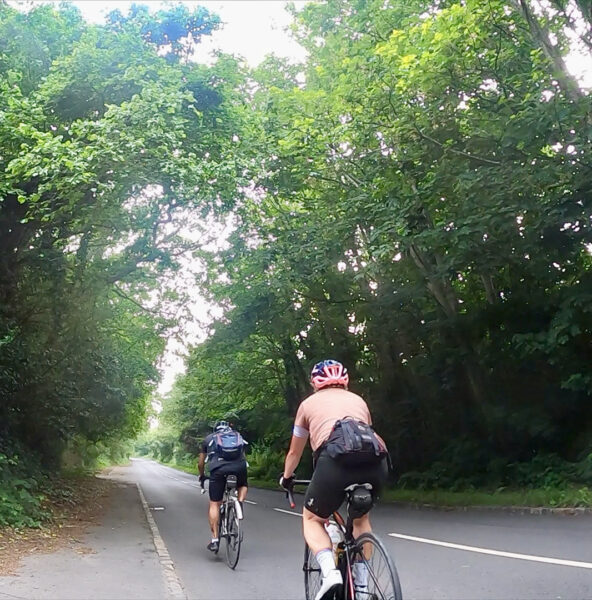 What goes up must come down and so we did then get the pleasure of a much needed freewheel down into Hastings town centre. My Garmin ticked over to 100 miles and the day was complete.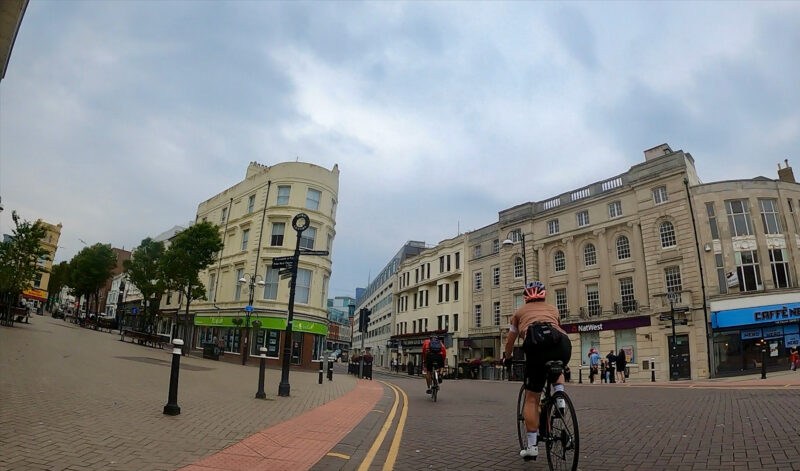 We then just had the small matter of getting back home, but the trains worked out pretty well and we were all in good spirits so the time flew and I was home around 9.15pm.
We all agreed we had had a mini holiday for the day – one I'll remember for a long time.
Download