George Bruce, a tribute from Anerley B.C.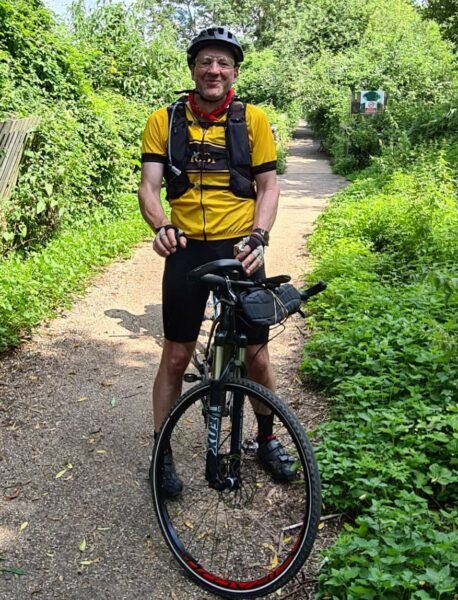 It was back in 2011 when we first encountered George. A tall, young man with a very soft Scottish lilt to his speech, his ready smile and warm humour made people like him instantly. He first gets mentioned in a club writeup in Octrober 2011 as "our Scottish friend George" https://anerleybc.org/tuesday-ride-18th-october-2011/
George's father is a farmer near Aberdeen and George would regularly stay with him before taking a helicopter to the oil rig where he worked. George mentioned helping his father with the harvest last September. Quite an amazing thing to hear from a cycling club member!
George rode with the Anerley as he tried to battle the effects of the stodgy food supplied offshore. In the early days with us, he would ride with us as often as possible before travelling to Scotland to the rig. His shifts meant that he could do many Tuesdays and Thursdays with us but he also rode regularly with Addiscombe CC on a Saturday.
When he finally came back to the Anerley in 2021, George was back to being lean and trim – indeed a very strong cyclist. He completed the gruelling 130 mile route, – following the River Medway in June https://anerleybc.org/river-medway-source-to-mouth-ride-6th-june-2021/.
Very keen on off road cycling George organised several rides before eventually leading a couple of memorable, challenging off road rides to Reading in August https://anerleybc.org/an-anerley-adventure-offroad-to-reading-twice/. How cruel to be struck down in what was still his prime.
George is survived by his wife Denise and daughter Felicity. Our condolences to the entire family of this wonderful man.
Here are some memories of George from club members:
Vince H
I fondly remember the ride, led by George L, to / from Reading. Such a nice man, easy to get on with.
Martin B
When I joined Anerley BC about 9 months ago, he rode alongside me on some of my initial rides and he was such a lovely sociable gentleman, and it made me want to be a better person. George, you and your dulcet Scottish tones will be sadly missed. You are one of the best and a true gentleman, and of course a great cyclist. RIP.
Bob G
I can genuinely say that George was one of the nicest people I have ever had the pleasure of cycling with.
When George was helping his dad with the harvest last September he messaged me, "Take care of yourself and that new bike. Remember the first scratch is the worse."
That sage advice from George about the first scratch on a bike being the worse will stay with me forever.
John D
Really enjoyed cycling with George off-road tail end of last year. So glad to have met him
Peter R
I can still remember the smile on his face and his excitement about getting out on his bike, his warmth and enthusiasm shone out.
Brian C
Only good memories of George. Like Martin he made me feel very welcome when I joined the club. We did some lovely rides together last year. He had a big heart and will be sorely missed.
Shak
A gentleman, and such a lovely person be around. Always made me laugh.
Fran S
A gentle man who had a larger than life personality. He will be missed by many of us, and I am sure there are countless memories club members can treasure of bike rides with George.
Mark H
He was a real gentle giant of a man & i will miss him badly.