As we move out of hibernation and there is a sudden warmth in March, the cyclist gets an urge to stretch himself. So, in need of some time to myself, I plotted a loop through the foothills of Kent having decided that I could bail out whenever I want.
There is an art to plotting a long route. I usually allow myself within 10 miles of a railway line in case of a bail out. The reasons for these could be failure of bike, body or boredom. My Kent escapade involves an area that I really love, plus a challenge of climbs and distance. With time, gears and no one to harass me, hills are not really a problem. This is what the route looks like with a mainline to London running alongside.
A big climb at the start to Botley Hill and a second one at Seven Oaks then a nice restful ride to Yalding and the always nutritous Teapot Island. These are all areas we know fairly well. The second half of the ride when you get to Tenderden is far from restful.
I plot my route on Komoot these days choosing the Bike Touring mode. This picks out a route which you can adjust to avoid dirt tracks or main roads. Komoot even allows you to see your route on Google Street View, a major benefit when considering dirt tracks or busy main roads. After a bit of jiggling of the route this is what I ended up with: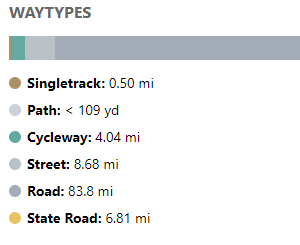 Single track is a very narrow path and Path is obviously not ideal but on a club ride, people will complain about Cycleway because it is not guaranteed to be smooth surfaced but I am reasonably flexible about these things when on my own and the route included several bits I hadn't ridden before so off I set.
I followed the A 25 through Seven Oaks to Seal which in hindsight was not a good idea. Traffic was busy and unpleasant – it seemed quite a drag at the time. From Seal the route goes South East to Ivy Hatch and through the wonderful Plaxtol before the long descent to Yalding.
Teapot Island is a regular refuelling stop off for us so I won't bore you with another description of the 100s of Teapots in the museum and the huge full breakfasts that they serve.
Afterwards comes a flat meandering route through Staplehurst, Frittenden an Biddenden. This is where you join the Route 18 towards Tunbridge Wells and the hills really kick in. Sweeping drops and steep climbs give you breathtaking views all around. A series of gorgeous oasts and some amazing homes make it all worthwhile.