A Mystery Tour to Denbies!
The winter chill carried on into March. Saturday the 5th March, was bitterly cold on our ride to Charlwood. When we got to Betchworth, adding to the cold, it started to rain. Three of us decided enough was enough so we cut the ride short and headed for a warm up and hot drink at Squires Garden Centre at Buckland. After that it rained all the way home.
The next day, Sunday – again too cold for comfort, but at least it was dry so we had a ride out to Priory Park Farm. Although after queuing up we eventually got a table for the 9 of us, indoors, there was no heating so we never got warmed up even with hot teas/ coffees and a bite to eat.

Then it was the Tuesday Ride – cold again – according to the BBC Weather it felt like 2c when we started from Shurgard at 10.00. But there was some bright sunshine! So to make the most of this golden orb we did a bit of exploring on our route to Denbies. A detour, skirting Leatherhead and Mickleham Downs, we took a little diversion thru a private estate of big houses (Givens Grove?) with great views over the surrounding Downs and wooded hills.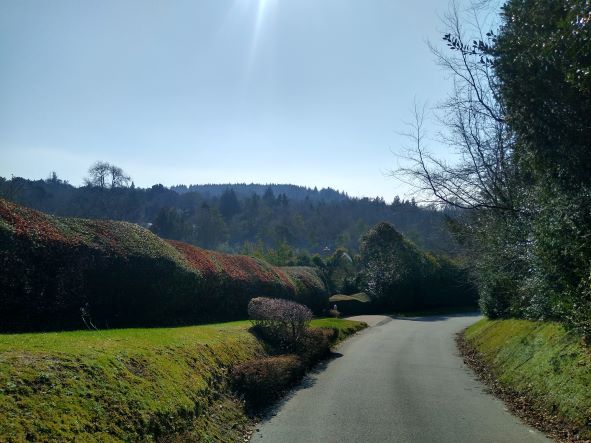 The network of private roads eventually led us onto a by-way, which linked down a steep bridleway to this named hill!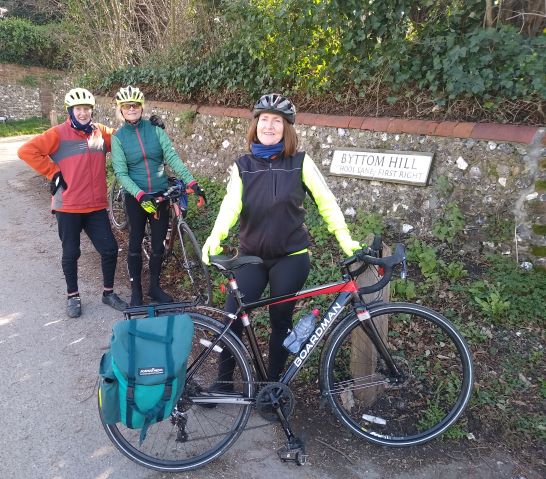 You probably won't have a clue where this steep hill is, but you may recognise the sign for the King William pub. You will have passed it many times as we cycle along the cycle path, opposite, alongside the A24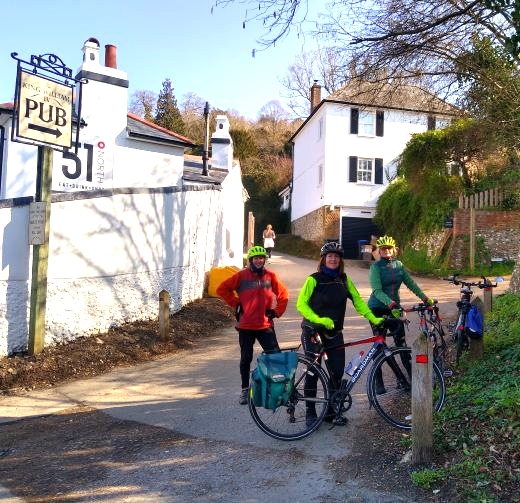 The OS map below should identify where this is. And if you can "read" O.S maps you will see the bridleways and by-ways marked on this map section. So who amongst you, have gravel bikes for a bit of, off road riding!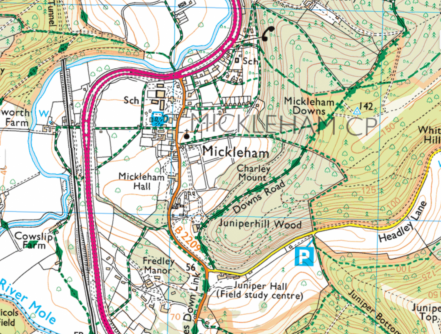 After this bit of exploring we headed down the A24 cycle path to Denbies, where just as we arrived, Sandy, Sally and the rest of the Ladies group, were just about to leave and head home. So after only a very brief conversation we took their vacated table.
All that was now left, was the climb up the Zig Zag of Box Hill as we headed home. Quite an enjoyable ride, and enough hill climbing to make it feel worthwhile, as build up for the 100k Kennet Valley Audax, only 4 weeks away!

Missing from our group photos, was our camera man, Asif, who also provided the Strava stats and route outline. But note, the top loop was just for Asif and Julie. Fiona and myself, starting and finishing at Purley did about 15 miles less, and I might add, at least 200 ft less of climbing!
Des