The Benefits of Cycling Alone
Ok, we all understand the pleasure of cycling in a group – at least I hope we do!
What most people in a club don't realise is the toll it can take on the leader in wind resistance and stress caused anxiety about the people relying on you not to get lost or cause an accident.
This article on wInd resistance https://cyclingtips.com/2017/10/much-benefit-really-get-drafting/ says that 10% of a riders energy is spent on fighting wind resistance. If you are constantly drafting the leader like Barrie does, you are benefitting from a drag reduction of between 27% and 50% meaning that you are saving up to 5% of your energy compared to the poor person in front. All depends on how fast the group is moving and how tight you are on the rider in front. On a windy day, this is going to be a significant saving in energy.
I readily confess to the anxiety that leading long rides causes. Especially if the route is a new one. Here are some of things that give me grief:
Is the cafe going to be open?
Is the cafe big enough?
Does the cafe serve hot food as well as cakes?
Is the coffee good enough for the posh people with me?
Is there any off road required? Hope it isn't muddy!!
Are the hills going to destroy my knees?
How is that so and so going to get back at the promised time?
Are we going to get to the railway station in time?
Everyone's gone quiet, do they hate the ride or are they putting in a lot of effort?
Where's Frank?
So we come to why I sometimes like to ride on my own.
Exploration of new areas without catering for other people's needs like coffee and toilet stops.
Spontaneity is a great part of adventure. If you see an intriguing road or track, you can give it a try.
Stop to smell the roses, or admire the view.
Push yourself if you want to. Or take it easy if that's required.
Get lost in your thoughts. Many times I have been on a bike and the solution to one of my problems has come to me as I meditate on my life.
Develop confidence in your own ability. I have been astonished to find myself starting a ride feeling awful and ended up riding strongly 100 miles later.
Training for an event or a challenge. You get a much better feeling of how you are doing without a group atmosphere.
Develop your self reliance. In a group, there is a lot of dependance on the leader or the other members for punctures or mechanical failure.
Safety tips for cycling on your own.
Tell someone where you are going or share your location using Google maps or Whatsapp.
Learn to read a map. Relying on technology is usually fine but sometimes crap happens. Batteries die! Carry a map of your route in your head – at least in terms of where towns and train stations are.
Plan an escape route in case of breakdowns. Knees or bikes to fall apart so you might need to nurse yourself to a station.
Stick to roads if you are unsure of your ability to repair your bike or do first aid on yourself. It is even more important if you don't have someone tracking your movements from home as it may be a long time before you are found.
Carry bike lights in case you are going to be late.
Do not get into arguments with people in cars. They are basically sitting in a big weapon.
Wear a camera – you never know when evidence might be needed!
These are some of the places I have visited on my own in February and March, examples of the beauty that are just out of normal group cycling range.
Alexander Palace a North London Destination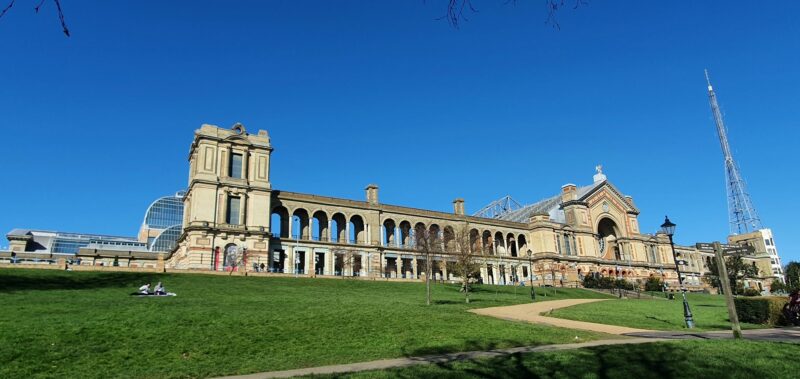 Fittleworth & West Burton enroute to Amberley
Chart Sutton & Sutton Valence on a Kent Loop from Tonbridge