Anerley Gazette, August 2021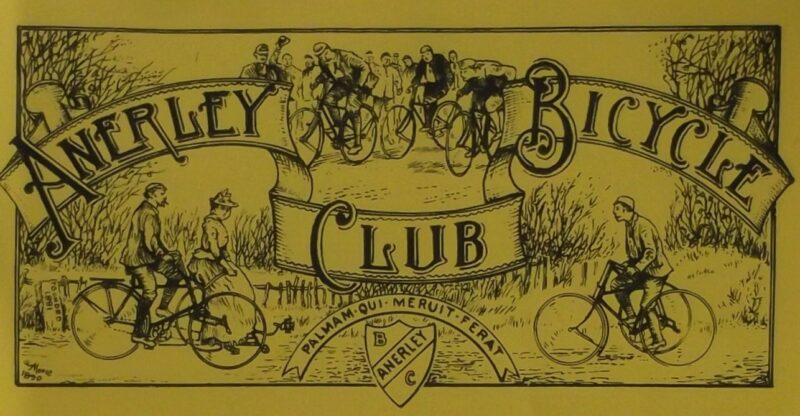 ---
Freedom Beckons
August already? Summer is nearly over, so I hope you have made the most of the sunshine and avoided the rain and thunderstorms. A typical English summer! Well not quite. For the second year running our cycling adventures have been somewhat curtailed by Covid 19.
However Vince came to the rescue and organised a Freedom Day Reunion – a get together of 28 of our Club members at Henfold Lakes. To read about it, follow the link below this short introduction to the August Gazette.
As far as I am aware, none of us have this year managed to leave our emerald shores for a foreign cycle tour. So to remind you of cycling's most enjoyable experiences, and to encourage those who have yet to find out, this month, a past adventure of Ewa's making https://anerleybc.org/cycling-across-spain-with-ewa-in-2005/. This taught me the ropes of organising and leading a ride into the unknown!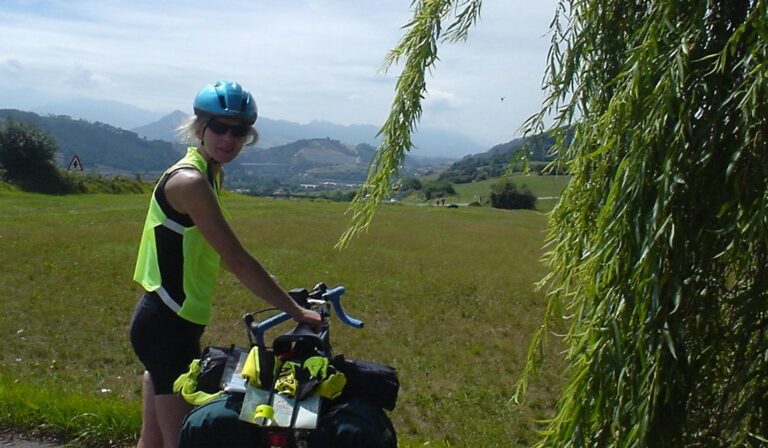 Do keep Saturday 4th September free. We are planning to hold the long awaited AGM at Tom Vaz's house in Wallington.
But there is a lot more which I hope will be of interest to you – just follow the links that follow on from here.
But before doing so, can I remind you – plead with you – to provide items for inclusion in future Gazettes. It is the Club Gazette and relies on you to provide material to keep it going!
Des
---
Anerley Reunion 2021
This was the great idea of Vince – a mass, Club reunion!
After 16 months of enforced separation, Vince's suggested that all of the Tuesday groups should meet together at a tea stop. The date was set for 27 July and 28 riders made their way in 4 groups to Henfold Lakes, roughly 18 miles there. And of course back!
The weather forecast was iffy from the start, but it turned out ok when everyone set off on different routes to met up at Henfold Lakes.
Then the rain came – lots of it! Some made it in good time and avoided a soaking, whilst for others it was a different story and they arrived at the lake soaked to the skin.
The club was able to commandeer the covered patio area of the cafe and were soon tucking into bacon sandwiches, paninis, cakes and the like.
---
Anerley, July News & Gossip
On Friday evening of 16th July Tom Tom was soaking up the party atmosphere on the South Bank along with 50 other cyclists from The Friday's Cycling Club as they prepared to depart for Brighton at the stroke of midnight. You can read the full ride report on the link here london-to-brighton-july-2021. Tom Tom had a great time, it was a very warm evening and a welcome stop came at 03.30, where tea and sandwiches awaited at the scout hut in Burstow. As they were moving on, dawn was breaking over the stunning countryside.
The full Gossip column containing more images of the reunion is here:
https://anerleybc.org/anerley-july-news-gossip/
by Denise
---
Anerley's Bank Olleydays!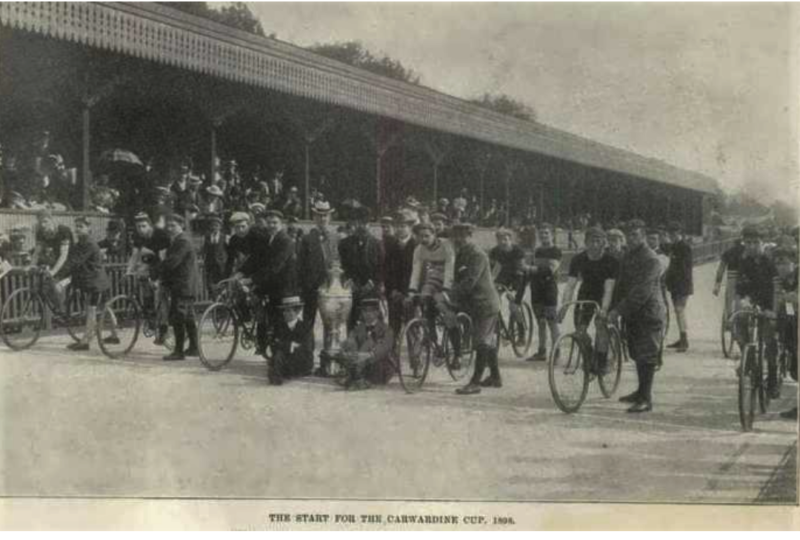 Last month, inspired by a photo that Capt. Mark had found on the internet, I wrote an item about the Club's Appletree Trophy. However our most valuable trophy was the Carwardine Cup which was awarded to the winner of a 100 mile race held annually at Crystal Palace cycle track.
This cup was donated to our club in 1895 by a Vice President whose name was surprisingly – Carwardine! It was not just a cup but a huge cup, valued at the enormous sum for those days, of 300 guineas. With 120 years of inflation, in today's money that is equivalent to over £50,000! And huge indeed it was, standing 4 foot 10 inches tall, and made from 650 ozs of silver, with ornamentation of solid gold.
by Des
---
At Last a Sunny Sunday!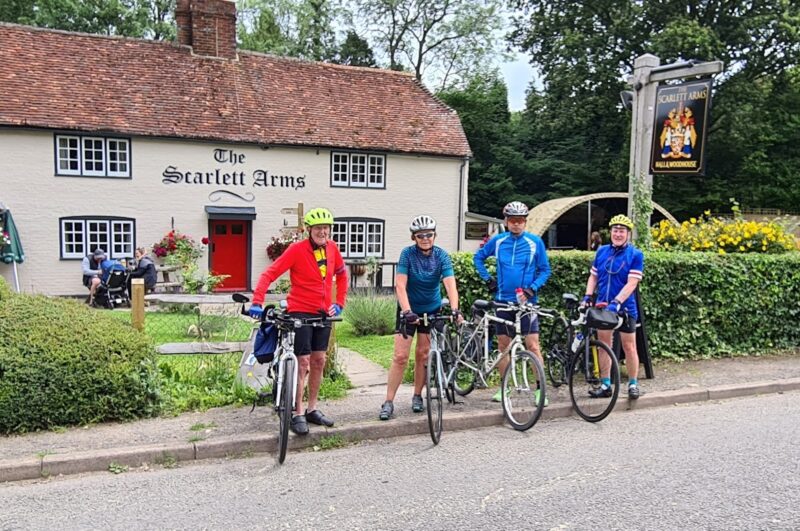 It had been a long wait, but after weeks of rain the 12 July was at last, a sunny summer's day. A day which deserved a meander around some of the best of our country lanes, ones that I hoped our team of 5 would appreciate – Denise, Tom Tom, Ricky, me, and Shakil who acted as our photographer for the day.
by Des
---
An Anerley Adventure – Offroad to Reading (twice)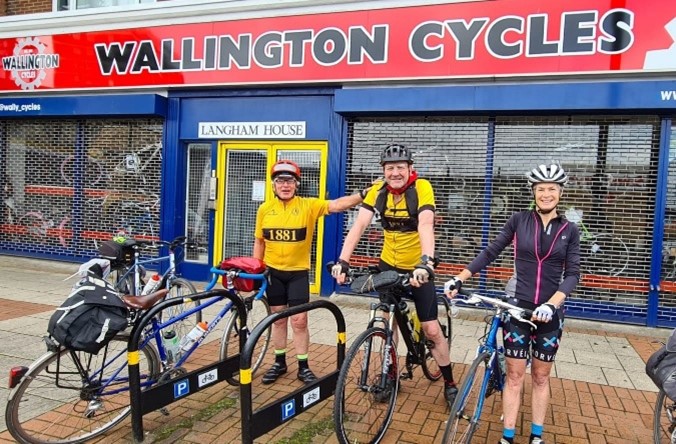 I'm standing outside Wallington Cycles with the group and at that point realise the wealth of cycling talent and experience that had agreed to put their trust in me for what I hoped would be a memorable and pleasant day out. I'd done my homework; I'd even done a lot of the route before (years ago). A good weather forecast, a flattish route, options, options on top of options, comms and gps gadgets fully charged etc etc.
Alison, John, Monica, Geraldine (late addition, pleasant surprise) and myself set off, later than planned, but this was fine, it suited the sort of day I was looking for – relaxed (just don't go thinking I'm a soft touch!!!).
by George B
Is It Ever Coming Home?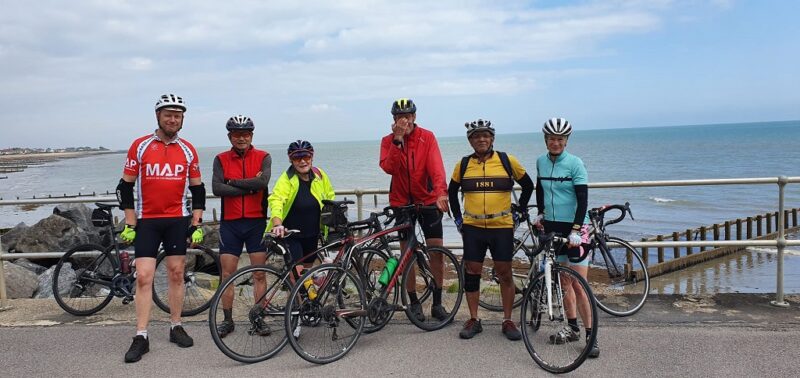 On 8 July seven of us met at Shurgard for another of Tom Vaz's seaside trips. He had already led rides to Eastbourne, Margate and Hastings and now it was Chichester in our sights. Heading south-west instead of south-east. The intrepid explorers were Karen, Geraldine, Monica, Ricky, Tim and me.
It was the day after the night before – the night England managed to make it to a football final since, um, now when was that…? So was it comin' home? We now know the answer and so I won't dwell on that aspect of the day.
by Brian C
---
Mark's Restoration Project – Final Part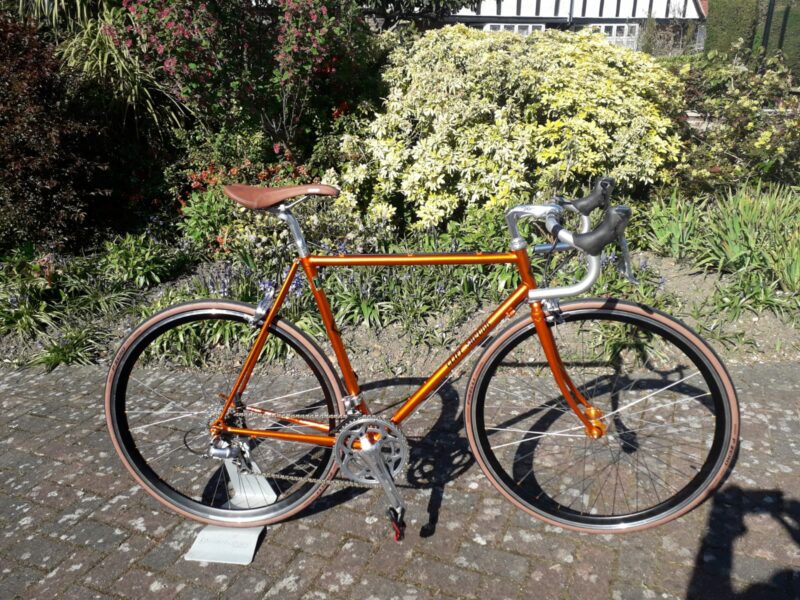 We left Mark last time with his revelation on how came to call his beloved restoration bike "Sunseeker". This episode sees Mark complete the project which has brought him a lot of joy.
Mark H
Highways and Byways – Puddledock Lane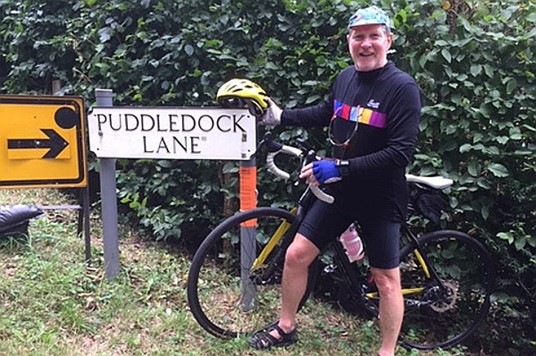 Such a strange name for a little country lane on the heights of our local Kent Weald, so where is it? I had to go back to November, 10 years ago, to find a club ride report which rewarded me with this…
By Des
Exercise for Both Endurance AND Intensity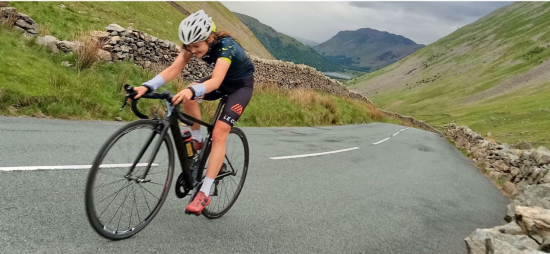 For maximum health benefits, you should work for both endurance and intensity in your exercise program. We have lots of evidence that exercise prolongs lives by reducing risks for chronic diseases such as high blood pressure, heart attacks and diabetes (PLoS Medicine, January 12, 2021), and adding intensity to a workout increases its health benefits (Brit Med J, Oct 7, 2020;371).
by Gabe Mirkin, M.D.
---
A Rummage Through Whatsapp
Please be respectful of other members when using social media and avoid causing offence or you will be removed.
Here is another roundup of the amazing, good times we enjoy as a social cycling club.
---
Covid Guidance from Captain Mark Hancock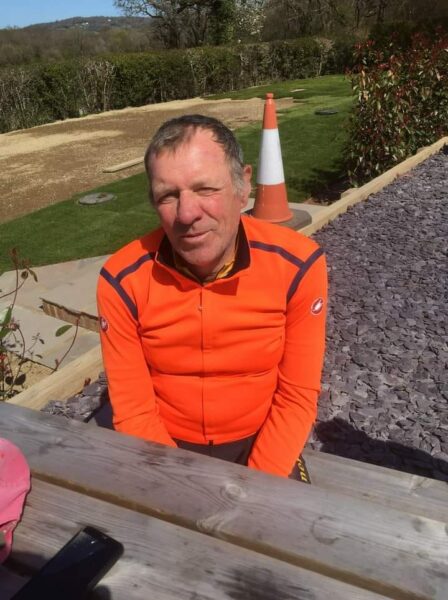 The lifting of lockdowns has finally happened, the current club ride rules are as follows:
All ride leaders need to use the Ride Register.
If you are leading at the start you need to make note of who you are riding with.
We need to make it known when we stop that we all wash our hands at a venue before & after eating.
We all need to have a mask, some cafe's still require it.Maximum group size is up to the leader but the guideline is still 8.
No official Anerley ride is to be ridden unless it is on the register, It is there for a reason use it.
Most of us have had a least one shot of the vaccine let's all enjoy group riding again but please make sure we stick to the basic guidelines.
---
This month's edition was once again produced by Des Donohoe with a bit of technical help from Tom Vaz. Many thanks for the additional contributions from different members of the club. We would welcome any articles for consideration for the next Gazette – it is YOUR club newsletter!