On 8 July seven of us met at Shurgard for another of Tom Vaz's seaside trips. He had already led rides to Eastbourne, Margate and Hastings and now it was Chichester in our sights. Heading south-west instead of south-east. The intrepid explorers were Karen, Geraldine, Monica, Ricky, Tim and me.
It was the day after the night before – the night England managed to make it to a football final since, um, now when was that…? So was it comin' home? We now know the answer and so I won't dwell on that aspect of the day.
The weather in previous days had been pretty mixed but the forecast for Thursday looked good.  As it turned out, the first half of the ride involved very wet roads and it felt like we were following a storm.  It barely rained on us, but on one track we had to navigate through a huge puddle/lake so we let Tim go first to check how deep it was!  Then at some point, the roads seemed to magically dry out, almost in an instant.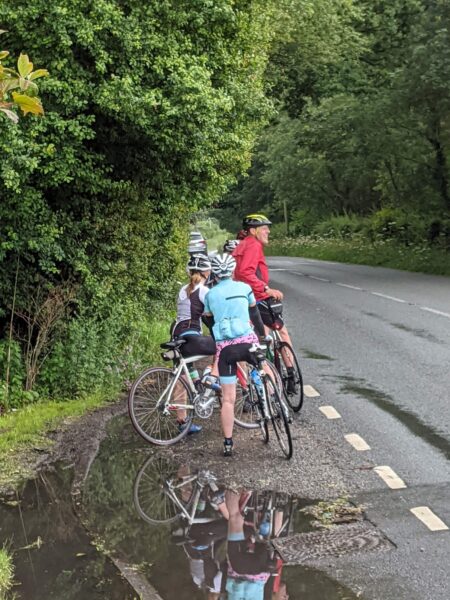 Our route took us up Portnalls Road to begin with (always a hill at the start isn't there?), across the M25, down Reigate Hill and then into the green lanes of Surrey.  First pit stop was after 30 miles at The Milk Churn near Rudgwick.  According to its website it was featured in the Guardian's Top Ten UK places to eat in the countryside (2016).  If I'd have known I would have tried their "famous" cheese on toast!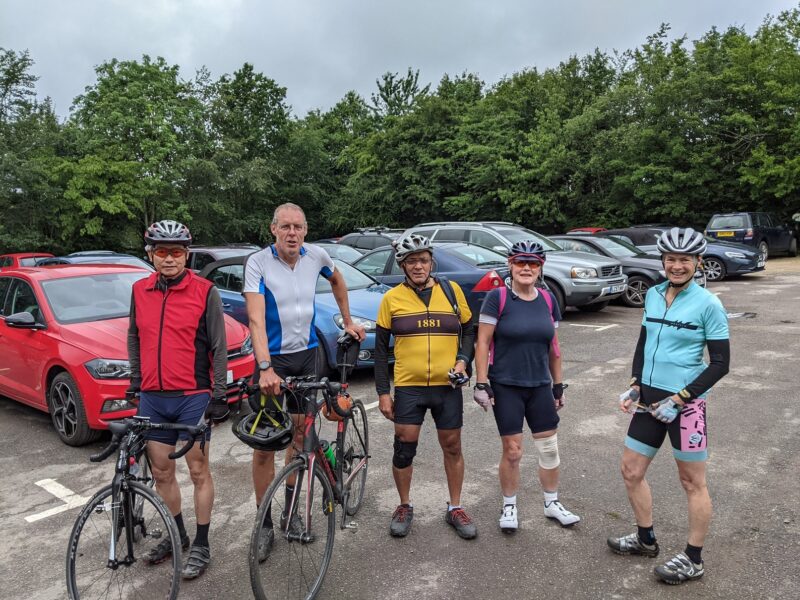 Five miles later, I was just getting into my stride when I began to feel the bumps in the road just that little bit more than usual and realised I had a puncture.  It was a very slow one rather than a blow out but, even so, it required a change of inner tube.  I was slightly anxious as this was my first puncture with this bike as I only bought it last December, and I'd seen comments online implying that it would be tricky getting the tyre off.  But I had the "A Team" of technical support with me in the shape of Ricky, Karen, Tom and Tim and so, between us, it was off in a jiffy, and I was ready to continue in record time.  Monica did quip "how many cyclists does it take to fix a puncture?" and the answer was "five"!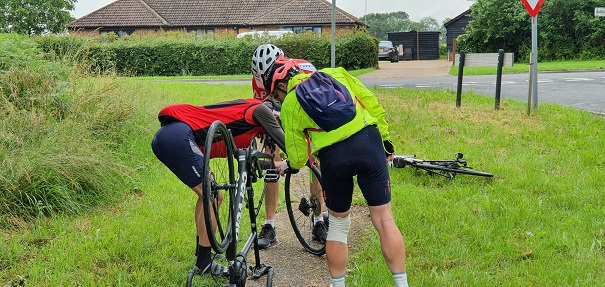 55 miles in we arrived at picturesque Arundel, replete with choices for lunch. We decided on The Edible Sandwich located right by the River Arun. It was a beautiful spot, but I was slightly fazed by the name of the café – serving edible sandwiches did feel like the least we should expect! Ordering did become a little bit of a trial as we were told that they were not serving the breakfast menu or jacket potatoes – so far not unusual. But then a few of us wanted egg sandwiches and the waitress asked if we were ok with poached eggs in those. Ricky said he would prefer them on toast if possible and that was ok – which turned out to be effectively the breakfast dish which Tim had originally fancied; but he ended up with his eggs dribbling out of a sandwich! Later eggs on brown toast arrived and everyone had blank faces; seconds later Geraldine realised they were probably hers as she'd ordered an egg sandwich, chased into the café only to find they'd disappeared! A new set emerged a few minutes later. Some references were made to Basil, Polly and Manuel but that was unduly harsh!
We then pushed on for the coast and, turning into the aptly named Sea Road, we thought this must be it.  It was, but no one was sure quite where we were.  Karen asked a couple of passers-by and we were none the wiser as they weren't sure either – "near Bognor" came the reply.  In fact they were right as we were on the outskirts of Bognor in a place called Felpham (which takes some saying).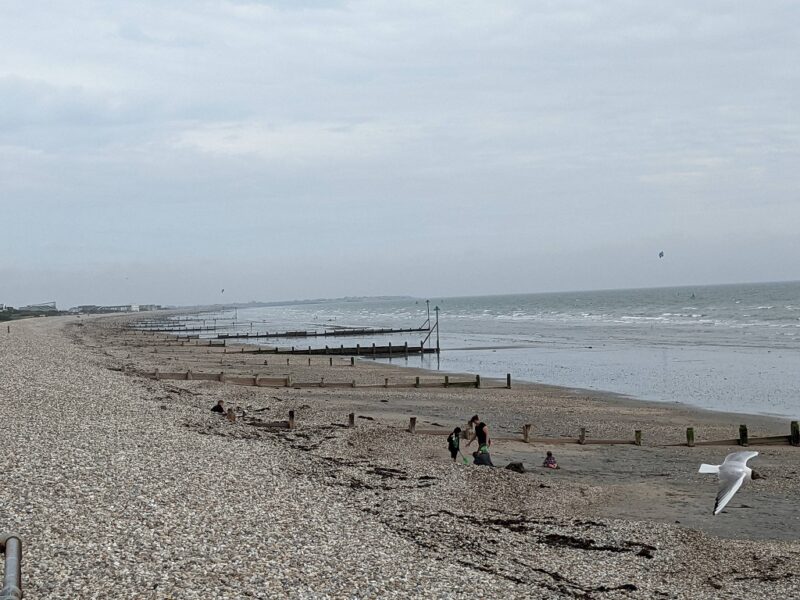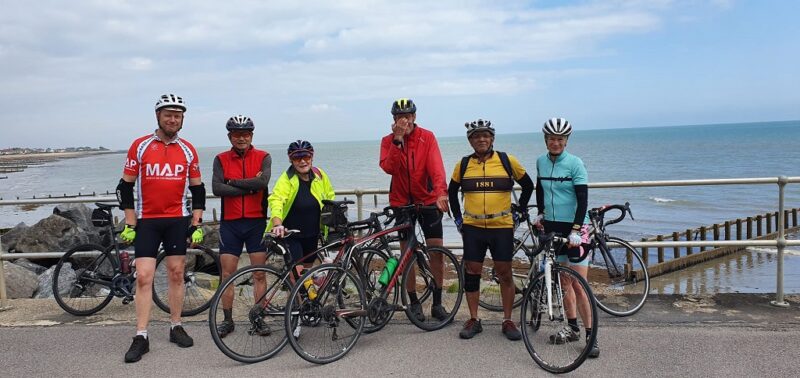 Now for a short cultural diversion. My favourite band as a teenager was the Jam – powerful music and brilliant lyrics. For me Paul Weller is one of the great English poets. Their 1979 track "Saturday's Kids" was typical and included the lines "Save up their money for a holiday, to Selsey Bill or Bracklesham Bay…". I've never been to either, but our ride to Chichester took us through Bracklesham and skirted Selsey Bill so at least I know where they are now!
Back to the ride.  The last 35 miles out of Arundel were flat and, unlike our recent Hastings trip, there were no huge hills waiting for us at the end.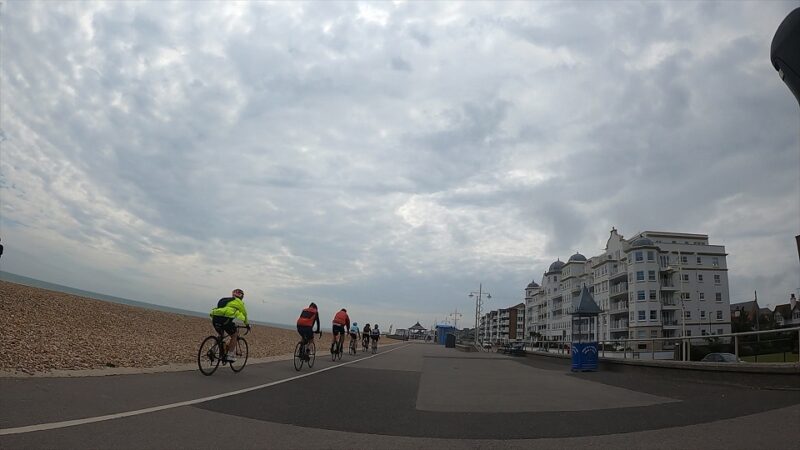 At Bognor we had a pleasant ride along the promenade then headed back inland and later out to the coast again at East Wittering where most of us enjoyed a much needed ice cream.
We then headed for Chichester via West Wittering, jumped on the train and headed for home.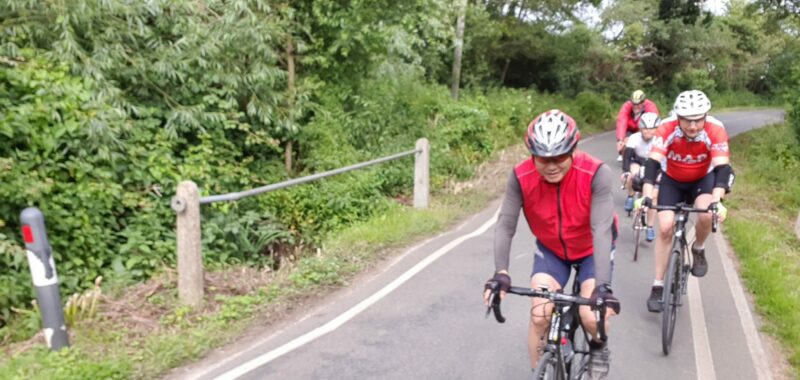 Another great day all round. (Apart from the Football)