An Anerley Adventure – Offroad to Reading (twice)
First of 2 return trips to Reading. Out 05/0721 return 06/07/21
Wallington to Reading Day 1.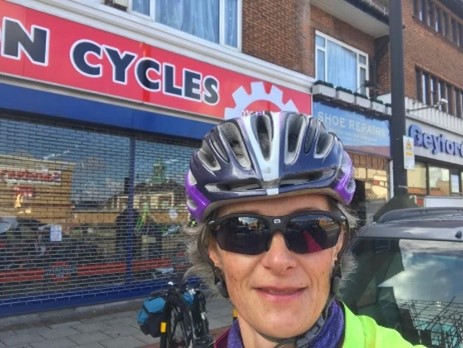 I'm standing outside Wallington Cycles with the group and at that point realise the wealth of cycling talent and experience that had agreed to put their trust in me for what I hoped would be a memorable and pleasant day out. I'd done my homework; I'd even done a lot of the route before (years ago). A good weather forecast, a flattish route, options, options on top of options, comms and gps gadgets fully charged etc etc.
Alison, John, Monica, Geraldine (late addition, pleasant surprise) and myself set off, later than planned, but this was fine, it suited the sort of day I was looking for – relaxed (just don't go thinking I'm a soft touch!!!).
The Wandle Trail looked lush and green as we meandered Northwards, we skirted around the North of Wimbledon and arrived at Wimbledon Village. My offer of a look at the tennis was politely declined by all, so onto and through Wimbledon Common, initially taking the group the wrong way, Roehampton and into Richmond Park. Part way around the park on the Tamsin Trail before exiting Northwards into East Sheen followed by Mortlake and then The River Thames. This we followed until we crossed Kew Bridge and turned Westward along the side and below the elevated M4. We crossed the M4 via a nearby elevated walkway and returned to the required junction. Led the group up into a dead-end before turning and accessing the Grand Union Canal. We travelled along the towpath until deciding we deserved a coffee stop. Cafe selected and we secured bikes, ordered coffee, used facilities, discreetly scoffed our own foodstuffs etc and waited and waited for our never to arrive coffee. On departing, we went off route and got Monica and Geraldine safely to Southall train station where we said our goodbyes. Now we were just 3. Back to the canal and West we went. It quickly became apparent that our smaller group although chatty was very much less chatty! A few miles further along the mixed surfaces (some brand new, some definitely not) of the towpath, right at the edge of the water and we turned left onto the Grand Union Canal – Slough Arm. Forgot to mention that at 1 point we went uphill over about half a mile, passing lock after lock after lock (are there 13 of them?). Impressive. Plenty of life on the canal as well. Enviable lifestyle. About halfway along the Slough Arm and John suffered a puncture on his rear wheel caused by a discarded ink pen cartridge. He had only put these tyres on, brand new the day before. One text book puncture repair later and on putting the wheel back and testing it found that the ink cartridge had affected his brakes and mudguard as well. Whilst trying to assist / not get in the way Alison and I managed to scoff some food and drink. Before we knew it our turnoff appeared and we left the quietness of the canal and headed South to Windsor and our first proper coffee stop.
Decision time, Reading direct or longer loop to Henley-on-Thames. I need not have asked. Onward to Henley-on-Thames, via The River Thames, again and soon after across land to follow the nearby Jubilee River.
On reaching Maidenhead, we skirted around it to the North and across farmland. By this time energy levels where getting low and time was creeping on. Found a village shop and cake was bought. Whilst standing on the pavement eating cake the shop shut. Phew, just in time.
Don't ask, see the route gps but once again we're now back beside The River Thames. At one point we had to walk for about 100m along the river, loads of no cycling signs, gates and deep gravel on the pathway, between houses and moorings on the river. Back on the road again and up what was to be our last (long but gentle) climb of a non-hilly day. The reward was a straight and speedy decent on a wide good surfaced road down into the heart of Henley-on-Thames. John mentioned 42mph. My gps gave me 40mph (on a MTB). Clouds where darkening in the distance so 1 photo and we departed Henley-on-Thames.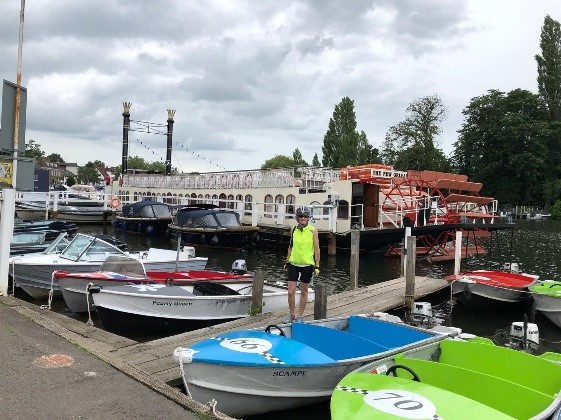 On the outskirts of Reading light rain started to fall gradually getting more persistent as we went. Jackets on and we arrived in roughly the centre of the city. The area being Caversham. John left us and crossed the river towards his bed for the night. Alison and I travelled further along to Alison's intended hotel, only to discover it was fully booked. The more upmarket hotel next door was only too happy to take Alison's money. Arrived at my sisters at 8pm, showered, gear washed, chicken and chips followed by delicious homemade rhubarb sponge and chilled ale, quick catch up and bed.
For me door to door 66 miles.
---
Reading to Wallington Day 2.
My untried and tested return off road route was scrapped due to heavy overnight rain. The rain just easing off as I arrived at the arranged departure point.
Cooked breakfast and not so great coffee and we 3 headed off, sometime after 10am.There is not much to report on the ride back.
We stopped often and worked the gps hard to ensure that we remained on tarmac.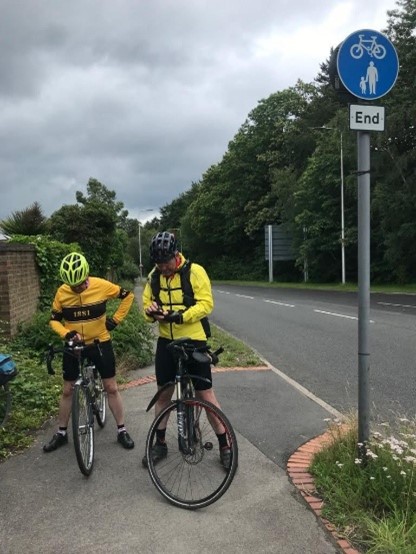 John's Garmin being slightly different to my Komoot app on the phone and my new Hammerhead Karoo 2 device (45-day trial, I've now returned it for a full refund).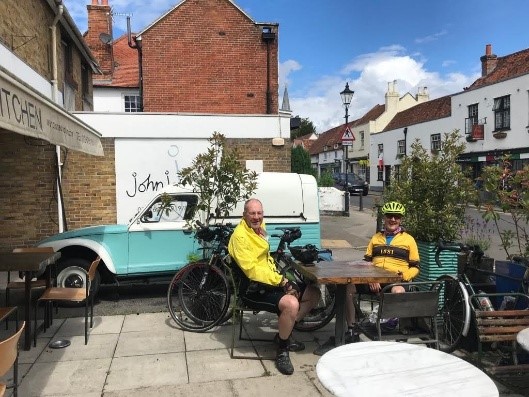 Some sections where on busy, fast and noisy dual carriageways, John's experience helped when keeping all 3 of us together in a tight visible group. 1 of John's Kodak moment pictures, with all the water, helps illustrate why off road was a no no.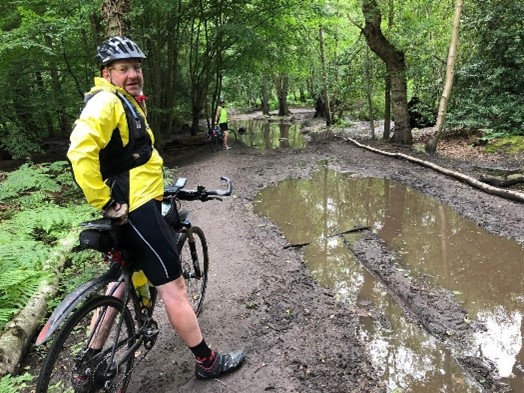 On arriving in Epsom our group reduced from 3 to 2. John left us as he had another 'sporting' event to participate in that same evening! I was ready for my bed!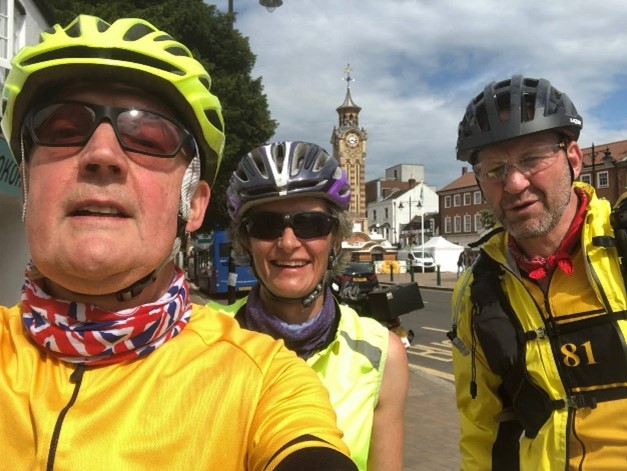 Alison and I departed Epsom in the rain. My chain started to play up (broken link, since replaced) and Alison got a puncture. I said my goodbyes and left her to it… No of course I didn't. Inner tube patched and refitted, part inflated and found that her pump wouldn't work properly. Tried my pump, same problem. Checked valve, looked okay applied brute force to pump and blockage cleared, hoorah! Only recently have I managed to fit a tyre back on the rim with my fingers. Alison has sussed it out as well.
Home at 5.30pm. 53 miles door to door.
My thanks to Alison and John for the photos. It can be a bit of a chore, but nice to view, and to Vince for his 'online' support.
---
Second of 2 return trips to Reading Out 14/07/21 return 15/07/21
Wallington to Reading Day 1.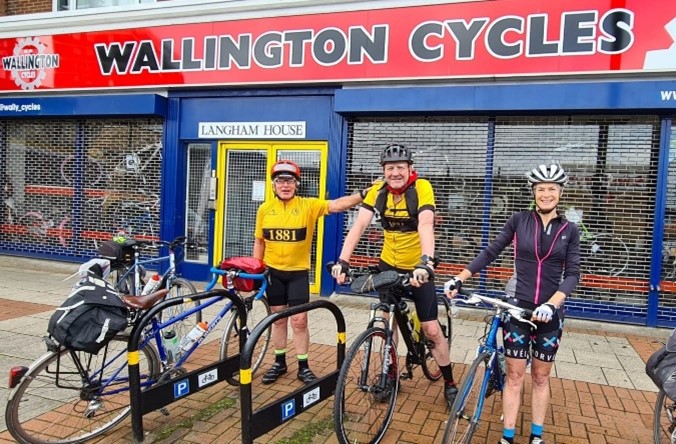 Well the first trip didn't scare everybody away. I had shortened today's route and the forecast was no rain. This time (9am start) I was joined by Monica, Geraldine, Shak and last but not least Vince, well it was noted and recorded that he turned up 2 minutes late. With his excuses ignored we cycled away, yet again from Wallington Cycles.
My routes first detour was at Carshalton FC stadium. Back on track and we circled to the North of Sutton and North Cheam, onwards to West Barnes and Raynes Park.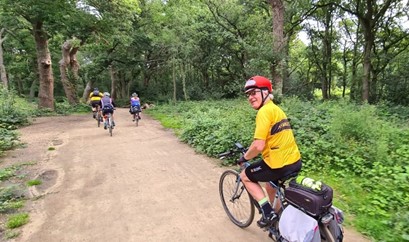 Further on and we travelled Northbound on the Southbound side of the A3, before dipping into the bottom of Wimbledon Common, across the A3 and into Richmond Park. Quick comfort stop and on Northwards thro' East Sheen, Mortlake and along the Thames to Kew Bridge. Next it was 1st left along towards Brentford and onto the Grand Union canal.
Within minutes we had the first of 2 punctures and in her excitement of participating, Geraldine had left her repair kit at home. On the 2nd puncture Shak came up trumps with a suitable replacement inner tube. Both punctures where quickly and cheerfully dealt with.
Our first coffee stop was in Hayes, nice reasonably priced coffee and more pics taken.
Back on the canal again and we cycled onto freshly laid tarmac on the path. This was there last week as well and I commented on how good the surface would be for some distance. Needless to say a few hundred yards further on and we where diverted off of this lovely surface and back into civilisation. We can only surmise that they are continuing to improve the pathway. One detour thro' West Drayton later and we re joined the canal heading West to Slough (Slough Arm). The end of the canal was a bit of an anti climax though. It just stopped at a residential street. Along this last part of the canal I became aware of just how fit and strong young Vince must be.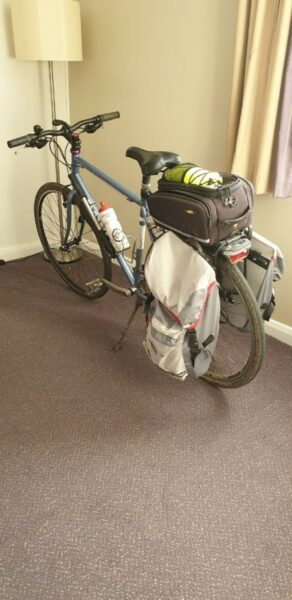 I helped him push his bike up steps beside the canal. His bike weighed a ton, well the kitchen sink he must have had in his panniers did! Our 3rd detour was just before crossing the M4 and Jubilee River and heading Westward along the river footpath.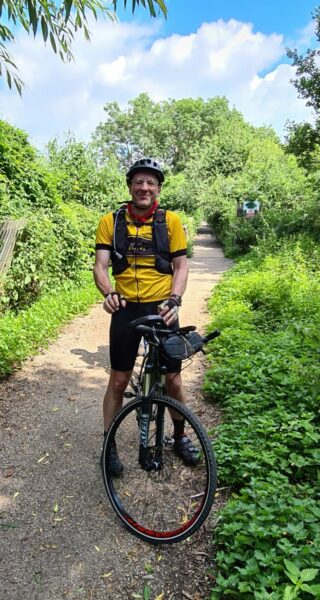 Some distance later we cut across country, a mixture of roads, paths and trails and once again over or under the M4. Next and last coffee stop was in Twyford. It so happened that where we stopped was next to a Waitrose. Monica disappeared and on her return shared out some much enjoyed, by all, chocolate. Next place of note on the route was Sonning.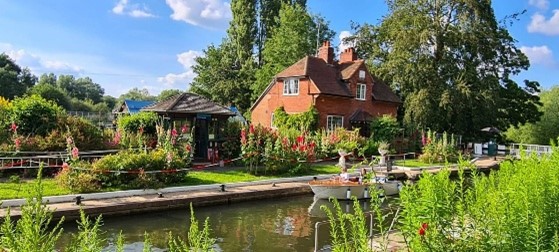 Here we joined the Thames again, very picturesque. A little later and we turned left onto the Kennet River which quickly became the Kennet and Avon canal and before we knew it had arrived at Reading station.
Geraldine left to head back to London. The others headed for their hotel. I got to my Sisters at around 18.45.
Mileage for me door to door 61 miles.
---
Reading to Wallington Day 2.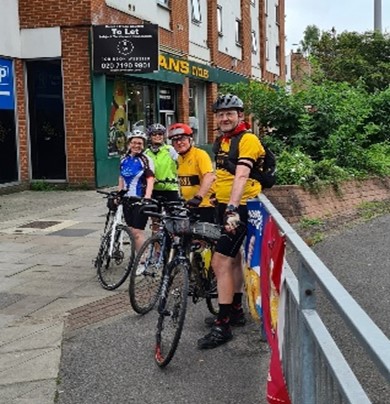 The way back was the same route originally planned for the previous weeks trip of which, then, we tried our very best to avoid, due to heavy overnight rain.
Todays group consisted of Vince and Monica whom had stayed over, joined by Alison and Fran who travelled out from London arriving in Reading at 08.30am. Shak, although having stayed over, decided to make his own way back home. He managed to post some great pics on chat of his trip. They had all had breakfast together at the hotel before I arrived. Note – they where allowed to have their bikes in the rooms with them and right next door was a branch of Evans Cycles.
The arranged departure time of 10am slipped to 10.15am. Wide and pretty empty roads out of Reading lay ahead. This was the same thro' Earley, Winnerish and Wokingham. After Wokingham it got much more interesting with the start of what was to be numerous and enjoyable, mainly of decent length and surfaces, paths and trails only touching on roads when necessary. Time crept on and it was getting past lunch time so as one we agreed to sacrifice some of our off road fun for speed and stayed on the road for some miles to get to a food stop.
We had by this time travelled close by military training areas and ranges, dug mud out of close-fitting mudguards, dodged healthy looking stinging nettles adjacent narrow paths and discussed at length, what animal had 'dumped' right in the middle of a path etc etc. It had been a fun but tiring few hours.

We ended up in a coffee shop in West Byfleet. The sustenance revived us all and at the first opportunity we were back, on track, off road.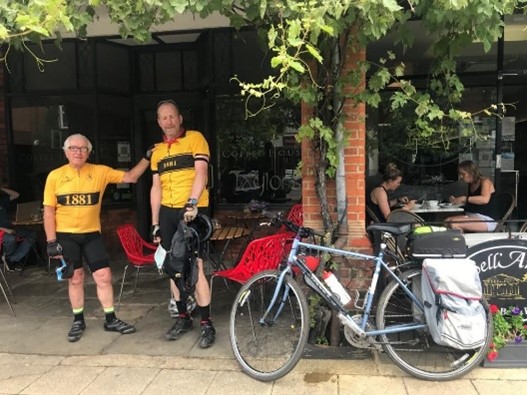 Our first unplanned detour happened just after Wisley Village. Quick turnaround, re route and off we went. On crossing the A3 via an overhead walkway Alison came across a recently 'discarded' budget mobile phone. It was decided that we would hold on to it as someone had recently tried to call it. Minutes later and the phone rang, Alison answered it and low and behold it was the, no doubt, anxious phone owner. Unsure exactly where our group would be or at what time, the owner arranged with Alison to keep in touch and meet us further on. With no time wasted on our part, the happy and grateful owner was reunited with his phone on the outskirts of Oxshot. As it was the owner was a kilted Irishman from County Cork who was also a keen and adventurist cyclist. He spoke briefly of an upcoming cycle tour in Spain. Next we crossed Crown Estate land, last bits of mud dodging, and entered Ashtead Common. Very soon after we where sitting down outside a coffee shop in the centre of Epsom. All still happy and smiling, well it certainly looked that way to me! Would we, should we split at this time? Well I took a chance and advised that there was still off road between here and Wallington and chances are it would not be so hilly as going up to the racecourse. For once I got it right. Less climbing and a fairly enjoyable set of pathways back into South Sutton. I was the first to break away home from the group just before Wallington Cycles. I have no doubt that I was the first to be in the shower!
I have tried to give a light hearted comment on everyone involved on the day. Well what can I say about Fran? She was a trooper. From start to finish I saw nothing but smiles, even when confronted with Vinces banter. There was a point thou' when she took a tumble on a sandy trail section that the smile dipped slightly, but only momentarily, dusted down, back on the bike and smiling again.
My thanks to my daughter for pre editing before sending on to the Gazette (English and Media Studies A Levels being put to some use).
For me 51miles door to door.