G.A.Olley – Perhaps Anerley's Greatest
Captain Mark has an interest in historic bicycles. Recently he came across this photo of G.A.Olley in 1902, showing off his Raleigh Cross Frame racing bike, with a backdrop of trophies that he had won. No other information was provided but it was probably a promotional photo for Raleigh, the bike manufacturer.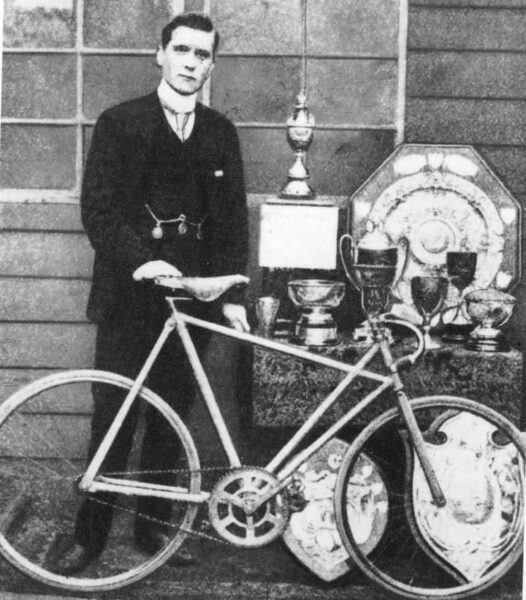 Olly was a long time and very famous member of Anerley B.C and something in the photo caught my eye. This being the shield trophy on the far right, behind the front wheel. Surely, it is the same shield being awarded to another of Anerley's greats, some 120 years later!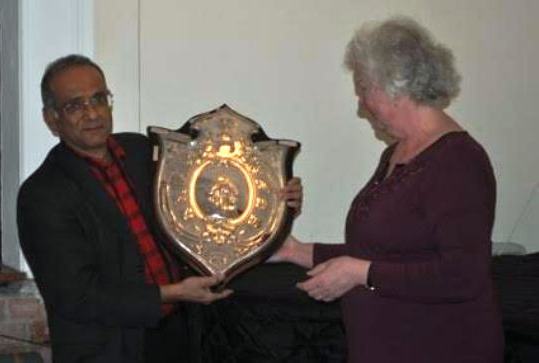 The shield is now awarded to our Club member who has completed the greatest cycling challenge of the year. At the annual prize giving in 2015 it was unanimously agreed that our then new Club Captain, Tom Vaz, should be the worthy winner.
So how did this magnificent 120 year old trophy end up being awarded to Tom?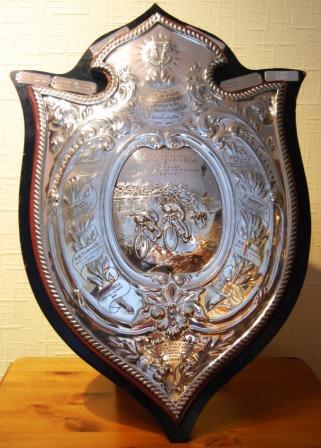 The Appletree Shield was originally donated to the Vegetarian Cycle Club by the owner of the Appletree Vegetarian Restaurant, hence its name. The shield was awarded by the Vegetarian C.C at an annual event to the rider who covered the greatest distance in 12 hours. In the years, 1901, 1902, and 1904 the shield was awarded to G.A. Olley of the Anerley Bicycle Club, one of the most outstanding distance cyclists of his era. His record setting ride in 1904, over a distance of 202 miles, over unmade roads (no tarmac then, just muddy cart tracks!) was a great achievement. It was also an achievement to win this gruelling event three times, as a result of which the shield was given to him to keep, in perpetuity.
Perhaps an interesting little snippet, is that Olley was himself a vegetarian. So he was a very apt and worthy winner of this trophy.
But winning the Appletree shield three times was but only a small part of Olley's many record breaking achievements. The most famous of which were breaking the record for the ride from Land's End to John O'Groats in 1905 and in 1908 setting another record – 3 days, 5 hours and 20 minutes – knocking 15 hours off his previous record!
But returning to to the Appletree Shield.
Upon the death of George Olley in 1955, his son donated the shield to Anerley B.C. and it is now one of our most prized and coveted trophies. Naturally with its provenance, the shield continues to be awarded for some deed of cycling endurance. Fortunately, the present day Anerley club member does not have to ride to John O'Groats in 3 days to be awarded the Appletree Shield. So what did Tom Vaz do in 2015 to be awarded the prized trophy?
Tom's endurance ride of the year was to complete a solo, charity bike ride, over the Alps, to Rome, spending most nights sleeping in a hammock strung up between a couple of trees!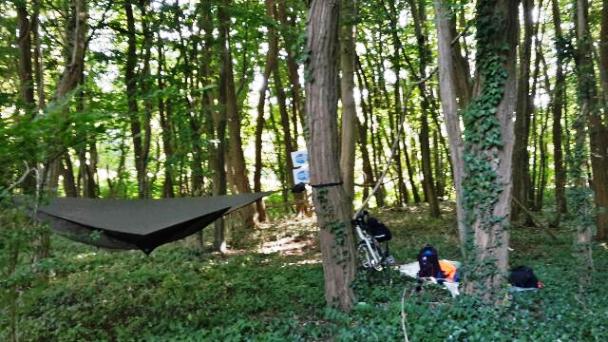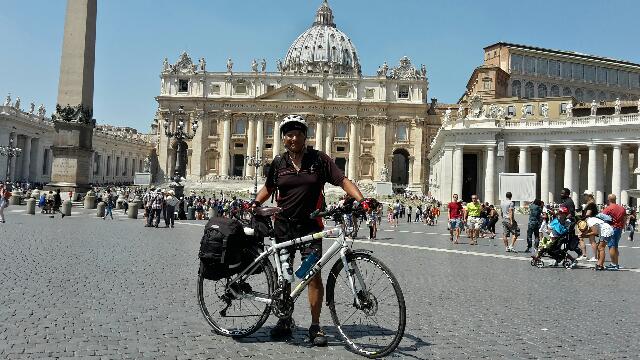 By my reckoning, G.A would have completed the 1284 miles in a little over 5 days 12hrs and 15 minutes, but then he would not have had to carry a hammock and all his luggage!
So well done Tom, a very deserving winner, but to whom and for what, is the trophy to be awarded this year? Do we perhaps have someone to set an Anerley record for climbing the 29,038 feet of Everest?
Des.