Tuesday Ride: 18th October 2011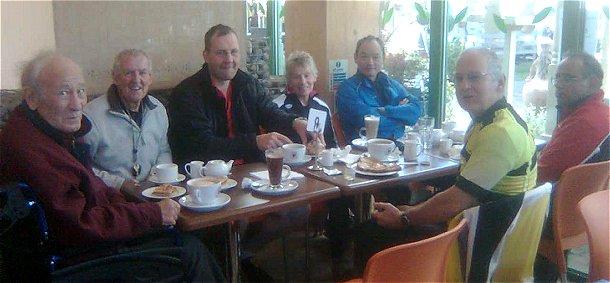 It's my pleasure to pen a few words about the latest Tuesday ride, having been delighted to join "The Tuesdays" again in my half-term break.
I waited at Warlingham Green, just expecting to see a couple of riders, and was very surprised and pleased when five riders came into view: John Dadson, Sandra, Ricky, Tom Vaz and our Scottish friend George. Ably led by John, the six of us set off on our well-known route via Tatsfield to Coolings in Knockholt.
There we were happy to find Des, who had brought John Turnbull to the café to meet us, since Meike was unavailable. The eight of us had a pleasant drink together (kindly paid for by Sandra, as she had recently celebrated her birthday), until we split up; Des to take John home, and the rest of us to carry on with our ride.
As it was such a beautiful spring day, we decided not to head straight back, but to continue further east into Halstead and Shoreham and then back along the Pilgrim's Way. I farewelled the group at Ovenden Rd in order to go into school and do some work; the rest continued along the Pilgrim's Way and on up Clark's Lane and home.
We have been very lucky to have such wonderful riding weather lately, even if it is getting somewhat cold now. Long may it continue! Next Tuesday we are looking forward to another ride led by John Dadson, this time into Surrey. Anyone interested should meet at Tesco, Purley at 10am.
Julia Barnes