CLUN to the KERRY RIDGEWAY
After our first day in the Welsh Marches, starting with a visit to a visit to Ludlow (see https://anerleybc.org/an-introduction-to-the-welsh-marches/ ) This was on our second day – Saturday. The plan was to do 2 hikes – in the morning a short hike along part of the Kerry Ridgeway – and then a drive to a longer hike in the Hafren Forest.
To give some idea of the lie of the land, below is a map showing our 11mile car ride, heading west along the B 4368 from Clun to start our first hike along part of the Kerry Ridgeway. Note that the line of red dots is part of cycle route 44 – a very interesting bike ride which we would do on the next day – Sunday.
For greater detail a navigable map is at https://cycle.travel/map/journey/378215.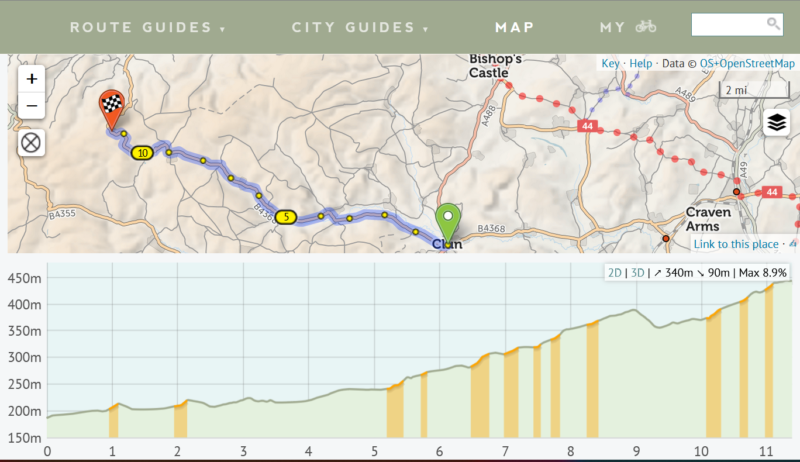 Leaving Clun past it's old castle it was a very pleasant ride along the B4368 following the part wooded valley and the adjacent River Clun. It passes thru woods and fields, with views over the countryside.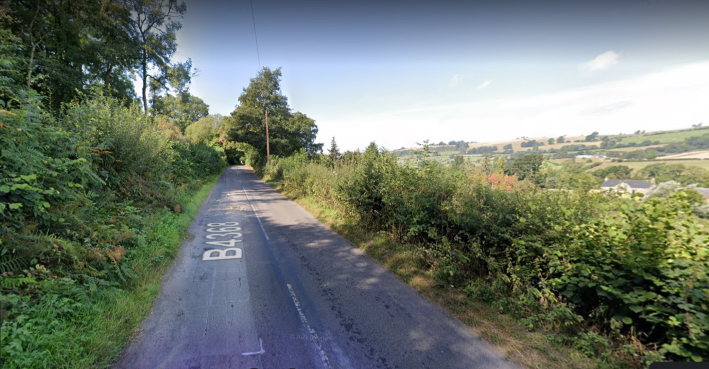 After some 4 miles it goes thru the little hamlet of Newcastle. Presumably there must at sometime have been a newer castle than the one at Clun – but no trace of it now. From here the road, as shown in the route profile above, begins a steeper climb to the ridgeway at circa 11 miles from Clun. But before this, at circa 10 miles, the road crosses a river at Anchor Bridge which is identified by a sign showing that we had arrived at the Welsh border!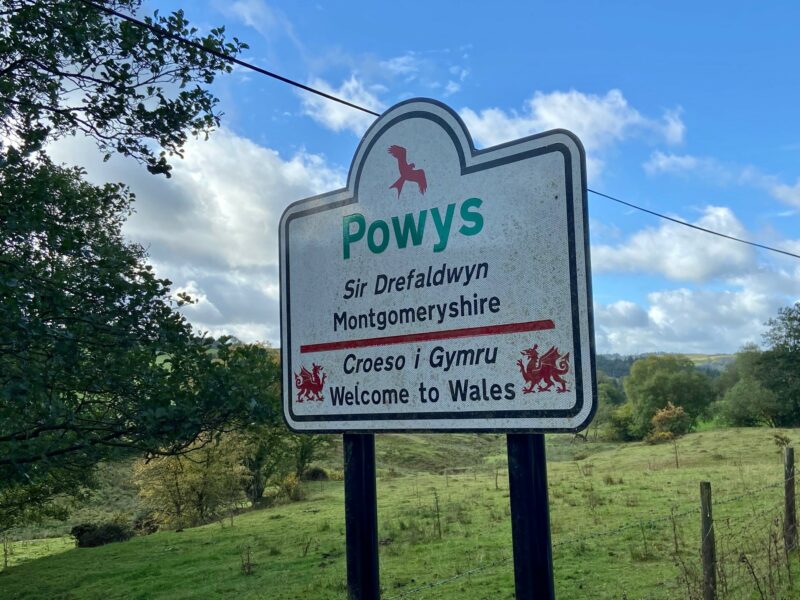 For cyclists on road bikes, wanting to follow the ridgeway on tarmac to Bishops Castle and back to Clun – a little further on from the bridge is a very minor lane on the right. This is the route to take!
But as we were hiking, we continued on for the extra mile to a car park adjacent to the old drovers trail, which crosses the B road here. But the drovers are mechanised now so my son Paul helped to speed the flock on their way.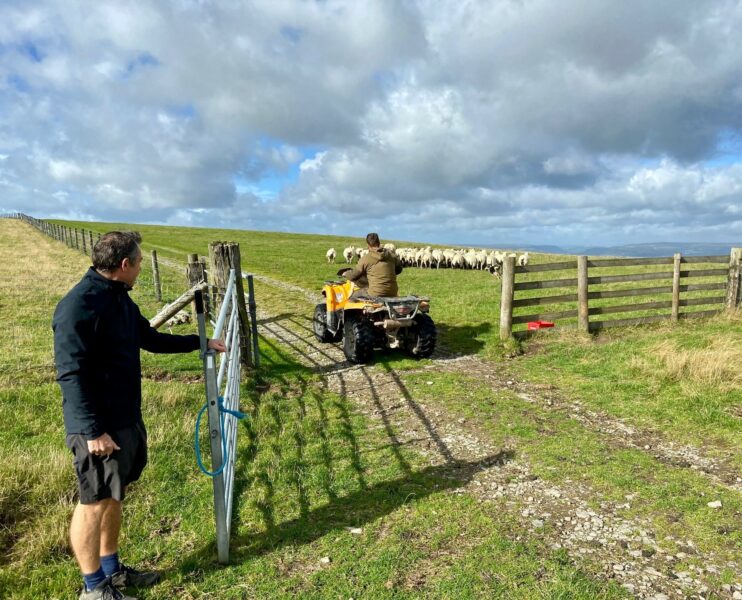 It is not just drovers who follow these ancient trackways. Soon we were passed by 21st century travellers!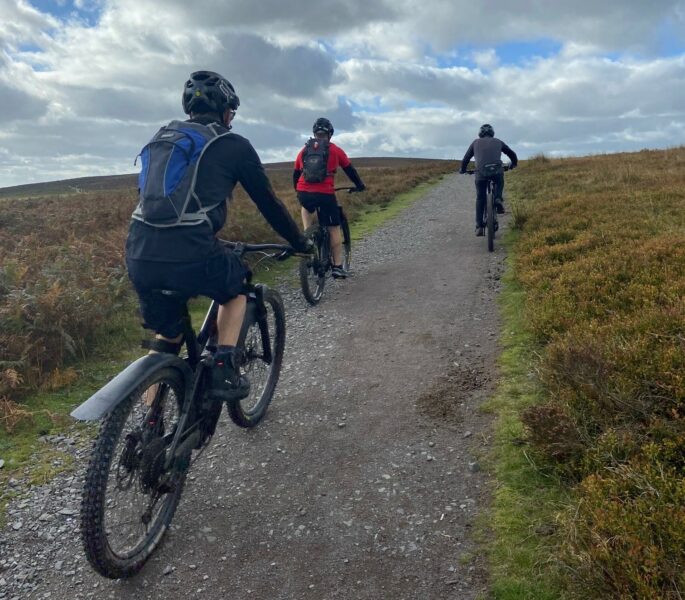 And when we reached our destination, the Trig point at the crest of this section of the ridgeway, we were not the only ones. A gravel biker was here – Also a great ride for Anerley's Gravel bikers!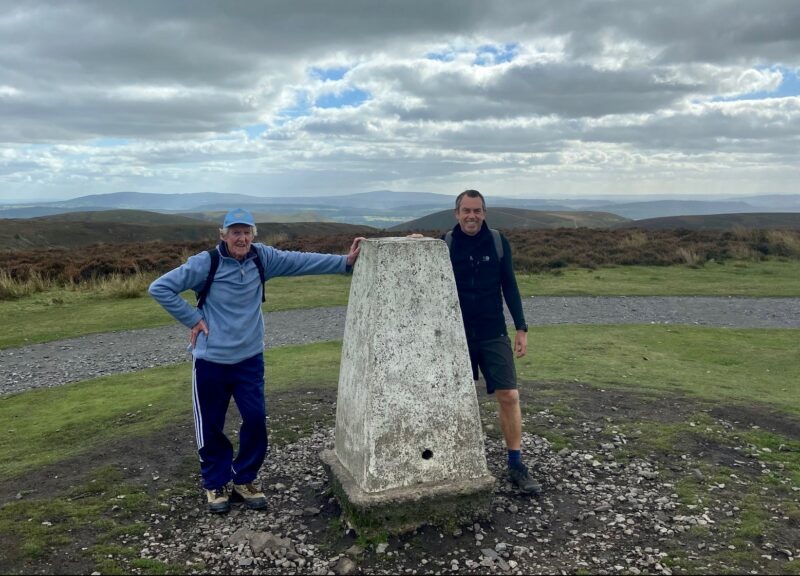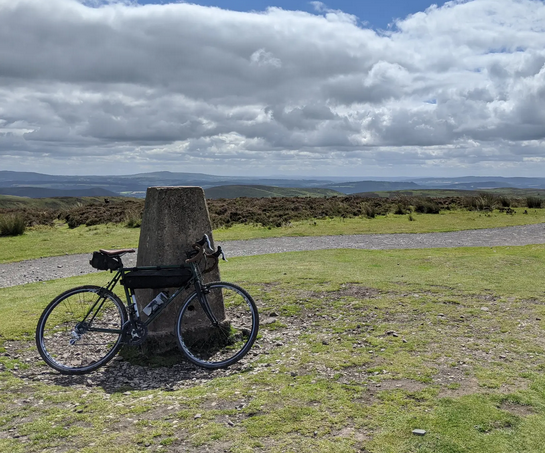 From here we re-traced our route back to the car park and headed on to our second and longer hike of the day, in the Hafren Forest. This is where the River Severn (Afon Hafren in Welsh) starts it's long, 220 mile journey into the Bristol Channel. Part 3 of the next bit of our travels to follow shortly.
Part 3 now having been completed, the story continues in the Haffron Forest – here – https://anerleybc.org/the-welsh-marches-part-3/
Des.