GRAVEL BIKES – Anerley's Latest New Toys!
As I reported in my last Gossip Column, Peter our new club Captain has acquired a new Gravel bike. And our previous Captain, Mark, has also acquired a Gravel bike. Not only that, but Mark as reported, is looking for a group of like minded Club members, to join him on an Anerley Summer Tour with a difference. A week in the Keilder Forest with it's extensive network of gravel roads!
What you have'nt booked your place yet! Well do it now, see https://anerleybc.org/kielder-forest-june-tour-2022/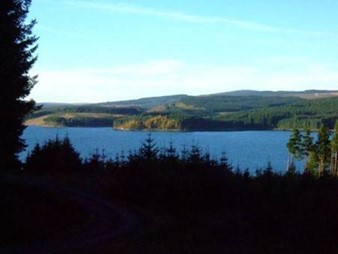 So it would seem that gravel bikes are becoming the latest must haves of Anerley B.C! But I think that I was probably the first member of our Club to get a Gravel bike. As the saying goes "Ladies first!"
Just to make sure, I checked when I bought it – Sept 2018, time flies! Jo Smith bought her's a couple of months later, same bike, a Trek Checkpoint ALR5. Since then we have had some great bike adventures together! This was us on a recent Club ride to Henfold Lakes – clear blue sky, but bitterly cold, and after a night of heavy rain, something that Gravel bikes could cope with!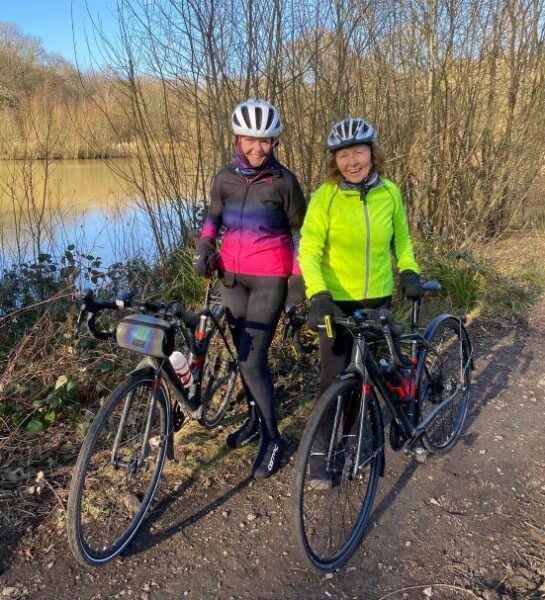 So what is so special about Gravel bikes? Let me explain a bit about them and the many advantages of having one.
It all started off when I was looking for a winter bike with wider tyres and more grip on wet and slippery roads. Also, not with a carbon frame because I wanted it to double up as a touring bike with panniers etc. I'm very pleased with the bike I got because if does tick all the boxes, but I still love my Ruby road bike for the summer!
So what are all the boxes that our (Jo and myself) Trek Checkpoint ALR5, ticked?​
It has an aluminium frame, carbon fibre not best suited for touring and off road wear and tear! Shimano 105 gears, with 50/34 compact chain set and a 11-34 rear cassette. This combination provides a very useful lowest gear to climb up the most challenging Surrey Hills and Kentish Killers!
Fat and grippy, 35m/m tyres provide not just grip but greater comfort on off road tracks – but also on our potholed roads!
And of course hydraulic disc brakes, for their great stopping power and controllable finesse on wet or loose surfaces.
Plus, as I mentioned, I also wanted it for touring. Trek specifically mention that it is great for touring – with bike, rider and luggage – up to a max of 125 kg – 275 lbs!
That means we can eat as much ice cream and cakes on our holiday bike tours, as we like!!!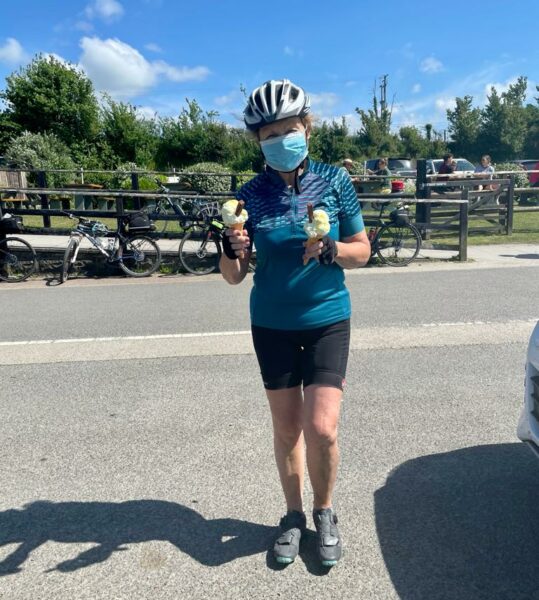 But it's biggest real test, and mine (!), of it's ability to cope with mud and more mud, was when Jo and I decided to cycle to Eastbourne, mostly off road, following Route 21 – on road to Crawley Down – then off road – Worth Way, Forest Way, Cuckoo Trail and onwards into Eastbourne. I wasn't expecting R21 to take us on such a really rough, muddy, off-road section, through fields and woods!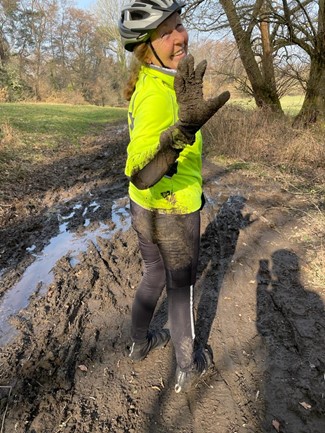 Where I managed to fall in the mud, lovely deep gooey stuff, it was very funny, as you can see!
The full story of our adventure can be seen here https://anerleybc.org/enroute-to-eastbourne-or-taking-the-plunge/
But there is more! Another ladies adventure, this time along part of the vast network of canal tow paths, such as this, along the Avon and Kennett Canals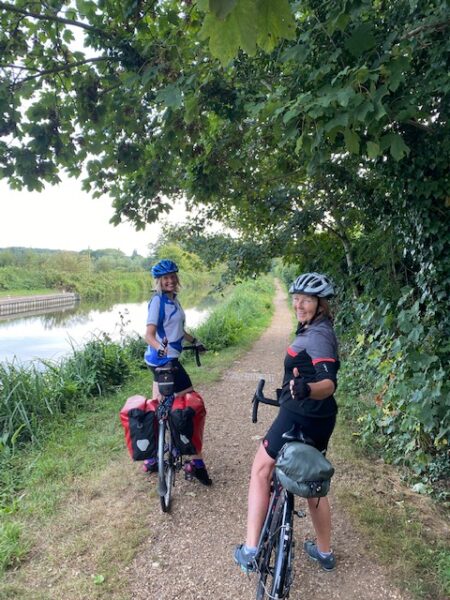 A flight of 29 locks over 2 miles, which in stages, allow barges to climb the steep hill. This takes about 5 or 6 hours for the boats to pass through all of the locks, thankfully we were a bit quicker on our bikes!
Yes, the Ladies were the first! And Gravel Bikes really do open up a new world of variety and exploration.
Denise