Take the plunge, go to Eastbourne!
Denise and Jo followed the notorious Route 21 to Eastbourne.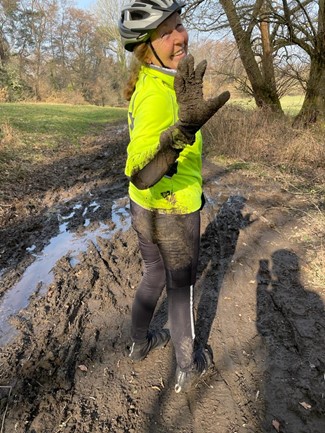 We didn't arrive in Eastbourne until 4.30pm, the ride took longer than I'd estimated as it was mostly off road – out to Crawley Down then Worth Way, Forest Way, route 21 to Cuckoo Trail then back on route 21 into Eastbourne. I wasn't expecting R21 to take us on a really rough, muddy off-road section through fields and woods where I managed to fall in the mud, lovely deep gooey stuff, it was very funny.
---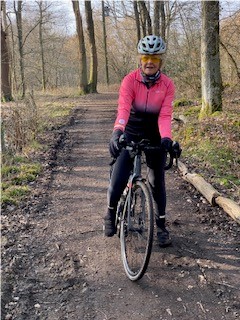 Then I lost my reading glasses whilst on a loo stop which made reading the Garmin a bit interesting.  There wasn't a tea stop in sight for the full 66 miles, so it was a good job we'd taken sandwiches.  We set off at 8.30 and it was freezing cold till about midday when the sun came out, Jo's hands got really cold.
---
The train journey back to East Croydon, then back to Purley plus the short ride home took 2 hours 🥴 All in all, a very pleasant day, we'll do it again on a nice summer's day.
---
We hit the coast at 4.30 but allowing for time taken sorting out the drama of the mud, glasses and lunch, plus a bit of walking through the very muddy sections, the actual riding time was 6hrs 40 mins. It was a really lovely route but definitely not for road bikes (we were on our gravel bikes, perfect).