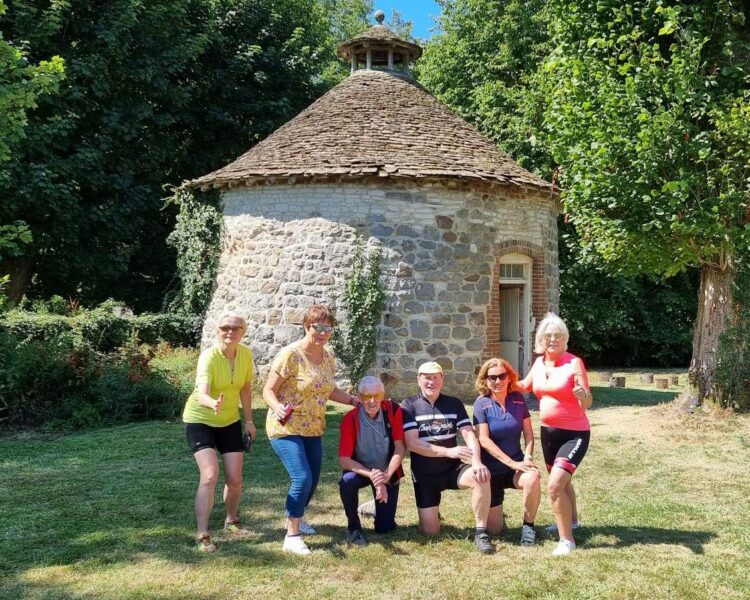 With the long winter nights now upon us, my thoughts will turn to planning for next summer's bike tour. I greatly enjoy the hours spent researching where to go, and pouring over maps to find interesting places to see and visit, plus of course the best routes to get to them on a bike! Earlier this year, the destination finally chosen was Marlborough. But why Marlborough?
On this occasion we were time limited to 4 days, so a "mini" tour dictated somewhere, ideally within 100 miles of Purley. Much further than that could require 6 days, a day driving to the destination and another on the way back. Marlborough is less than 90 miles and only a 2 to 3 hour drive depending on traffic. So arriving by 11 o'clock or earlier, we would have plenty of time for a good day's bike ride, and similarly, time for a ride before heading home on our departure day. And as a bonus, it saved us the extra 2 nights B&B required on far away destinations!
Originally my first choice had been Hungerford, which some years back I had cycled thru and stayed at over night both ways, when cycling along NCR 4, the Kennet and Avon Canal bike route. Our Anerley Ladies also enjoyed an overnight stop there on another occasion.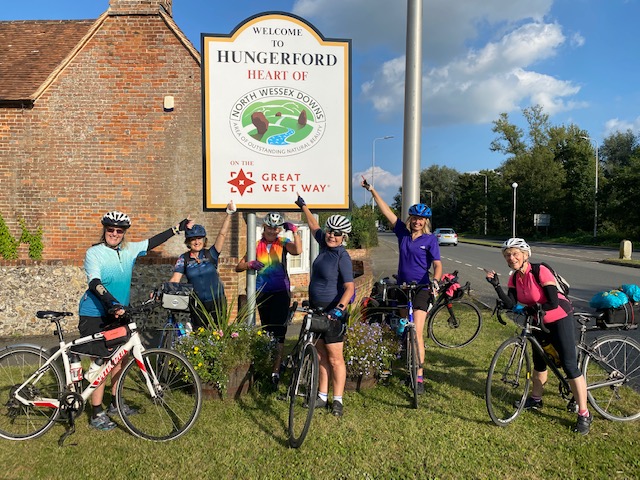 Then earlier this year with a group of some 10 Anerley members, we had ridden the Kennet Valley Audax, during which our lunch stop had also been at Hungerford. The area, and the Audax, have much to offer. A not to be missed event for Anerley BC in 2023?
See this year's ride report here: https://anerleybc.org/the-kennet-valley-audax-the-shorter-one/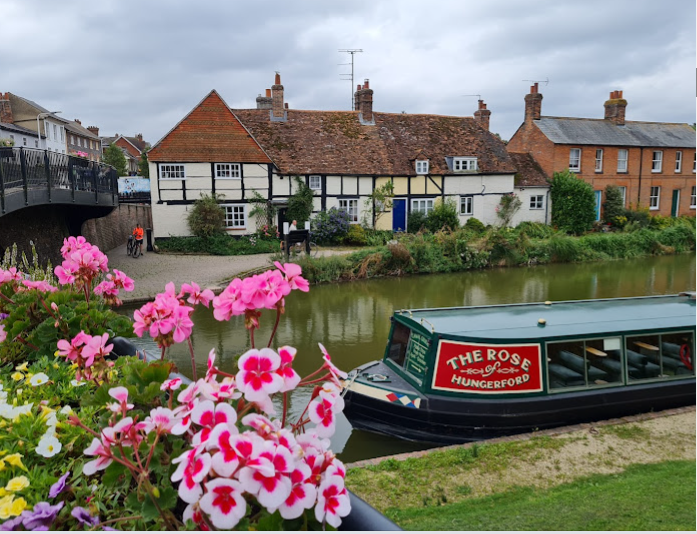 However a problem arose over getting suitable accommodation in Hungerford for the dates we required. This was soon resolved by a Premier Inn a bit further west at Marlborough. It turned out to be ideally placed for cycling, see map below.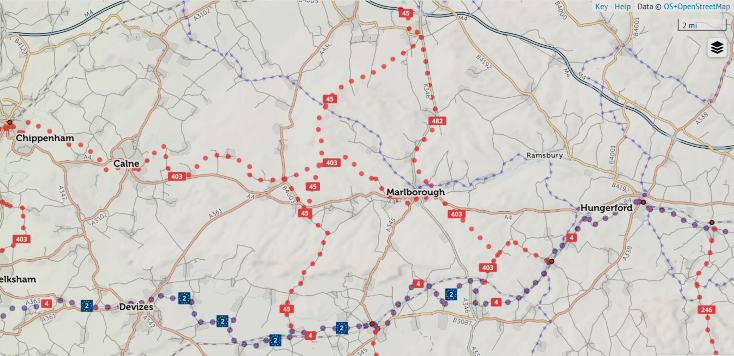 The cycle route NCR 4 along the bottom of the above map is the Kennet Avon Canal route. The blue number 2 denotes that it is also Eurovelo Route 2, a throwback from when we were members of the E.U. wide cycle network.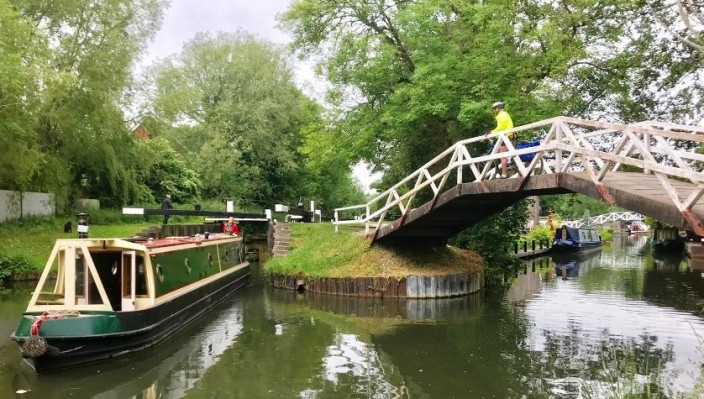 NCR 4 provided us with our 2 best rides – great circular rides to Hungerford to the east, and Devises to the west. Devises is famous for it's Caen Hill locks, as described on the Anerley Ladies ride by Denise, our new Touring Secretary.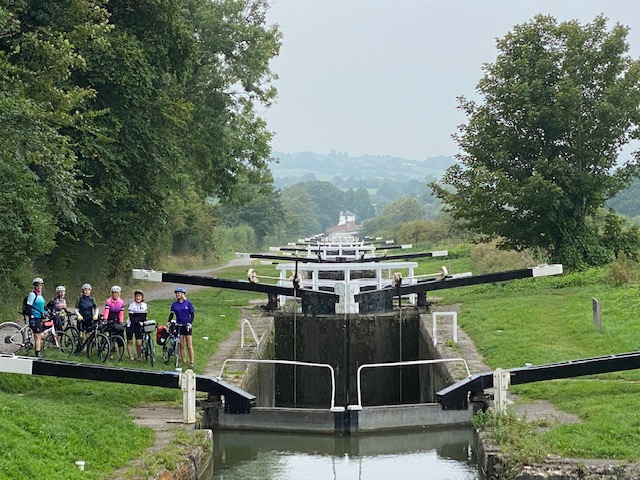 "These are a flight of 29 locks over 2 miles, which in stages, allow barges to climb the steep hill. This takes about 5 or 6 hours for the boats to pass through all of the locks, thankfully we were a bit quicker on our bikes! "
Another not to be missed feature of the Wiltshire Downs, is it's famous White Horses, of which there are several, the earliest of which dates back to 1778.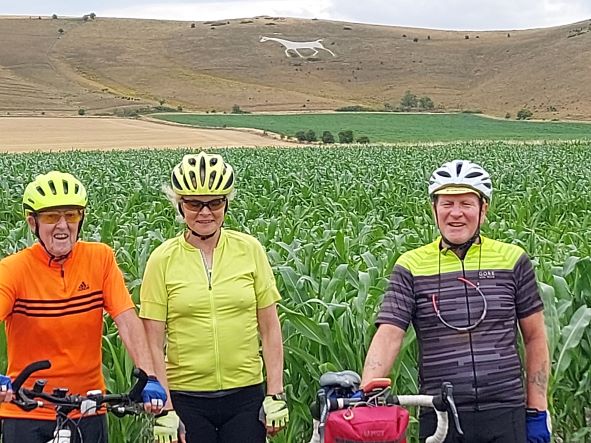 John Diamond mentions the one at Pewsey (actually there are 2!), which he and Tim passed on their longer, 100 mile version of the Kennett Valley Audax in April of this year.
See https://anerleybc.org/kennet-valley-audax-april-2022-the-long-one/
Although he does not mention it, I am sure that he and Tim would have seen the famous statue in Pewsey, of King Alfred the Great – he who allegedly burnt the cakes!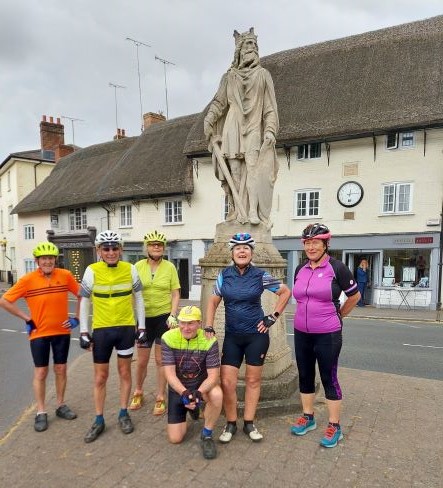 If King Alfred is ancient history, this is pre-historic! Avebury and it's grand avenue of stone monoliths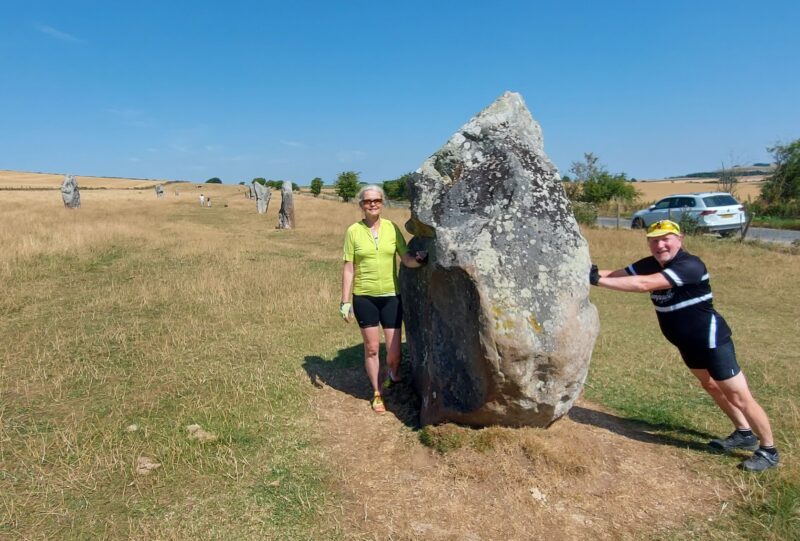 A most enjoyable mini tour, interesting history, great scenery, and very fortunately for us, lots of warm sunshine – and no rain!
Watch this space for a more detailed story of our bit of Anerley history – coming soon.
Des