The Kennet Valley Audax – The Shorter One!
An advantage of Audax rides is that they offer such a variety of rides, long or short rides, hilly or flat, on scenic routes all over the UK. Some of us would struggle on a 200km ride, especially at the start of the summer. But all of us could manage a 100km (62 mile) ride, which is why so many of us opted for the Kennet Valley 100, to see some new and scenic places.
I hope that you have already seen and read John Diamond's account of the The Long One! It explains the format of both of the Kennet Valley rides and so avoids me having to repeat some of the same details. Our 100km version used exactly the same route and Control Points to Hungerford and back, as Tim Styles and John's ride. Their extra 100km was an extension, past Hungerford to Westbury and back to Hungerford, and started 90 minutes before us.
There were 9 of us who shared cars to the start of the ride, this being from the village of Grazeley just a short distance south of the M4 at Reading. From a mass start, the 70 odd riders soon settled into smaller groups determined by fitness and hence pace. Karen and Dee Rutter being better suited to a faster group, latched onto one, and disappeared into the distance. Having lost two we soon gained one, a lady from Penge C.C, who stayed with us for the rest of the ride.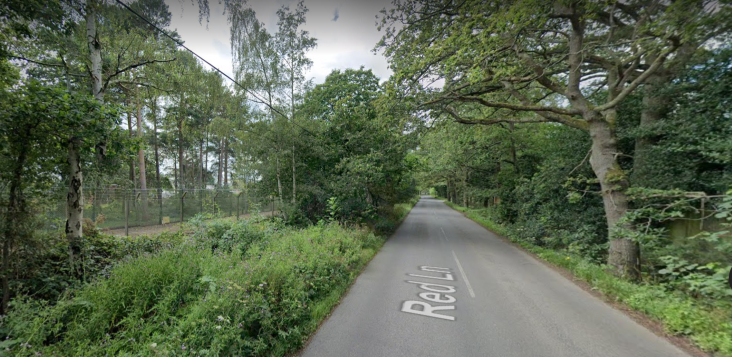 After about 7 miles we entered a narrow, wooded lane, along which there appeared a gap in the trees on our left hand side. This gap showed a high, razor wired high security fence. What in earth was this doing in the middle of what appeared to be wooded countryside? A bit further on, a road sign saying AWE, produced the answer. Opposite it was another gap in the trees and a high security entrance gate, to what we could now see was an extensive industrial complex.
And then the penny dropped. I remembered the black and white clips on BBC TV news in the 1960s, of the Ban the Bomb marches – we were just over a mile from Aldermaston – home to the Atomic Weapons Establishment (AWE), where nuclear warheads for bombs and missiles are developed, manufactured and serviced. With Putin on the war path I bet AWE were on overtime!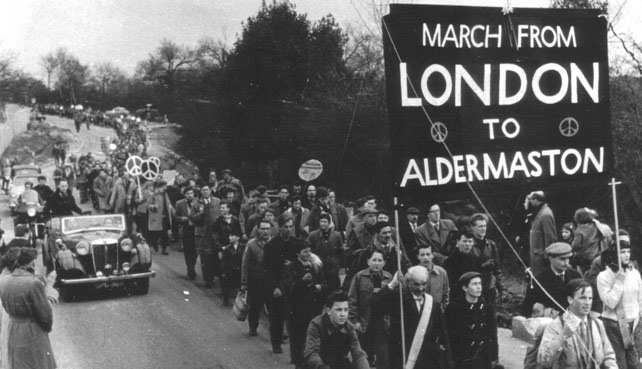 Later, after I got from the ride, just as a matter of interest I Googled AWE at Aldermaston and was surprised at the huge extent of this industrial complex in Berkshire's countryside, as shown in the aerial photo below. But this AWE site is one of two in the area. We passed the second one on our return leg, which was about 2 miles from our start and finish point at Grazeley. So now the photo of the Aldermaston site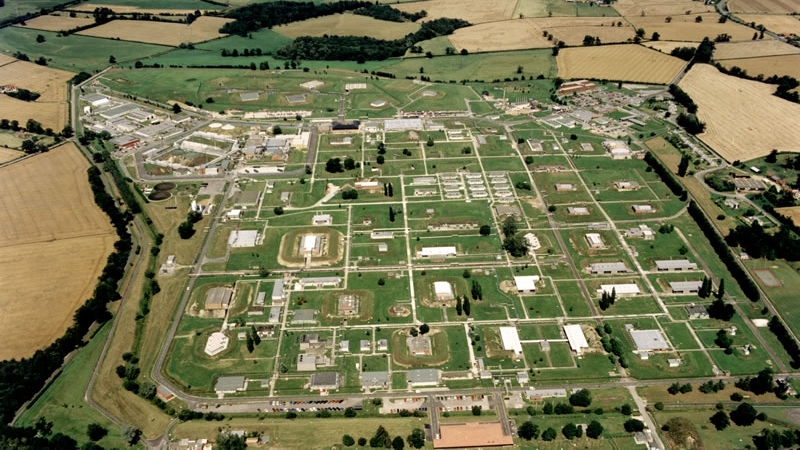 Passing through the little old village of Aldermanston, our route headed west along more country lanes. Here Denise took the lead, saying that she wanted to stop shortly. Which she did at the entrance to Wasing Park Estate.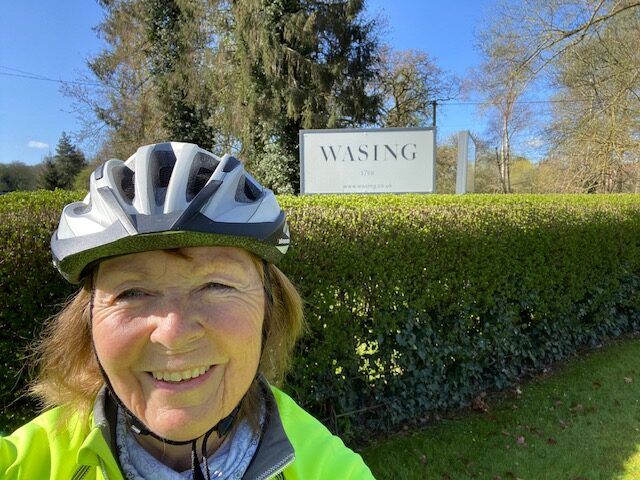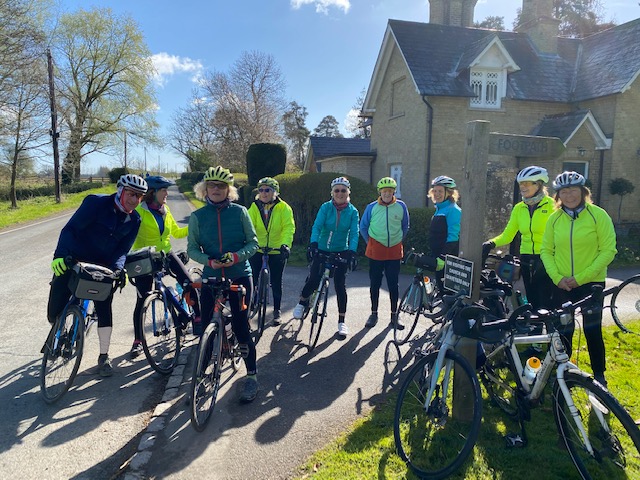 Denise had been here before. Wasing Place, the manorial centre of the extensive estate is now used for weddings, conferences, etc, and Denise's daughter had been married there a few years back. The estate has a long and interesting history. For example in 1759 the estate was purchased by the Mount family. They had made their money as the leading British publishers of maps and sea charts. During the times of the explorations of Captain Cook and the East India Company's expansion of trade in the far east, new and up to date maps were just as important then as Sat Nav is for us today. Now the estate is owned by a cousin of David Cameron, our ex-prime minister. Unfortunately we did not have time to cycle along the private road to see Wasing Place, but this photo gives some idea of it's splendour.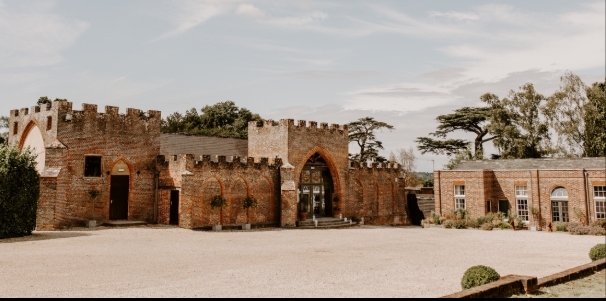 Continuing on, our route took us along country lanes bordered by the fields of Wasing Park which included Shalford Farm, and over Shalford Bridge.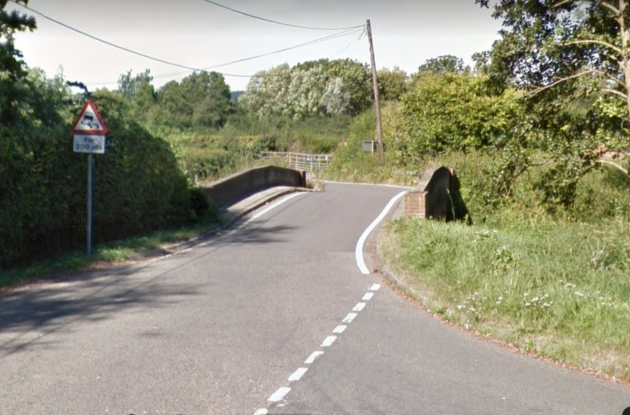 And on to the next village of Brimpton and many more villages with quaint and delightful old cottages such as this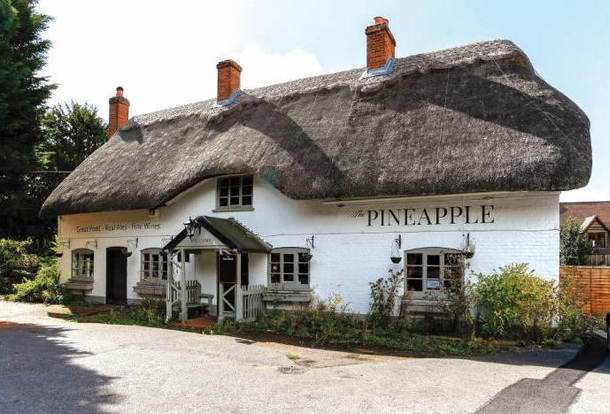 Twenty miles into our ride we came to the first Control Point at a crossroads with the A343. The one where John Diamond had his puncture on the 200k ride. For us it was an opportunity to have a short refreshment stop on the adjacent grassy area.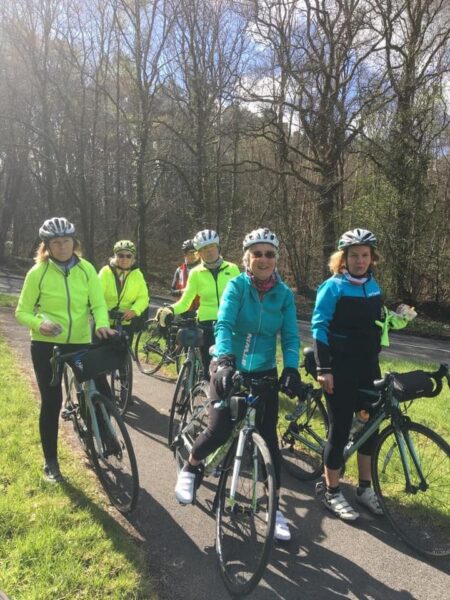 Here we had to answer the first Control Point question to prove that we had been there. This asked – The name of the historic building, shown on the sign at the cross roads. Which we could not fail to see. Nor would we, had we passed this historic building on the continuation of our ride.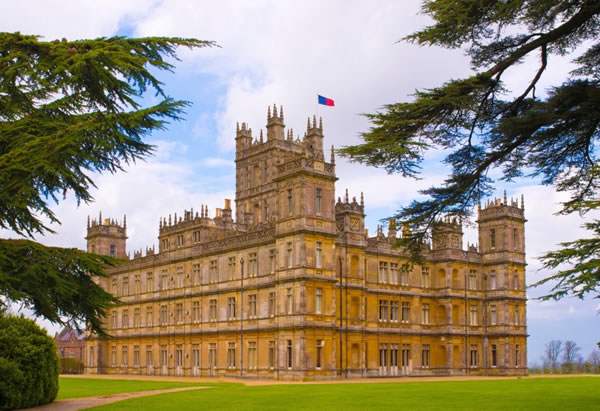 TV watchers may recognise this magnificent stately home, which is better known to viewers as Downton Abbey in the TV series!
Onwards and upwards we now had a lengthy climb from the cross roads, up Woolton Hill to Kintbury, where it levelled of for the last 3 miles to our lunch stop at Hungerford. Here a couple of Audax riders directed us to an archway with led to a nice tearoom in a courtyard. Too cold to sit outside, but we found tables inside for all 7 of us, plus our Penge C.C rider, to refuel.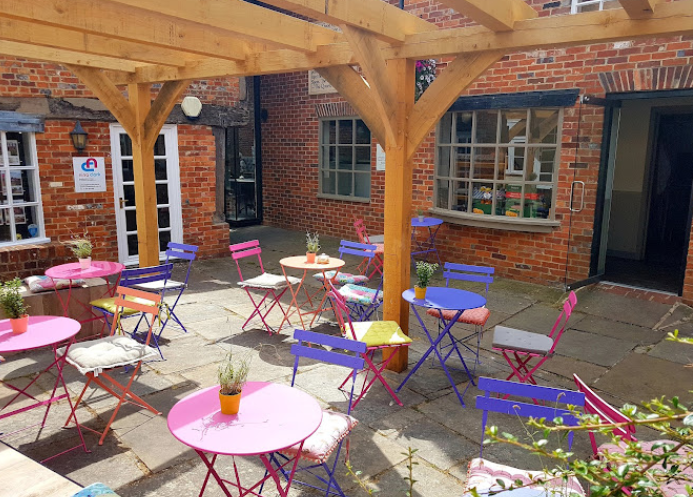 You may remember that Dee and Karen had latched on to a faster group. By now they would probably have been ready to start off on their return leg to Grazeley. But possibly not!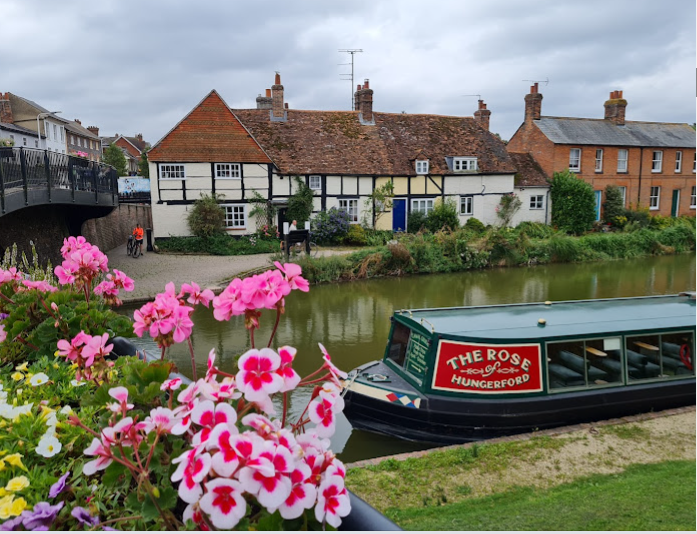 This is the memorable little story of their stop at Hungerford, as related by Dee.
"We stopped for tea at the Tutti Pole Cafe, despite it not being the official stop this year. Our only 'mechanical' issue was that after this stop, I couldn't open my combination lock on our bikes. Coincidentally, at the same time a couple of gents were having exactly the same issue, with a similar lock and we both ended up having to cut through the locks!! But that was the only problem we encountered. My next lock, will definitely be one with a key!"
Our group of 8 did not get as far down the Hungerford high street to see the Kennet River and adjacent Canal. But we soon did, a couple of miles into the next leg of our ride.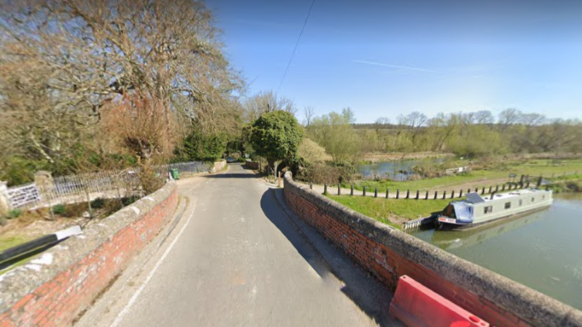 But something stranger, a short distance further on, was this – a World War II Pill Box. These were built as a defensive measure to stop German tanks and other vehicles. The gun slits of the defenders are clearly visible. There are several, similar pill boxes in the Surrey and Kent hills because, had the Germans landed troops on the south coast, they would head for London. But here?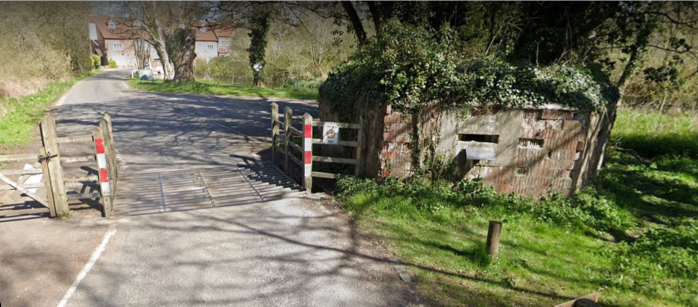 We were now into the depth of the Berkshire countryside, narrow, twisting lanes with the odd farm house or little hamlet. We now had to find the next Control Point which was at a T junction where we had to turn left to Wickham. Here we had to find the distance to Hungerford. It was clearly not the first T, or the second shown below. This showed the distance to Hungerford, but to the left Winding Wood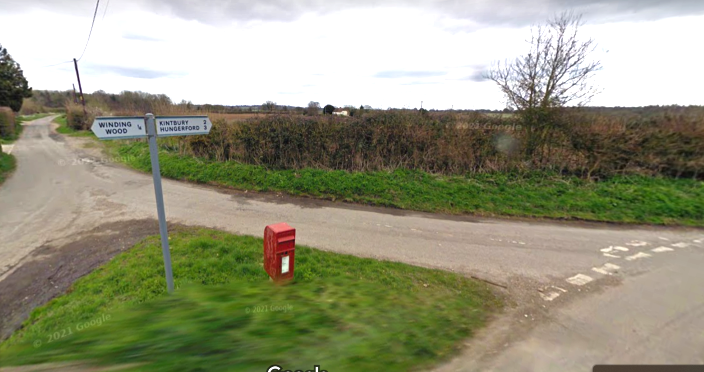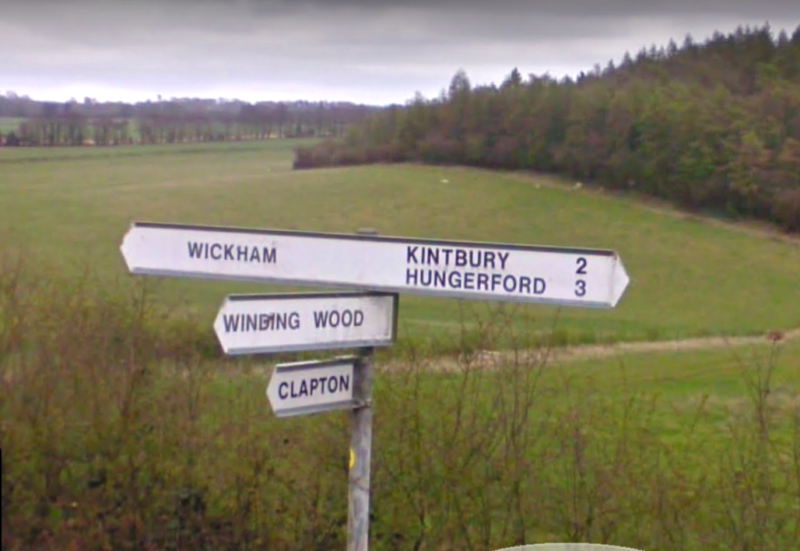 The next Control Point was a few miles further on at a the pretty little village of Welford where we had to find an inscription carved into the oak beams of the church lychgate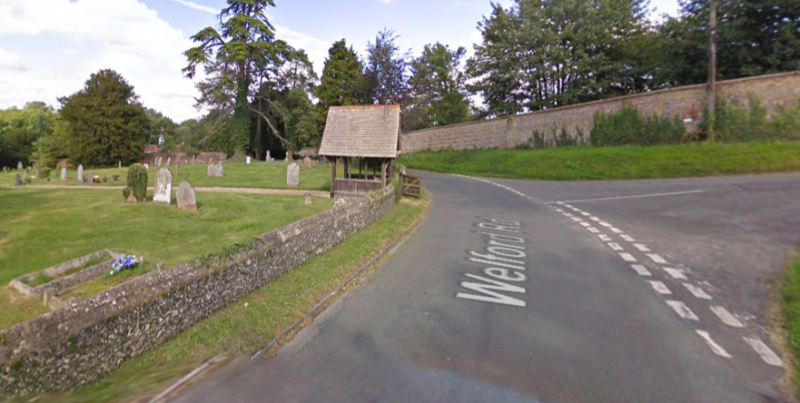 The next village was Boxford and we all thought that this was the best of al the little villages of the day's ride.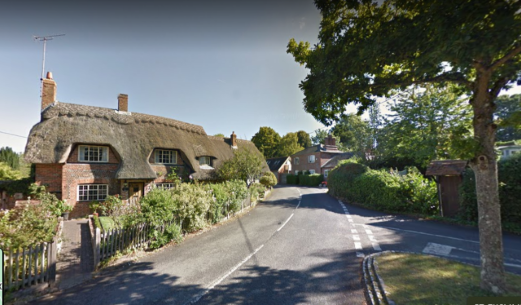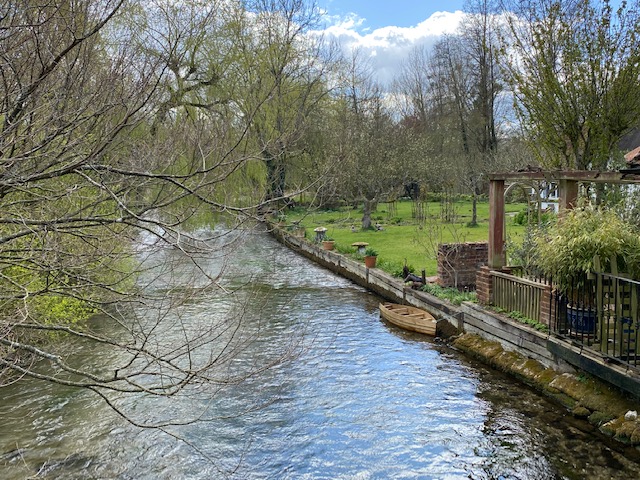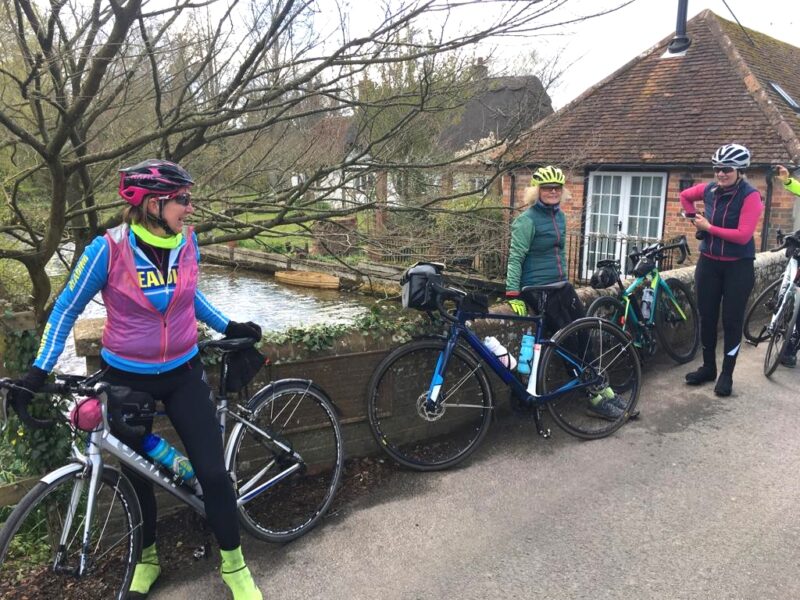 The photos show just a little of what Berkshire has to offer, and when we finished the ride there was free food and drink at Grazeley Village Hall. Karen and Dee got there first, had their Brevet Record signed off as they had correctly answered all the Control Point questions, and tucked into some hot soup, and no doubt a few cups of tea or coffee. Fortunately there was plenty of food drink left for us later arrivals – chocolate artic roll being my calorific refuelling!
Did we all enjoy this Audax ride? The response was over whelming yes – for example one our ladies saying that it was a great day, a great achievement and we look forward to more adventures on our bikes – too which I could not agree more!
Des