Memories Are Made of This!
Earlier this year our Club had an e-mail from a Nicky Benton-Simcock saying
" Wow, so cool! That was such a great trip and I'd completely forgotten all about it! Was searching our trip UK to Spain and found this – from you! Thanks for all your glowing compliments."

The name Nicky Benton-Simcock meant nothing to us, but when she mentioned "this – from you" she gave us a clue by referencing to – A Family on Tour, a Cycling Tour – Anerley Bicycle Club (anerleybc.org).
Then the long forgotten memories from some 10 years ago, came flooding back!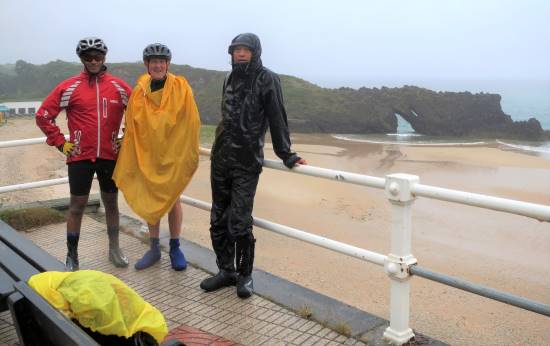 Except for this one morning of torrential rain it had also been for us, a great bike tour along Spain's Costa Verde. The us, being Tom Vaz (taking above photo), his son Christopher, Ricky and myself. It was on the 4 or 5 days before this downpour that our wheel tracks had crossed those of the Benton- Simcock family on several occasions, as explained here