A Family on Tour, a Cycling Tour.
We had a great time cycling across Spain, so much to see, so much variety of scenery and terrain. So many memories, so many photos, and so much to remember. But we were not the only ones enjoying what Spain has to offer cyclists of all types and varieties.
Boarding the ferry at Portsmouth we found that there were amongst more than 15 cyclists making the journey to Santander. The most memorable being the Simcock family who were advertising themselves and the family adventure with their personalised cycling jerseys.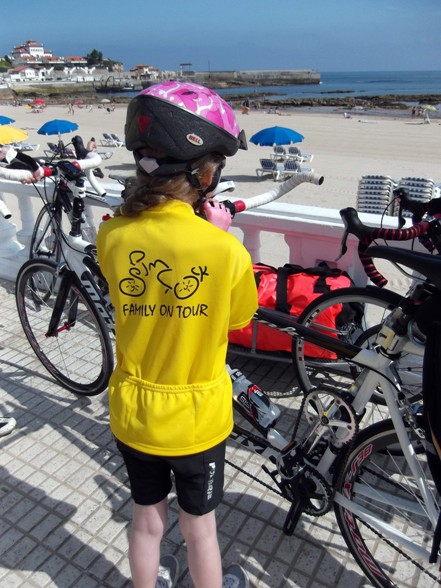 During our first couple of days in Spain our cycle tracks kept crossing those of the Simcocks.   Our first meeting on the road was on our first morning's ride, at the top of a long 9% climb.  It was scorching hot and as we crested the hill we spotted a drinking fountain (of which, fortunately, there are many). As we rested after the climb to mop the sweating brows and cool off,  up the hill behind us came the Simcock family.  Our first sight of the family in action on their bikes, and what an inspiring sight it was!
After we had chatted and said our "goodbyes" I regretted that I hadn't taken a family photo to record how the Simcocks had put together a perfect package of bikes and equipment for family cycle touring.  But all was not lost.  A few miles further on we stopped at Comillas to savour an ice cream on the prom overlooking a sandy beach, blue sky and blue sea, and along came the Simcocks!
And here they all are with a tandem for two, plus mum and son both on bikes and both towing luggage trailers. A perfect solution to cater for all their needs.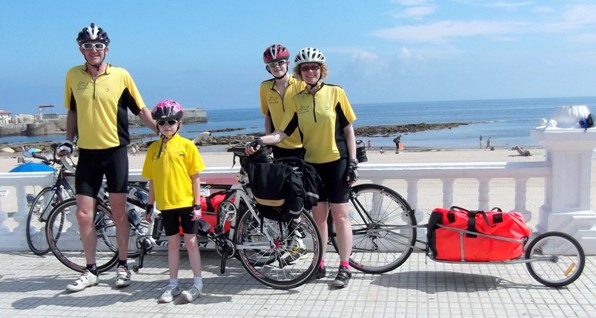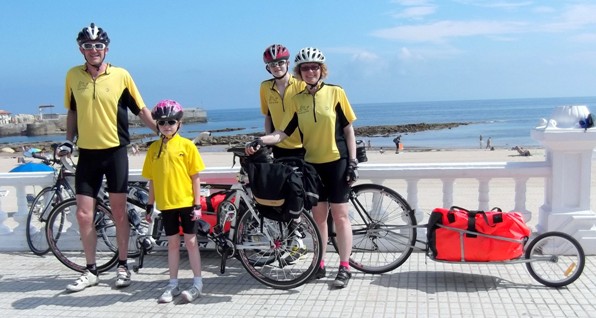 A couple of hours later we met up again. Unfortunately they were having problems. The son's rear derailleur had broken off and had to be removed, the chain shortened and he was riding on just one gear.  They had been told that there was a bike shop in the small town of Pesues, where we were.  The information was incorrect, no bike shop!  However, Tom and I knew from a previous experience a couple of years earlier, that there was a good bike shop at Llanes, which was our, and their, destination for our next overnight stops.
As you can see their young daughter was completely unfazed by the problems that they were having to cope with!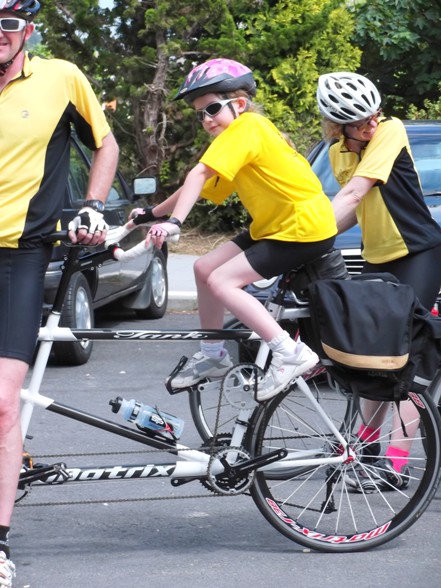 The son was also unfazed. From Pesues there was a long steep climb to the next village of Colombres.  As we struggled up the hill changing into ever lower gears, he came pedalling past us on his one working gear, towing his trailer with no trouble at all!
We caught up with the family again at Llanes, outside the bike shop there. A little while later after we had booked into our overnight hostal, I went back to the bike shop just as they were leaving, with the bike fixed and fitted with a new rear mech.
I hope the rest of there cycle tour was without problem!
Des