Holdsworth 1961 Monsoon Restoration 2.
Part 2 by Master Craftsman, John Eden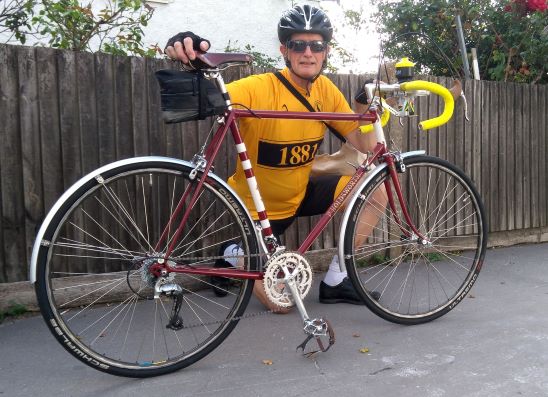 The above photo shows my finished restoration, but shows nothing of what was involved!
So now let me try to explain, and show, my labour of love. Or to quote from Winston Churchill – the result of many months of blood, toil and tears. A job like this cannot avoid scraped knuckles, pinched fingers and worse! So . . . . .
I got the paint for the frame from Halfords their car paint range, in spray cans Ford Burgundy Red and Fiat Arctic White for the top coat, and the appropriate undercoats and the primer, I got from a specialist car paint shop.
I took the old paint off the frame with a paint stripper, the older frames used an oil based paint, so paint stripper works, but on more modern steel frames the paint is water based so paint stripper does not work. I used a wire brush in an electric drill to remove the stripper and paint, but this left scratch marks only barely visible after the final painting.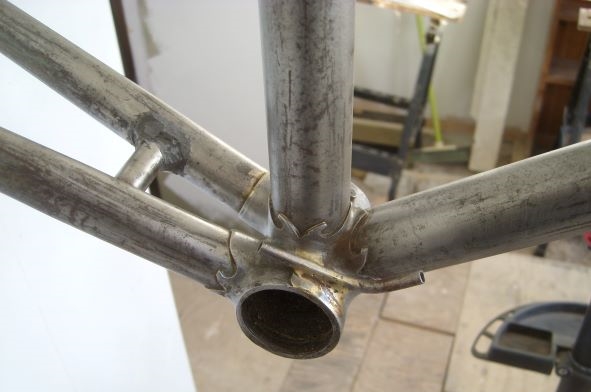 After stripping the paint, damage to the left side rear chainstay, close to the dropout area was revealed. This required filling and rubbing down. It also meant the Campagnolo dropout was slightly out of true, so looking at the wheel from the back it was vertically, 6mm out of plumb
After stripping the frame, I cold set the rear dropouts, to widen from 115mm to 131mm. This would allow me to fit modern back wheels with wider cassettes, modern bikes having more gears than in times past! I used a homemade tracking bar to get the dropouts equal, I had watched Winston Vaz, a skilled builder of bike frames, cold setting at his workshop in Hither Green. Winston started his frame building at Holdsworth, now he has his own bespoke business Varonha Frameworks, he did four of my steel frames cold setting them, so I knew what was involved.
When Winston Vaz cold set my frames, he simply put the frame in a solid professional bike stand, placed one hand on the bottom bracket and pulled at the rear dropouts, I was not confident of doing that so being a joiner I fixed the frame to a board and used G cramps to aid control and accuracy when forcing these apart!
The spraying took some time, because having two colours, there was a lot of masking up. Plus, added to that, the Head lug was tricky to paint. The lugs are French Nervex Scroll lugs – and don't they look classy! It is thought Holdsworth got the lugs when they bought Freddie Grubb's cycle making business in 1952.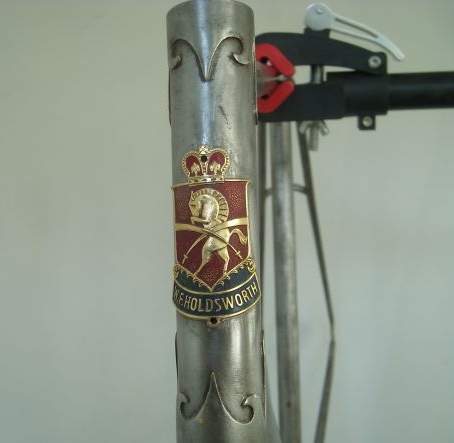 Freddie Grubb has another link to the Anerley. He was the first winner of the Anerley 12 hour classic in 1911 held near Liverpool, with a then record distance of 220.5 miles. Charlie Davey, Croydon born and of the Addiscombe CC, was second or third with 215.5 miles. The Anerley 12 hour attracted Britain's top riders as it was a qualifying event for the upcoming Olympics, so was of National sporting significance.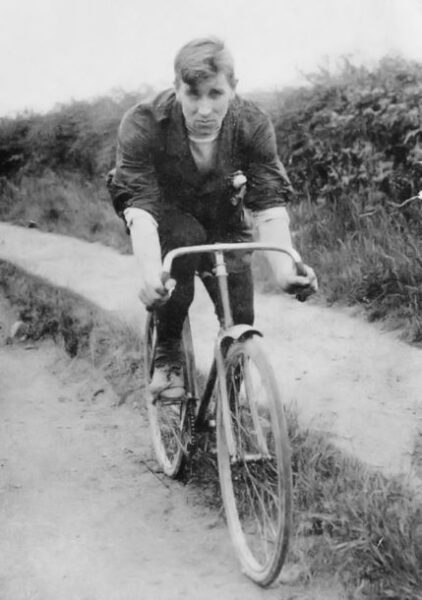 The following year Freddie Grubb won two Olympic silver medals in Stockholm. Charlie Davey also qualified for those Olympics and would go on to win the Anerley 12 Hour Classic in 1920. But I digress from my Holdsworth restoration! But an important digression, because it shows just how important Anerley B.C was in times past!
John Eden