Could we all benefit from a bit of T.T training?
Like all those of you who have passed the age of 50 will begin to realise, Surrey's hills seem to be getting steeper. And the headwind that used to be just a stiff breeze, now seems like a gale. So what can be done to stop, or at least slow down, the spiralling loss of fitness with each additional candle on the birthday cake?
If you have read any of the reams of information that is now available on the internet and other forms of media, you would know that research and science, irrefutably show that the older we get the more important it is to keep exercising. But not just to exercise – but to exercise more intensely. Perhaps by doing a bit of what is shown below?
Not my idea – but read on to see why it not only could – but will – get you fitter and faster.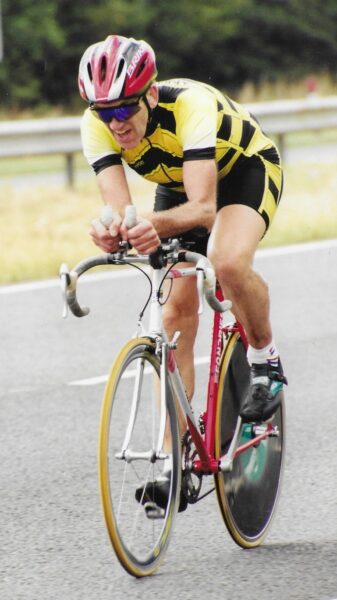 Mark Hancock our Racing Secretary, has been trying to get a bit of enthusiasm from our Club membership by getting some of us to have a go at doing a time trial. Has he at last succeeded? Did Mark and others of our membership read the item in last month's Gazette https://anerleybc.org/dee-samples-a-bit-of-time-trialling/ in which Dee wrote:
"I do fancy doing a TT type of event at some stage, so I thought it would be good to see one in action without the pressure of actually doing the race!"
Well these were not just idle words. Dee has just ridden a 10, together with Barrie, to make up an Anerley pair. And last year we had a pair of our ladies each competing in T.Ts (Denise a 10 and Fran a 10 and a 25). I had to look back on the Club website to 2015, to find such enthusiasm! That was the last Anerley Club 10, for which there were 10 starters – but not a single Anerley lady then!
See https://anerleybc.org/the-2015-club-10/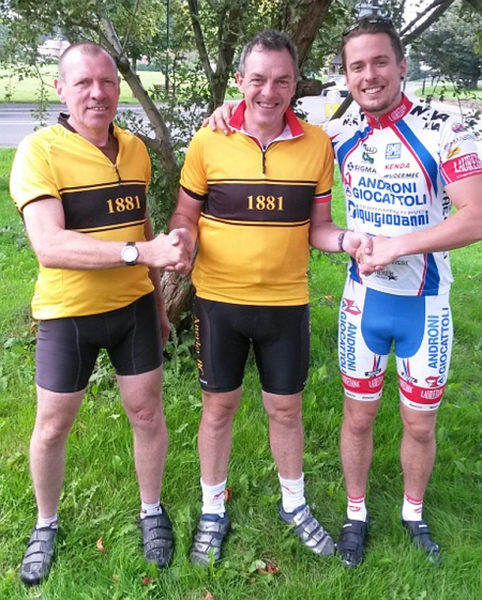 The winners and their times being:
1st – Brian Penny (centre) in a time of 27mins:56 secs
2nd – Mark Handcock on the left timed at 31: 01
3rd – Cameron a youngster! at 31: 57
Below are the 10 Anerley starters (and finishers!) of this not too serious club 10. Most of the faces you will recognise and as you can see, age was no barrier. I expect that for many this was their very first time trial, but they all seem to have enjoyed it.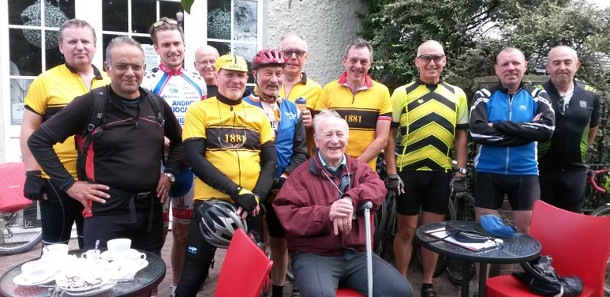 But enough of the past, what have we learnt for the future? The 2015 Club 10 was held in September when after a summer of cycling, all should have been at their fittest. Perhaps we should hold another short, Anerley Club T.T in September of this year. This gives just over 3 months to get a bit of T.T training done. And this time – with our ladies to show us who, as our club motto says – Palmam qui meruit ferat – deserves to wear the laurels of the conqueror!
For those who have never competed in a T.T, even a fun event like our 2015 Club 10, Dee made another sensible comment:
"Although I didn't see the whole course, it sounds like it was nice, not being too hilly but challenging enough for a TT".
A good point, you need something you will enjoy doing, so that you want to do more. Not a killer course that ends any ambitions that you might have had.
Perhaps of interest to Dee and other Anerley members, there is an 8 mile circuit with minimal elevation to climb, down by Tan House Farm. This could be ideal for some T.T training and for an Anerley Club T.T. See https://cycle.travel/map/journey/318617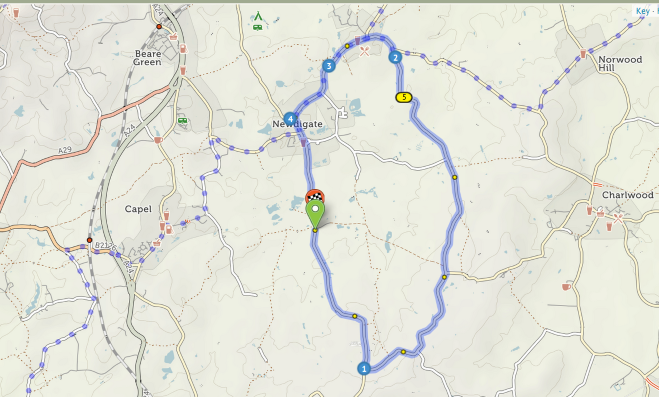 So with all this in mind, how can club riders like us, get fitter and faster with just a minimal amount of T.T training?

I came across this item from the very experienced, Coach John Hughes, on the Road Bike Rider website https://www.roadbikerider.com/why-should-a-fitness-rider-do-training-time-trials-d1/ This is what he wrote: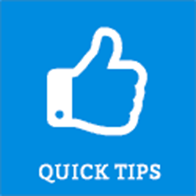 Time trials aren't just for Cat.1 racers and pros. Here are a some of the good reasons why you should add some time trialling to your regular cycling routine, even if you typically just ride for fitness and fun.
Steady, intense effort is a powerful producer of fitness. Riding at 85-90% of your maximum heart rate (close to your Lactate Threshold) for 15-30 minutes will spike your fitness for weekend club rides, centuries, tours, etc.
For a bit of variety to your weekly rides, add in a bit of time trial effort. Sure, moderately paced rides are enjoyable and not too demanding. But a steady diet of steady riding can bore you and your body. So shake it up, schedule a weekly effort against the clock and you'll have something to get excited about. Before long, you'll notice your cruising speed is creeping up, too.


Time trialling improves climbing ability. They're both continuous, strenuous efforts that reward pacing and concentration. That's why climbing and time trialling are mutually beneficial. Doing one helps the other
Who said hills would get easier?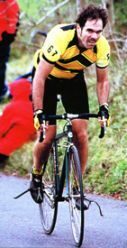 A weekly 30 minutes of higher intensity training, that's not exactly difficult or time consuming, is it?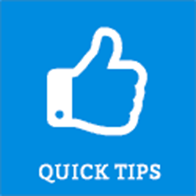 Below is some more advice and suggestions on what has proven to work well, and how to start off some higher intensity training.
You get fitter by training faster. Interval training is important in developing this ability.
It is better to practice going 1 mile as fast as you can five times, than it is to go 10 miles once.
High intensity intervals of 3 to 5 minutes serve the all-round road rider and time trialist very well.
For those who are not familiar with interval training, you could start with 3 x 3 minute hard efforts, with 3 minutes rest (the interval!) between each of the efforts.

If you were to do this once a week, repeat again the following week before continuing the progression shown below. If however you were to do the interval sessions twice a week, on week 2 move onto the next session below.

As interval sessions progress they get more intense and it is recommended that not more than 2 sessions should be done each week.
The next progressions are to increase the number of repeats, by doing 4 x 3 minute and then 5 x 3 minutes all with 3 minute rest intervals
The next progression is to increase the length of the efforts – e.g. 3 x 5 mins/3 x 6 mins
then 2 x 8 mins with 4 minute rest interval/2 x 9 min with 4 min rest interval, etc
When you first start the suggested training with 3 x 3 minute intervals, if you find these are too easy, move onto 3 x 4 minute intervals. Or if you are already very fit, try 3 x 5 minutes. It might of course be that you are not riding with enough intensity, so a bit of experimenting might be necessary to get the effort levels, and/or length of each interval, right for you.

The effort level should be where, after you build up speed, you are breathing hard. If you start panting you are going too fast and need to slow down a bit, to get the breathing down to just below panting. This level is deemed to be your lactate threshold (LT), that is the level that a fit time trialler can maintain for 60 minutes – but that takes many months of serious training to achieve!
Doing small blocks of work at threshold (LT) pace with a rest in between has been proven to work well.
Give it a try – Some of us did interval training sessions (30 second sprints and 5 minute repeats on hills) on Thursday mornings, until Covid called a halt. To finish each session we had coffee and cake at The Lord Roberts tea room at Woodcote Green. Perhaps it is time to start up these sessions again, but with some T.T intervals!
Des.