It was the popularity of e-power amongst the MTB fraternity that has speeded up the acceptance of e-power by roadies.  Some of our club members have been riding with electric powered MTBs, and similarly, e-bikes are just starting to appear on our club (road) rides.
Two of our members have Orbea road bikes which use the German, Mahle rear hub motor – an innovative light weight design which has proved very popular with a number of e-bike manufacturers.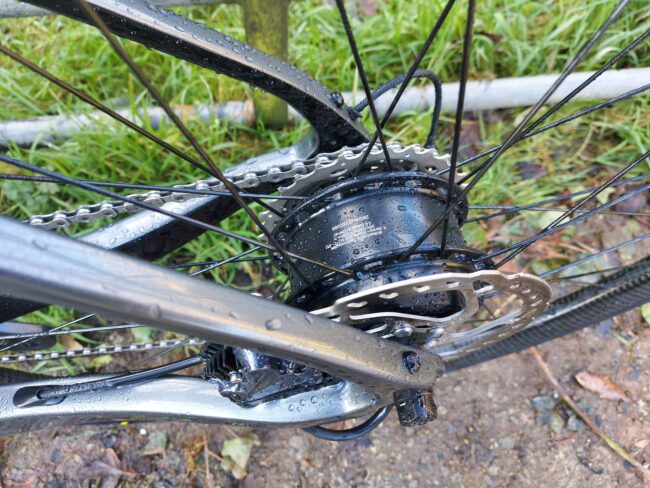 The X35 motor is popular with users because the complete bike package is "relatively" low priced for a quality bike. But there are lots of other types of motors, from many other manufacturers.
Fortunately, we have a bright spark in our club who has knowledge and practical experience of e-bikes, having converted bikes to electric power and serviced e-bike motors. When I turned to Vince for his advice, he told me
"Most people won't understand the technical aspects of buying an eBike. People are only interested in price"

So for my benefit, and yours, he prepared a short and simple guide to help us, starting off with the bit that interests us all – money!
Price range of Road/Hybrid ebikes.
E-Road bikes – from the lower end of the range for a "quality" bike, circa £2,500 up to £6,000 or more.
Note that all this basic information also applies to MTB e-bikes, except they almost exclusively use mid-drive motors (bottom bracket direct drive) because this type of motor delivers more power to get up mountains (but costs more!).
Different Motor Types.
Front wheel geared drive motor – Pulls you/adds weight onto front wheel – Lower cost
Rear wheel geared drive motor (like the Mahle X35 photo above) – Pushes you/more weight on rear wheel – more popular and a bit more expensive than front wheel hub drive
Bottom bracket direct (mid-drive) – Same as pedaling/weight evenly spread – More powerful, more advanced technology and more expensive.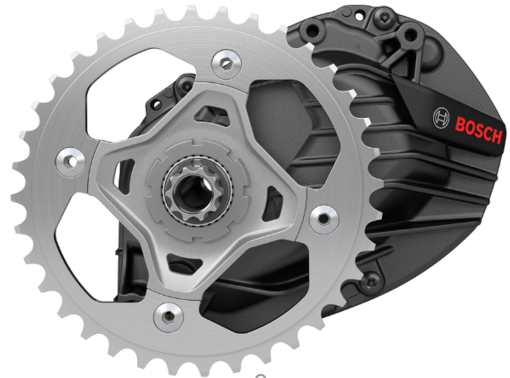 Range / Distance Miles (Probably the most important bit!)
You get what you pay for!
The most expensive part of the electric kit is not the motor, but the battery!
If you want to go further, you need a bigger battery. Bigger battery – more expensive.

Is there a bigger battery option available with your bike?
A new solution for bikes where the battery is concealed in the bike's frame, is a Battery Range Extender. Below is the one for Orbea e-bikes. A supplementary battery which fits in a bottle rack.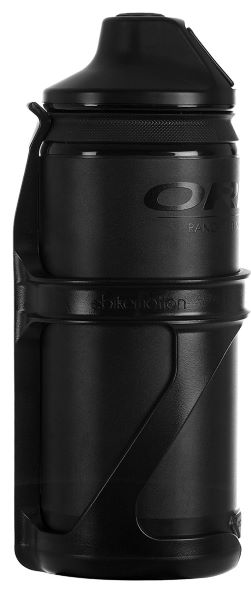 Of course you could carry the battery charger, and when you stop for a cuppa at a friendly cafe, plug in to top up the battery. This could increase distance that can be travelled, and for free!
A secondary endurance factor is the motor type. For example, mid-drive motors, cost more but are more efficient, use less electricity and can go further on a full charge.
Other Considerations
E-bikes are not light weight, and nor are the batteries!
Front / Rear wheel drive e-bikes can easily be put inside car or fitted to rear carrier. The powered wheel / battery can be taken off and put in the car separately.
Putting a direct drive eBike into car is not so easy. Weight of bike / type of car will influence what you can do.
So thanks to Vince for an informative summary of the main considerations when going electric.

However for me, when spending over £ 2,500 on a bike, I like to know a lot more about what I am getting for my money and this guide (updated for 2021) does just that – and more! https://ebikechoices.com/electric-bike-buyers-guide-for-2020/
In addition, it has links to many e-bike related topics. In particular, I found the reviews of different e-bikes interesting and very informative.

I note that many of our Club members ride Boardman bikes. One of the reviewed bikes is the Boardman Road/ Gravel bike, but with added electric assist.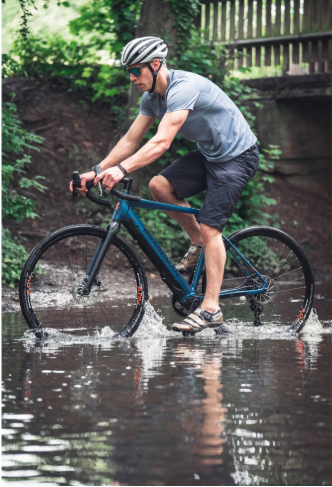 All the Boardman e-bikes use the same, very new and innovative, mid-drive Fazua motor. It makes a good comparison for the differences with the Orbea rear hub drive, which was also an innovative motor package.
You can learn a lot about ebikes, motors, and how to use the available battery power to the best advantage, by reading these two reviews
Boardman ADV 8.9e Electric Road Bike Review | eBike Choices
Orbea Gain D50 Electric Road Bike Review | eBike Choices
And last but not least – the most important bit – if you want to be able to ensure that to you can complete a 60 mile club ride climbing our power sapping Surrey hills! You need to know about the batteries!
https://www.which.co.uk/reviews/electric-bikes/article/electric-bikes-everything-you-need-to-know-a5UTk3O02pO0#what-ebike-battery-size-do-i-need
Des