A Castles and Palaces Ride – Aug 2021
Surprise, surprise, the sun actually came out again! So to make the most of the unusual weather of this year's summer, we set off to visit Eynsford and a tour of historic Kent. I had never realised how much of our nation's history was on our doorstep!
Just on our side of the ancient border between Surrey and Kent, we took a little detour along Bishops Walk, This took us to the Arch Bishop of Canterbury's palace on the ridge above Addington.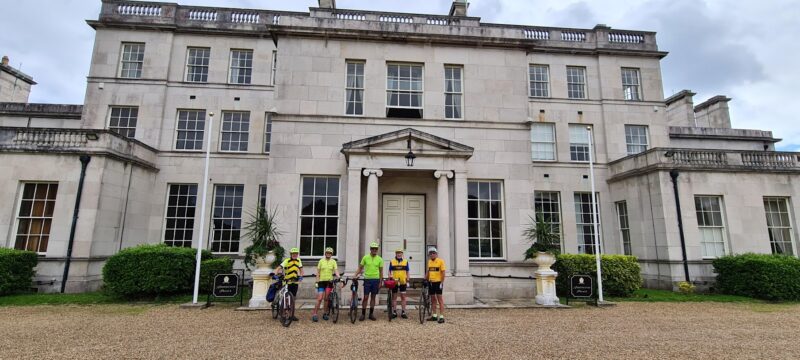 Did you know that our top Clerics have had a country residence at Croydon since circa 940? Neither did I! The earliest surviving one is now the Old Palace School for Girls in central Croydon. And an Anerley connection – Sue Smith of our club is a teacher there – but not since 940.
Although this was a warm sunny day, Julie (2nd on the left in above photo) had a shiver down her spine. Our Julie hails from the other side of a border, not with Kent, but Hadrians Wall. Was she picking up the vibes from times past, when around the year 1412, King James I of Scotland was imprisoned in the Arch Bishop's old palace?
So to get Julie warmed up we next went to West Wickham and another bit of history. In Tudor times Wickham Court, (now also a girls school) was owned by the Boleyn family. Rumour has it that King Henry VIII used to visit the Arch Bishop's palace up the road, for a bit of canoodling with young Anne Boleyn. Poor Anne ended up having her head chopped off for alleged canoodling else where, but we could find no trace of her in the Boleyn family's old church when we visited.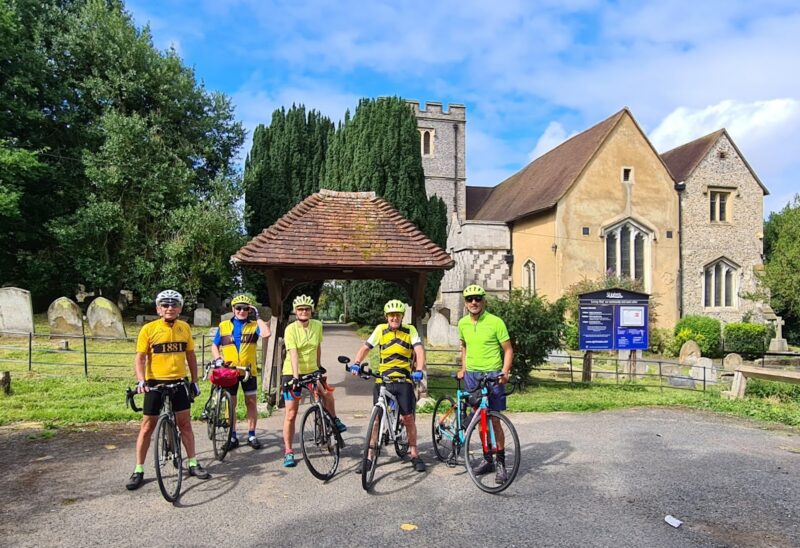 Off again and a bit of a climb, but it didn't seem to warm poor Julie up, she had the shivers again!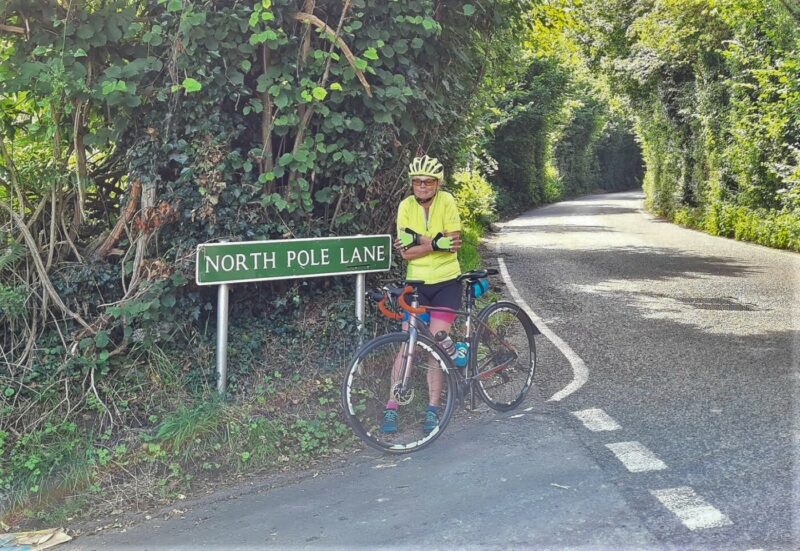 Onwards to Keston, and the long downhill from Downe to the bottom of the valley at Pratts Bottom. And then the killer hill up Worlds End Lane to Chelsfield. With my heart thumping I really thought it was going to be the end of my worldly time on earth! But it did not end there, soon it was a steeper, but fortunately shorter climb up Well Hill. A few more ups and downs and we had a spectacular view on the long and speedy descent into the Darent Valley.
We paused here to take a look at the Lullingsone Visitor centre's tea room. Much improved as a result of Covid, with a big increase in outdoor seating. A must for a return visit in the near future!
We took the opportunity to walk along the River Darent which flows past the the tea room.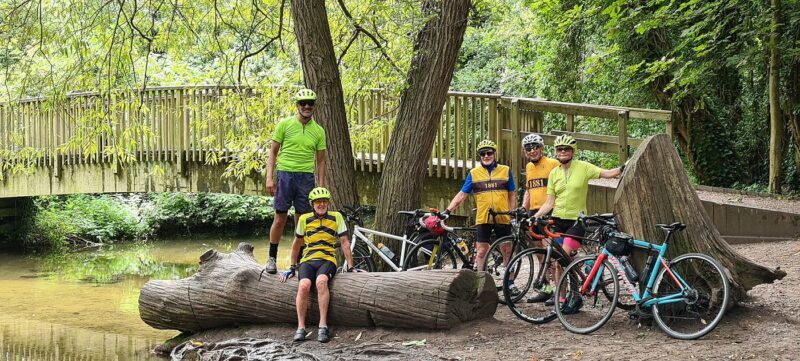 The short riverside walk took us to Lullingstone Castle with it's huge lake and 20 acre garden, originally a deer park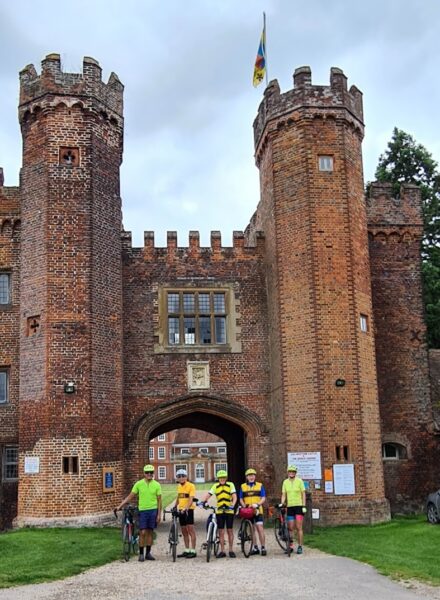 But if you think that is old, how about this for a potting shed in the garden!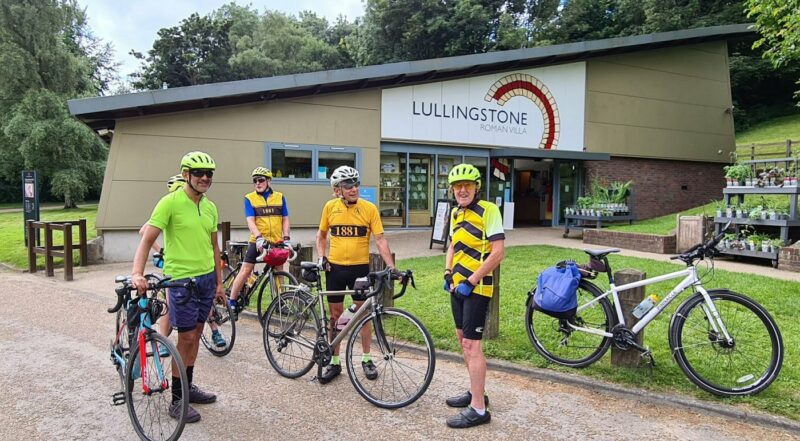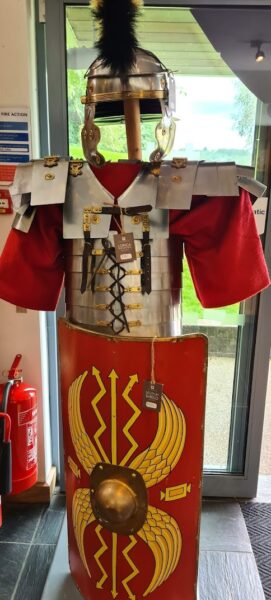 This 1st Century Roman Villa is one of 6 along the very fertile River Darent valley. But a quarter mile further on as we came into Eynsford was a bit of classic Victorian history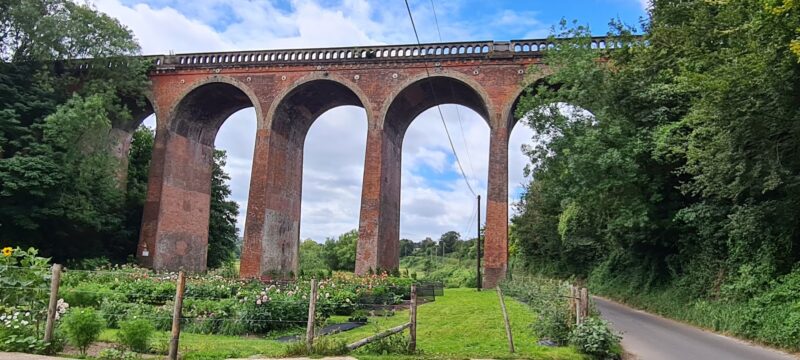 Built in the 1840s in the earliest days of steam, this was the very important railway line from London to the Port of Dover. By a fluke of timing we actually saw a modern electric train thunder over as we approached!
But now we were at journey's end – at least – to the tea stop beside the ford!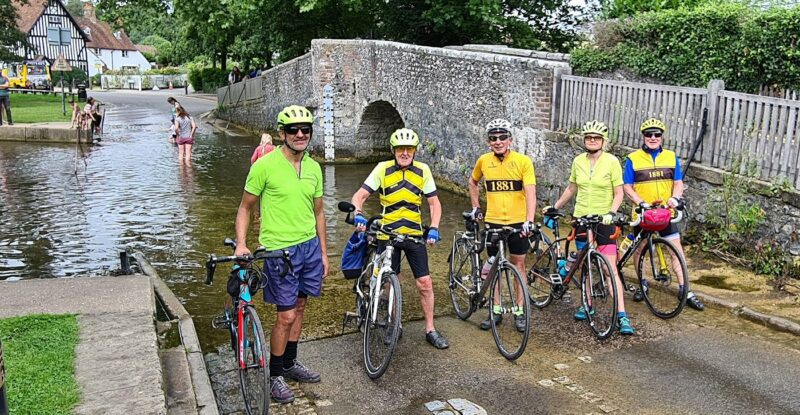 Whilst Eynsford has the scenery, the tea room is not a patch on the one at Lullingstone. So for the future, suggest tea at Lullingstone and then go on to here. But there is one more bit of local history before we head back home.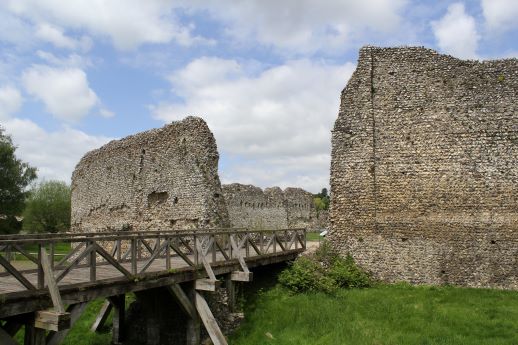 These ruined walls are all that remain of Eynsford's fortified Norman castle.
Built circa 1085/7 it was, in later years, held in joint ownership. A dispute arose between the 2 joint owners which led to it being sacked in 1312. Badly damaged it was never rebuilt and over the years has become a ruin.
From here our ride home started with some of the little known highways, byways, and not forgetting the hills(!) of rural Kent. Until eventually, we were not entirely lost, but arrived back into civilisation – at Otford!
Sorry, but a bit more Clerical history here!
Before the Victorian railways linked Dover and Canterbury with London, The poor old Arch Bishop of Canterbury had a long walk to his London HQ at Lambeth Palace. And/or, the potholed cart tracks were not much better, so to rest his weary legs, or sore backside – depending on which means of travel – the answer was to build a palace at intervals of about 15 miles along the route, one which has partly survived is still at Otford. It is adjacent to the roundabout, by one of our popular tea room – the Pond Cafe. Next time just have a look!
And just like the Arch Bishops of old, we had another 15 miles to go before we could rest our legs and sore backsides. So it was quite a relief to reach the final hill top, and sit down to tea and cake at the Botley Hill Farm Cafe!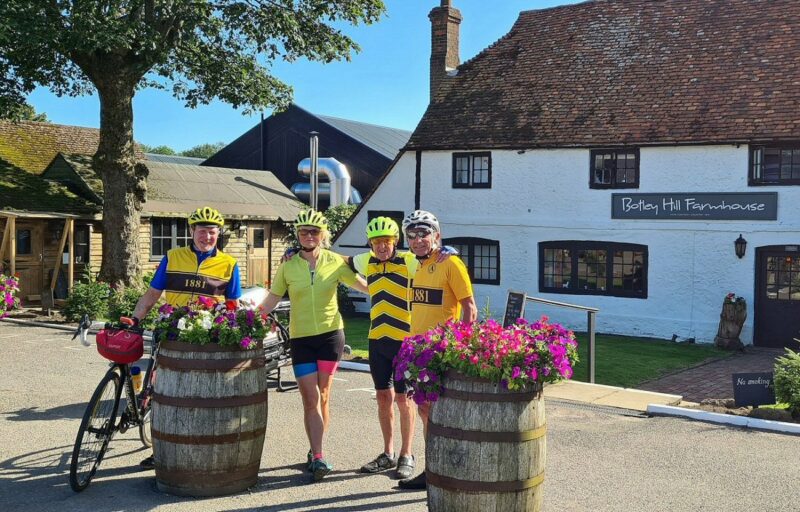 This ride was a team effort, so first my thanks to Shak who does not appear in any of the photos, because he was our camera man, taking all the photos.
Second to Dave Stott who lives the nearest to Shurgard. So he provided the most representative Strava stats for the ride. And not forgetting Julie, who to keep warm, raced up all the hills and hence improved our hill climbing abilities and fitness. Also Tomtom and Asif who always ensure that should I get lost, they would get us all home, guided by sat nav.

So here is Dave's Strava stats.

Not yet quite equal to Snowdon at 3,560 feet but greater than England's highest peak – Scafell Pike at only 3,210 feet – come on Julie – you can do better!
Des