Upgrade to Cycle Lane-Down Graded!
NOTE THAT SINCE USING THE NEW "UPGRADED" CYCLE LANES OVER THE LAST WEEKS I CONSIDER THEY HAVE INTRODECED SOME UNINTENDED DANGERS FOR CYCLISTS – SEE LAST POST SCRIPT TO THIS ITEM
Several weeks back it was a welcome sight to see that our bicycle lanes between Shurgard and Purley Hospital had, after some 20 odd years, been widened to help make them safer for cyclists.
Then several weeks later a series of intermittent barriers with upright posts has suddenly appeared. These were to separate the bike lanes from the road sections used by motor vehicles. However, only a few days these separaters had been drastically pruned. Most of the upright posts had disappeared, leaving big gaps between the bases which still had uprights, as shown by this photo taken by Asif adjacent to Shurgard.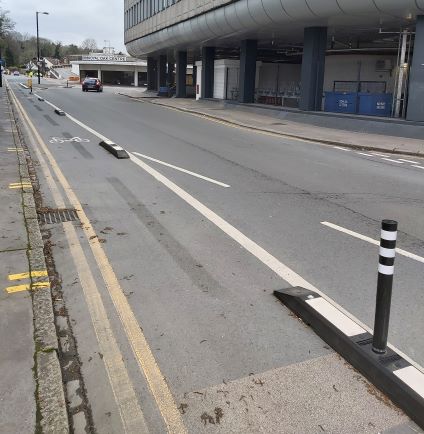 An item on our local Purley Residents web site suggested that they might been vandalised by anti-cyclist protesters, but Tom Tom has provided the real reason for the pruning. This was shown in the Croydon digital magazine, which includes a video by a cyclist calling himself "Cycle Gaz". However, I hope that the video has been speeded up so that Cycle Gaz appears to be cycling much faster, and hence recklessly than he really was. Unfortunately it suggests that cyclists are hooligans on wheels and is not helpful. We get enough abuse already! Just watch the video in the item below and see what I mean.
https://insidecroydon.com/2023/03/31/has-the-mayor-ordered-the-cyclists-magic-wands-to-disappear/
The above item about the upgrade and very quick downgrade to our local bit of Croydon's cycle network, is a follow-on from an earlier item with a bit of history about Croydon Council's attitude and lack of action to support cycling in our borough.
https://insidecroydon.com/2023/03/29/councils-new-cycle-corridor-to-purley-doesnt-go-far-enough/
POST SCRIPT: THE DOWNGRADE HAS NOW BEEN UPGRADED!
When writing the above, Asif's photo showed the situation as of few weeks ago – with mainly just bases, and a very few with uprights. But a week after Asif's photo it was all change again! Now a great improvement – more of the upright posts have now been added back in the bases. It certainly makes it feel much safer now, cycling along the cycle lane with a more visible divider from the motor traffic. Just hope it is going to stay that way – is it for us – third time lucky!
POST POST SCRIPT – UNINTENDED DANGERS FOR CYCLISTS!
Now that we have had an opportunity to ride in these new "protected" cycle lanes, a few comments that have become apparent to me.
The most obvious has been,that all the detritus thrown up by motor vehicles, ends up in our cycle lanes. Ideally the bike lanes now need to be swept every week – which clearly they won't be!

The second, is that when doing a right turn, or for any other reason requiring a cyclist to move out of the cycle lane, into the adjacent motor vehicle lane (e.g. broken glass/large items of rubbish now in cycle lane), this is potentially a dangerous move on our busy main road! It requires care and judgement.

One has to time the move – and take into account one's road speed – to coincide with, where there is long enough gap between the barrier bases to move safely into the motor vehicle lane. Before which of course you have to check if it is safe to do so – speed and distance of potential motor vehicles behind you. My experience has been that more often than not, by the time you have done all this, it is often not practical to use the intended barrier gap.
Problem 3, is that when turning to look for traffic behind, the norm (due to gyroscopic procession which effects balance) you and bike are very likely to veer to the right, potentially causing the cyclist to hit a barrier base and end up on the deck in the vehicle lane. Just another accident statistic!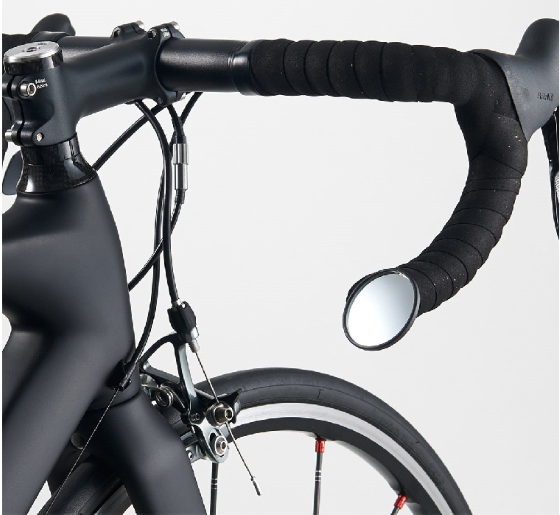 To greatly reduce this very real possibility – I would suggest that you all spend the very small sum, to save life or limb, and buy yourselves a handle bar mirror. You can then check closeness, speed and vehicle type, approaching from behind – every few seconds – without turning your head and veering off course. If used properly a mirror can provide you with a lot of visible information on a constant basis and so avoid a rear end shunt.
The major danger to cyclists is from faster moving vehicles approaching from behind. Common sense should convince you of the added protection and safety, that proper use of a bike mirror provides. Use of rear view mirrors is one of the most important training topics on advanced driving and motor cycle courses. It is very much more important for cyclists. When we are cycling along a road at say, 12mph, the majority of car drivers will probably be travelling at about 36 mph (very few obey the 30 mph speed limit!), so can catch you up before you next turn your head to check behind.
Better safe than sorry!
Des.