Gravel Biking & Woodland Trails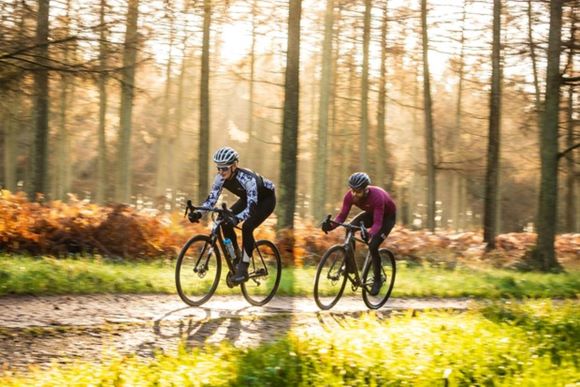 Now that Spring is here, and after the April showers hopefully give way to some dry and sunny weather in May, an opportunity to explore our local countryside.
During the past winter months, instead of bike rides I have been doing some country hikes. On the first, from Westerham to Crockham Hill, I began to notice the pattern of MTB tyres imprinted in the soft mud of the many tracks and bridleways. The next hike followed a now rare snowfall. Our route took us down a slippery, snow covered trackway, a signposted bridleway off the Limpsfield Rd.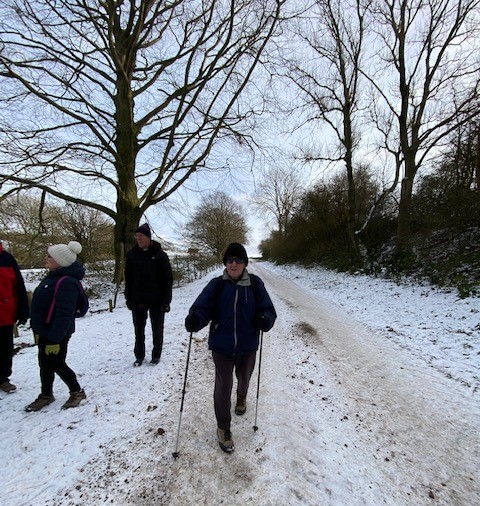 And to our surprise we met half a dozen gravel bikers climbing up the hill to pass us!
It was then that I realised that whilst I have over the years done a fair bit of off-road cycling, there was still a lot more to discover and explore. But where to start, and where to explore?
Most of you should be familiar with O.S maps which are available free on line, for example with https://www.bing.com/maps/ I also find the "Outdoors" version of Michelin maps to be very useful, available on line at https://www.viamichelin.co.uk/web/Maps
For example, below is a small section of a Michelin "Outdoors" map section, covering an area which includes Emmetts Gardens and Ide Hill at top right, and Toys Hill at centre bottom.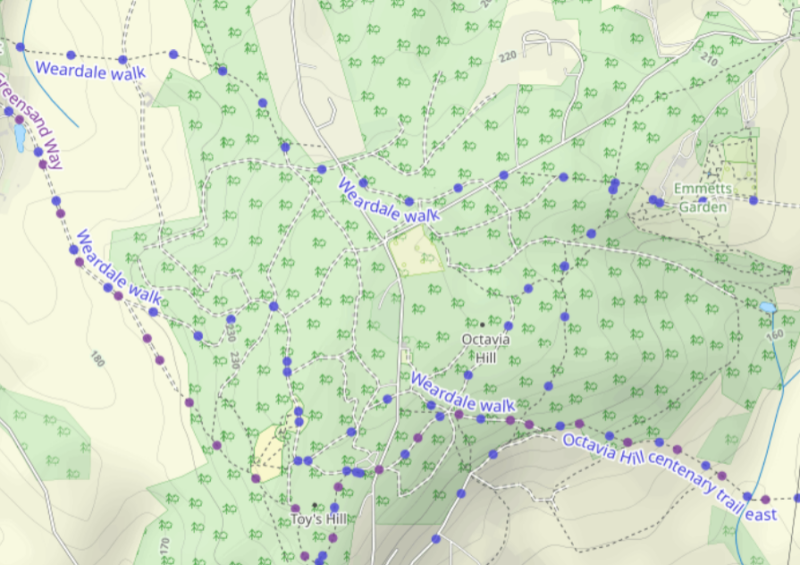 The blue dots show the many, main signposted routes. There is additionally a maze of other dotted foot paths and bridleways, plus several double dotted forest trackways. The only way to find out which are suitable (and legal!) for cyclists to use, is to visit them. We did a selection of these on a recent hike.
A path from Westerham Green took us up a hill and across a field to a fence with a kissing gate. Not ideal with a bike – but can be avoided using a different path.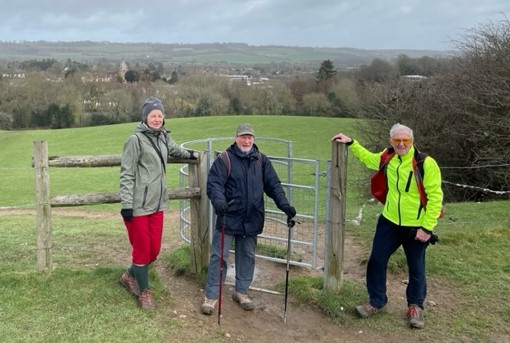 From there, pathways lead onto Hosey Common where we joined French St, a tarmac country lane (and designated bridleway) which leads into the scenic hamlet of the same name. Hosey Common is renowned for its bluebells so worth a visit, when shortly they will be in full bloom.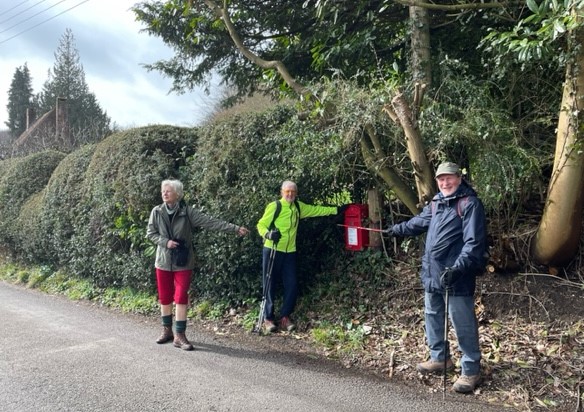 This post box when coming into Friday Street, is a marker to look out for, being close to several route options. See OS map section below, with our route to Friday Street and its small cluster of houses at centre/righthand side.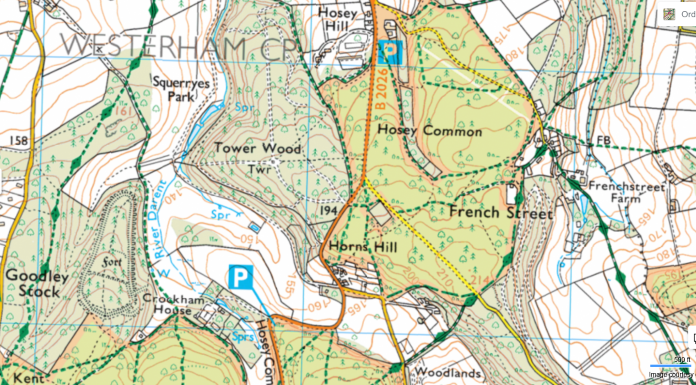 Directly opposite the post box is an entrance to some footpaths. We we took the one which headed south east down into a valley and over a stream via a foot bridge (FB on map). Steps down to the stream, plus several gates and stiles make it totally unsuited for gravel bikes. But an interesting route for hikers!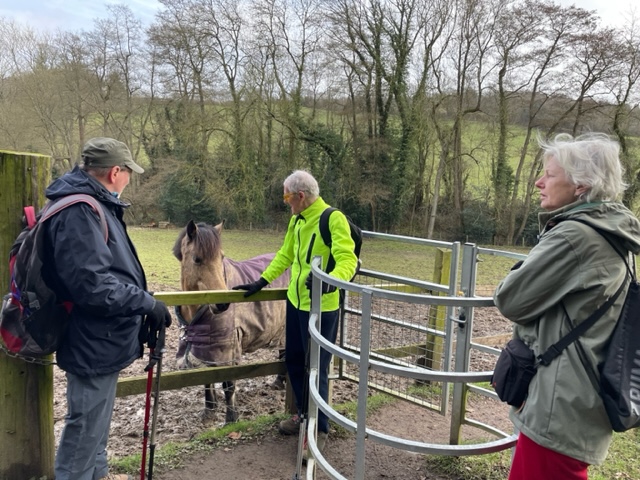 However, if we had continued straight on along the tarmac road thru the hamlet, it becomes an off-road bridleway leading to Toys Hill – the best option on bikes.
Or, heading south west is another bridleway leading to Chartwell, which we had done on a previous occasion.
On our return journey, by a different route, we did come back via Chartwell. From Chartwell we took a route via a forest trackway thru Tower Wood (see map above and to left of Hosey Common). The map is marked "Twr", which used to look like this.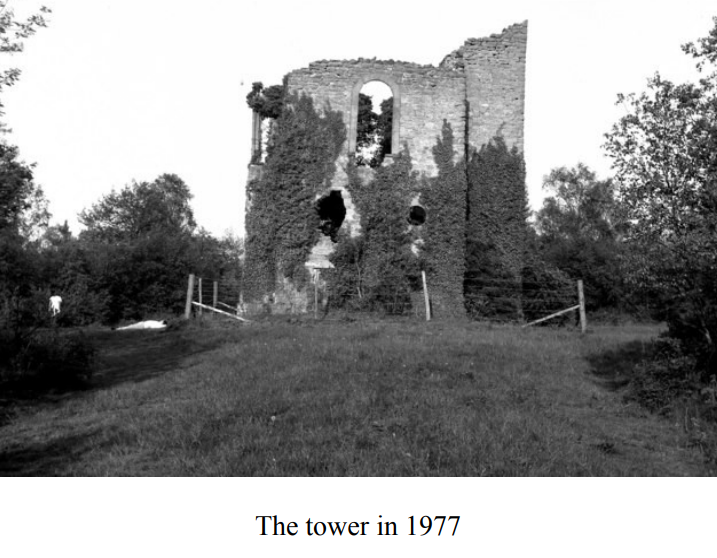 But now it looks like this, completely overgrown!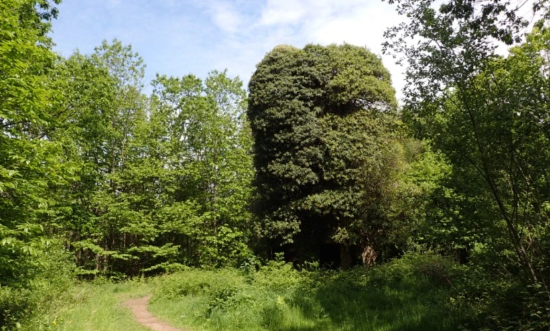 The reason that we took the footpath route from French Street, was because we were following part the Weardale Walk route. Later this joined wooded bridleways taking us to Emmetts Garden for our tea stop.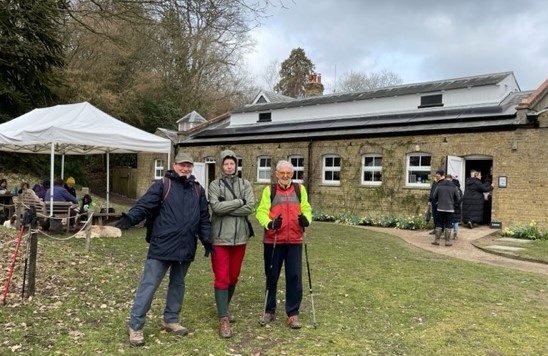 Continuing on from our tea stop, more bridleways took us thru Scords Wood and down Scords Lane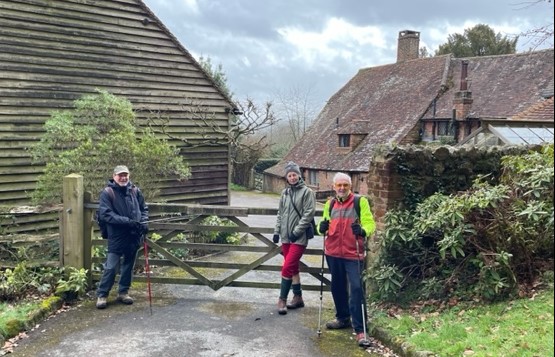 And onto where Scords Lane met Toys Hill at Puddledock Lane.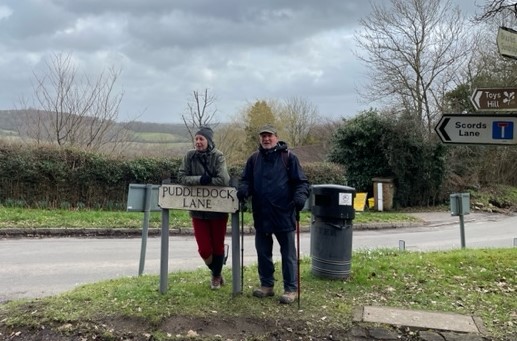 Puddledock Lane led us to a partly wooded trackway leading upto to Chartwell Farm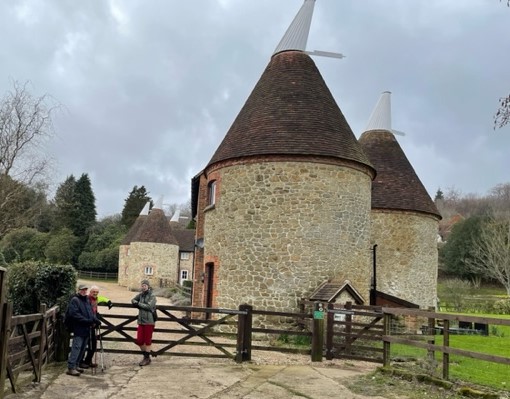 It was shortly after this, with still more than 2 miles of walking to get back to Westerham (which included Tower Wood), that Ewa noticed that the sole of one of my hiking boots was coming adrift. Fortunately it just managed to stay attached and get me back to Westerham and our parked cars!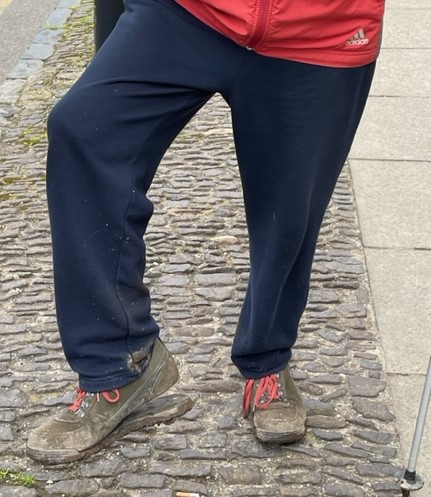 And a big thankyou to Warren, the fourth member of our group, who does not appear in any of the photos, because he acted as our camera man.
Des