Three Punctures – is this a record?
Sunday 8th May proved to be a record breaker in more ways than one. Blue sky, hot sun and a record breaking temperature for the hottest day of the year so far. And possibly a record breaking number of riders for this early in the year – the 9 below plus our photographer made it – eventually – to Chiddingstone Castle. And for those who like a challenge, we got caught up in an annual sportive, something that Anerley B.C riders might like to compete in next year – so read on for details!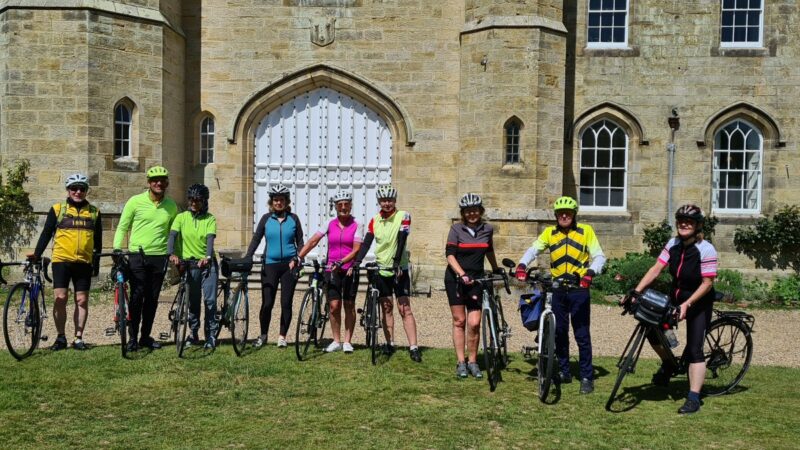 I like the ride to Chiddingstone because it offers many variations of route in some very scenic parts of the Kent Weald , so it it never gets boring. And mention of boring, reminds me that after heading out via Marden Park, we continued to Oxted along the back lane – Barrowgreen Rd. Here (below) is a gated entrance to an oil well. There is another extraction site at Brockham. Not quite as gushing as the Russian and Middle East oil wells, but every little helps!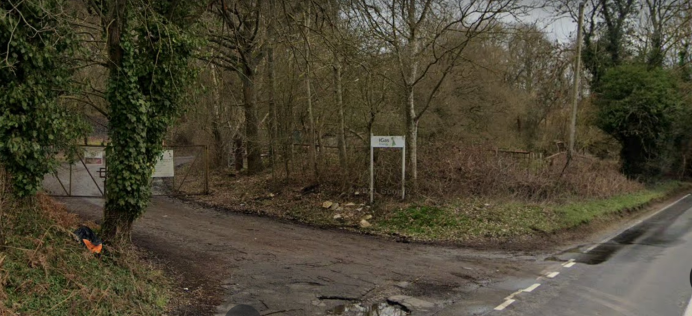 From Oxted we went over Limpsfield Chart (lots of good bridleways for our Gravel bike riders!) and down the fast descent of Paineshill, at the bottom of which Ewa hit a pot hole. This resulted in snake bite punctures to both front and back wheels. But how many does it take to fix a puncture – or two?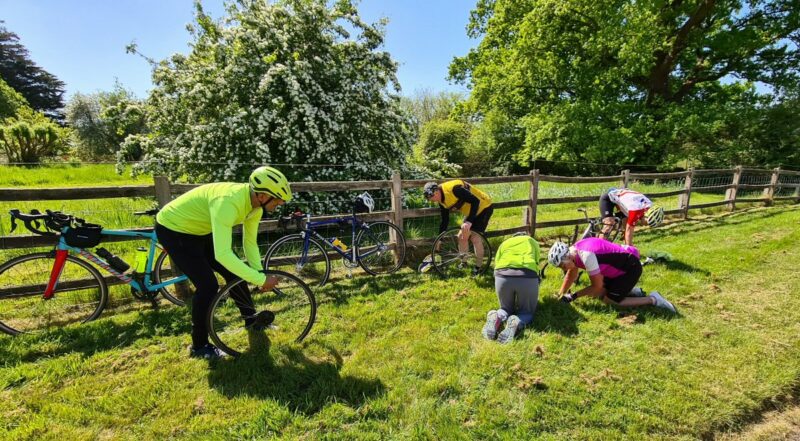 Asif attacks the rear wheel, Tom Tom, the front wheel, Jo Jo and Terri search for something lost in the long grass. Not sure what Ewa, far right, was doing. But eventually, two inner tubes were changed, tyres pumped up and wheels ready for refitting. Then it was discovered that one of the replacement tubes was leaking air. After much checking of the tube and tyre casing it was decided that the replacement inner tube had inadvertently been repacked for future use before a previous puncture had been repaired! So faulty inner tube out, another spare tube inserted, and after an hour's delay we were at last able to continue on our ride.
After a quarter mile we were joined – and passed – by a steady stream of speedy cyclists, from a minor lane on our left. All the bikes had numbers afixed, clearly we were on a Sportive route!
I had chosen this route because it took us past the Grants Lane car park which provides access to Staffhurst Wood, renown for it's magnificent and extensive acres of bluebells.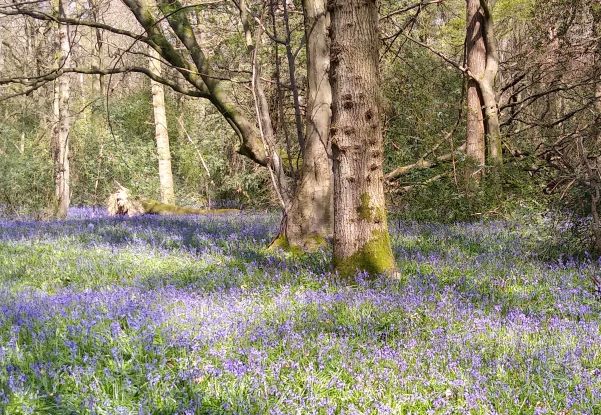 We had cycled past a few weeks previously and the bluebell wood deserved a proper visit – plus a bit of gravel bike riding! However a circular detour along some of the woodland paths unfortunately proved to be in vain. Now too late as the bluebell season was already over. So we left the woodland to re-join Grants Lane further south, by Black Robins Farm and it's lake opposite.
And still the sportive riders were coming past us.
As we did a right turn into Honeypot Lane I noticed an arrow sign on a post at the junction. And up the hill to the next left, another arrow sign pointing straight on towards Edenbridge, with more sportive riders passing us in that direction.
We however took the left turn into Hilders Lane. This brought us to Main Road on the northern outskirts of Edenbridge, then shortly a left. You can't miss it with the Swan pub on the corner!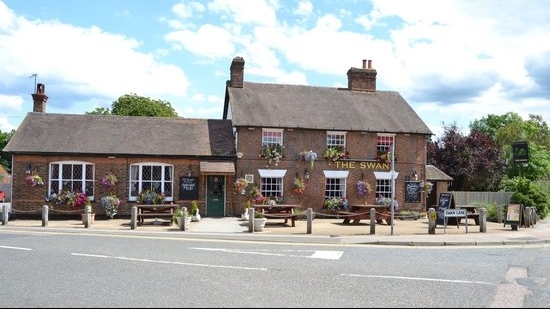 Swan Lane took us to Four Elms Rd, and heading north east , following the numbers – into Five Fields Lane – to join the main road towards Chiddingstone. It had been my intention to extend the ride via How Green and past Hever Castle, but due to the lost hour mending punctures, we headed directly to our tea stop. And what a pleasure it was to see it again in all it's glory after it's closure due to Covid. Definitely deserving of a photo!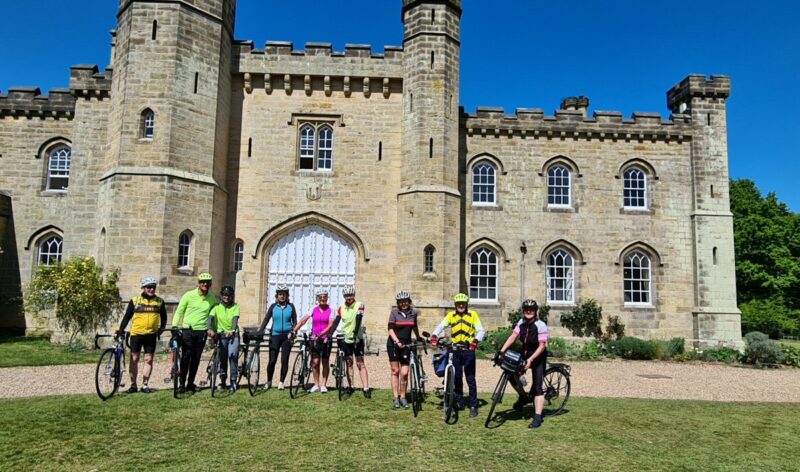 It is not just the outside that is so evocative of the grand old days of our aristocracy.
No Ikea furniture then!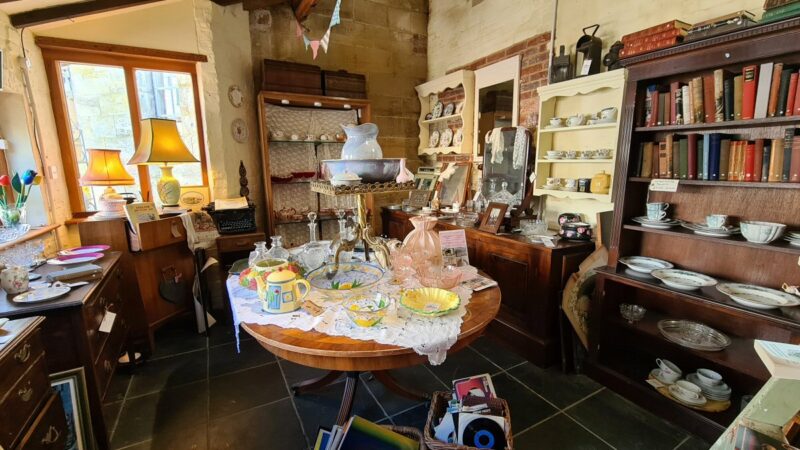 But whilst not dressed like Lords and Ladies, we did enjoy the travellers fare!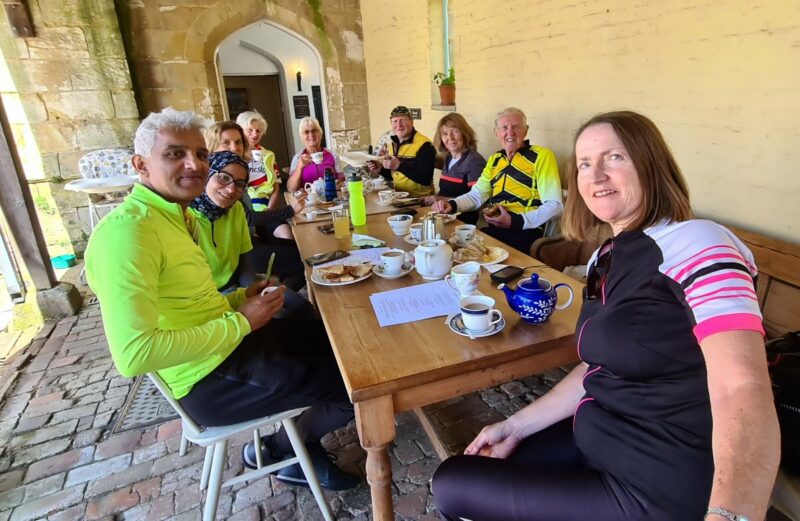 So fed and watered, it was back on our bikes, and home by the easiest route to avoid some of the killer hills of the Kent Weald. Heading towards Four Elms, avoiding the turn offs to Ide Hill, Toys Hill, etc, I again began to notice the arrow signs. These were clearly marking the sportive route, and following the same route as us. At Pootings we did a left – another arrow sign – at the next X roads into Dairy Lane – another arrow sign. And shortly, a group of cyclists, one of whom had a bike problem. So an opportunity to find out what this sportive event was, and when I got home – to find out more.
The event was the annual, Ride Castle sportive, starting from the now ruins of Tonbridge Castle. It looks to be an interesting and challenging ride, with 4 route options 33 ml/70/101/134 ml. Something that should appeal to some of our more competitive Anerley B.C members. So here is some information about next years ride.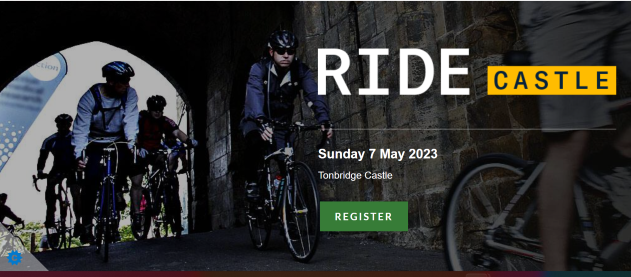 See the video here
And for full details see https://action.org.uk/events/cycling/castle-ride
Of course, if you are not upto the challenge but just want an easier option, and want to save the sportive entry fee, you could do it for free on an Anerley Bike Ride!
So continuing on our homeward ride, via Hurst Green and Broadham Green, avoiding the steeper climbs over the Green Sand Ridge, we just had the last climb of the day up Flower Lane to Marden Park. Denise, fresh from the rigours of the mountains of Mallorca, led the way.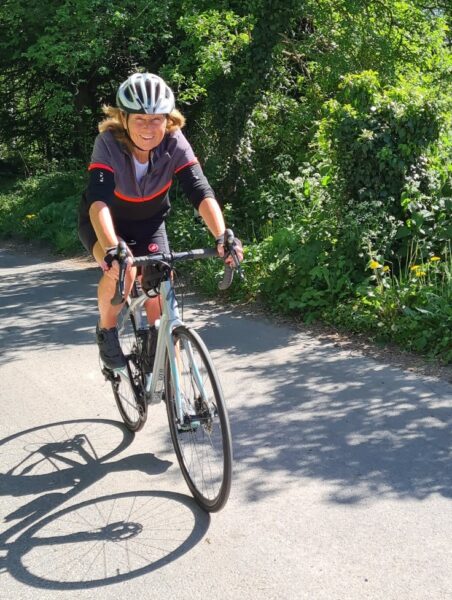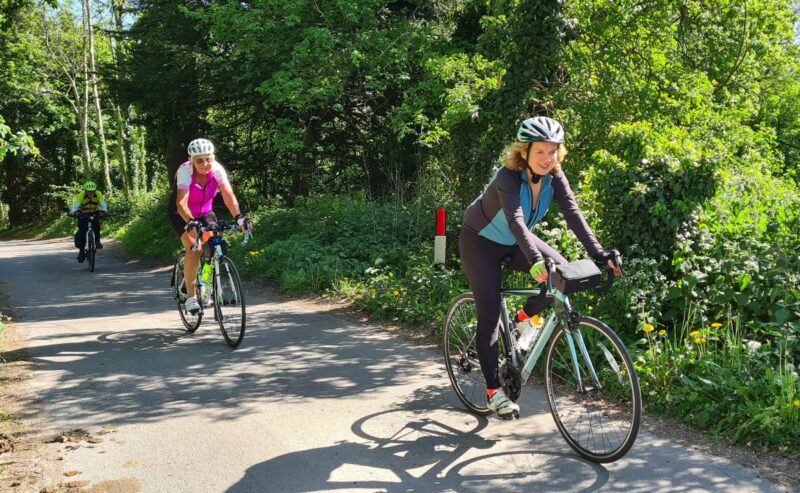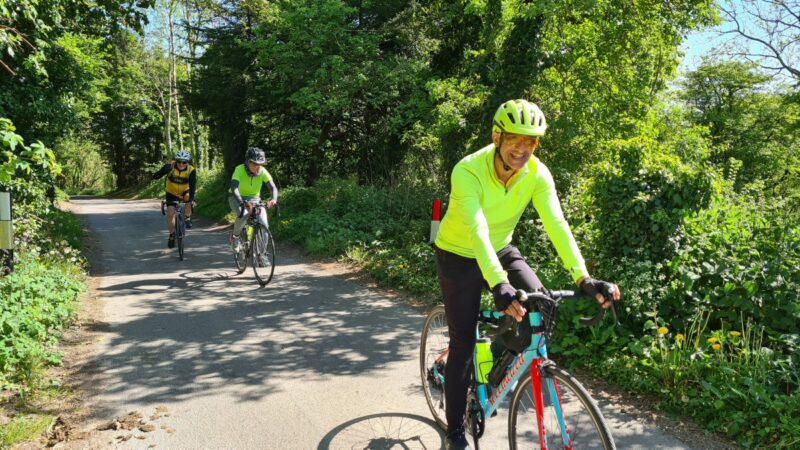 Next year, the Castle Ride perhaps?
Des