Tea Rooms – Lost one/Gained one
Also gained was the promise of some great potential for future Gravel biking!
For a Sunday Ride a few weeks back we cycled out to Painshill Park, a regular tea stop for our club rides. Closed due to Covid, now with Covid restrictions fully lifted it warranted a re – visit. What a pleasure it was when we arrived, to cross over it's bridge with the views over the River Mole.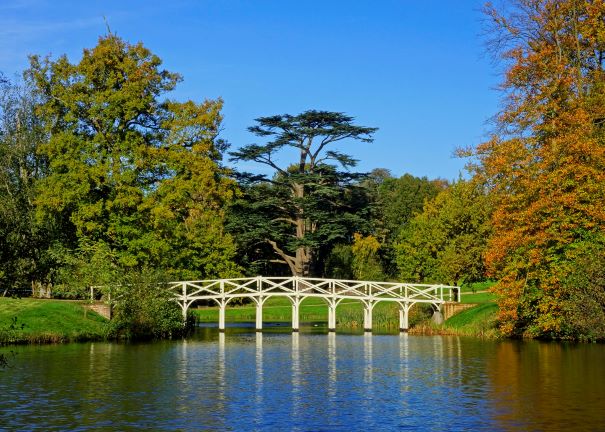 However due to Covid restrictions the layout had been changed. Now they wanted each of us to pay the £10.00 entry fee to the park, to access the tea room. This made a tea or coffee rather expensive so we diverted to Ockham Bites just off the A3. But another, new alternative would be useful. A Google search showed 3 potential options in close proximity to each other, on Esher Common.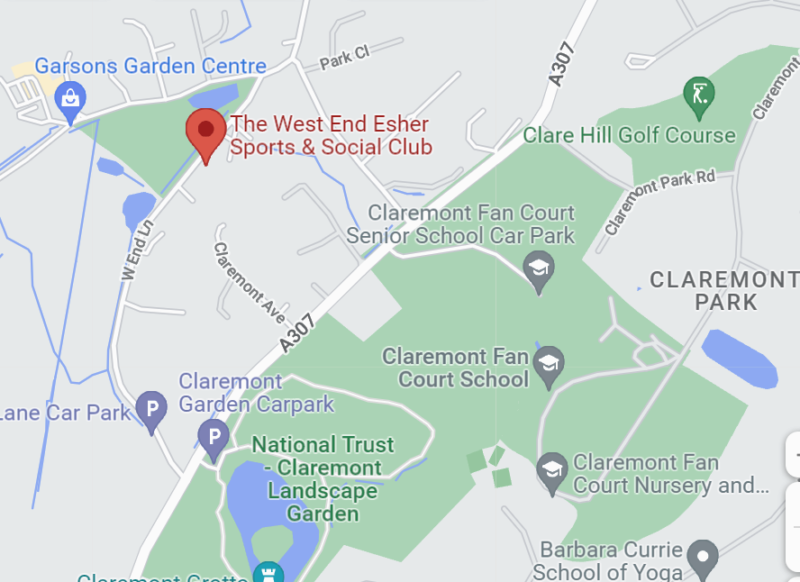 Of the 3, Garsons Garden Centre, Claremont N.T Gardens, and the Sports and Social Club up West End Lane, the last one looked promising. So on Saturday 14th May, the warmest and sunniest day so far this year, we set off to find out what the West End Social Club had to offer – https://www.wessc.org/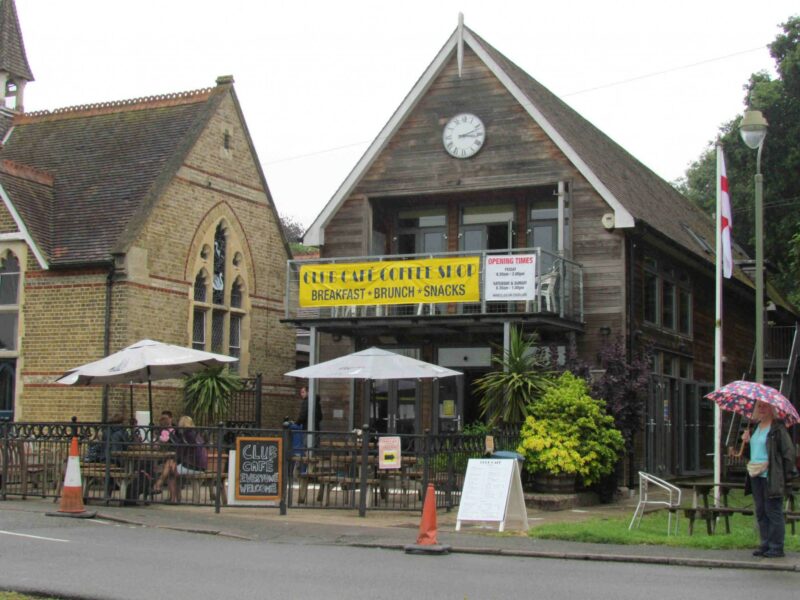 With a choice of routes, we went out over Epsom Downs and Leatherhead via Ashstead. All of which offer an abundance of bridleways for off roading.
We were making good time as evidenced by this ancient time piece at Ashstead's Freeman's School. 1734? No that's not the time but the date when the sun dial was installed!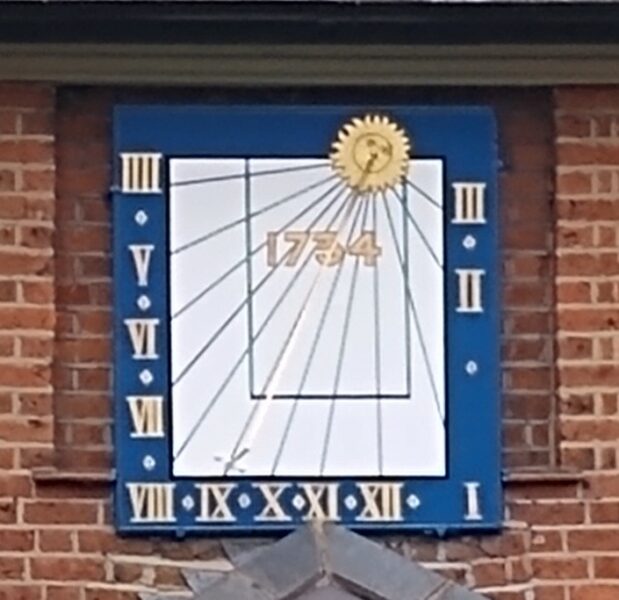 From Leatherhead we headed out on the A245 towards Stoke D'Abernon and then cut across to the A244 to Oxshott. These main roads cut through heaths and commons, had we wished to go off road. So far, so good – very little traffic on the A roads until we hit a big hold at Oxshott. But we only had a short distance to go before we turned off, to go through the wooded Oxshott Heath and it's very up market, private, housing estates adjacent to Sandy and Fairmile Lanes. At the end of which we joined the A307, the original Portsmouth Rd. Not a lot of traffic, most of which now uses the adjacent A3 dual carriage way of the Cobham by pass linking to the M25/M3.
So a right turn at the traffic lights onto the Portsmouth Rd, over the bridge with the A3 below, and a nice free wheel down, followed by an equally steep up. Then on our right we came to a large sign board advising us, that here lies the N.T Claremont Garden. And on our side of the main road was a little narrow, non-descript lane which was West End Lane – so nearly there!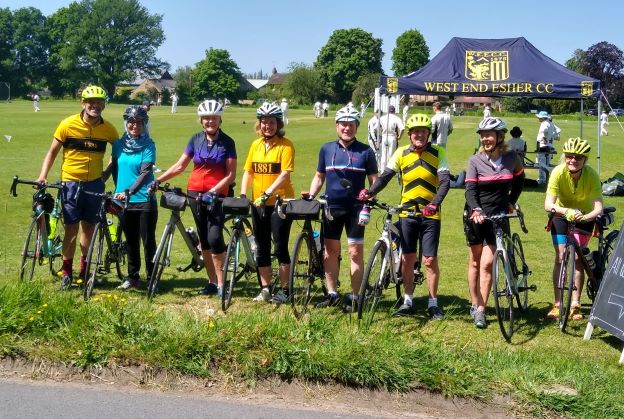 And what a delight it was! A traditional old English village with cricket on it's Green. What could be a more perfect setting for such a beautiful, sunny day! And this of course was the cricketers' club house – a perfect tea stop for us thirsty cyclists!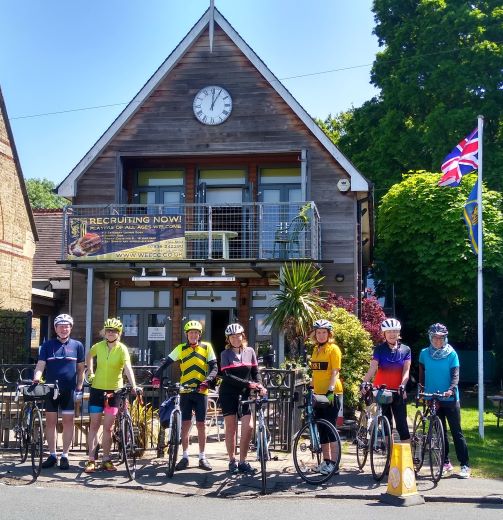 Tables outside in the sunshine, or shady under the surrounding trees. Seating inside should the weather so dictate. A very extensive menu, waitress service to our outside table. What more could you wish for – much superior to Painshill Park! And though we did not explore the possibilities for Gravel biking, I can assure you that a study of detailed O.S maps indicates a variety of possibilities over the surrounding Esher Common to ride back home via several off road alternatives.
So for our road ride home we took a different route. From Fairmile Lane we continued into Stoke D'Abernon and straight on, south along Cobham Rd to Fetcham, then the cycle path past the old Mill Pond into Leatherhead with some Spring time birds!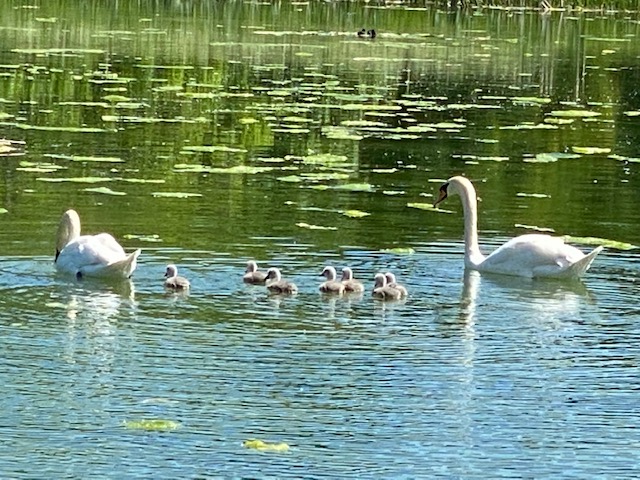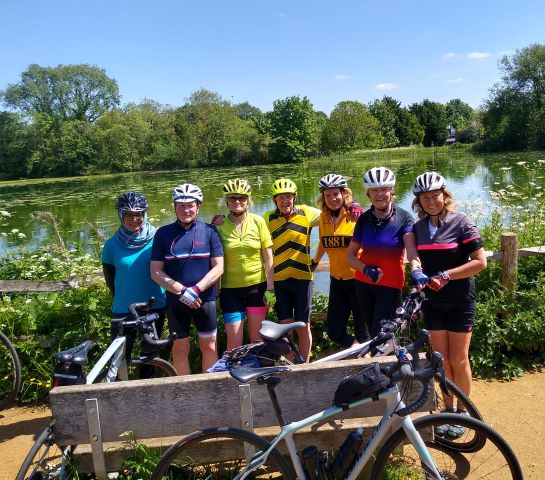 And continuing on along the River Mole as it skirts, south, around Leatherhead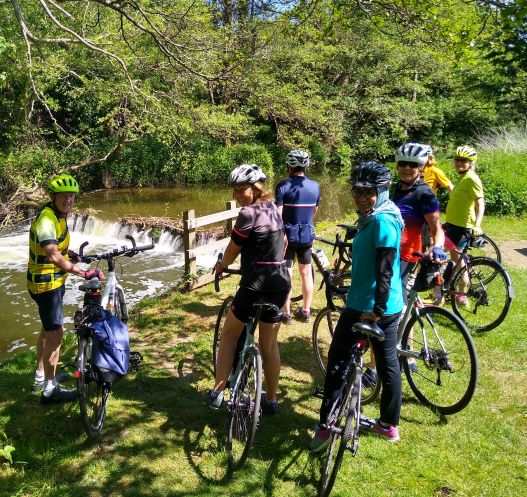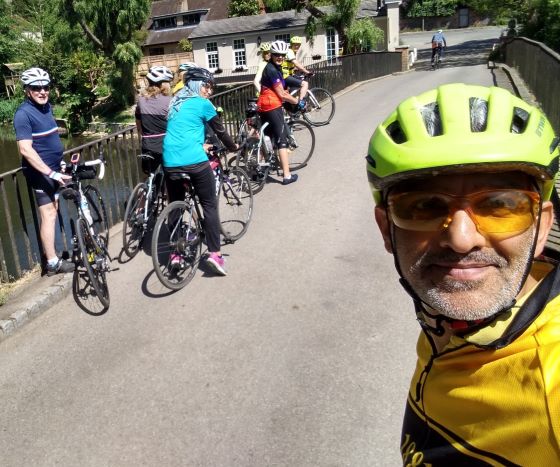 And to end the day's ride we stopped to admire the rhododendrons at Kingswood Warren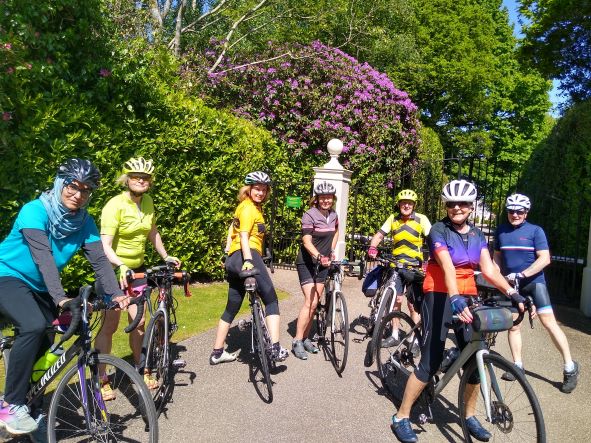 What a great day's ride this turned out to be. And what a great destination it would be for our Gravel bikers!
Des