The Joys of Gravel Riding in Winter
Saturday 26 November ABC ride to Epsom Downs meeting at Oaks Park – 10:00. The weather was meant to be overcast, but in the event it was better than that. I made it to Oaks Park with a couple of minutes to spare and even though no-one had signed up for the ride waited until 10:00 before leaving. As I was on my own I decided to lengthen the route to include even more off-road via a number of golf courses including Epsom Downs Golf Course. A couple of times I waited for the golfers to finish their tee shots – luckily none put me under any threat. The tracks were fairly variable with deep leaf litter in places and some muddy sections after so much rain. This made the cycling harder work.
Des had advised me of the existence of Langley Vale Wood a Woodland Trust memorial site to WW1 (just off my planned route), so I decided to take it in as a visit.
The car park is just near the crossroads Langley Vale Road, Shepherds Walk (Stane Street), and Headley Road. The car park was locked and I ducked under the gate to get into it. The opening times indicate that it should be open every day so not sure why it was locked. There are some bike parking spaces there, and as it looked like there would be very few visitors I cycled my bike up the well-made path, but then went to walking the bike when the path got less defined. It's a really impressive area and much bigger than I expected. Significant tree planting and some very good information boards about the area and its relation to WW1, and about WW1 more generally.
Deeply fascinating and I was surprised I hadn't been aware of it – someone mentioned it to me a few weeks ago on a ride when I was quite close and when Des mentioned it again I felt it would be worth a visit. I started by following a "poppy" trail and while I spent about half an hour there, there was a significant area of it that I hadn't seen.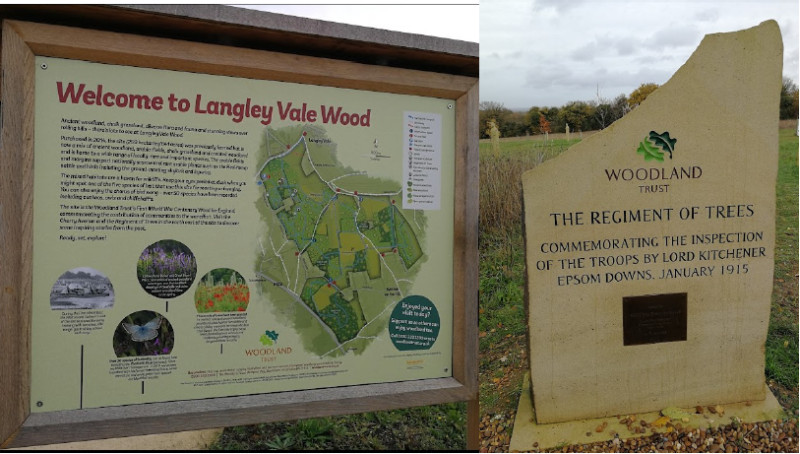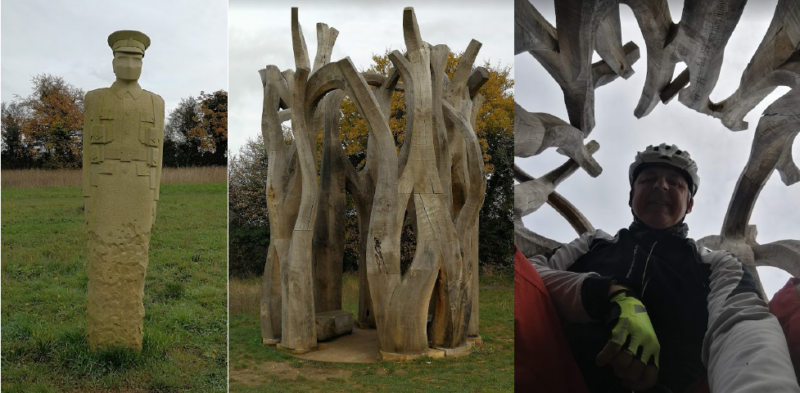 I actually decided to leave when I got to the next bridleway which cut through the middle of the wood, giving way to the horses on the Bridleway.
The bridleway wasn't exactly the one I expected to be on and I eventually found myself on Hurst Lane, heading up to Clay Lane, a fairly normal on-road route for Anerley. I decided to head towards Headley on the road and then cut back on a track I know to cross the Dorking Road, near the top of Pebble hill, and then out behind the Pfizer building and along the North Downs escarpment. I left the escarpment to do one of my favourite off-road bits; a lovely sweeping track alongside Walton Heath Golf Course (one muddy bit approached slightly too fast gave me my closest moment for an off), and then headed back across Banstead Heath to Colley Hill and then the top of Reigate Hill for well-earned refreshment. I really recommend the coffee and sausage sandwich here – I didn't have particularly high expectations but they were well exceeded.
I caught up on my email and saw Sue was requesting me to pick up an item of shopping, so decided I would go home via Caterham-on-the-Hill Tesco. I went down through the Royal Albert & Alexandra school and then across to Merstham and picked up NCN 21 to the viewpoint at over Godstone at Gravelly Hill where I had another short stop to finish my drink.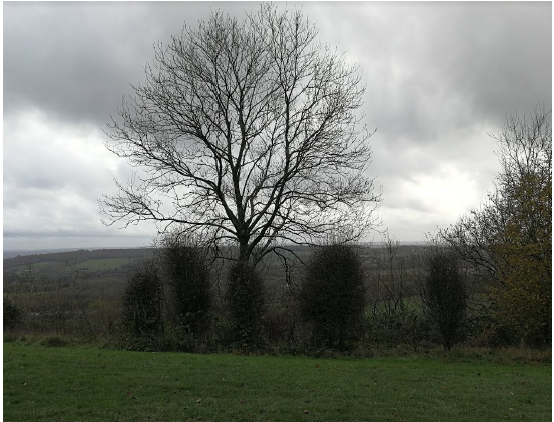 From here a fast track down through the trees, with a discretion better part of valour stop to lift the bike over a fallen tree rather than attempting a bunny-hop, and then back up to Caterham-on-the Hill and home.
A great ride of 55km for me with over 900m of climbing.