The Hell of Ashdown Reliability Ride
By Anerley Race Secretary, Bryn Tully in 2008
I always enjoy the Reliability Rides – it's the beginning of a New Year, there are old friends to meet after the winter break and there is the challenge of riding a hilly 100k without you or your bicycle breaking down.
This year the Catford Cycling Club had pulled out all the stops, rebranding the Reliability Ride as a Cyclo Sportive, called the Hell of the Ashdown Challenge! There were about 100 riders when we signed on for the ride at Knockholt Village Hall, with separate desks for the different distances and allocation of start times. Each group consisted of about 20 riders, each group going off at 4 minute intervals. The sun was shining brightly from a clear blue sky, we had our Route Plan and our best bikes – well for some of us, that means our only bike – and we were ready to go!
The excitement grew as we approached the time of our departure. At 9.05 we were off, through Knockholt Village and then charging down Star Hill. Riding in large groups of riders at a steady speed is always a thrill for me, I suppose that is because most of my racing is done in a solitary state in a Time Trial. Anyway, we continued to follow the signs at all the junctions, the Route Map that was issued seemed superfluous. We joined the A25 at Sundridge which continued to Brasted where we turned left up Toys Hill.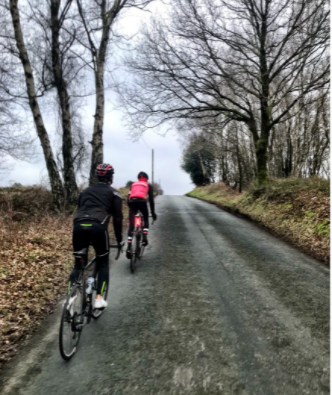 Although this is the easier side, the group is soon splitting up, and by the time we get to the crest, my heart is pounding. Anyway, now we get the benefit of the steeper downhill side and we settled down into a group of about six or seven riders of a similar speed. By now we have turned off onto a narrower lane and are due to cross the B2042 but there is no problem. The Marshals with red flags have stopped the traffic and we are beckoned through with no loss of speed.
Soon we have reached Hever Castle and then on to Edenbridge. On through Marsh Green to Dormansland. By now our group has shrunk to two, my son Richard and me, sometimes we catch up riders and sometimes we are caught by later groups, but most of the time we ride as a pair at our own speed which gives me a greater opportunity to enjoy the beautiful scenery around Hollow Lane and Holtye. By the time we get to Hartfield we have covered almost half the course, over mainly rolling Hills. But now, I have to prepare myself for the climb up onto Ashdown Forest!
We follow the road to Colemans Hatch, climbing most of the time and then turn left for Kidd Hill, the Hell of the Ashdown Forest. At first the road seems pleasant enough, even going downhill at times, but then Kidd Hill comes into sight. It goes straight up like an arrow into the sky!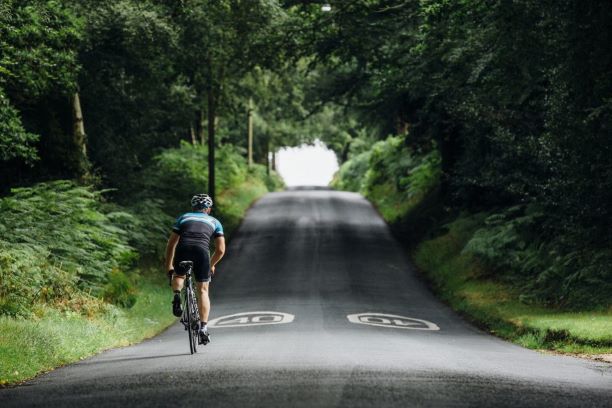 This looks major serious. A string of riders is struggling up ahead, all the way to the top. I change down through all my gears and have hardly started this ascent. The choices run through my mind. Shall I get out of the saddle and power my way up? Shall I sit tight and grind my way up? Or shall I just concede defeat and get off?
Foolishly, pride will not let me accept option 3 and I realised that "powering my way up" was just a dream. I resign myself, sitting tight with the occasional standing up when I'm in danger of grinding to a complete standstill. As time passes, I try not to look up at the summit, the temptation to give up increases, in spite of many other struggling riders around me. By now I can see the road levelling out and so what matter if I had to walk the last few yards? But then, what did I see ahead? A Photographer! There was no way I could let him take my picture pushing the bike, so gritting my teeth, I made one last push for the summit and with heart pounding I made the Checkpoint and got my Record Card stamped.
Having caught up with and being reunited with Richard, after a short break and a drink, we set off for the return journey. We had beaten the Beast and only had major climbs, up Groombridge Hill, Ide Hill and Star Hill to negotiate. The sun was still shining brightly, the views of the Weald were spectacular and the road is now fast and downhill – all is well with the World. Towards the bottom of our descent from the Ashdown Forest, my enjoyment was suddenly brought to a halt when my pedals stop going round. Luckily my back wheel was still going round so I gradually allowed the bike to come to a stop. At first, I thought that chain had somehow jammed between the smallest cog and the frame, but it was still in place. Certainly the gears/chain were jammed, so I released the back wheel to see if the block had seized up. No it hadn't, so I repositioned the wheel and low and behold it worked. Hallelujah!
I jumped back on the bike and started pedalling, eager to make up for this misfortunate stoppage, but with 100 yards the pedals had seized up again. Off the bike,, back wheel out and this time, on closer inspection, I notice that there was some play between the rear cogs. The cassette had started to unscrew and was consequently getting wedged against the frame. What could I do? I had no tools with which to tighten the nut. Luckily, for one of the few times in my life, I was grateful for carrying a mobile phone.
Reluctantly I phoned Jan and asked her to come and rescue us. Needless to say, she agreed and with her new Satnav it did not take long for her to find and retrieve us. Hence Richard and I missed the opportunity of see Groombridge Place. And not to mention, the 7.8 km climb, with a maximum gradient of 18% up Groombridge Hill. Such a shame!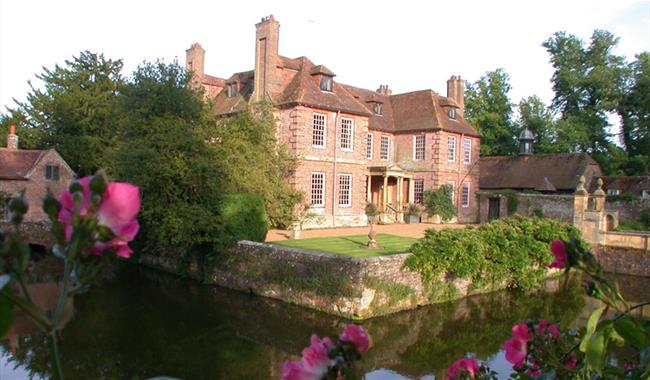 So the Beast of Ashdown had won. But it was only transitory. Two weeks later I rode the Old Portlians Reliability Ride, again over 100K along a similar route but going in the opposite direction. However, on this occasion and in more, glorious weather, my bike and I completed the course in three hours 59 minutes. So honours even!
+ + + + + + + + + +
I do not have a GPS route for the Hell of the Ashdown Challenge, but I do have it for the similar Portlians 100km Reliability Ride, which Bryn did 2 weeks later. This is basically the same route but in reverse (clockwise) and shows 4,598 ft of climbing.
So if you fancy an interesting and challenging ride, the full route details and the GPS file are available here https://ridewithgps.com/routes/852422