Swanning Around in Dorset!
It was our second away day at Weymouth, and the 4 of us met up in the morning and set off on our bikes for breakfast at another sea front cafe, just up the road. This cafe, The Oasis, was just opening up but already there was a queue waiting to be served, including some other cyclists. This suggested that it was a popular cafe and likely to provide good breakfasts to start the day – which it did!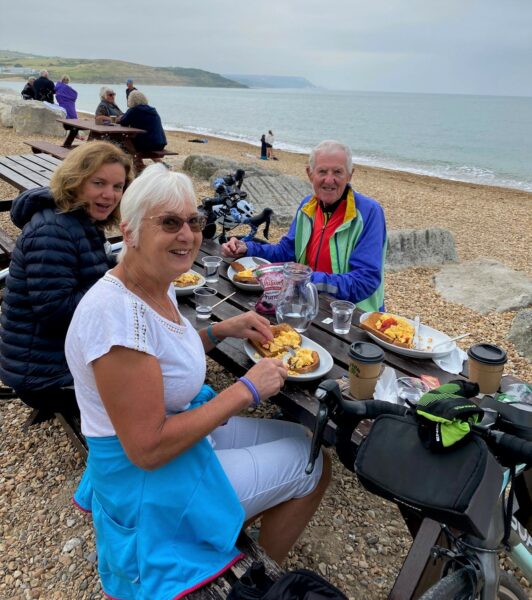 After consuming many calories, we set off on our bikes as it looked like being a nice day for a bit of swanning around.
Our destination for the day's ride was Bridport, 20 miles west along the coast, but first we were heading for the very old and historic village of Abbotsbury, half way at about 10 miles.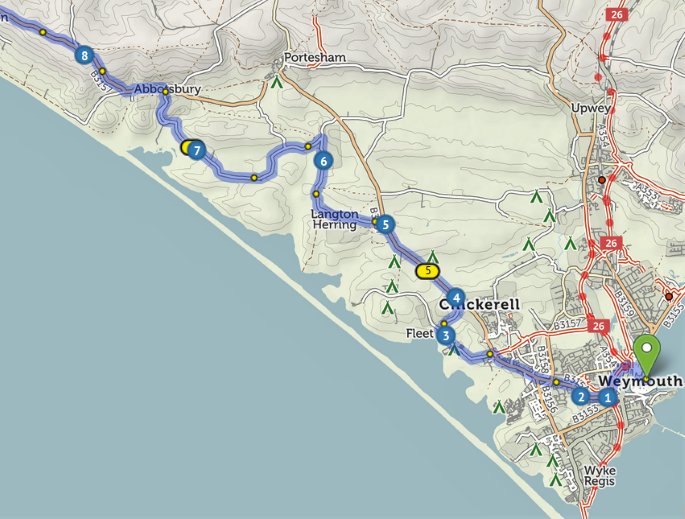 Our chosen route took us as close to the coast as we could get, because of the great views over the world famous, Jurassic Coast. The white line adjacent to this coast line, is the also famous, Chessil Beach. This geographical oddity is a vast stretch of shingle, which continues from the Isle of Portland for over 12 miles, reaching upto 50 feet high and 660 feet wide in places. It forms an equally long lagoon, including at Abbotsbury, our first port of call.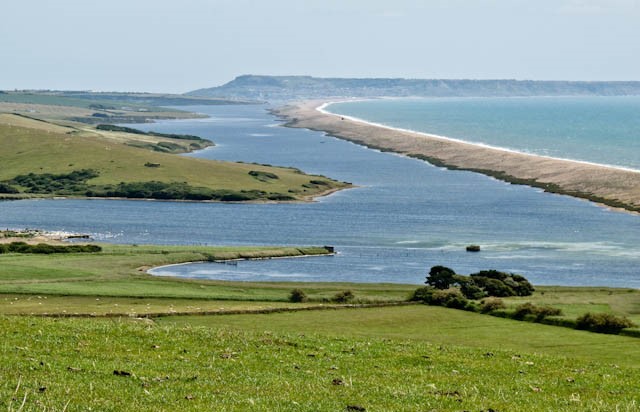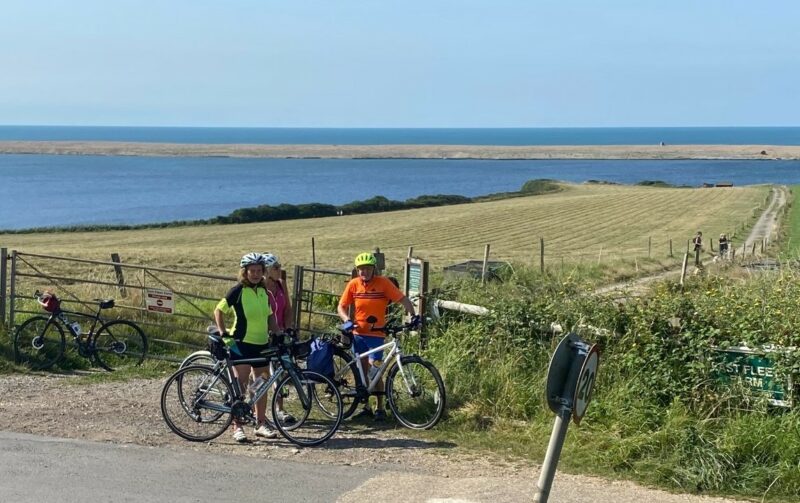 Starting from here at Fleet, adjacent to number 3 on the above map and at sea level, the climbs began as indicated by the many contour lines shown on the map. But the climbs were worth it for the varied and interesting scenery.
After yet another steep climb and at the brow of this hill, we could see a mass of white down below in the lagoon – and this was what we had come to see.
I mentioned earlier that it was a nice day for a bit of swanning around. And this was it!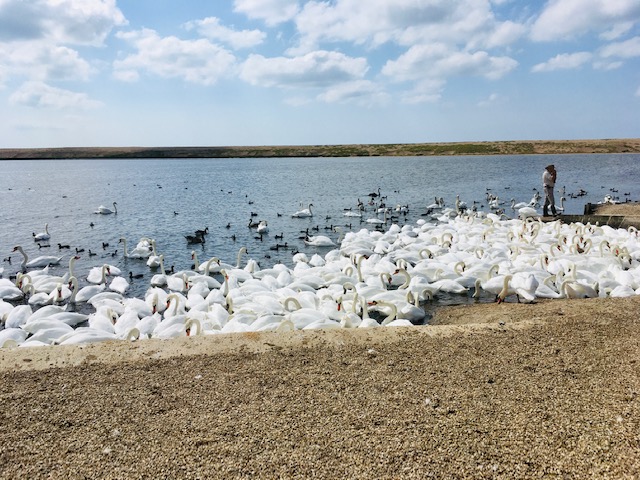 The Abbotsbury Swannery dates back to circa the 11th Century when the Benedictine monks at the local monastery, found them to be ideal for there lavish banquets, just like we now have turkeys for our Christmas dinners! Long before this, swans and other water fowl had flown to the natural lagoon from Siberia and northern areas for the breeding seasons. And still continue to do so. They are not captive birds but completely free to come and go as they please. It also helps, that since the time of the monks, they are fed twice a day so many return each year for the free food!
By luck we got there at 12.00 noon, which is the morning feeding time.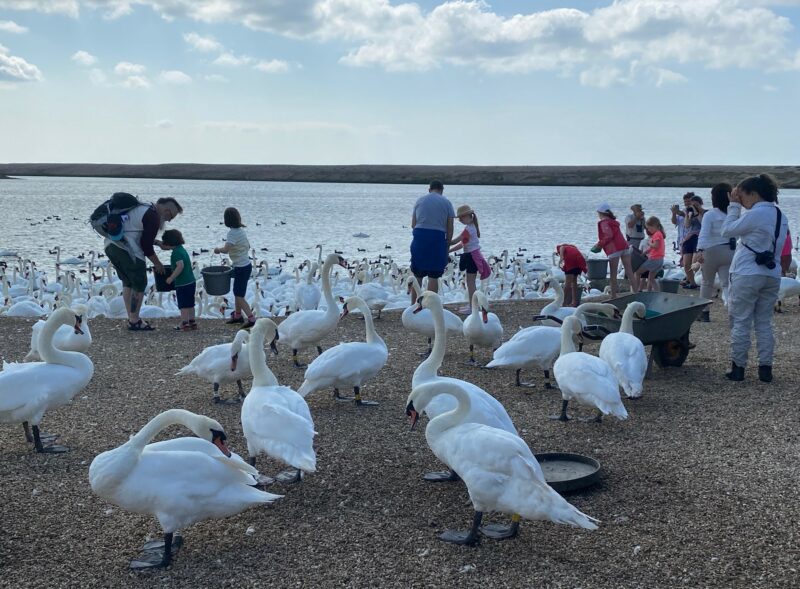 Whilst the feeding is going on, the Swan Keepers provide a very informative and interesting talk about swans, their lives, history of the swans and the swannery, and much more.
We thoroughly enjoyed the visit and definitely recommend it if you are in the area. Swans are such majestic birds, so you should find this of interest
https://abbotsbury-tourism.co.uk/swannery/history/
Also of interest to us, was not only feeding time for the swans, but also for us. So more calories – coffee and cake – at the Swannery Tea Room!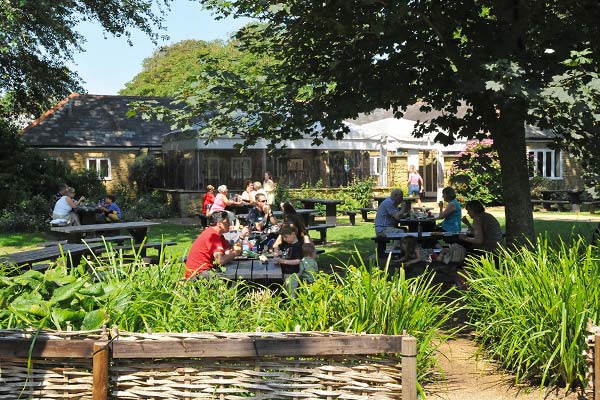 After this injection of calories we were ready for what turned out to be the most challenging climb of a stay in Dorset. I don't know if it was too much cake, or general lack of fitness, but we all had to get off and walk part of the vicious climb out of Abbotsbury. But it was no shame to do so. Since our struggle I had to find out more about Abbotsbury Hill. And these are excerpts taken from one of many such commentaries – this one from Cycling Weekly, no less!
Britain's toughest roads: A cyclist's guide.
Challenge and pleasure await in all corners of our beautiful country for those prepared to take on these testing routes.
1 ABBOTSBURY HILL to BRIDPORT 8/10 Length: 8.75 miles | Elevation: 258m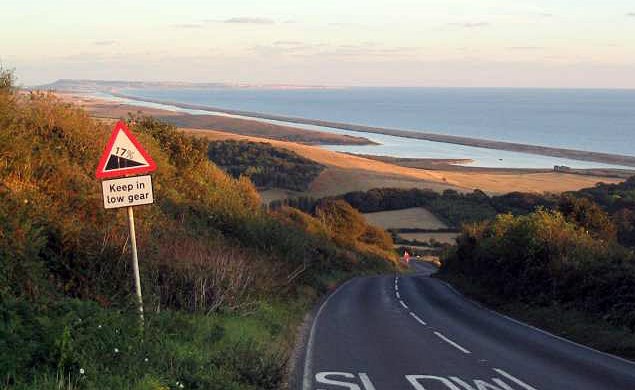 . . . . . . . "There's a loud 'crack' from somewhere in the drivetrain. Behind me a small phalanx of cars burn clutches furiously. I wobble, and finally stop. Bugger. What in God's name had possessed me to go in search of Britain's toughest roads and then ride them?"
"It's a massive, fairly steep climb out of Abbotsbury…"
Weymouth C.C's chair, Andrew Preston's words ring repeatedly in my ears as I trudge up a 20 per cent ramp, musing how I'd brought this all on myself".
"The B3157 Abbotsbury to Bridport road on the Jurassic Coast, combines the perfect 'Toughest Roads' ingredients. With its incessant ramps and stunning sea views, it quickly made it onto the shortlist.
Abbotsbury Hill is but a memory, but its legacy remains: it has, basically, destroyed my legs".
Well I feel much better now that I have read that!
If the young and fit Cycling Weekly writer struggled, all I have is the embarrassment of being bettered by our 2 ladies, Sue Smith and Jo Rifaat who got further up the hill before baling out. (I won't mention that Tomtom was our King of the Mountains on that climb!)
But we did not come for the climb, but to see the view from Abbotsbury looking up the hill behind this idyllic village.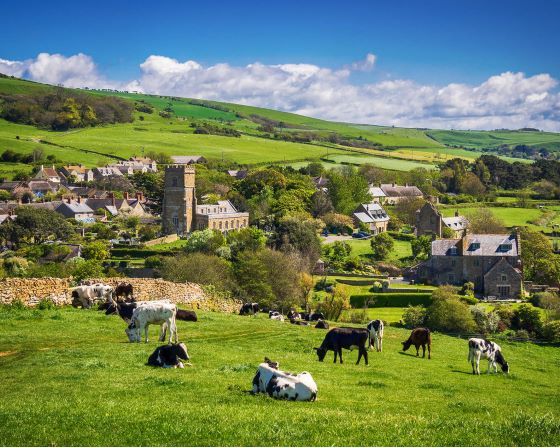 After that climb it was a relief that what goes up also goes down! But the descent was only followed by another up – and down and so it went on but that is Coastal Dorset, we just had to get used to it!
But we did at last see the sign post pointing to West Bay, Bridgeport's adjacent seaside resort, so time for another tea or coffee and perhaps an ice cream – we were after all on holiday!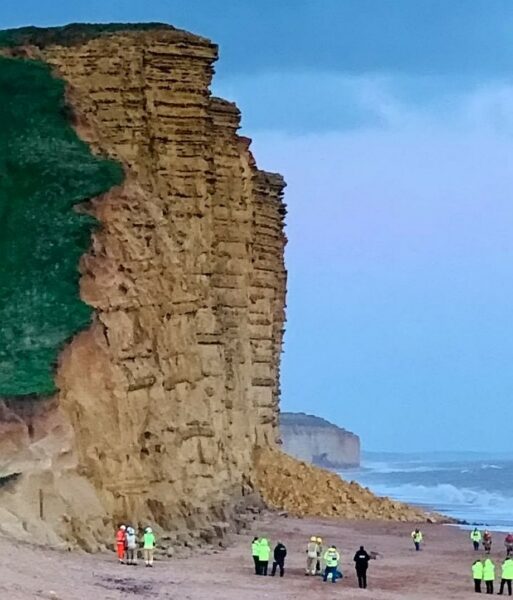 So we settled on exploring it's boats in the harbour whilst Sue went off to get yet more food and drink to fuel our return ride to Weymouth.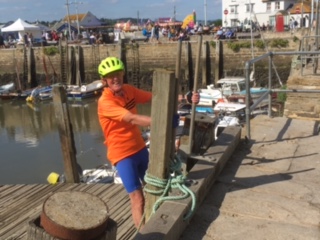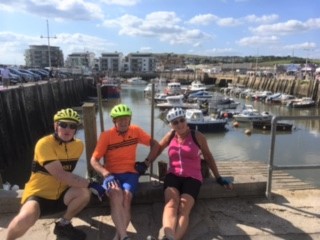 Des.