John O'Groats to Land's End (JOGLE) Part 2 England
In Part 1 of this tale, we followed John and Sue Diamond down from John O'Groats to Gretna Green where they slept before crossing into England. Here we learn how they made it to the end. A fabulous achievement and possibly a first for an Anerley lady.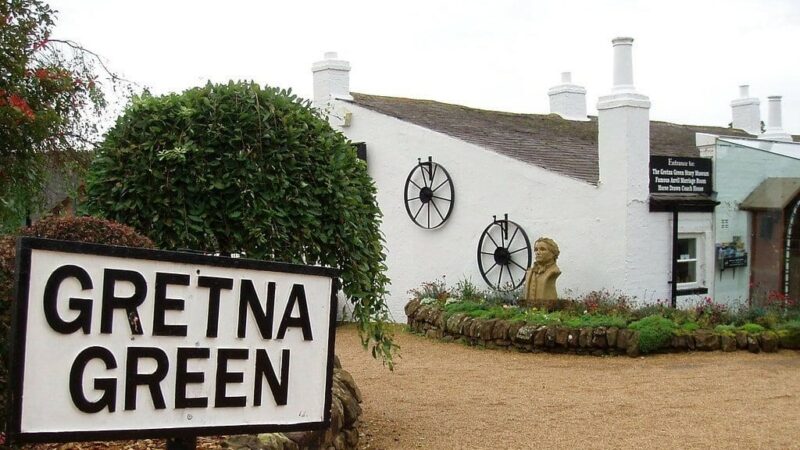 The following day we breakfasted in Carlisle and then some climbing to Penrith and to overnight at a nice hotel at Appleby-in-Westmoreland and then further climbs onto the moors past Great Asby and down to Silverdale at Morecombe bay, a lovely AirBnB near the coast with better weather; a couple of days that restored our positivity.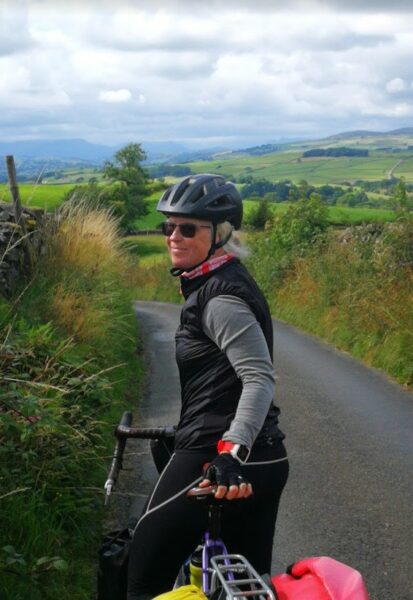 Next day was John's favourite day – over the trough of Bowland.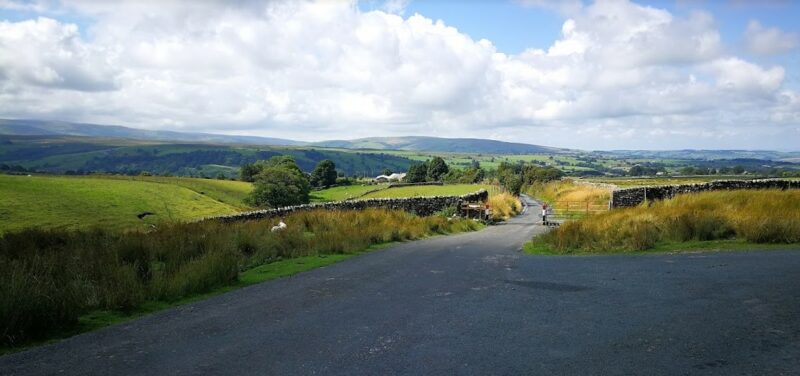 A hard day followed, navigating the industrial North – Accrington; Bury; Manchester – passing Old Trafford football and cricket grounds; again with a good deal of rain. Some converted rail line, the Trans Pennine trail at the end but due to the length of the day we just wanted to get to our destination at Lymm.
The next few stages were through the West Midlands, an area we knew less well. The towns of Northwich, Market Drayton, Nantwich, and Bridgnorth surprised us with their attractiveness and timber buildings, and also the more modern town of Telford.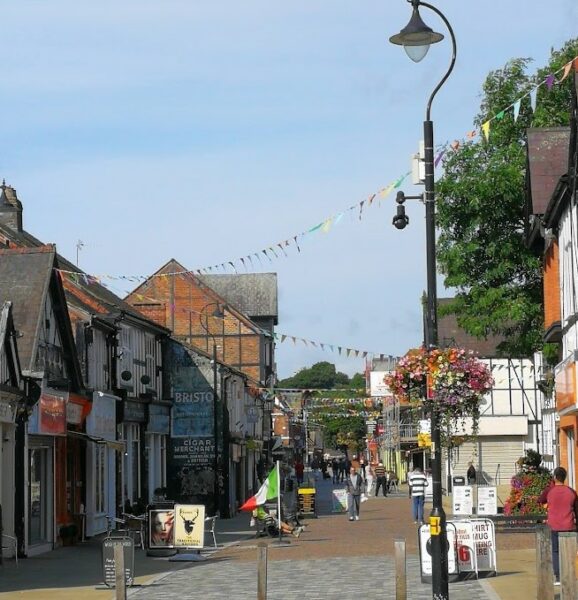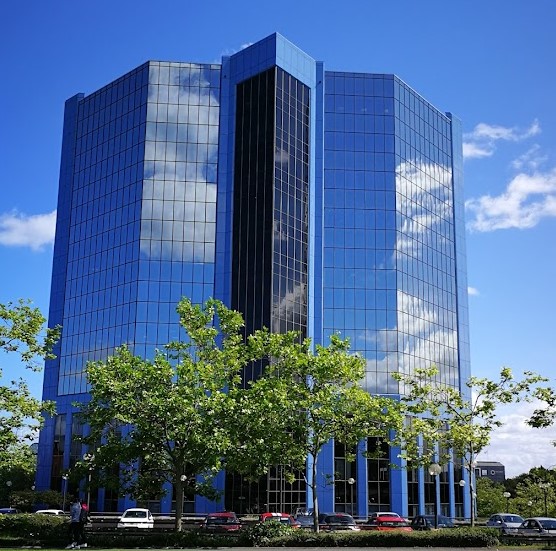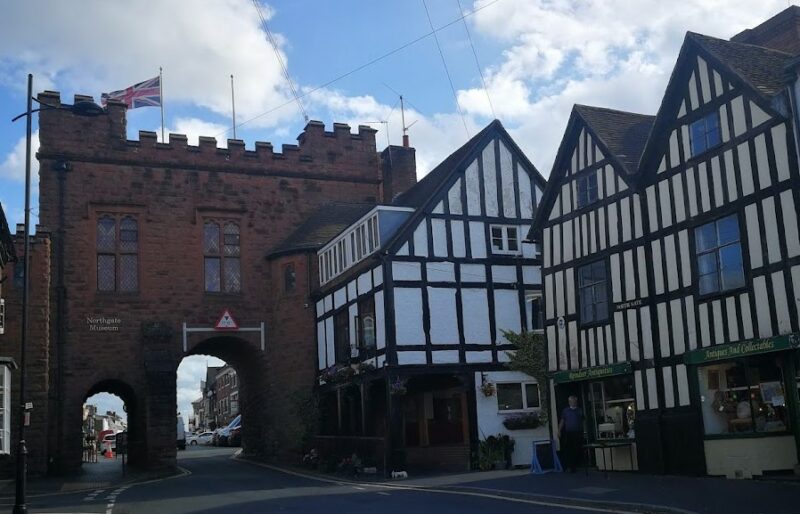 Just south of Bridgnorth we had another section of attractive off road on the Mercian Way.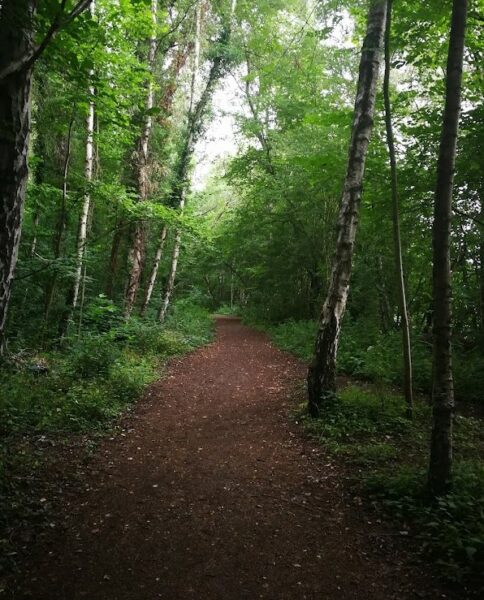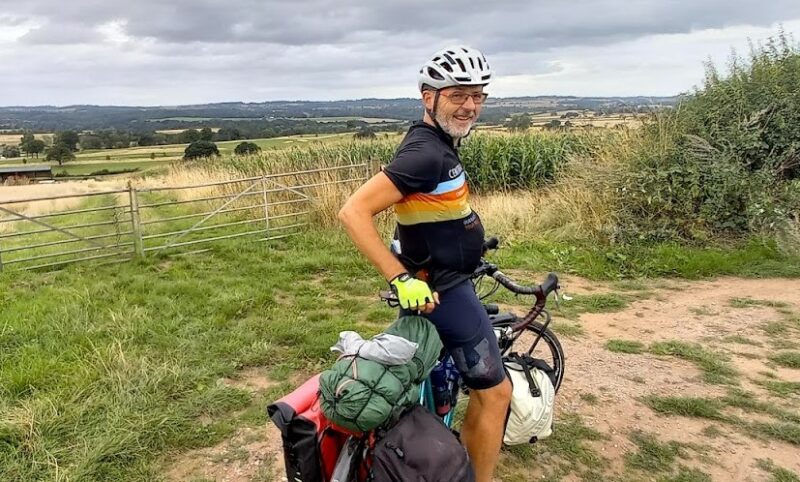 Then through Worcester and we were in less hilly country riding down the Severn valley. Again we failed to find accommodation and had to go a bit off route to Upton upon Severn to a campsite. We wandered into Upton and found it to be a delightful small town. Continuing down the Severn valley through Gloucester to Bristol; again flatter riding and very pleasant riding on the lanes, and a bit of canal towpath, although Bristol itself was quite hilly.
We stayed in a 15th century Inn at Long Ashton. The next day we went over the Mendip hills – a very steep up, across the top of the hills and then a very steep down past Wookey Hole, through the smallest Cathedral city in England, Wells, and then across the levels to Glastonbury and then climbing again to our campsite for the night. The Mendips were very prominent in the day's profile.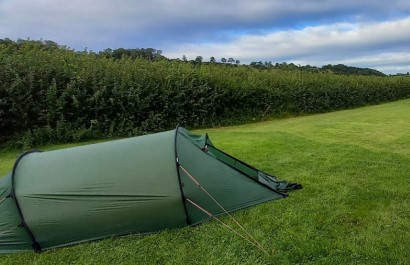 Next day we had a 10 mile trip alongside the Bridgwater to Taunton canal before some hills to Dulverton at the foot of Exmoor where another pub B&B awaited.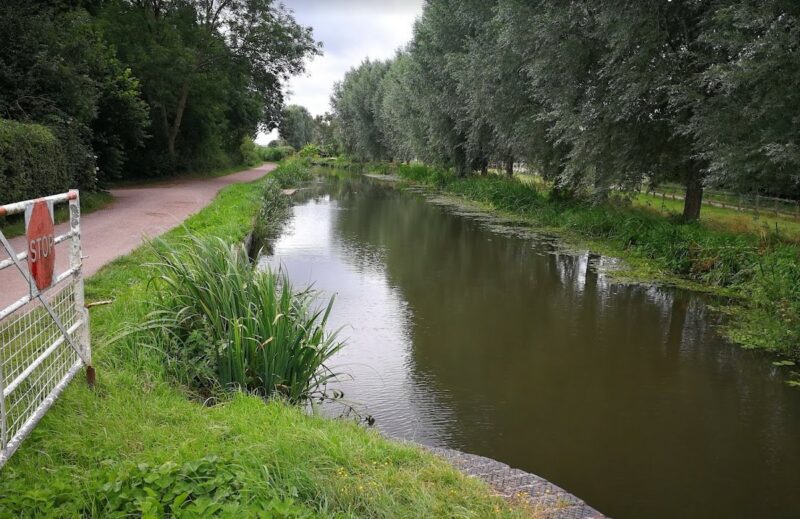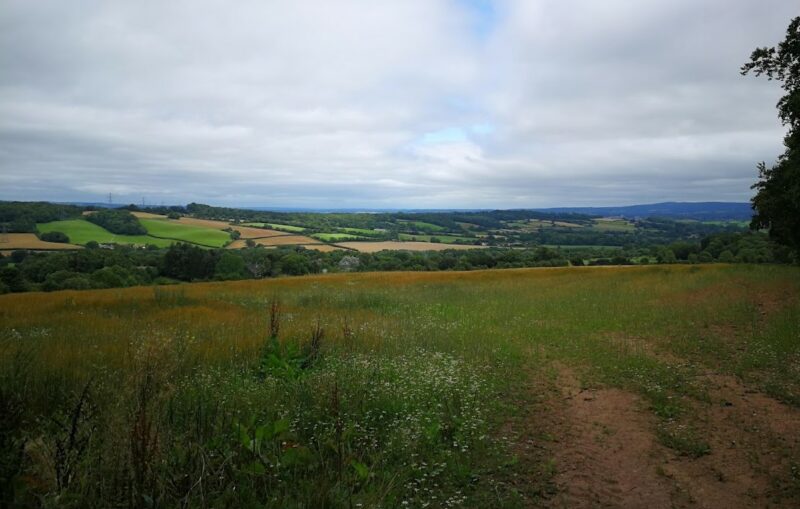 From Dulverton we had a tough climb up Exmoor and actually had our highest point in the whole trip on the top of Exmoor at 475m. Although the weather was not great in the morning this was one of Sue's favourite days.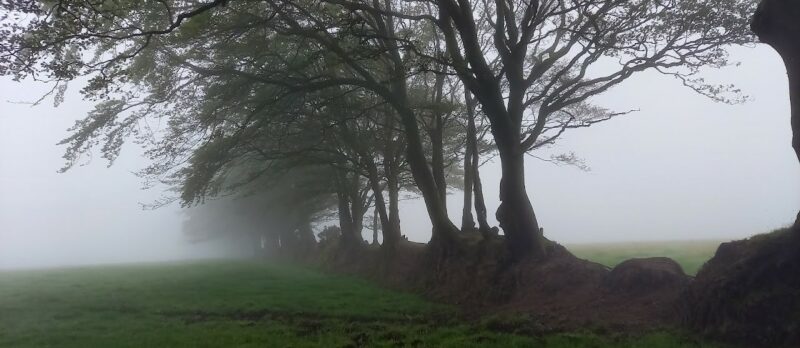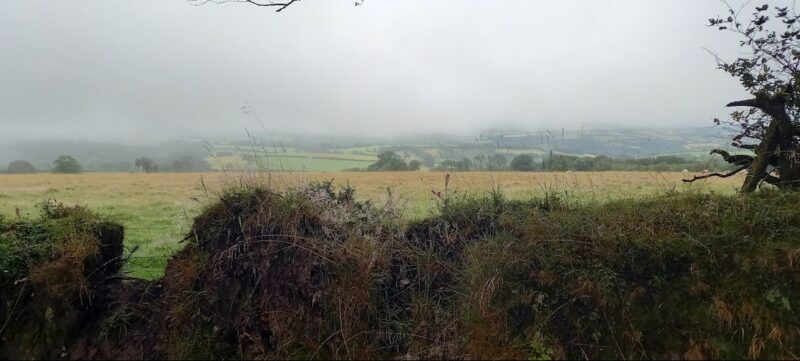 The following day we had 35km on the Tarka trail converted rail line from Barnstaple and then on to Marhamchurch near Bude. Great riding and better weather. From Marhamchurch the following day the forecast was dire and we were really surprised to have a lovely morning cycling up Bodmin moor where we had a pre-arranged meeting with one of John's old university friends for lunch. Bodmin moor was really lovely and we were glad the route had taken us there. Coming off Bodmin however was a different matter. We came out after lunch to a torrential downpour, the heaviest rain we encountered all trip. Then on to Wadebridge for an overnight stay and an evening pub meal with our good friend's Tim & Sally. Due to the situation regarding accommodation in Cornwall we had just booked up all our remaining accommodation and the journey home and knew that we no longer needed the tent or sleeping bags and Tim & Sally very kindly agreed to take them off our hands.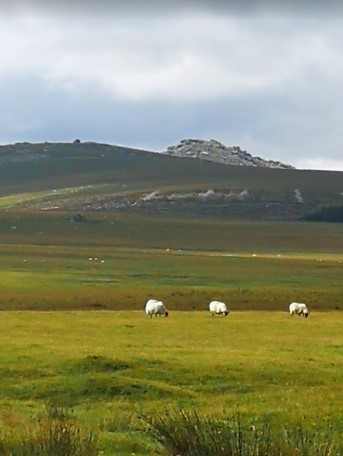 The following morning we followed the Camel trail to Padstow; this was a really beautiful stretch in the morning sunshine.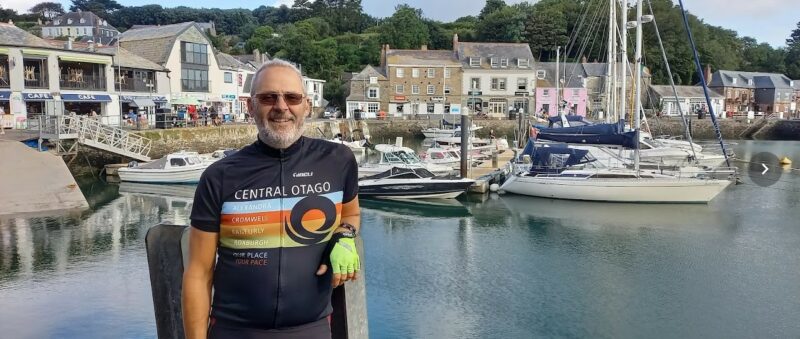 We also had the promise of a better weather forecast (at last) for the rest of the trip. We continued over the hills, bypassing Newquay due to reports of high Covid rates, to Truro. We had one scare here with failed brake pads on a descent, but managed to replace without too much drama. We went off the planned route at this point to go to Lizard point which cost an extra day, but meant we had completed the most Northerly to Southerly point on the British mainland; for John this felt like a great accomplishment and almost the real finish. This night we stayed in a glamping barrel.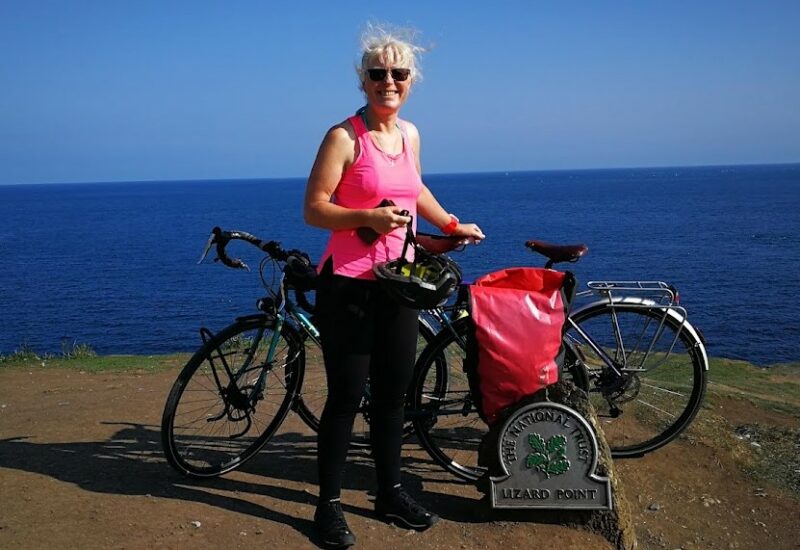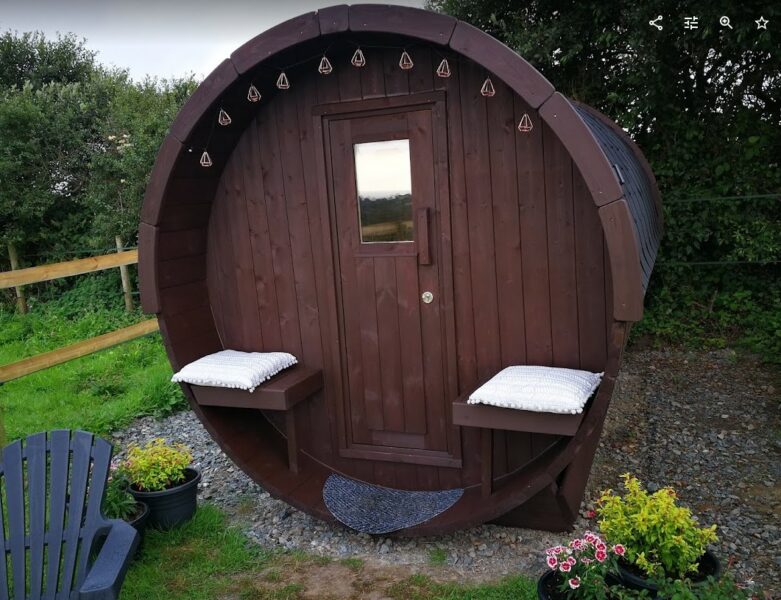 Last day to Lands End started cloudy but turned really beautiful and for the first time during the trip hot weather. Through Marazion, Penzance, Newlyn and Mousehole to Lands End. Mission accomplished!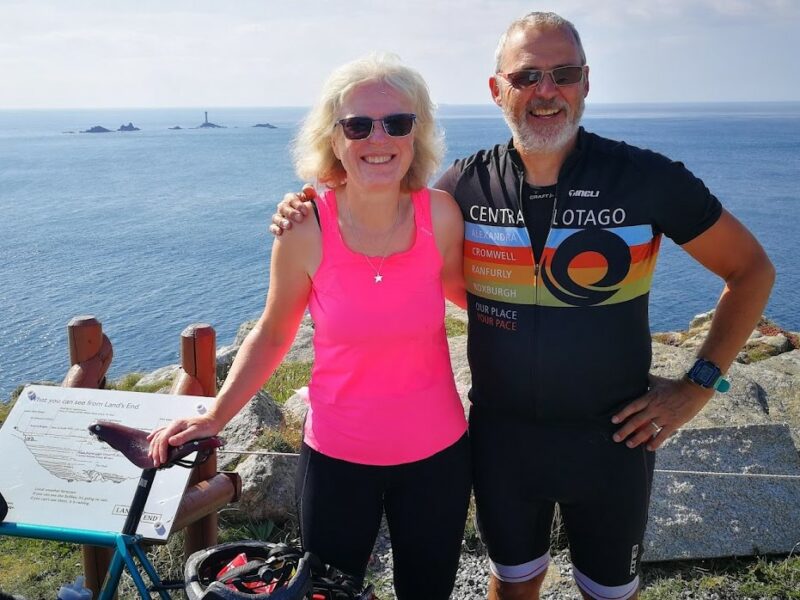 That night we stayed at St Just and following morning went to Cape Cornwall; John had read some people think of it as the connoisseurs Land's End and felt we had to do it so there were no arguments as to whether we had completed!
JOGLE: 1,986 km travelled; 21,797 metres of ascent.
Final comments
The way we did it with accommodation most nights and eating out was quite expensive, but we figured it was two years holiday budget. Camping and cooking would make it much cheaper.
We particularly enjoyed the following:
Low traffic roads with beautiful scenery;
A386 down from Tongue to Lairg
NCN route 1 over Cromarty Firth
Above Loch Tay heading to Killin
High up the Tay valley approaching Dalwhinnie
Above the River Lune
High moorland routes – Orton fells after Appleby; Trough of Bowland; Exmoor; Bodmin moor
Meeting other venturers and sharing stories;
several people were interested in what we were doing carrying so much stuff (as were we)
Good traffic free routes;
Speyside way near Aviemore
NCN route 7 from Killin to Aberfoyle
Alongside rivers and canals around Glasgow
Bridgwater canal
Tarka trail
Camel trail
Visiting some places we didn't know before and
a few special overnight stays and meals with
friends;
Feeling of accomplishment at completing it – pick your preferred ending of Lizard, Lands End or Cape Cornwall.
Suggested dos' and don'ts
Do plan your route; don't be afraid to change it.
Do buy quick drying clothes; don't take too many – you don't need to fill all available space.
Do listen to your body; don't make it a chore to get on the bike every day.
If you can start early do; it's great to get a few miles under the belt early.
Do be prepared to fix minor problems with the bike, but we took too much which if required (they weren't) could have been solved with a botch until a bike shop visit