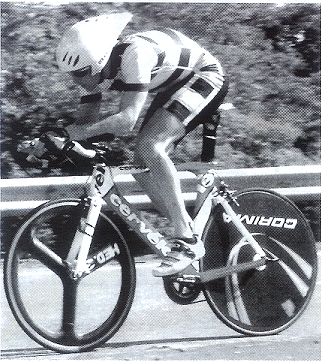 After a long winter, spring has at last arrived. Too much time on the sofa watching TV will probably have affected your bike fitness.  So what level have you sunk to? And how long will it take you to get back to where you were last summer?  Here's how to find out.
When I joined the Anerley, the club held an annual 10 mile time trial called the "Twiddler". To twiddle means to pedal at a highish cadence in a lowish gear.  High cadence pedalling is the vogue for most bike racers, audax riders and others.  It is claimed to be more efficient and so be of benefit when riding endurance events, and of course long club rides or bike tours.
The Twiddler was held in early March to gauge fitness levels at the beginning of the racing season. For new club members like me, it served a more important purpose. That was the possibility of winning the silver trophy awarded to the most improved, new club member. It provided a marker at the beginning of the season to improve from. At the end of the season, another 10 miler gave the time from which the improvement over the season could be measured.  With a bit of effort spread over the summer, you could be rewarded with a fine piece of silverware, with your name engraved on it for all time!
I cannot claim to have been a racer, and although I tried I didn't win the club trophy.  However what these two time trials did show, was that over a season, the regular and lengthening summer rides did make me fitter. It also provided an incentive to improve my level of fitness, year on year.
Of course one does not have to take up racing to gauge one's improvement in fitness over a year, or even years. All that is needed is a short time trial type effort over a fixed course. And it does not have to be over 10 miles.  Five kilometres, which is only 3 miles, is more than enough!
It does however require a course with not too much traffic and which is free of stop start and other traffic slowing situations. Not so easy to find on our local, busy roads.
After much thought I have come up what I consider to be a good course, and a challenging one. Challenging because it is mainly up. But of course if you want an easy one to start with, you can do it in reverse, then it's mainly down!
It is not far away for most of our club members, and is a road that we all know well. So where is it?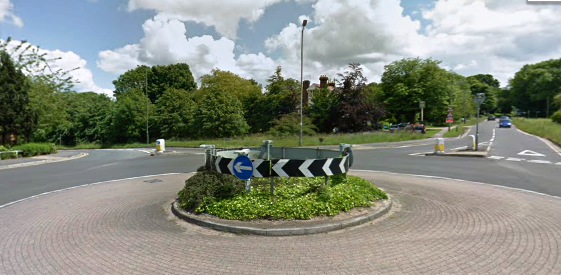 Recognise this? Probably not, but you should do! It's the mini roundabout on the Limpsfield Rd, just past the Sainsbury supermarket at Warlingham. This is the start of the 5 kilometre, time trial fitness test. I do it as a flying start.
Coming off the roundabout zero the bike computer which sets the clock timer running. Then ride as hard as you are able, but bearing in mind that you have 5 k of mainly up hill, so gauge your effort accordingly.
It does take practise to avoid blowing up on the hill after Ledgers Pond. A heart rate monitor is ideal in this situation as it allows you to fine tune and maximise your effort, without getting into excessive oxygen debt. Time trial pace is likely to be about 85 to 90% of your maximum heart rate. Try 85% to start with. You may be able to increase this to circa 90% or even higher, as you get fitter.
Now keep this going to the next mini roundabout just past Botley Hill Farm. It starts to go down hill by the farm, so now is the time to sprint, all out, to the finish line as you go into the roundabout. Don't forget to note your time at this end point!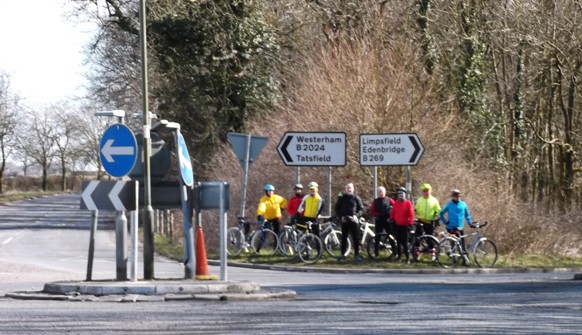 Here are the spectators cheering you on as you cross the finish line!
So that's it. Nothing complicated, not difficult to do. Give it a try once a month and see how your times improve. You can even do it at a slightly lower intensity, on a Sunday or Midweek Ride, as we regularly go out this way.  Doing this (as a short Tempo ride at circa 80% of max heart rate) will speed up fitness gains. Just don't get too serious about it, like the bloke below!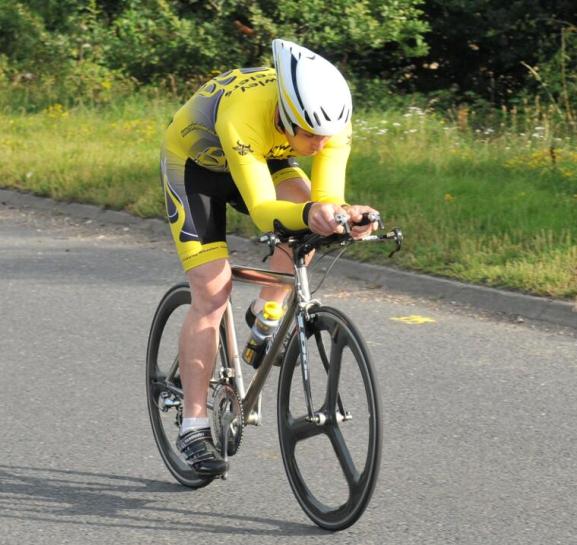 If you do get serious about getting fitter, one of the best aids is a heart rate monitor, and several of our club members have them. But do they know how to make best use of them?  For information about heart rate monitors and heart rate zones and how to make use of them, see:  http://anerleybc.org/what-is-your-maximum-heart-rate/ and http://anerleybc.org/heart-rate-zones/