Tuesday Ride 16 April 2013
Today was my last as leader of the Tuesday Rides, at least for the time being. For all the news about the new schedule of mid-week rides see http://anerleybc.org/the-new-mid-week-rides/
My last ride was well attended as can be seen below.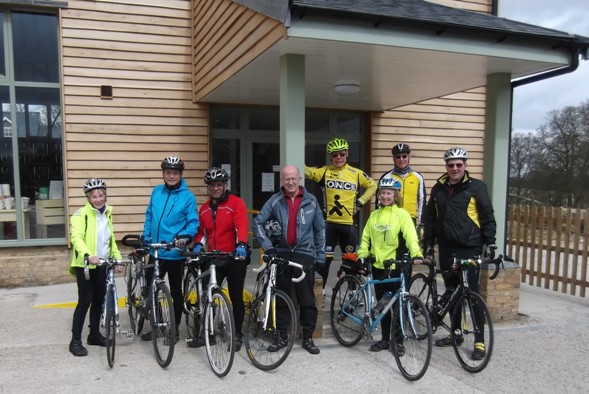 Unless you were in the photo you won't recognise this nice new tea room that Tom Vaz and I found recently, and which has only opened recently. The new tea room is on the Keston/Downe border at the top of Shire Lane. It is part of the Holwood Farm complex and is not to be missed!
Something else not to be missed was Frank's new cycle shorts!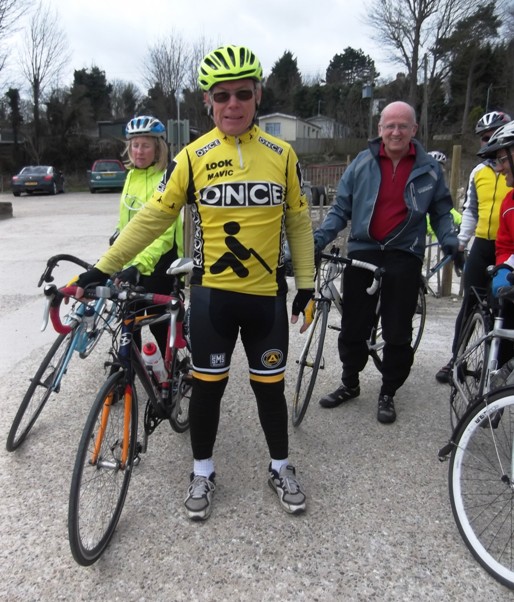 It is just a shame that the "A" above the knee is for the Addiscombe B.C. and not the Anerley B.C, but then after two years we have not even been able to organise a new cycle jersey for those members who want one! (Nudge, nudge!)
And for those who are not avid followers of the racing world, Frank's cycle jersey shows the logo of "Once" , pronounced "onthay". Once was a top cycle team, sponsored by the Spanish charity for the blind. Hence the little man with a walking stick, also on the jersey. I only mention this, because in those shades it looks like Frank might have been the blind leading the blind!
But we didn't get lost on a very different route to our tea stop. Warlingham Green to meet Julia, then a detour over Farleigh Common and on past the White Bear. Then the piece de resistance, the wonderful resistance of the steep climb up to the Salt Box at Biggin Hill! From there it was a fast and flat pedal along Jail Lane, into Downe, to meet John and Meike at the new tea room.
The ride home was mainly a very easy and rapid down to West Wickham, but a stiff head wind slowed us even more on the climb from Addington to Sanderstead Pond. Altogether a great final ride, even if I do say it myself!