Cycling to St Michaels Mount
A couple of weeks back I started this item about this beautiful location in Cornwall.  So here I carry on with the logistics of cycling there.
Marazion is the village on the mainland which links via the causeway to St Michaels Mount. To cycle from Purley to Marazion is over 300 miles, so a better option would be to get the train to Exeter and cycle from there. This only being 108 miles, following a recommended cycle route option shown by the ViaMichelin mapping service.
Checking with the National Rail Enquiries I found that if I made an advance booking now, to travel for example in June, I could get a train from Purley station to Exeter, changing only at Clapham Junction, all for the most in-expensive price of only £17.00. That's got to be a bargain, and its alot cheaper than the extra nights of B&B if I cycled all the way!
However there are certain restrictions with taking bikes on trains. For example with South West Trains to Exeter, you must book your bike space in advance. Another good reason for making an early booking, and to get the lowest passenger fare!
Another is, no bikes on trains arriving at London between 7.00 and 10.00. This does limit your options so it can be worth cycling to Clapham junction to get an early train to Exeter.  For example the train leaving Purley at 08.47, links with the South West Trains service  which leaves Clapham Junction at 08.27 and arrives Exeter, 11.42. But you can't take your bike on the Purley/Clapham leg!
The first, lowest cost option of £17.00, would be the 10.38 from Purley, getting to Exeter at 14.42.  This still gives plenty of time to continue cycling south west before an overnight stop.
Were I to take this later train I would head for Tavistock for a sleepover, see ViaMichelin route above.  Although Tavistock is only 33 miles from Exeter, it is a very lumpy 33 miles over the Dartmoor tors!  Well worth the hills just for the scenery, passing thru, for example Post Bridge and Two Bridges, and not far from the infamous Dartmoor Prison if a short detour is desired. However not a place for B&B, only long term guests here!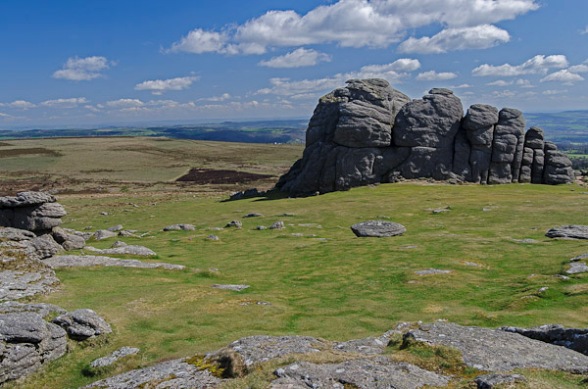 The next day, a ride of 50 miles would get me to Truro,  or 60 to Redruth, and B&B.  So on day 3, I would be at Marazion in time for elevenses, with a Cornish pasty of course!
The rest of the day would taken up by the causeway crossing to St Michaels Mount and enjoying all that this historic islet has to offer.
The return ride to Exeter could be via a completely different route. There is a second bike route option suggested by ViaMichelin, slightly longer at 113 miles, but worth considering for some different sights of Cornwall and Devon.
There are plenty of websites for B&B accommodation in Devon and Cornwall, so whatever route one decides to take, finding a place to stay should not present a problem.