Some Armchair Cycling With A Good Book.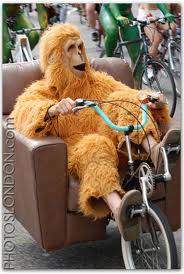 The Anerley Bicycle Club has a very long tradition of long distance cycling.  In its illustrious past our club set many long distance race records.  For example when in 1893 S.F Edge set a world record over 100 miles.  Or G.A Olley who broke the record for London to Edinburgh in 1904, and followed that by setting the record for Lands End/John O'Groats in 1905.
Our club also has a long tradition for touring in the UK and abroad.  Perhaps the most prolific "tourer" was G.H Smith.  In 1898 he set off with his bike on a 6 year sales venture as a rep for Dunlop tyres.  During his world travels he cycled in many countries including,  Egypt,  India, the Cape Colony, and much of  Australia. Then it was off for more cycling in Hong Kong, China and Japan.  A Victorian tour of the British Empire and beyond, and being as he says, "in many places the first cyclist ever seen".
In more recent times G.H's cycling adventures around Japan and the East, have been reciprocated by Joshi's cycle travels, here in the West.
It is now great to see that this tradition of long distance cycling is no longer male dominated.  Gina set the wheels rolling with her Lands End/John O'Groats last year, and this year Louise was our first female to complete the infamous P.B.P. 
The ladies even got some of us more unfit men to get out and ride an Audax. It took me several hours in an armchair to recover from that!
In 2012 I hope, and expect, that there will to be an upsurge in interest for Audax events by Anerley's riders.  If not Audaxing, then many of you will want to get fit and prepare for multi day cycling holidays.  It is with this in mind that I thought some of you might be interested in one of these two books as a Christmas stocking filler.  I have  read both of these books, so I can speak from experience when I say that either will guarantee you a good read and keep you enthused during the long winter nights.  So put your feet up and get a bit of armchair cycling in, you won't regret it!
Both books are available via Amazon for around £10 (each) or less, so are well worth the very small investment.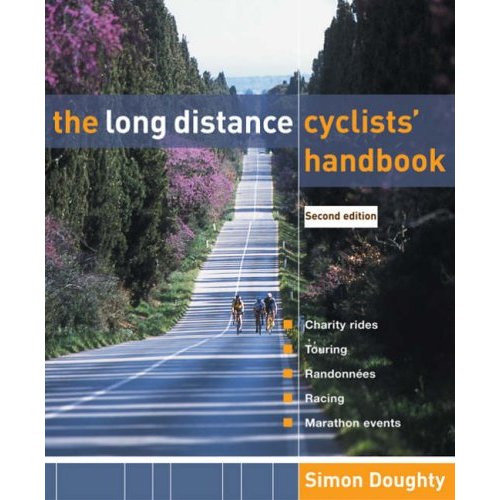 Simon Doughty, the author of The Long Distance Cyclists' Handbook, is a member of Audax UK so has a good pedigree.  This book was a recommended read in the Audax magazine, Arrivee, in the build up to last year's P.B.P.  The promotional blurb runs as follows:
"With the success of charity bike rides, the popularity of sportifs, and the proliferation of organized bike tours through Europe, thousands of new cyclists are taking to the roads each year for a new long-distance challenge. Packed with useful information The Long Distance Cyclists' Handbook details all of the preparation and equipment needed to successfully complete a 30-mile charity ride or the 3,000-mile Race Across America. Written for the novice and veteran cyclist alike, it covers all aspects on long-distance cycling including: Choosing a bike for your event.  Bike accessories, clothing, and gear.  Bike maintenance and troubleshooting.  What and how to pack for every possible situation.  Logistics and navigation.  Safety on and off the road.  And more.  It also offers the most up-to-date information on nutrition, training techniques for various distances, and the latest in sports science research, as well as an index of useful contacts for gear manufacturers, clubs, and associations. The Long Distance Cyclists' Handbook is essential reading for anyone contemplating a cycling vacation or any adventure that takes one out of the comfort zone and onto the open road".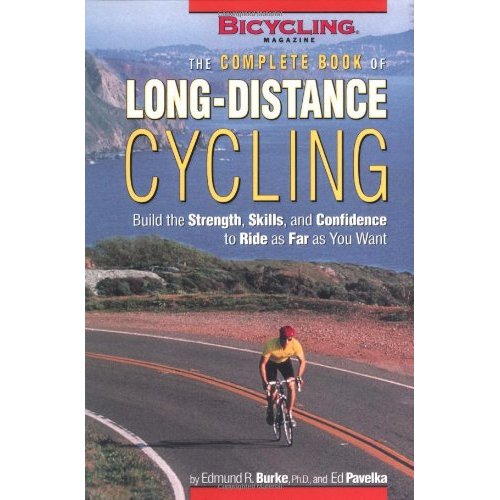 Of the two books, this was my favourite.  It was written by two Americans of whom your might not be aware.  I can assure you that they are experts in the field of endurance training/riding.  So here is a bit of background:
 
ABOUT THE AUTHORS: Edmund R. Burke, Ph.D. worked with the U.S. national cycling team at the Olympic Training Center for more than 20 years. An endurance rider, he is currently professor and director of the exercise science program at the University of Colorado at Colorado Springs.
Ed Pavelka holds two world records in ultra-marathon cycling and was editor of "Bicycling" magazine for 10 years and of "Velo News" for 8 years.
ABOUT THE BOOK: "The Complete Book of Long-Distance Cycling"- How to Ride Strong, and Ride Long … Whether your goal Is 30 miles or 3,000 miles. From two top cycling experts, the most comprehensive guide ever about how to achieve the strength, skills, and strategies you need for long-distance riding. Whether you're training for day rides, centuries, or long bike tours, "The Complete Book of Long-Distance Cycling" helps you choose the right equipment, train step-by-step, and map out your riding strategy so that you can go the distance. Discover how to: * Make the most of every hour on your bike *Build your mileage base efficiently * Customize your training to suit your personality and physical capabilities * Build extra training time into your hectic schedule * Avoid injuries and the dangers of overtraining * Achieve the mental edge you need to ride farther and faster  *Train for both road and off-road touring * Choose cycling gear that goes and goes * Eat for the long haul– nutrition before, during, and after your rides To help you achieve your riding goals, "The Complete Book of Long-Distance Cycling" gives you complete, step-by-step training programs for riding a half-century, century, double century, and beyond. You'll also find strategies and techniques for special situations, such as riding in bad weather and riding at night. Published by the world's leading authority on bicycling, this informative guide is a must-have for all cycling enthusiasts.