Tuesday Ride: 6th December 2011

This Tuesday the sun was shining but it was cold!  Factoring in the wind chill factor, it apparently felt like – 2c when we set off from Purley at 10 o'clock.  We, being John Dadson, Tom Vaz and myself.  We stopped at Coulsdon half expecting Sandra to join us.  Last week she had a knee op for a ligament problem and had hoped to be out on her bike again by today.  She didn't appear so we rang her mobile but got no reply.  As it was so cold we then continued on our way.  I took them up the steep climb of Portnalls Rd to Chipstead on the hill. That soon warmed us up!
Getting out of the metropolis and into Surrey's villages and countryside we could better appreciate the sunshine and blue sky, for example, reflected on Elmore Pond at Chipstead.
And after the speedy descent of Reigate Hill the countryside again opened up, with the windmill on the heath highlighted by it's back drop of blue sky. 
Down Trumpets Hill, past Wonham Manor and it's deer herd, over the River Mole at Betchworth and on to Brockham. Here, re-crossing the Mole and into Kiln Lane, so called from the brick kilns which once baked the local clay. Kiln Lane leads into the old Reigate road and onto Buckland, the destination of our ride.  Unfortunately the old Reigate road was blocked by a huge crane off loading building materials, so we had to follow the road back towards Brockham and thence the A25 to the tea stop at Buckland. 
As expected John and Meike were already there, awaiting our arrival.  But a nice surprise was a third person seated at the table. Sandra!  Not yet out on her bike, a little sore but mobile.
John T continues to progress. On last Saturday he managed 10 laps of Croydon arena, a 100% increase in 2 weeks. He was joined by Tom Barnes who is researching his next engineering project, to build a recumbent trike!  Tom has already built 2 recumbent bicycles but from them has learned the benefits that a third wheel should provide. For example trikes don't fall over when going very slowly up a steep hill!  Tom has promised photos and a write up when time permits, so watch this space.
But in the meantime, this is John T, in the lead, sprinting for the line!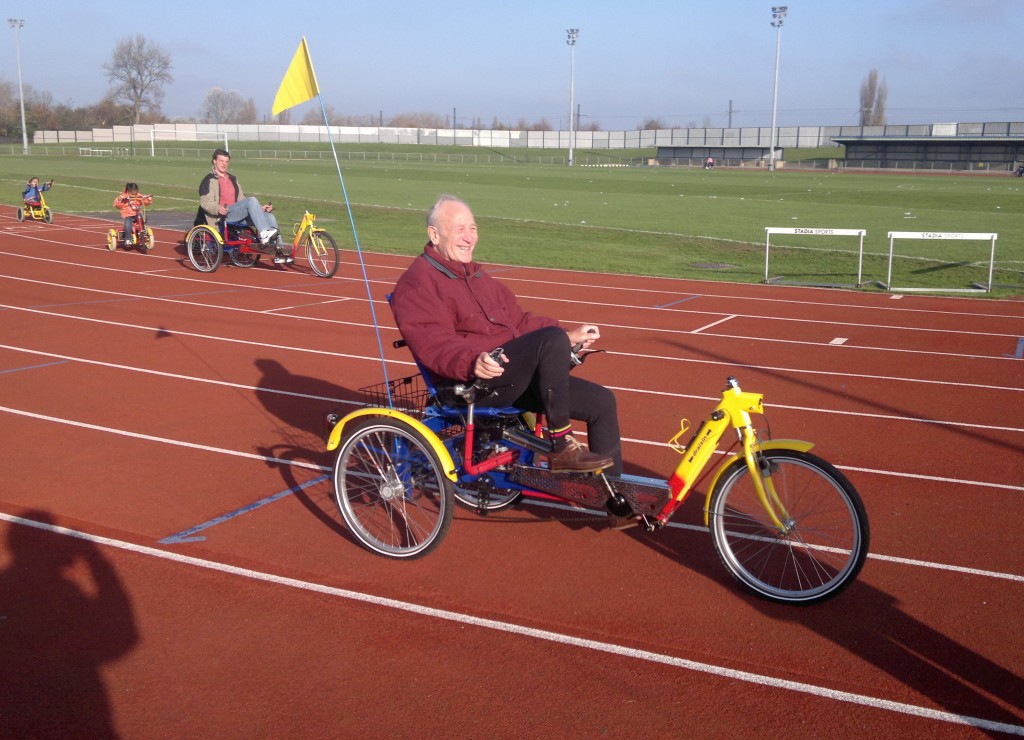 Sandra hopes to be able to join the Tuesday ride next week, provided it is not too long and not too hilly. So the plan is to go to the Tadworth tea room, which means another 10 o'clock meet at Tesco.