Snowdonia's Cycle Routes-On Road/Off Road
The National Cycle Route 8 (NCR 8), known as Lon Las Cymru, starts at Cardiff and continues for 250 miles to Holyhead on the Isle of Anglesey. En-route it passes through Snowdonia, so naturally we will be cycling along some of it, for about 25 miles in fact on our planned cycle ride to Criccieth. We will start by cycling to Caernarfon where we join a seashore pathway for a bit of different scenery, as shown below.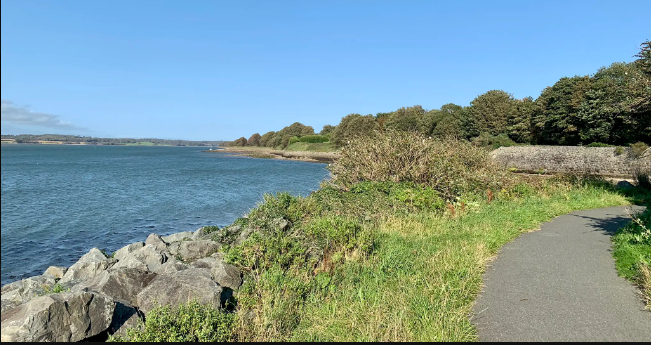 This leads us onto the 12 mile off-road section of NCR 8 as far as Bryncir. This off-road section is know as Lon Las Eifon, which was originally a railway line taking slate from a local mine to the docks at Caenarfon, for shipment.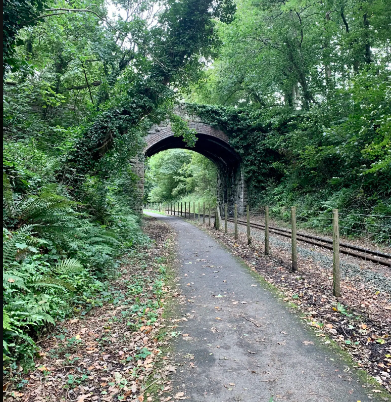 Description and details of Lon Las Eifon, plus a video and a very useful O.S map, and some more photos can be seen here:
http://www.gps-routes.co.uk/routes/home.nsf/routeslinkscycle/lon-eifion-walking-and-cycle-route
After reaching the end of Lon Las Eifion, NCR 8 continues along country lanes for another dozen or so miles to Criccieth, such as this example.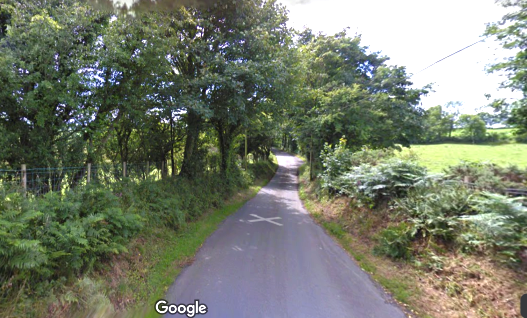 The route to our lunch stop at Criccieth is 33 miles and the whole route is shown here.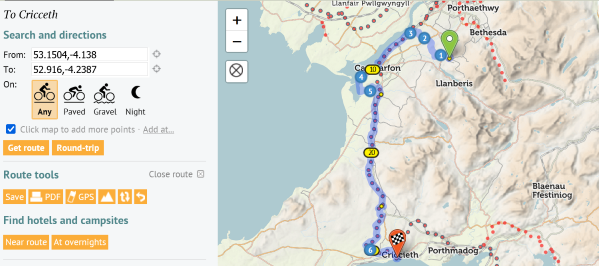 You can download a GPS file from the "Route tools" menu to your Sat-Nav device, see https://cycle.travel/map/journey/378894
If you open this route file to view the route map, and zoom in to enlarge the scale, you will the see the village of Pen Y Groes at the halfway stage (20 miles symbol shown on route), looking like this: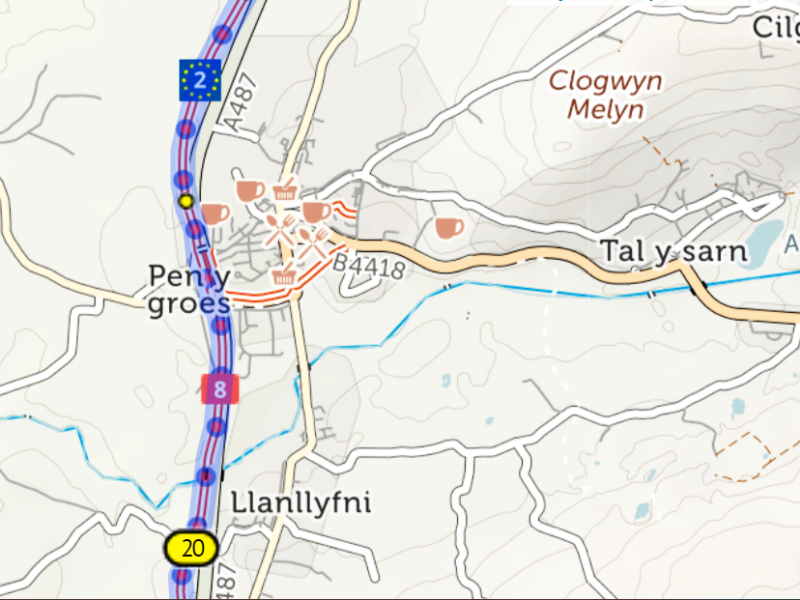 So these are some examples of on-road and off-road along NCR 8. The next type of off-road to be considered is gravel tracks of which there are many in Snowdonia! One of which is an option on our return ride to our B&B. Some of you, especially those who have Gravel bikes, might consider trying a bit of the rough stuff. So the next item in this information series, shows this very inviting gravel ride which can be ridden with hybrids and even touring bikes.
See https://anerleybc.org/a-gravel-option-in-snowdonia/
Des