Should You Wear a Camera?
I have wanted to carry a camera for some time because of the ridiculous and reckless driving I have seen on club rides and also while commuting. After a recent club ride involving a Vince and near miss from a big van, Martin Bates shared his video and subsequent action was taken against the driver. Martin kindly shared details of his camera:
"Anyway, here is the link, which I have to concede looks a bit unprofessional and home-made, but it is legitimate. The cameras are only £43.00 plus postage, but you will also need to buy a decent size micro SD card to go with it, and these are probably about £20 from Amazon and this micro SD card will need formatting, which somehow I managed to do, so if I can do it then anyone can."
https://chilli-tech.com/content/new-bullet-action-camera/
The prices looked good compared to my current (very unfriendly) GoPro and I decided to get a couple – one for myself and one for my son (Christmas is coming!!).
The Chilli Tech camera is very simple to setup. By default the video loops around and overwrites the memory card. Same as a dashcam on a car. There is a process to set up the date and time for the camera but once it's done, you are good to go. Battery life seems good (up to 4 hours) but you can buy spare batteries if you want from Chill Tech's website.
You get a handlebar mount but I chose to use a helmet mount as it isn't heavy and the camera could record whatever I was looking at and the additional height might be useful.
Last Sunday, 24th October, I decided to give my new camera a test on a 30 mile ride around High Elms and Downs and back. The results from the camera were spectacular but if you are squeamish there are some pictures below the video that you can look at.
On the way home I cycled along Limpsfield Road towards Warlingham. There was an accident involving a couple of cars at the junction with Slines Oak Road (the one going down the hill to Woldingham) and I slowed down a bit as I could see cars queuing up – more about this later.
A normal scene, a car ahead is slowly moving past the smash. Not indicating so must be coming straight on.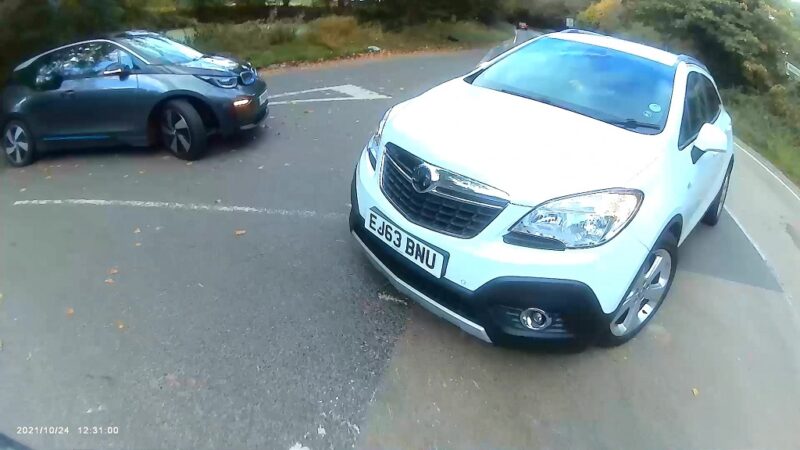 The camera worked well and resolution image quality was good enough to analyse what happened frame by frame. I could see that:
A clear image of the license plate.
The driver was not indicating at all.
The driver was looking at the accident on the side of the road as he pulled across the road.
I could see the deep damage to my finger as I flew through the air, so it was caused by the impact with the car not the tarmac.
I could see my hands bracing for landing on the ground.
I could hear myself clearly saying "for f***'s sake" as I lay winded on the ground so reasonable sound quality.
That bit of slowing down as I came towards the junction probably saved my life. In the end I have bruises and impact injuries to my wrists and shoulder plus some stiches in my index finger. Nothing broken apart from my bike.
Titanium or not, the frame has a crease from the impact with the car and is a write off.
The ambulance and police took 25 minutes to arrive but they carted me off to East Surrey Hospital instead of Mayday for which I am extra grateful. The paramedics would have taken the bike except the attending policeman wanted it so I spent the evening worrying about my bike as well instead of myself.
There is a further cautionary tale here. I was later visited in the hospital by PC Dan Walker who told me that the driver was uninsured. Although he gets 6 points and hefty bills for that, a further 3 points and another fine was possible for the driving without due care. Fortunately I recently insured my bike with Yellow Jersey who give a discount for Cycling UK members. They seem to be progressing the claim and I will have to wait and see what happens there.