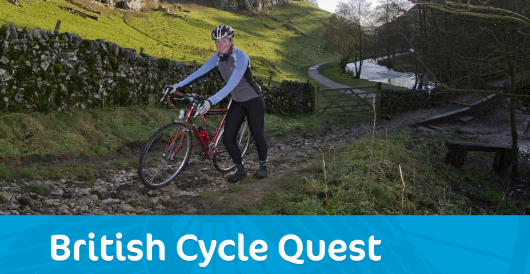 Fed up with cycling the same old routes to the same old places? Feel like going on a new adventure? Take on a British Cycle Quest and discover new routes, new places, all over the UK. A Quest is a unique cycling challenge! And more important – Anerley B.C will be out Questing once winter is over!

We are fortunate in having Tim Styles in our club, a practised Quester, to pass on his experience. But Tim is not the only Anerley B.C member to have been out on Quests. However Tim has written a very interesting Gazette item which can be found here: https://anerleybc.org/halfway-there/ It explains all about what is involved, shows examples of some of his Quests, and some of those with whom he has done them. This is one example: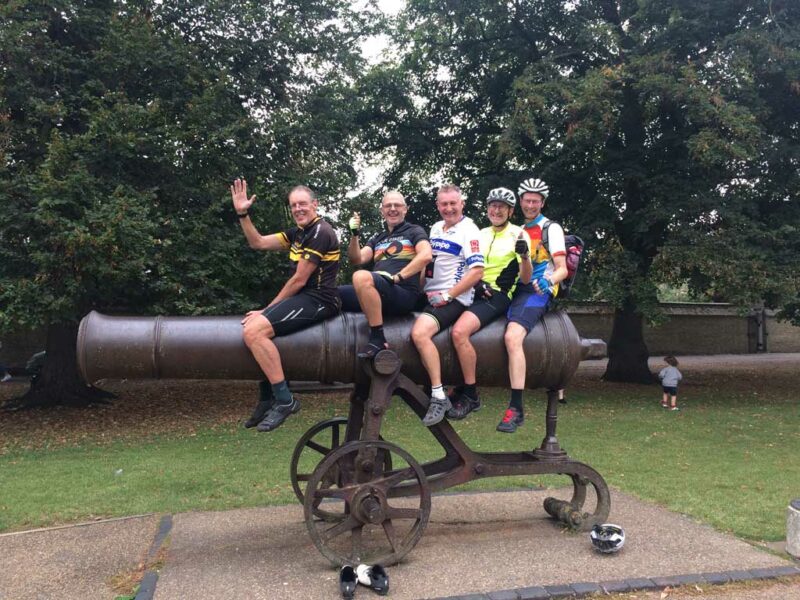 A Questing challenge involves using map reading and navigation skills to find a designated location. Then, observation and a clue, will guide you to the object of the quest, in that location. Ely is just one of numerous locations that Tim and companions have visited on Quests, all over the UK. But there are some here on our doorstep. For example, those shown below in Surrey (and more in Kent, Greater London and Sussex). The one at Godstone should not need a map as we ride it past numerous times in a year!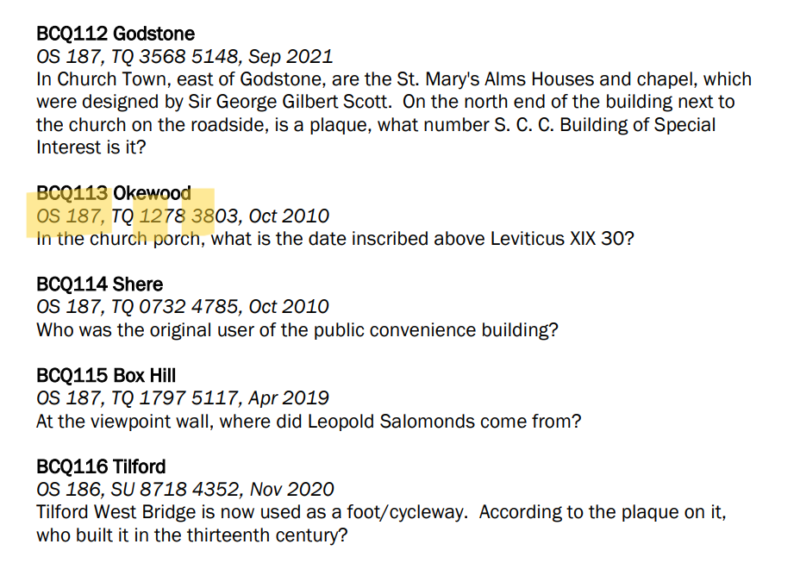 I have highlighted the map reference information on the one for OKEWOOD.
O.S map 187 is our local, Dorking and Reigate Land Ranger map, which also covers the top 4 places on the list above.
1278 3803 is the relevant 8 figure map's Grid Reference number for the location in Okewood. The highlighted 12 38 are the identifying numbers of the 1km x 1km Grid Square on the map. The additional numbers 78 and 03 allow one to estimate with great accuracy, the specific place of the Quest item, within the Grid Square – i.e. in this case, the church. But you should not need these extra numbers at Okewood, because churches are already clearly marked on O.S maps!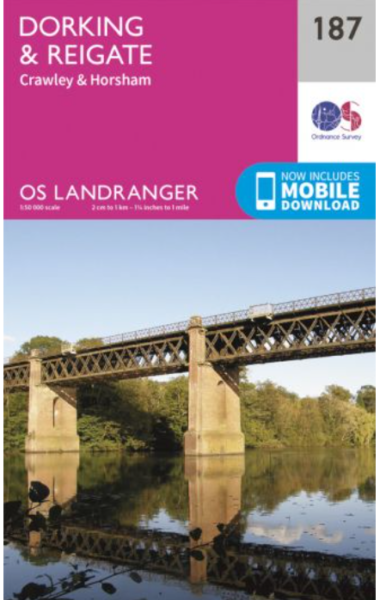 There are several bike activities and events where OS maps are used, in addition to Cycle Quests. It would be advantageous if our club had some copies of our local map (No 187) for members or groups of members to use. For example for team events similar to the Southern Saunter – teams of 4.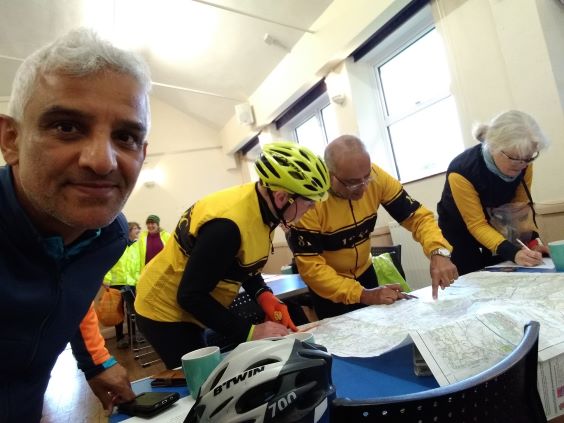 Copies of the map cost from £9.99. However the plastic coated, weatherproof versions priced at £15.99 would provide much better long term value. Four copies should suffice for team events – for the saunter above, 4 teams x 4 per team = 16 club members – for an outlay of £64 for 4 maps. With our current club membership of 80, this equates to only 80p per member. It's your money – would they be a useful and worthwhile investment? So don't be shy, let us know what you think.
Des.