Out and About, New Year's Day Jan 2022
When I joined Anerley B.C back in 1998, the only club rides were on Sundays and Bank Holidays. This was because it was normal for club members to have full time jobs. Hence, the opportunity to go out on rides was very limited. Naturally, New Year's Day was by long tradition, a popular Anerley ride to a country pub for a bit of additional festive stuffing!
One our favourites being the old, 16th century, coaching inn at Mickleham at the bottom of Box Hill.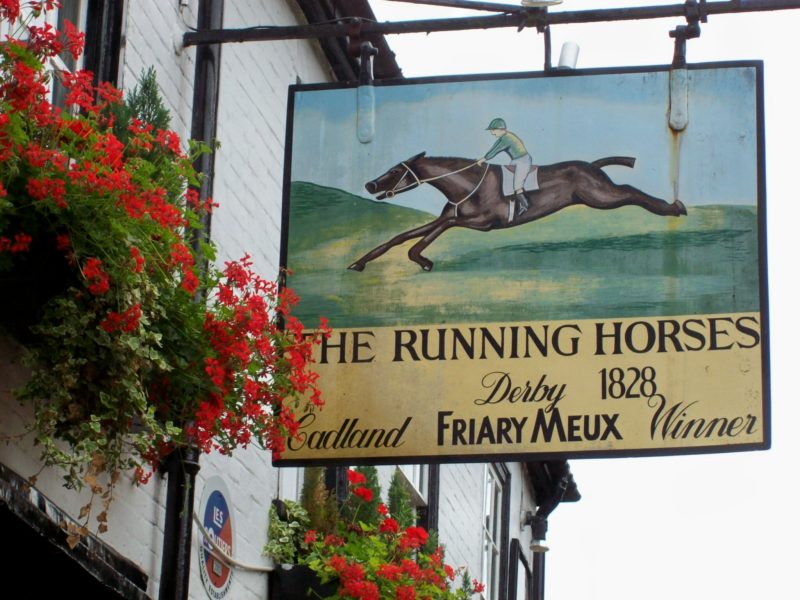 There is an interesting story to the naming of this pub, which was originally known as The Chequers. After a long day on a coach to or from London, weary travellers could while away an overnight stop with a meal and a small wager over a gaming board, playing chequers.
When, in 1828 two locally trained horses ended the Epsom Derby with the first, and only dead heat, this became known as "The Dead Heat Derby." The two famous joint winners became immortalised as the "Running Horses" and this led to the renaming of the local inn!
One side of the pub sign shows the horse named Cadland, and the other side the horse named The Colonel. The side showing Cadland named, is in the photo above. Have a look at both sides, next time you cycle by!
This New Year's Day of 2022, the weather was a record breaker, sunshine and the warmest ever recorded! When I advertised the ride on our Ride Register I expected to have a full compliment. Probably an overflow. But on the day, no other rides were listed but only 3 turned up to join me, Tom Tom, and another Tom – Tom Barnes and his wife, Julia. We did however have a most enjoyable ride. For once there was very little traffic as we headed out via, Walton on the Hill, Headley Common, down Leech Lane (B2033), followed by the ups and downs of Mill Way to join the A24 at the big roundabout. From there it was a nice easy pedal along the adjacent cycle path to Denbies.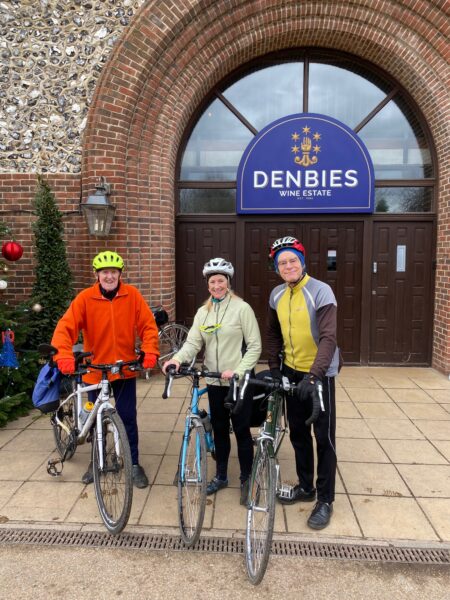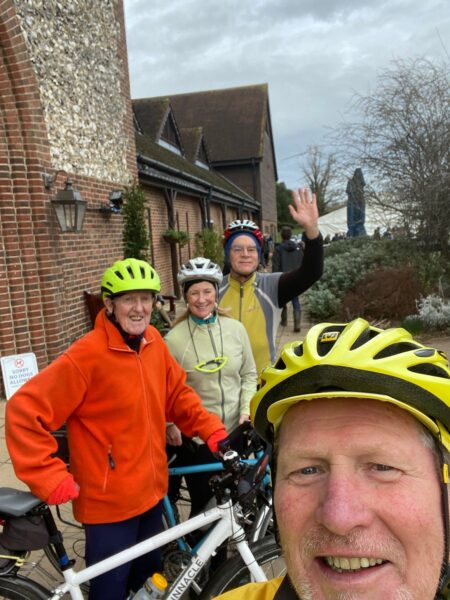 But now we understood why the roads were so empty – every one had gone to Denbies! Even though the indoor restaurant was closed, the car parks were overflowing as were the marquee and other outside seating areas. We did manage to grab a table as it was vacated, so were able to have a hot drink, snack and a very sociable chit-chat.
Then it was homeward bound, and just to set an Anerley record, we must have been the first Anerley riders to climb Box Hill in 2022! And this time we managed to get Tom Tom fully into the picture. A kind cyclist, who with a friend, had come all the way from Dorset (!) took our 2022 group photo.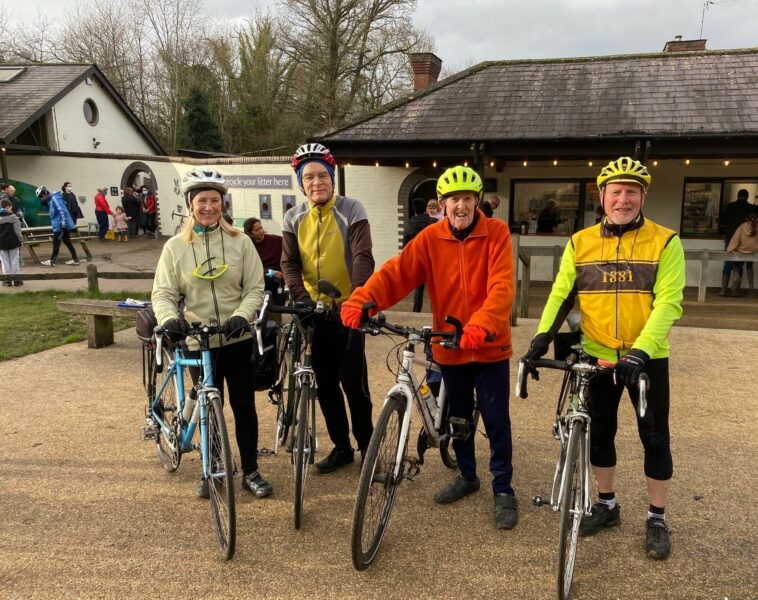 A promising start to 2022!
Des.