New Faces and New Places!
​We have suddenly found ourselves with several new friends starting to ride with Anerley B.C, so I nabbed a group photo of 4 of them at the last social ride to Lullingstone. I also persuaded some of them to give me a little write up about themselves, which I'll feature in the next few months kicking off with Martin's story below.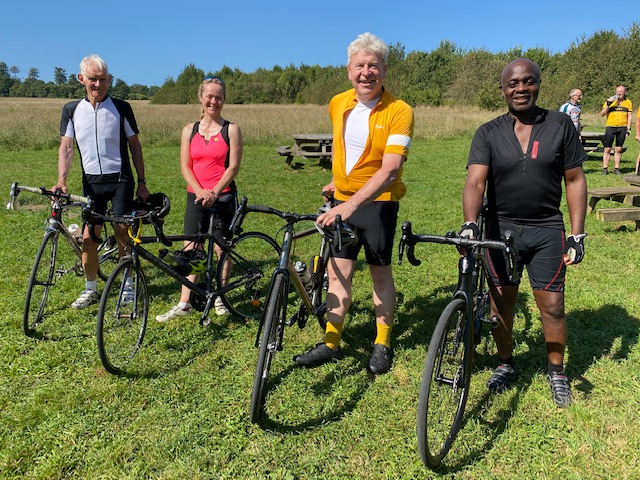 MARTIN
I live in Warlingham and have done so for just over 15 years. I am married to Lisa and we have an undisciplined but loveable black cocker spaniel, Bertie. I am a Chartered Building Surveyor and am still working, running my own small business, and dealing with commercial property throughout the UK.
I have been a lone cyclist for around 15 years. Everybody around me kept telling me to join a cycling club, which I had put off as I never thought that I was quite up to that standard.
I decided to make the big step a couple of months back. The eureka moment came when I was queuing up at the South Croydon tip. Some of the Anerley Bicycle Club members happened to be meeting there at the same time. I thought they looked a decent bunch of folk. I returned home and looked on the internet for cycling clubs near me. The Anerley Bicycle Club came up as, "the most friendly cycling club in London" and when I looked on their website I saw that one of their primary meeting points was Shurgard. So it had to be those same decent folk I saw that day!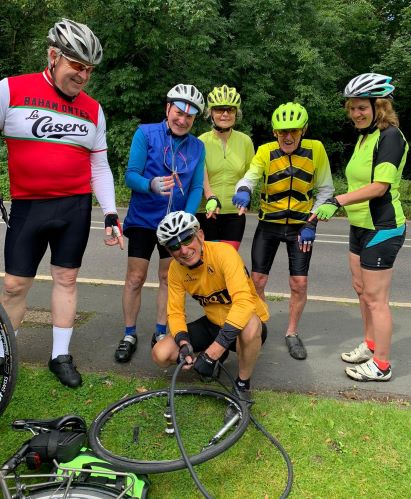 Anyway, I decided to pitch up one Tuesday and I was put on one of legend Des's rides and haven't looked back since, enjoying probably half a dozen or so rides since, including conquering the climbs up Box Hill and Bug Hill, which I was rather pleased about!
I thoroughly enjoy cycling, and joining the Anerley Bicycle Club rides has added another dimension to my enjoyment, particularly as I am discovering country lanes and beautiful cafés in Surrey, Kent and Sussex that I never knew existed. Plus of course, meeting, spending time and riding with fellow club members is positively brilliant, all being very nice people from different walks of life, with the cycling theme in common.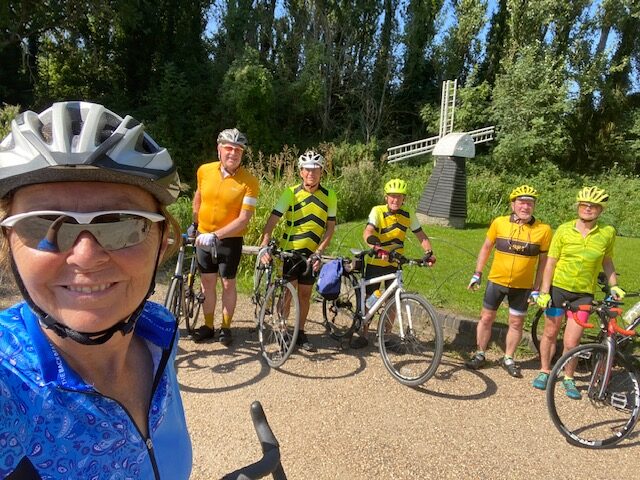 My work is fairly serious stuff, so when outside of work I tend not to take life too seriously, which you may have noticed during my cycle rides, except of course when there is an altercation with the odd inconsiderate idiot, motorist. Finally, I am an Arsenal season ticket holder, however, for obvious reasons, I tend not to shout that from the rooftops of late!
AND MARTINS BIKE …
My bike is a titanium frame made by Vaaru, a relatively new company based in Bognor Regis. The bike is a total spec build, with the MPA (miles per annum or endurance) frame specifically sized and fitted for me, and the remainder of the bike comprising carefully chosen parts for which the main elements are Shimano Ultegra Di2 gearset and hydraulic disc brakes, DT Swiss wheels, Ritchie drop handlebars and Absolute Black oval chain rings. Why Vaaru? I had been looking at their titanium bikes for a while, and about 18 months ago I came off my old bike and was quite badly gashed in the leg and whilst walking and carrying my bike back to an area of safety, a cyclist, who happened to be riding a Vaaru titanium bike, stopped to see if I needed any assistance. Anyway, after a few pleasantries, I had a chat with him about his Vaaru bike and he was incredibly complimentary about it. The following day I called Vaaru and booked an appointment for a consultation and fitting.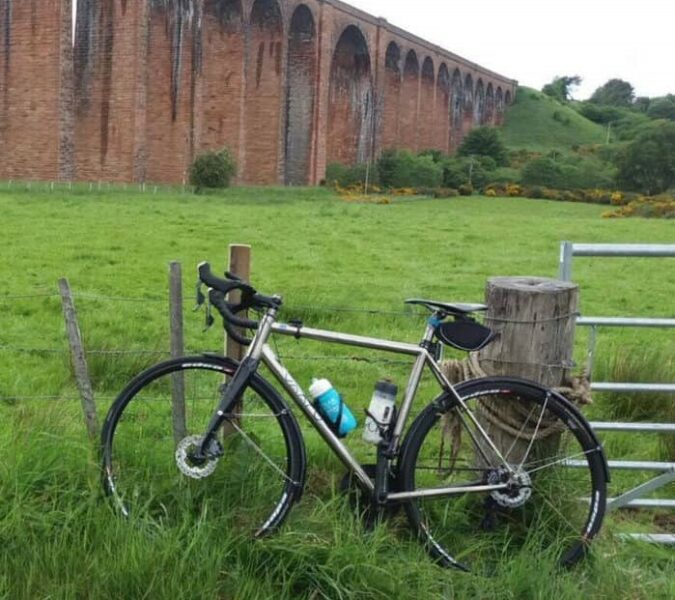 Otherwise, I think if I had sat back and thought long and hard about my injuries, I probably would not have ridden a bike again. Also, and coincidentally, I happened to have a sizeable construction project in Bognor Regis that I was visiting regularly, which enabled me to make simultaneous progress visits to see how my bike was coming along.
NEXT, THE ANERLEY LADIES RIDE TO BRISTOL – AND BACK!
Sally & Denise rallied round and talked, Jo S, Sandy, Jenny, Gerri & Marilyn, into a 6 day trip to Bristol from 11-16 September. The purpose was to have a re-union with Maggie who now lives there.
The trip was originally planned a couple of years ago, but what with one thing and another, and of course Covid, it never happened until now!
Sally expertly planned 5 days of riding with a leisurely day with Maggie in the middle. We took 3 days to get there following the Kennet & Avon canal path from Aldermaston to Bath, then the old railway route, now converted into a National Cycle Route from Bath to Bristol.
Day 1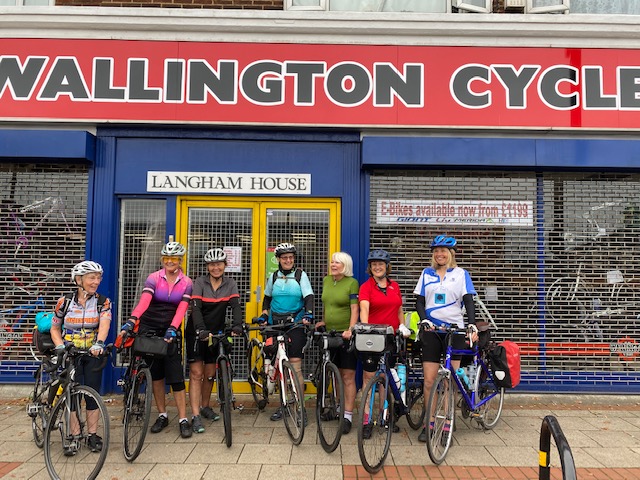 We set off from Wallingon Cycles at 8am with our first night at the Berkshire Arms at Midgham (a mile or so off the canal south of Aldermaston). The weather was perfect for cycling and continued this way throughout our trip.
The route took us through Richmond Park and onto the Thames footpath at Hampton Court.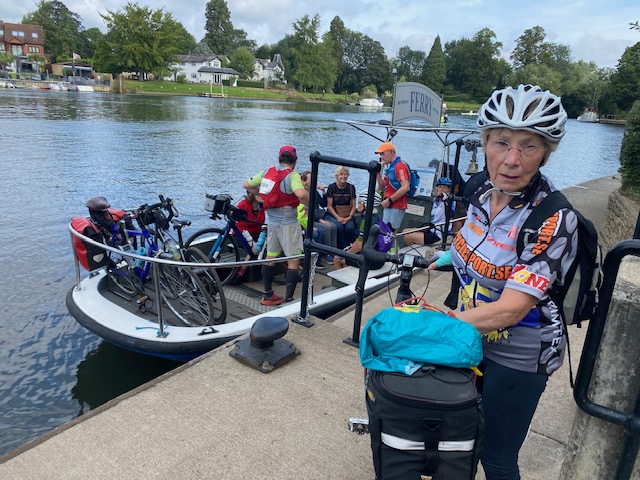 We took the foot ferry across the river at Walton to our first stop at The Ferry Coffee Shop, Shepperton, which did delicious iced peach tea (and a quick repair to Denise's light bracket!) We then headed near Virginia Water (closed to cyclists), Ascot and eventually Aldermaston where we joined the Kennet & Avon canal path. Access to the tow path is via this road over the lifting bridge!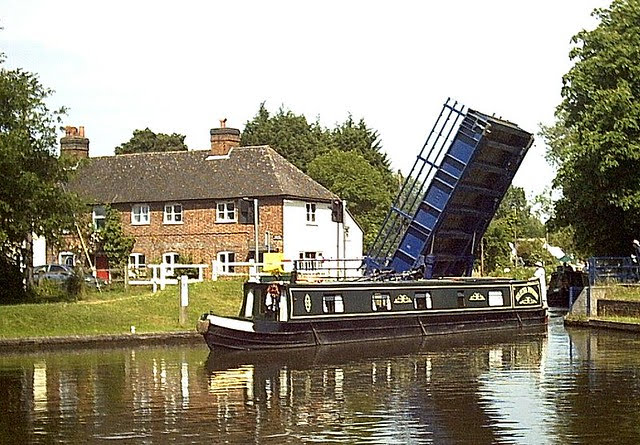 And next to this bridge was a tea room, but due to our long ride it was closed!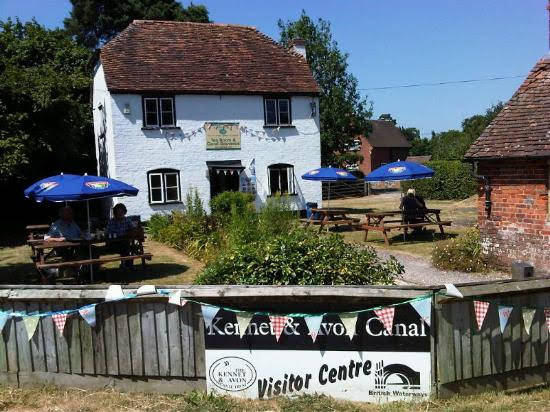 From here it was only a short ride to the Rowbarge Pub on the canal side where we had our evening meal before heading another mile or so the hotel.
60 miles
Day 2
Breakfast at 8am, was one of several full English's and the strangest avocado & poached eggs we've ever seen – not to mention a waitress who's claim to fame, quote was – "I've only got 2 pairs of hands," – a saying that became the joke of the trip!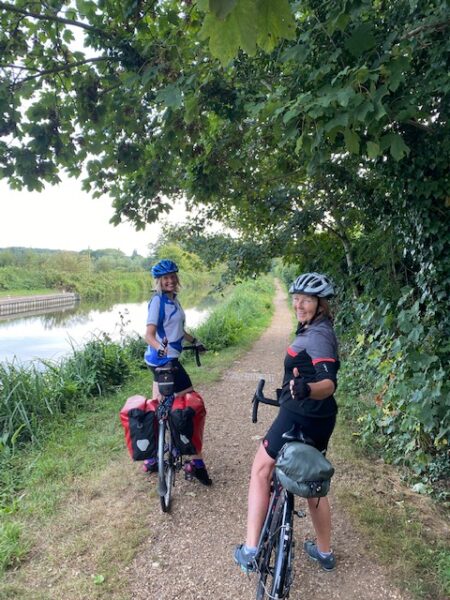 From Midgeham we re- joined the canal tow path and wove on and off it to Devizes. It's obviously a slow, bumpy ride but very picturesque and we enjoyed watching the narrow boats chug by.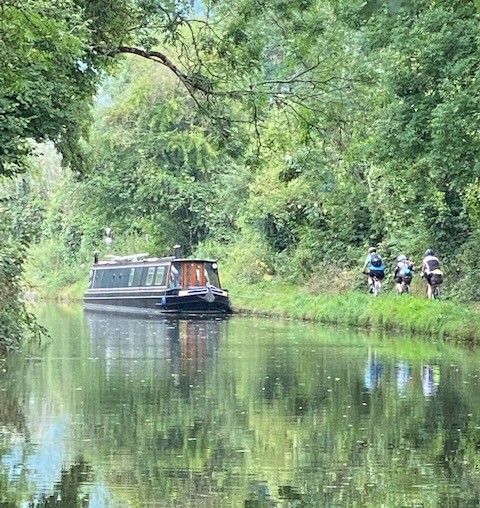 There weren't too many other cyclists and very few walkers so that made the ride easier. Tea stop was at Hungerford with a great choice of home baking. Cakes were to become a major part of these few days ! We arrived at The Bear hotel, Devizes and hit the town for an early dinner followed by an early night.
43 miles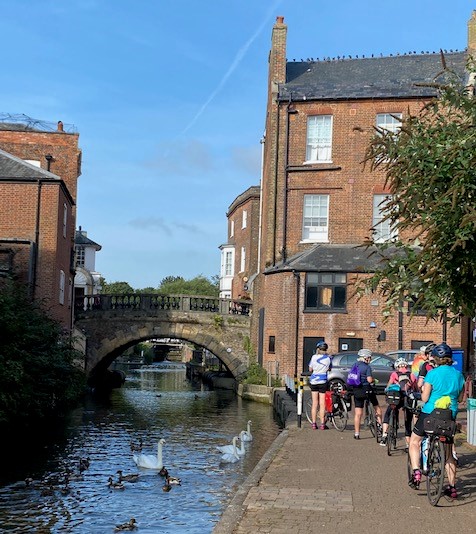 Day 3
A very nice breakfast this morning, real avocado this time, and anything else we wanted. We set off at 9am, directly back on the canal, and soon arrived at The Caen Hill locks.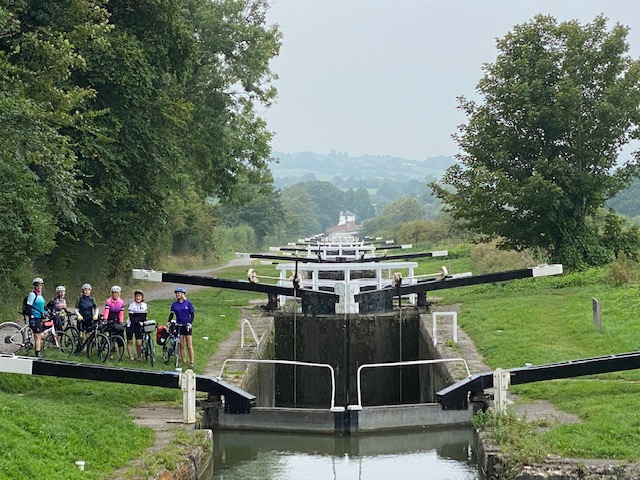 These are a flight of 29 locks over 2 miles, which in stages, allow barges to climb the steep hill. This takes about 5 or 6 hours for the boats to pass through all of the locks, thankfully we were a bit quicker on our bikes!
The section from Devizes to Bath was the most attractive part of the canal and we found a lovely waterside cafe for our tea stop at Bradford on Avon.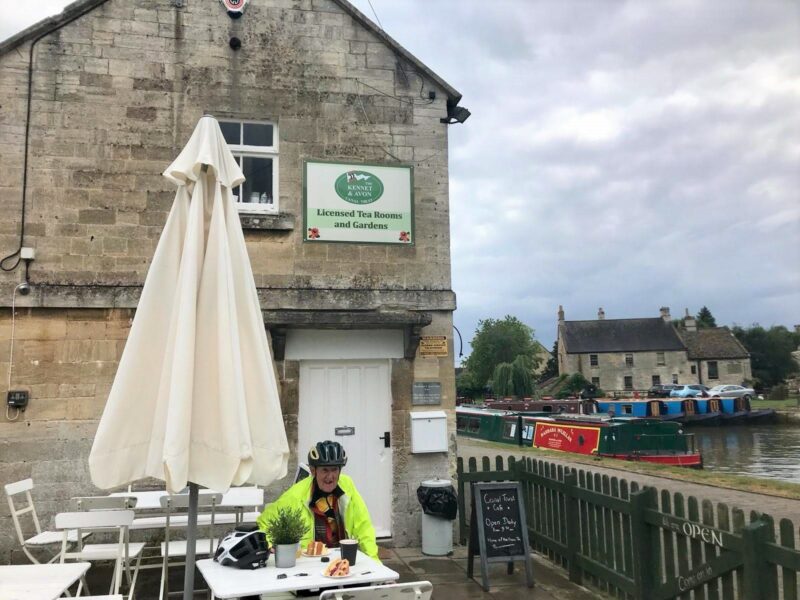 Next stop was Bath, where Sandy punctured. Well, not her but her tyre!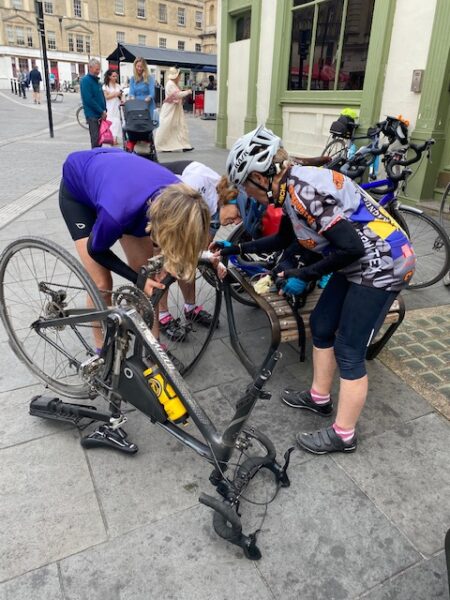 After which we joined the the old railway line, re-purposed as a cycle route, all the way into Bristol. We met Maggie at the end of the trail and she guided us back to her house about 3 miles further on, where she'd put on a fabulous afternoon tea for us all. Later, we rode back into Bristol to the waterfront Premier Inn where we stayed for 2 nights
42 miles
Day 4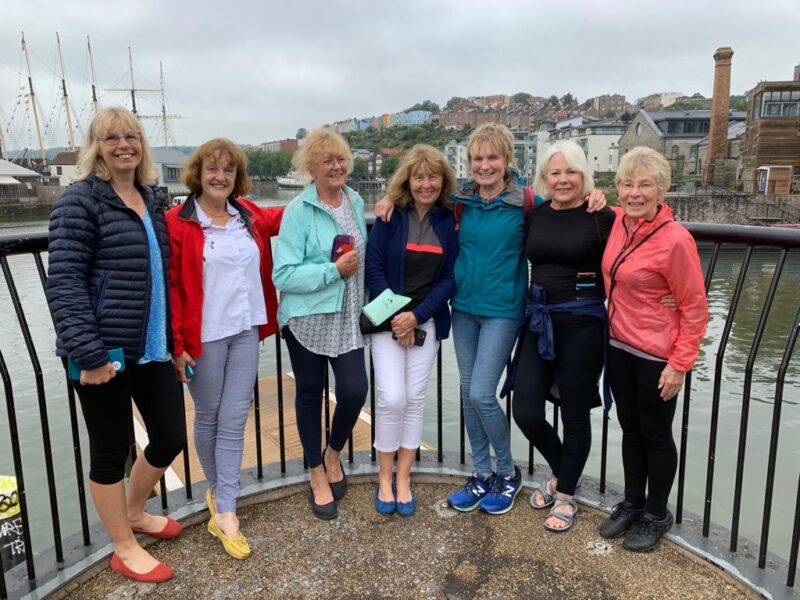 Rest day in Bristol and a guided tour by Maggie of the waterside area and Clifton Village. Some even sneaked off for a Thai massage before dinner on the deck of an old sailing boat now permanently moored
Day 5
We said goodbye to Maggie and started the return home which would be done in 2 days.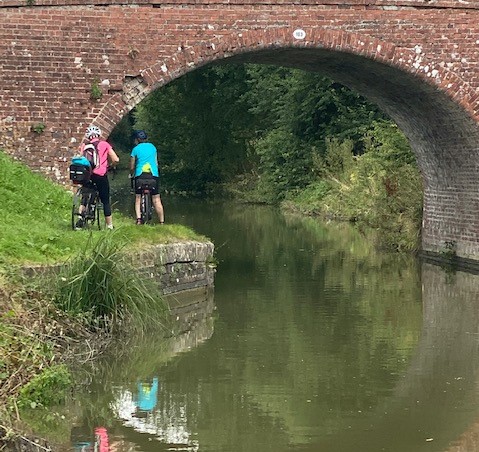 Our route was not all along the gravel tow path. So back on smooth tarmac the route took us through Wiltshire passing close to Wootton Bassett then Marlborough (lunch stop) up a few killer hills past one of the counties 8 chalk horses at Hackpen Hill,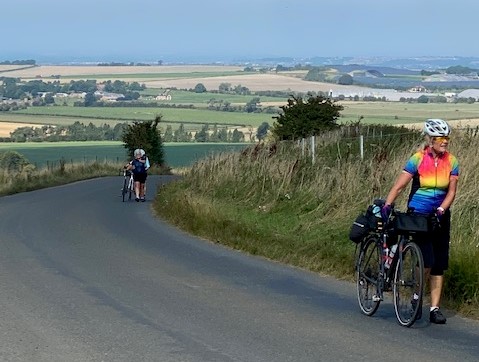 before dropping down into Hungerford and a night stop at the fabulous Three Swans hotel.
58 miles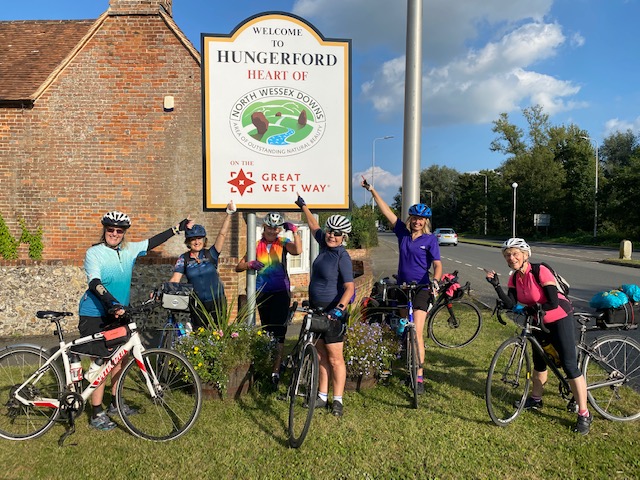 Day 6
We said goodbye to Jenny, Jo & Marilyn (who were getting a lift home) and made an early start for our long day riding back home. Today's route took us through Newbury, Greenham Common, Aldermaston, Ascot, Windsor, Slough, Hampton Court, Sutton then home.
A first for all of us, was the ride through Windsor Great Park in the late summer sun. Fabulous and hardly anyone around.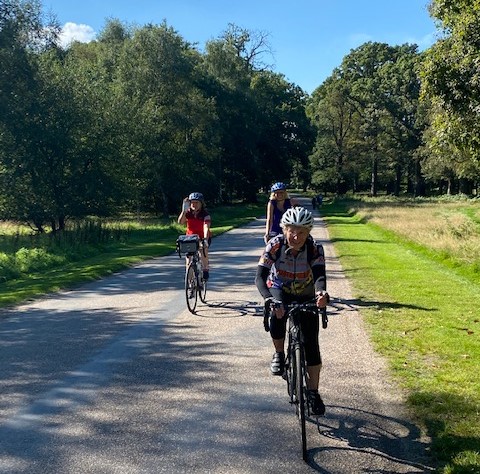 A bit different at Bushey Park where we stopped for coffee and ice creams later in the day, which was very busy.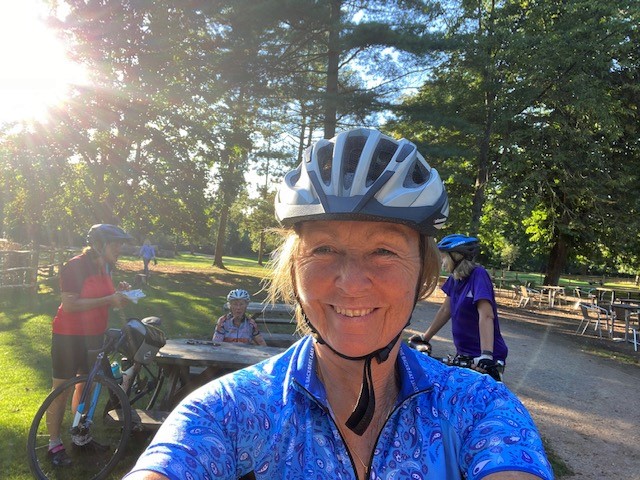 We arrived back in Wallington at about 6.15pm, said our goodbyes and agreed it was a great few days and a very picturesque route, thanks to Sally's expert planning.
80 miles.
I cannot close the story of our tour, without on behalf of all us girls, saying a big thank you to Sally for planning and plotting our route, without which we would have been completely lost not long after leaving the Wandle Trail!
For those without Sally to guide them, and who would like to travel this very different ride, to many new and different places – do have a look at this excellent and comprehensive, stage by stage guide – pubs, tea stops and much more included!
See https://cycle.travel/route/kennet_and_avon
Denise