My Western Isles and Lake District Adventures – Part 1
My first trip to the Western Isles in Scotland began after a chat with a fellow Moultoneer at the Bradford on Avon, 2013 Moulton Meeting. I had just brought my Moulton TSR a few months before and I was looking for a challenge. My thoughts were Lands End to John O'Groats, but the fellow I was talking to suggested that I should do the Scottish islands. So I later made a plan to visit the Isle of Mull in June 2014.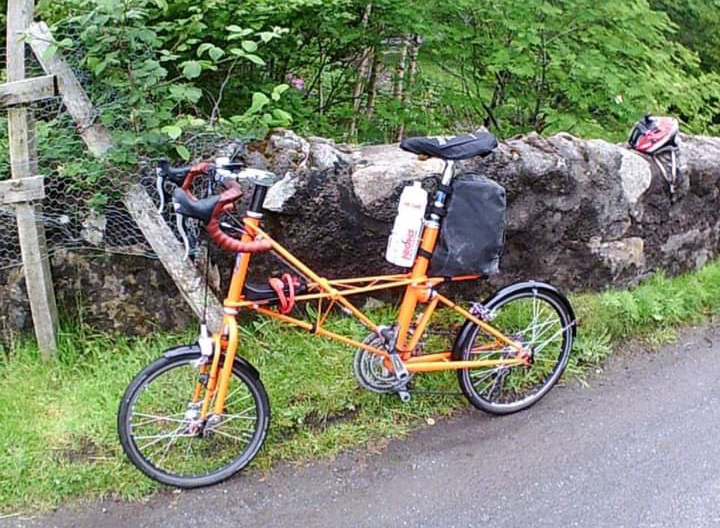 In preparation I bought a new 2 man tent and a Trangia cooking stove, and hired a Skoda Fabia for the trip. I had bought a cycling book on the Hebrides and studied the rides on the Isle of Mull. I was going on my own with the TSR, and being me, I had no mobile phone at the time so would be out of contact for at least a week.
So on Day 1, I travelled from Croydon to a hotel in Connel, just outside Oban on the west coast of Scotland. I would get the ferry from Oban the next morning. The drive to Connel took about 10 hours in stunning sunshine. the hotel was on the banks of Loch Etive with a beautiful steel bridge crossing the loch.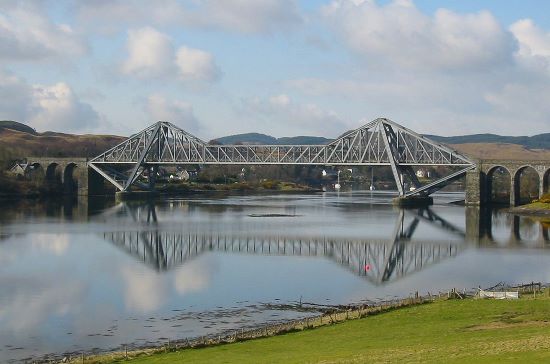 The loch is also famous for the Falls of Lora. These form at the mouth of Loch Etive when a particularly high tide occurs, 2 to 5 days either side of a Spring Tide.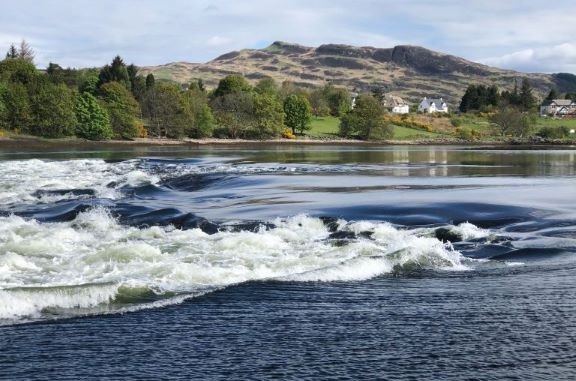 The next day I set off to Oban to catch the ferry to Mull, I had been there on honeymoon back in 1990 so this was my second visit. The trip over the water took an hour. I had booked a pitch at the campsite in Craignure overlooking the ferry terminal and the Sound of Mull, from where you get great views of Ben Nevis. I pitched my tent and went to check out the facilities, which were a tented shower block and a kitchen with a log burner, again inside a tent. Over the road there was a pub called the Craignure Arms which is small but does really nice food. One thing I soon discovered, was don't leave the pub door open in the evening – it's when the midges attack!

After a good night's sleep and breakfast at camp I set off on my first ride on Mull. The cycling book had said that the ride was hard and that there would be nowhere to get food apart from Craignure itself. I thought that cannot be correct, but I had some gels just in case. I had also not packed my water bottles, so I had to drive to Salen, the next village, where the only bike shop was.
I arrived at the shop to find it shut! Two motorcycle riders who took an interest in my Moulton, said that if I wanted the shop owner, he lived over the road. So I found the guy, bought two bottles, filled them up and off I went.
At that time my Moulton still had the triple chainrings of 58/48/34 and a 10 speed cassette of 11/25, so low enough gears for the climbs. The ride set off around the western side of Loch Na Kael. This loch is famous for it's White Tailed Eagles, so there were lots of bird watchers in campervans along the shores.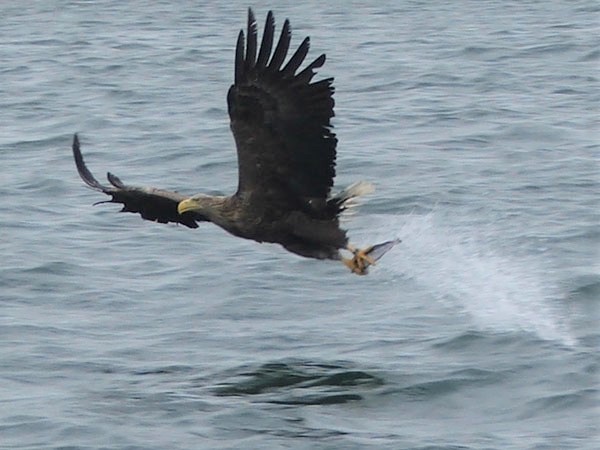 On this side of the loch, the road slowly gets steeper, with huge mountains alongside the single-track road. At the end of the loch you turn a corner and the road climbs at about a15% gradient between the mountains on either side. There are only a few cottages on this side of the island, with lots of black faced sheep loose on the roads. At the top of the climb, I stopped for a gel before the long descent between the forest. This area has lots of logging activities and there were huge logs waiting to be picked up by timber lorries. It is also where Mull Eagle Watch is.
See https://www.isle-of-mull.net/trips-and-tours/wildlife-tours/mull-eagle-watch/.

When I reached the crossroads near Pennyghael, I needed to turn left. The sign said it was 19 miles back to Craignure, so it was gel time again. Also a stop here to watch the stunning Pennyghael Rapids, cascading over the rocks, a must see!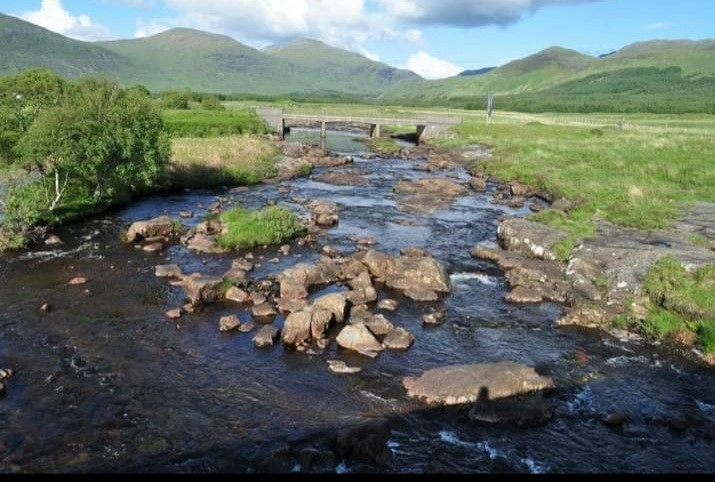 The 19 miles to Craignure are mostly up hill. It's still a very narrow, single-track road with passing places. There are few motor vehicles on Mull, but some do not stop where they should! You also see the odd coach on its way to Iona.
As I climbed, I looked behind, and saw a wall of rain blowing its way up the mountain road! I would soon be hit by it, so on went the rain mack. Always bring wet weather gear when in Scotland, even in June!

When I reached Craignure the pub was shut and the coffee shop was also shut. There was, however, a small restaurant open but no hot food until later. I was starving by then as I hadn't had food for 40 miles. But they did have cake and coffee. That would have to do as I still had another 10 miles to ride back to Salen to pick up my car. I rode the last 10 miles back to Salen, which is mainly flat, alongside the Sound of Mull, put the TSR back in the car and returned to Craignure.

I just got back in time to do some shopping at the Spar shop. Most of the villages have these shops and they all shut at 6pm. But don't ask for alcoholic drinks before 12am! I had a very nice dinner at the pub in Craignure once again, and decided I would visit the Eagle Watch on my rest day.
So now on Day 3, I booked the Eagle Watch and drove the 25 miles to get there.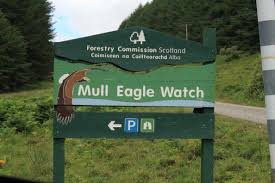 Then it was a walk into the forest to get my first sight of a White Tailed Eagle. These magnificent birds had been reintroduced onto Mull in 1975 and there are now many pairs on Mull, along with Golden Eagles. The Guide at the Watch had a scope and with it I could clearly see a female White Tailed Eagle sitting in a tree.
I should mention, that here in the forest and close to the loch, there was clearly a problem with the midges. It's true – they do bite!
This area also has a small yellow finch called a Siskin which I was also lucky enough to see.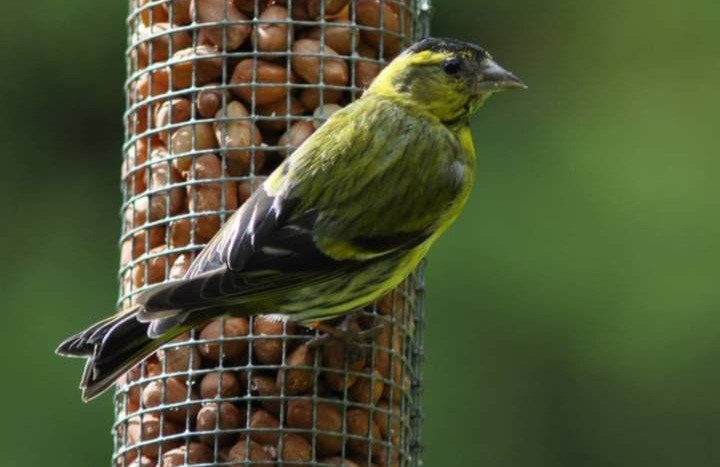 I spent the rest of the day driving around the route that I had cycled the day before, taking photos and looking for seals & otters.
Mull is a most interesting and enjoyable place for a cycling holiday, especially if you also have a love of it's scenery and wild life. Just take a look at this for a bit of inspiration! https://www.isle-of-mull.net/things-to-do/cycling-on-mull/
By Mark H.