May Day: We are going to the seaside!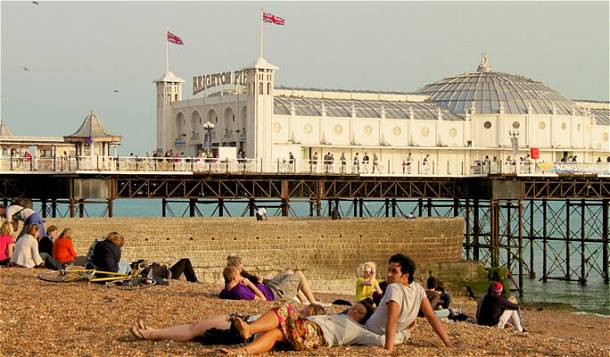 Anerley's first 'guest ride' on May 1st will start as a normal club run.  9am from our regular telephone box on Brighton Road. Or if you want to do a REAL A2B there will be a nostalgic start from Anerley (Station bridge opposite Anerley Town Hall 08:15 for 08:25). Ring Stuart on 020 8778 6300 if you want to meet up there.
The Tea stop will be our old favourite Tulleys Farm near Turners Hill. You can choose to return from there in the usual way … or if the sun is shining, the legs are strong or you just fancy an ice cream and a paddle … an Anerley expeditionary force will head south via Hurstpierpoint and Ditchling to BRIGHTON!
The total distance will be about 50 miles so not too onerous and no decent cafe will be passed without replenishment. This is strictly for pleasure.
Getting back could not be easier. You can book an APEX ticket for yourself and bike for just £5.55 at www.southernrailway.com (£3.65 with railcard). Make sure you click the tiny bicycle option on the confirmation page. I'm planning to come back on the 6.34pm but choose whichever you want or if your name starts with a J feel free to pedal back …
Don't forget a spare tube and your swimming gear.
Stuart
STOP PRESS:
May 1st is also the London to Brighton Run of the Historical Commercial Vehicle Society. The HCVS Run starts from Crystal Palace Park between 7-00 and 9-00 am.
We shall be taking a different route but we may cross and they should make an interesting spectacle at our destination. More here