Crystal Palace Criterium 2011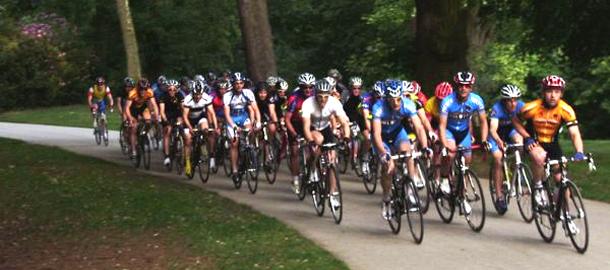 Once a year the Club is responsible for marshalling the Crystal Palace Criterium. This year it was the balmy evening of 14th June.
Cycle racing on a closed circuit under the control of British Cycling.
Held every Tuesday evening, weather permitting, from April to August.
Junior event, all ages to 18, 13km, gears restricted to 52 X 16
Main event up to 100 riders, must be registered with BC,
Any category from Elite through Cat 1 2 3 and 4
No restriction on gearing, usually 53 X 12
Length of event determined by daylight, maximum 30 laps – 40 km
The Course
Mass start in the straight, down to 180 degree hairpin around a tree with a metal bollard exactly where you leave the track if you fail to get around the bend! Back to the Start area and sharp downhill right hander and carry on down to the Lake. 90 degree left hander with right side of track falling away downhill to trap you if you make a mistake. Left hand bend at bottom of Lake, the lowest point of the course, start to climb through the trees. Pleasant enough when you are warming up but cruel on the legs at race speed in the bunch. Having survived the climb, left downhill to the Finish line and the start of another lap.
A couple of laps before the finish the lapped riders are pulled out, how the Officials know who has been lapped, I know not, and the remainder race for the Finish Line and the Prize Money! They say that if you can ride the Palace Circuit you can ride any circuit race.
The night's Main Event was won by Germain Burton, Team de Ver, 16 year son of pro rider, Maurice Burton, who as a Junior was riding restricted gears! You may remember that Germain came 5th in the Anerley 50 mile Time Trial last year in a remarkable time of 1.53.11, his first attempt at the distance when he was only 15! (one to watch)


Finally a BIG thank you to the Anerley whose members and friends gave up their time to support Cycle Racing and the 'pleasure' of the competitors.
The Old Guard – Geraldine Glowinski ,Keith & Maureen Herbert, John Dadson, Jan & Richard Tully
The New Guard – Stuart Grove, Eamonn Croke,
New friends from Crystal Palace Fun Runners – Janine & Mike
Bryn