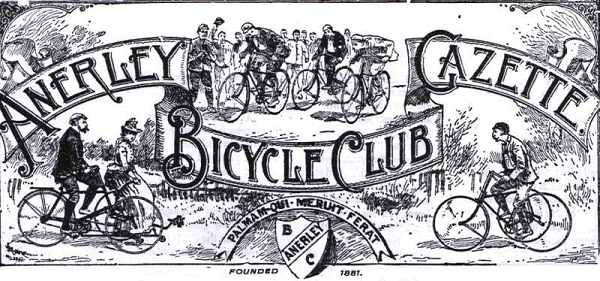 Spring Issue 2011
ANNUAL CLUB DINNER
At Godstone Village Hall rear of White Hart, Godstone
Sat. 12th Feb. 2011
Saturday 12 February saw 28 members and guests assembled at the Whyte Hart Barn, Godstone, for the club's annual dinner and prizegiving.
The Barn was, as usual, bright, clean and warm to welcome the expectant revellers to the annual beanfeast, the tables being beautifully bedecked.
The meal was well up to our caterers' high standards with "seconds" frequently taken, and belts loosened a notch or two!
After Grace, by June Jackson, the evening proceeded apace, under the chairmanship of President Meike Turnbull. Cross-toastings flew around the hail, to much hilarity from the diners.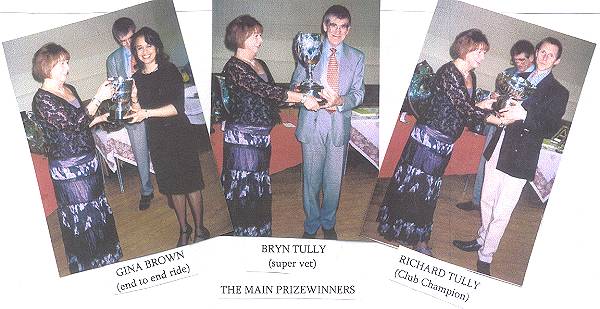 The Anerley's glittering silverware was presented to various worthy recipients, with the final award, in the President's gift, going to John Jackson who, in the face of some personal adversity last year, continued to edit and publish the club's Gazette.
June Jackson organised a first rate raffle, raising £67 for club funds.

JEREMY HAMMOND/Freewheeling Champ, JOHN JACKSON/Award of Merit, JOHN TURNBULL/Map Reading
Anerley Members & Friends


John Turnbull
---

EDITORIAL

A picture saves a 1000 words – so the saying goes – so having saved 13,000 words, this editorial will be short and to the point.
Welcome all the new members and riders to the club – in this our 130th year of existence. As you have seen on pages 1 and 2 our motto of "winning the palm shall carry it" was celebrated at Godstone on 12th April.
The trophies will be up for winning this season again and after the success of last year's map reading competition, I'm repeating it again for members, who are getting a hard copy of this gazette.
My thanks for all the well wishes after my hospitalization. I'm getting fitter slowly – at least I'm back on the bike and setting some miles (or kilometres) under my belt.
John Jackson
Editor
---

MEDICAL MATTERS
The present membership of our club can now boast two medical doctors. Two doctors may be a first, but in days gone by we had one, who was a G.P. in London and also a very useful racing cyclist. Its ironic in these days of health warnings on cigarettes, that the only picture I could find of Dr. J.E.L. Bates was a cigarette card as tandem partner to S.F. Edge on the Olympia Tandem Tricycle on which they covered 100 miles in 5¼ hours – Edge is on rear of the machine. As a Solo Rider, Dr. J.E.L. Bates was part of a five strong British entry in the 1891 Bordeaux to Paris paced Road Race, which the Brits dominated the first four places. G.P. Mills the winner – S.F. Edge third and fellow Anerley man Bates fourth. As a paced race winner G.P. Mifis had a great team of pacers
– Monty Holbein, the second Brit home wasn't so well served, whilst Edge and Bates had only one pace maker between them. A snow storm hit the event even in May – at Rambouillet, the Anerley men stuck together, but Bates with knee trouble couldn't share in the pacing or sprint and both finished 3½ hours after the winner of this 358 mile race in 3rd and 4th place.
Editors Note I witnessed another great British rider finish 2nd in 1957 Bordeaux – Paris, Brian Robinson when near Chartries being paced by a Derny – I had cycled from my Army Base near Versailles that day – not aware of the Anerley's past connection with this Great Event.
Picture: Dr. J.E.L. Bates on front of Olympia tandem tricycle
S.F. Edge is the "stoker"
---
RACING NEWS
Dates for your diary
Crystal Palace Circuit Races
Tues. 14th June 2011 @6.15 p.m.
The last Anerley Open 50 mile T.T.
Sunday 7th Aug. 2011
Any rider wishing to ride Time Trials or Audax events can contact Bryn Tully our Hon. Racing Secy. For details of events etc.
---
BEHIND THE TROPHIES

When inspecting the clubs wonderful collection of silverware – the names of our famous past members figure large – S.F. Edge, G.A. Olley, Arthur Cooke and Ann Butler. The most numerous trophies on the prize table however have no named sponsor, so what is the story behind them.
The apt named 'A' trophies came about when the club was in revival mode thanks to a fair influx of young members via the Turnbull, Smith and Herbert families – followed a decade or so later by the Tullies.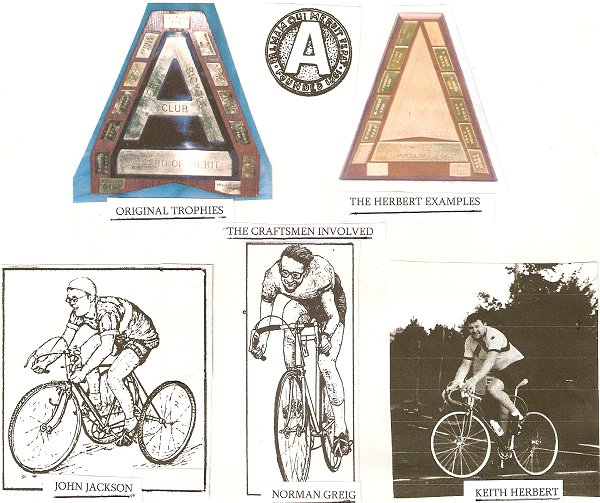 To reward the youngsters in fields we had no silver ware to award – the welcome number of girls and ladies joining (our mainly male membership up to this period) plus the very junior riders required encouraging. One answer was beautifully art worked certificates by printer Keith Herbert and sponsored by local builder Surrey Developments – sadly this was short lived, so the answer was to design a trophy as an interim stop gap. With a core of engineering tradesmen among the membership, Norman Greig designed, manufactured and paid for the first batch- so popular at the time that a second batch were designed and made in his home workshop by Keith Herbert. The brass fittings and engraving were by John Jackson – a workshop superintendent at U.C.L. with access to a Taylor-Hobson engraving machine – so the trophies were made in house and first presented in 1971, when the Award of Merit went to Bifi Moon for producing our club history as a celebration of our 100 years.
J.F.Jackson
---

CROYDON CYCLING FORUM
We welcome new member Austen Cooper of the Croydon Cycling Campaign. Hence with John Jackson we know have two club members on the Bourough Forum.
Austen also took this picture on the misty 20th February Club Ride of The Ridge between Clarks Lane and Northdown Road  on the way back from Westerham: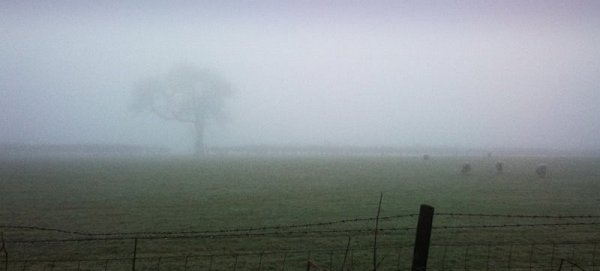 RUNS LIST

---
This is a slightly edited online version of our regular printed newsletter. If you would like to contribute please contact the Gazette Editor John "Jack" Jackson BEM on 020 8689 0195. And many thanks to Jack for his continued perserverence in extracting articles, photographs and cuttings for our delectation.