Our next ride is shown on the panel to the right >>>>>>>
Our full Runs List can be found here
The Sunday ride starts with a 15 to 20 mile jaunt over the North Downs and along the quieter leafy lanes to a leisurely Tea Stop at a Surrey or Kent Cafe around 10:30 to 11am. Some people elect to return directly home for total of 30/35 miles. Hardier souls press on to a pub stop for lunch. This longer triangular route is usually around 40 miles in winter extending to about 50 miles in summer. We are back in Croydon around 3pm. The pace is about 12 mph and we always re-group at major junctions and hills so you should not get lost or left behind.
There are also shorter rides on Tuesdays and Thursdays  to a variety of country cafes for a sociable cuppa. These start at a more leisurely 10 o'clock.
Contact Des Donohoe by e-mail at des.anerleybc@gmail.com,  or phone 020 8763 1218,  for details of the Thursday Rides. Or John Dadson 07941466741 for those on Tuesdays .
If you commute daily for 6 or so miles each way or have comfortably done a 20 mile ride – you should have no difficulty keeping up. If you do more – we may have difficulty keeping up!!!
Please ensure your bike is in good order (tyres, spokes and brakes!) and please bring at least one spare tube (preferably two), puncture repair kit and a pump. What you wear is up to you as is the choice of a helmet or not. Any questions to the Club Captain Jim Medway 07764 683118.
The Sunday rides and alternate Tuesday/Thursday rides meet at this phone box (020 8660 5799) outside the Shurguard Storage Centre and 501 Brighton Road, South Croydon at 9am all the year round: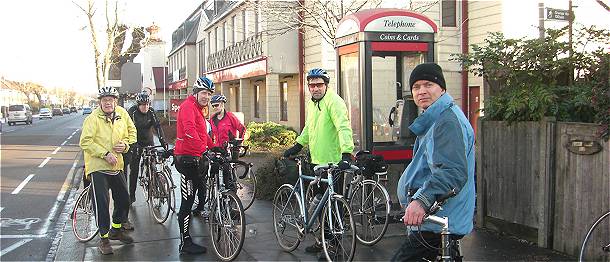 The other alternate Tuesday and Thursday Rides starts at Tescos, Purley (by bus stop on Brighton Road side).
We number about 40, of whom over half cycle fairly regularly, so our Sunday Club runs usually number 5 -15, depending on the weather! We are a mix of young and old with quite a number of women (our President is a woman). We have a number of keen cycle tourists and try to arrange a cycle tour ourselves each year.
Club ride enquiries to the Club Captain Jeremy Hammond 020 8660 6035.
Membership enquiries to John Dadson on 020 8771 5955. Or you may wish to send an email (no commercial spam please) to: admin@bizz.co.uk
---
The small print:
Our annual subscriptions:
Senior membership: £15 per year
Family membership: £20 per year
Junior/second claim/unwaged: £10 per year
The rides are open to non-members for a few introductory runs. If you feel comfortable with us you will be very welcome to join the club. If you are unsure of fitness or competence of group riding practice, we are all here to help. All runs are led by an experienced and responsible person. The club rides as a group so no one is left behind. The rides are planned so as to keep to quiet lanes and will avoid main road as much as possible. Lunch stops are often at country pubs.
Riders are responsible for their own safety. They are expected to observe cycling etiquette as well as the Highway Code. Riders are also expected to show consideration to other road users such as horse riders, pedestrians, animals, cars and other vehicles as well as other cyclists.
The club or its individual members will not be held responsible and will not accept liability if any rider (Club member or non-Club member) has an accident while on a ride with the Anerley Bicycle Club. In case of a mechanical breakdown of a rider's bicycle we will help fix it but if repairs cannot be done on the spot the rider is responsible for making his/her own way back. Riders are requested to bring enough money to get home in case of emergencies. Riders are expected to be self-sufficient and should bring a pump puncture repair kit at least one inner tube and waterproof clothing.  It is up to every individual rider to ensure that he/she has a road-worthy bicycle but, again, we will help where we can.
We aim to be the friendliest club in town …