Mark's Restoration Project Part 2
Cycling in the 1990s was mainly a minority sport – generally a family sport passed on from father to son or daughter. There have been many family members of our club; we had fathers theire wives, sons and daughters. So the club had a bigger range of ages then than the present membership.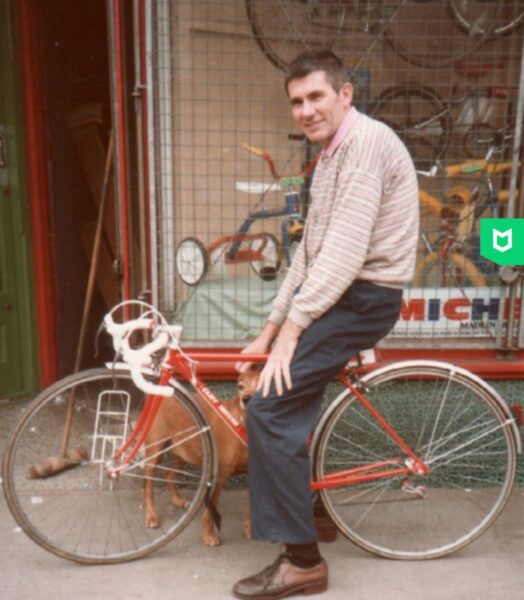 It was not uncommon for a tandem to be out with kiddie cranks fitted with a 4 year old on the back. Nearly all the club rode steel bikes back then from local frame builders like Ron Cooper, Roberts, Pearsons or Geoffery Butlers. One member had an early carbon frame & Cannondale had just brought out the first mass produced Aluminium frame. Fast foward 18 years things have changed hugely! Most ride carbon or aluminium frames plus a few titaniums and we have compact gears, STI levers and disc brakes.
We had a large racing membership with the older riders doing TT races and the younger ones doing track and Crystal Palace Criteriums on a Tuesday night. The club runs were just on a Sunday and only one Group.
Anyway, back to my frame. Back in 1992 the bike weighed 23lb which was a pretty good weight for a training bike. During lockdown in May 2020 I am getting bored sitting in the sun so I pull the Geoffery Butler frame out of my shed and give it a good clean. It still has the cranks on it and bottom bracket. The campagnolo seatpost, the front 105 brake and the headset are all stuck in the frame. What to do, keep it vintage with the original 8 speed wheels or go modern vintage – rear of the frame can take an 11 speed cassette?
Having been riding my Eddy Merckx most of the winter I thought, well it has nice polished alloy Dura ace parts that don't really suit a carbon frame and I can use the American classic wheels too. I needed to find someone who can repair the frame and spray it. Having looked at many frame builders iI thought take it to Winston Vaz who had built for Holdsworth & Roberts Cycles. I had a chat with Winston and told him what I had planned. I went to Winston's workshop in Hither Green – it was like going back in time with old style tools and welding equipment. Winston took a look at the frame and I explained that Cliff had built it. "Thats interesting", he said. "What colour do you want?".
"Metallic Orange", I said so we went upstairs to see Winston's brother Mario who does the spraying. Mario knew Cliff back in the day and was really pleased I was calling the frame a Cliff Shrubb. I was looking around at the colours and found a colour very similar to the orange McLaren use for their super cars, it had to be the one. Winston said the work would take a month and gave me a rough price.
Winston rings me up after a week, "I had a hell of a job getting the bottom bracket out, it was all rusted up and the headset too". He said that he had to replace the cable guides on the top of the frame as years of turbo training had made them rusty too. He also took off the old bosses for the downtube shifters & replaced with new STI ones. Mario then rings me and says, "I can't see the gold lettering on the frame so we will have to go with black". After a month I go back to pick the frame up from Mario. Stunned, I'm standing at the top of the stairs with the frame shining in the sun and the name comes to me. It has to be called Sunseeker.
to be continued…